Apricot, Almond and Lemon Bread
When is a cake not a cake? When you're in France. These 'cakes' (pronounced kek) are what we might call 'quick bread' in the United States, although we usually make them sweet. So I'll have to give one to the French and say that they're right—this actually falls more in the category of a cake rather than a bread.
People often ask what people in France do for Thanksgiving. Well, to them, bascially the day is just another random Thursday in late November. (Albeit with a few crazed Americans scavenging madly though the Grand Épicerie searching for fresh cranberries and canned pumpkin.) Although I've been wrong before, I would venture to guess that not many other cultures systematically celebrates a joint feast between the pilgrims and Native Americans that took place a long time ago in the United States. And I'm not sure why folks would think that people in France..or Bali, Korea, or Iceland, would celebrate an American holiday*, but we Americans who live here do celebrate The Most Important Day on the Planet.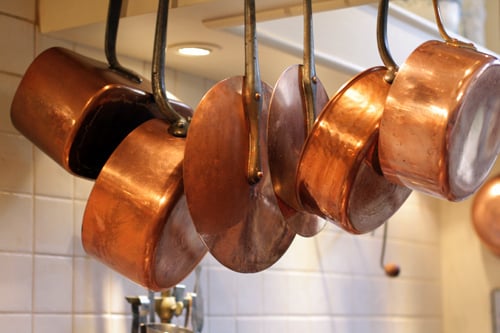 Because the day is a regular work day to everyone else, and folks in Paris need to get back to the grind the following day (there's no vendredi noir, or black Friday here, for better or worse), sometimes the feast is moved to the weekend to accommodate work schedules.
Aside from the search for les canneberges fraîches, there aren't any of the indications that Thanksgiving is coming up like there is in America. There's no pre-dawn sales, colorful supermarket fliers with jumbo-breasted Butterballs, and we don't have to listen to the never-ending torrent of arguments about brined versus non-brined turkey.
Look folks, turkey is supposed to be dry, that's the nature of the beast. That's why the pilgrims brought gravy to the New World. (Which I dutifully explain to my French friends, who aren't quite sure what I'm talking about.) But the short answer is: If you want something moist, choose another bird. Or come to France and celebrate Thanksgiving here.
Since I straddle both worlds—France and America—I wasn't caught up in the pre-Thanksgiving panic to reinvent the holiday classics or to find an even better pie dough recipe. I happily went about my life the week before Thanksgiving. But then, Wednesday night hit when I was home alone, and I realized that the collective night of relaxing in America was here. (Or rather, there.) And it's the one holiday that everyone seems to agree is the best of all American holidays, even though it doesn't exactly translate elsewhere. And it made me a little sad to not be a part of it all.
On Thanksgiving day, my bout of melancholy passed and I had the usual rowdy wine-stoked celebration hosted by some American friends in Paris. We had a great time, and the French guests were almost as delighted as we were. And if you want to know how to make turkey moist, 1) Buy a French turkey, which isn't all pumped up with additives and water, and 2) Have the volailleur spit roast it on his rôtisserie. Hoo-boy, was that turkey good! Moist, tender meat, and crisp, caramelized skin that would give the best duck confit a run for its money. Dump that salt water brine, mes amis.
I shouldn't have been sad, or jealous, of my fellow Americans, because in France I get to celebrate Thanksgiving more than once. And on Saturday, I took the train to visit my friend Susan Loomis who lives about an hour away from Paris, in the timbered-town in Normandy. Susan lives in a fantastic house on rue Tatin and runs a cooking school, On Rue Tatin, which syncs together the location as well as the spirit of her country French cooking.
Although we didn't make tarte Tatin this year because it's hard to make enough caramelized apple tart to feed thirty people. And I remembered I had mincemeat that I'd made last year which I wanted to use). So with a little help from me and a few others, Susan put together a lovely Thanksgiving spread.
There was quite large number of guests, both French and American. And while a few raised their eyebrows when I told them what was really in the mincemeat they were about to eat—admittedly, it is unusual to put beef fat in an apple crumble—everyone gamely ate it, as well as sweet potatoes (sans marshmallows), purée maison (mashed potatoes) au jus cratère, roasted turkey, and plenty of le farce (stuffing).
Of course, we Americans piled our plates unreasonably high with food while the French were a little more pragmatic. When I pointed that out to a friend from Seattle sitting next to me, she said, "They probably think this is just the first course!", as the French tend to eat in courses. Few took seconds, but I made a beeline back to the kitchen because I was sure that I'd missed a few scraps of turkey skin, and I hated to think of it going to waste.
For those who like to entertain, or feel themselves overwhelmed around the holidays, especially if you plan to have large gatherings, le cake is a terrific savory appetizer to go with pre dinner drinks or a glass of Calvados.
I've made Clotilde's Pistachio-Chorizo Cake, and my go-to recipe for goat cheese and bacon cake is in my book, The Sweet Life in Paris. So as you can see, there's plenty of variations and options for these savory "cakes".
This recipe is from Susan's book Nuts in the Kitchen, a compendium of recipes that span the globe, from Thailand to Spain, although after living here for over two decades, France is closest to her heart. And while we were cooking, we lunched on quesadillas made with tortillas brought back from Arizona.
(I stopped sharing precious corn tortillas that I bring back to France with French friends since they don't get as wildly excited as the same things we Americans do, including topping sweet potatoes with marshmallows, and so forth. So we, the kitchen crew, ate pretty well that day.)
But before dinner, we'd started off with copious nibbles, which included slices of apricot, almond and lemon bread as well as toasted nuts, and crudités (raw vegetables) with a nutty dukkah. While everyone was busying themselves with snacks and glasses of bubbly cremant, I was secretly ripping away at the best bits of crispy skin on the turkey carcass before anyone else could get a crack at them.
Dinner finally ended with everyone leaving well after midnight and we sipped Calvados by the fire until the warmth of the fire lulled us to sleep, no doubt aided by the powerful apple brandy. The next morning, I was the first one up and, of course, made a nosedive into the leftover stuffing. There wasn't much turkey skin left, the gravy had formed a solid mass in the pitcher, and I wasn't really interested in picking at ice-cold brussels sprouts.
And there were a few slices of the apricot bread—or le cake, that I also managed to nab before anyone else woke up. It was le jour après Thanksgiving and aside from a bout of sadness earlier in the week, I was quite happy that morning to be in the toasty kitchen by the fire that was still warmly glowing in the hearth. I'm pretty sure the no one in France eats cake for breakfast, or even in America. Except for me.
| | |
| --- | --- |
| Apricot, Almond and Lemon Cake | Print Recipe |
One 9-inch (23cm)
loaf pan
Adapted from Nuts in the Kitchen by Susan Loomis You can swap out another nut or dried fruit for the ones recommended. Susan recommends if using apricots, find those that are unsulphured if possible. For those who like things a little spicy, add a dusting of cayenne or red pepper powder (about 1/2 teaspoon) into the batter.
1
tablespoon
baking powder
1
rounded teaspoon
sea salt
1
rounded teaspoon
freshly ground black pepper
6
large eggs,
at room temperature
8
tablespoons (110g)
unsalted butter,
melted and cooled to room temperature
7
ounces (210g)
dried apricots,
coarsely chopped
6
ounces (2 cups), 180g
Gruyère,
Comté, or Emmental cheese, finely grated
1/2
teaspoon
fennel seeds,
crushed
1/3
cup (60g)
almonds,
toasted and coarsely chopped
1. Preheat the oven to 425ºF (220ºC). Butter a loaf pan, line it with parchment paper, then butter the parchment paper.
2. Sift together the flour, baking powder, and salt into a small bowl. Stir in the black pepper. (If you're adding chile powder, add that here as well.)
3. In the bowl of a stand mixer, or by hand, whisk the eggs until frothy (about a minute) then stir in the dry ingredients. Mix in the melted butter until thoroughly blended, then fold in the apricots, cheese, fennel seeds, lemon zest, and almonds.
4. Scrape the batter into the prepared pan and bake for 40 to 45 minutes, or until a knife inserted into the center comes out clean.
5. Remove the cake from the oven and let it sit for about five minutes, then tip it out onto a cooling rack. Wait a few more minutes, then remove the parchment paper and let cool completely before serving.
Serving: To serve, cut the bread into slices with a sharp serrated bread knife, then cut the bread diagonally into triangles. Serve with cocktails or wines for an apéritif.
Storage: The cake will keep well-wrapped for up to three days at room temperature. Do not refrigerate the cake or it will get dry. The cake can be frozen for at least one month.
Related Posts and Links
*On the other hand, since in America we celebrate Saint Patrick's Day and to some extent, Bastille Day (well…perhaps only in San Francisco), I suppose it's natural to think some of our holidays might be extolled elsewhere. And it would make sense to think that anyone in France would be happy to celebrate a holiday that involves lots of eating. But until I see canned pumpkin selling for less than €8, I'm going to assume that Thanksgiving isn't all that popular amongst the French.