Chambelland Bakery (Gluten-free) in Paris
I'm not gluten-free, but I am a bread-lover. (fyi: I also like boulangeries, too.) And am happy to come across any kind of bread packed with grains. But I don't think all bread needs to have wheat in it. Other grains and starches – from buckwheat and rye, to cornmeal and rice flour – all make excellent breads, in the right hands.
In addition to being The City of Light, Paris is also The City of Bread, yet another boulangerie has opened. But Chambelland is making breads without gluten. And the one I bought, riddled with seeds, was terrific.
The dense quarter-loaf was made with a combination of buckwheat and rice flours. The baker told me they're milled in a dedicated moulin (mill) in the south of France. Because these kinds of flours don't lend themselves to free-form loaves, the breads are baked in molds. And for those missing the traditional baguette, while you won't find them here, the various breads offered are baked in slender molds, because everyone – even those avoiding gluten – deserves crust.
I asked if they had plans to make croissants and other viennoiserie, and the baker replied that they were primarily a boulangerie, so they were focusing on the bread for now.
(Incidentally, the word boulangerie gets its name from the boules, or balls of dough, that bakers traditionally kneaded, shaped, and baked.)
They are, however, making some lovely little pastries, such as lemon tartlets mounded with meringue – one of the best lemon tarts in Paris, gooey walnut tarts, and individual bittersweet chocolate cakes. I'm also mad for the housemade granola bars.
Chouquettes, and almond and pistachio financiers are represented, as well as gâteau week-end, or simply, cake, other names for pound cake, in franglais.
For those who want a bite to eat, the café serves an outstanding lunch, featuring their house-made bread, which you can enjoy at a table in the Parisian square, when the weather is cooperative.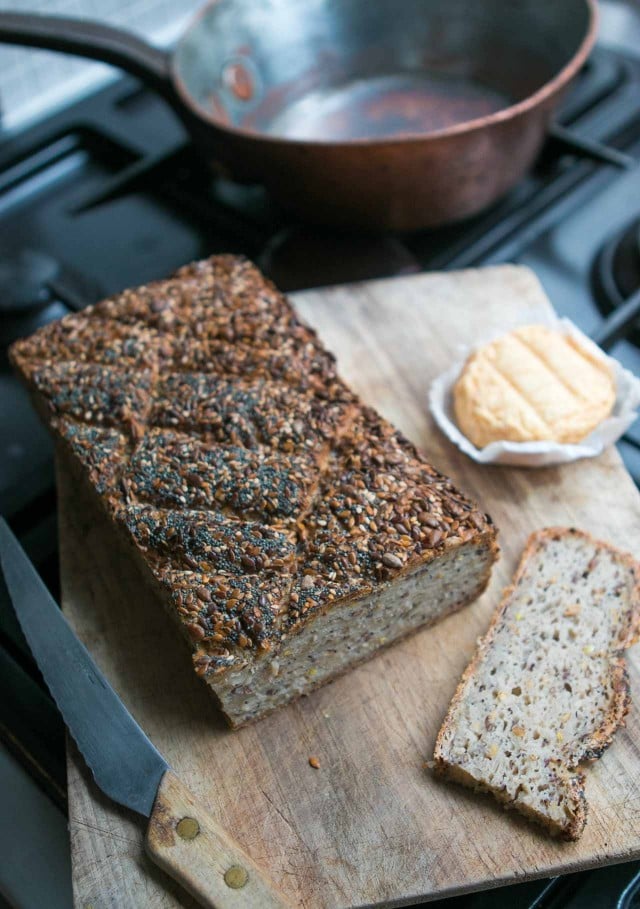 Chambelland Boulangerie
14, rue Ternaux (11th)
Métro: Parmentier, Oberkampf
Open Tuesday to Saturday, 9am to 8pm, Sunday 9am to 3pm. Closed Monday.
UPDATE: In 2018, Chambelland published a book (in French) with many of their recipes in it, including the bread. The cookbook, Une Autre Idée du Pain is available at the bakery, independent bookstores, as well as on Amazon France.
Related Links
Josey Baker's gluten-free Adventure Bread recipe
Helmut Newcake (Gluten-free bakery and café)
Noglu (Gluten-free restaurant)
Adventure Bread (Gluten-free bread recipe)
Gluten-Free Eating and Dining in Paris