Helmut Newcake, Gluten-Free Bakery in Paris
Ever since I heard word it, I've been anxious to try Helmut Newcake, what's been heralded as the first gluten-free bakery in Paris. While a couple of bakeries and natural food shops offer gluten-free bread, they're invariably made somewhere where other breads are made (risking cross-contamination with wheat flour), or the salesclerks simply stack the gluten-free breads with the regular ones, which is little comfort to those who can't tolerate eating gluten.
So it was a nice surprise to visit Helmut Newcake, where pastry chef Marie Tagliaferro whips up classic French pastries using a variety of flours, including chestnut and buckwheat, to create a range of desserts that are so close to the originals that they told me that a majority of the customers who come in have no idea they're even in a gluten-free bakery.
The friendly fellow behind the counter said that France was un peu retard when it comes to gluten-free offering. But at Helmut Newcake, they're off to a good start catching up. I wasn't expecting traditional French pastries, but more things in the American tradition, like crisps, snack cakes, and cookies, but was surprised (and delighted) to see they hit the right notes with French classics, including one of the best canelés I've ever had. A crisp exterior with a chewy center scented with vanilla made it hard not to pick the whole thing up and gobble it down, instead of using the small spoons provided. (Or sharing it with my dining companion.)
Tartlets are made with ground pistachios and fresh red currants, lemon filling nests in buttery pastry then gets meringuée, and Madame de Fontenay Chocolat has a crown of caramel over a puff of crisp choux pastry and a smear of chocolate ganache. And the French are wild about Le Cheesecake, and my friend Zeva, who I was splitting everything with, said was one of the best she's ever had. It was great, with the fresh flavor of good cream cheese, not overly heavy and dense. It was a bit crumbly and I dropped more than a few bits on the beautifully finished wood floors while trying to shovel it into my mouth while perched on a high barstool. So like a good guest and seasoned pastry-lover, before I left, I took care to leave not a crumb behind, anywhere.
In addition to various cakes and cookies, they're making bread on Sundays, to go along with le brunch, as they say in Paris, but any day of the week, this is one of the few bakeries in town where you can sit down and have a bite to eat with coffee, New York or London-style. Marie was obviously influenced by the coffee-shop vibe. And happily, the coffee is very good, too.
(I've always wondered why there wasn't a late-night dessert café in Paris. Perhaps because people don't go out for dessert in the evening, but I think if given a reason to…)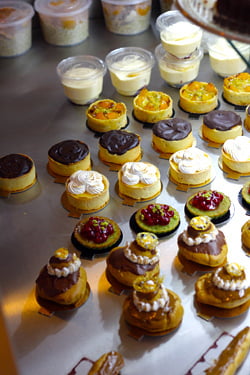 There's a rayon of gluten-free products from neighboring European countries, such as cereals and a few baking ingredients for those wanting to do a bit of browsing shopping. I'm not gluten-free but am thrilled that there's finally a place where people who are, can come and enjoy French pastries without a care. Because who wants to worry when they're eating dessert?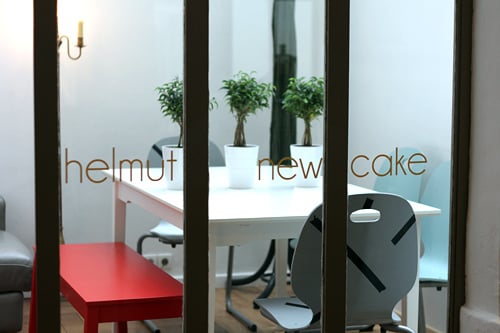 Helmut Newcake
28 rue Vignon (9th)
M: Madeleine
Tél: 09 9 81 31 28 31
[Note: The pictures in this post were taken at the Helmut Newcake bakery and café when it was near the Canal St-Martin. That location has closed.]
Related Links
Noglu: Gluten-free Restaurant in Paris
Chambelland gluten-free boulangerie
Canelé Recipe (Chez Pim)
Gluten-Free Eating and Dining in Paris