Blondel Chocolate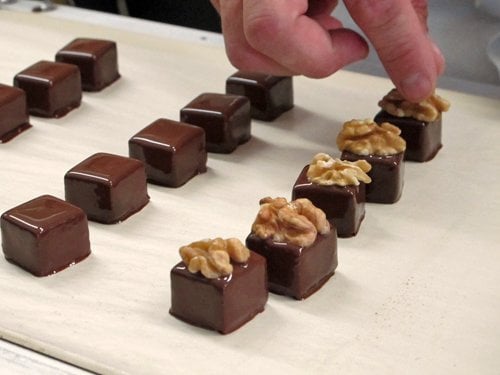 Les françaises are justifiably proud of their chocolates and chocolatiers, but if you talk to them about Swiss chocolate, many will say – "Oh, Swiss chocolate is very, very good." Yet when I press them on which particular brands of chocolate are "very good", they often don't, or can't, pin down the specific names* of any.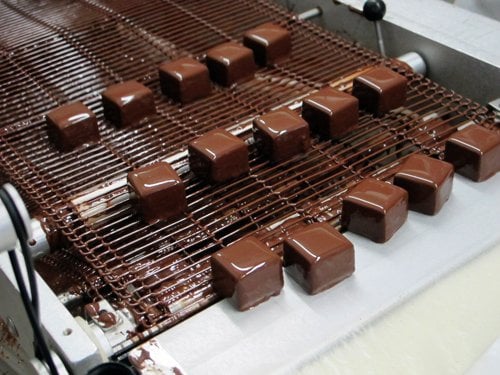 Folks who have been to Lausanne – French, American, and otherwise – however, always talk in glowing terms about Chocolats Blondel. And indeed, they're worthy of adulation from people, far and wide, a fact I recently was reminded of.
Blondel is a narrow slip of a shop; one wall is lined with various flavors of chocolate barks (in light, milk, and dark chocolate, studded with everything from dried cranberries to unusual bitter almonds), and the other side of the shop has showcases of classic dipped chocolates and candied fruits, which get also get a dip on one of the many bowls of chocolate being passed around the kitchen, which I visited with my tour group.
Only four chocolatiers work in the laboratiore, and they're as nice as can be. The two who were working during our visit also had excellent skin, so if anyone tells you chocolate will cause skin problems, I've seen with my own eyes that it's possible to spend your life around the stuff and still have flawless skin. (The waistline, however, I'm not so sure.)
The shop uses various kinds of chocolate, Swiss and French, and if they make it, they dip it in chocolate. I was particularly interested in the white chocolate filled with bitter almonds, which are pretty rare, and contrast nicely with the sweet, creamy taste of the almost pure cocoa butter. I happily took seconds on that one.
Lots of nutty pralines are ground up daily, which are mixtures of caramelized hazelnuts, walnuts, or almonds, which get pounded repeatedly until they're an almost-smooth paste, with little sparks of crackly-sweet nuts when you bite down into it. We tasted a lot of different pralines this week and each spoonful seemed to bring a look of ecstatic pleasure whenever a chocolatier offered us a taste of it right out of the machine or jar.
At Blondel, praline gets mixed with just enough chocolate to firm it up into squares, then passed through a cascade of melted chocolate, then carefully topped with a toasted nut placed squarely in the center.
Soft milk chocolate ganache logs get hand-dipped in even more chocolate, then rolled in powdered sugar to create stubby truffes that simply melt away into nothing but a creamy memory of chocolate when you pop one into your mouth.
Toasted nuts also make an appearance in my favorite bark, which they call chocolat au marteau (chocolate to hammer). The one I could not stop eating if my life had depended on it, they made in front of us (perhaps because they saw how much I was eating?) Turkish pistachios, almonds, and hazelnuts were mixed on a bowl then spread into a huge oval on a marble, then left to harden.
Because the chocolate is tempered, it hardens quickly and within five minutes or so, you can find yourself munching on some of the best candy you can get your hands on. (If you buy it in the adjacent shop, malheureusement, you likely have to wait a few minutes more.)
The folks in Lausanne are generally a pretty cheerful bunch – proud of what they do, and more than happy to share it with others. I was particularly happy they shared three generous platters of chocolate with us – although I was a little miffed I had to share it with the rest of my group— Just kidding you guys!
; )
(Or maybe not…)
Chocolats Blondel
Rue de Bourg 5
Lausanne, Switzerland
(Closed Sunday)


Related Links and Posts
Chocolatiers and Chocolate-Makers
Chocolate-Covered Salted Peanut Caramel Cup Recipe
*The most common brands of chocolate one finds in France for sale are Nestlé and Lindt.