"Green" Nonstick Cookware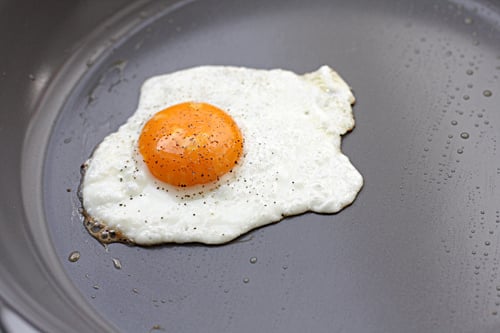 One of the great joys about having a blog is that your Inbox fills up daily with pitches for everything from chocolate shows in Pennsylvania (hello? I live in France…) to Superbowl Sunday and Forth of July article ideas (hello? I live in France…) There are quite a few products that I would laugh at if they weren't so silly, and to be honest, my apartment is so overloaded with stuff that you couldn't fit a stick of gum in here.
I have various pieces of cookware representing a cross-section of French and American manufacturers, as well as some copper pots and pans that I keep around for old time's sake, although I rarely use them. (If I can't run it through the dishwasher, there's a lot less-incentive to grab something.) But I was recently offered a "green" skillet from a European company, Beka, made of a nonstick coating that is said to represent an advance in cookware, which is something I'm always interested in. Plus recently there seems to be more and more health concerns arising regarding traditional nonstick cookware, and the older I get, the more I want to enjoy the precious few days left I have on this earth.
There are so many gadgets that come and go, but nonstick cookware has always been a source of contention. A lot of folks are concerned about health benefits and problems, and to be honest, as much as I like the cast iron skillet I lugged over from America, it sucks for fried rice and omelets and I hate having greasy pans lying around. And I will finally admit that I am always tempted to take a hot soapy sponge to it to clean it off because I've got a little OCD-thing (there, I said it) when it comes to having anything even slightly oily lurking in my kitchen.
A bunch of folks on Twitter responded with "Don't give up your old nonstick yet when I mentioned I was putting my green nonstick pan through its paces. "The finish on my pans stopped working after a week," was the most common refrain.
Currently, in my batterie de cuisine I have two nonstick skillets. Or I should say "had"—the T-Fal one I recently tossed because the finish was going. Which presented an ecological problem – even though I was trading up for a "green" alternative: Do I throw it in the garbage (more waste) or give it to a thrift store (and possibly condone someone else to the hazards of a degrading nonstick finish?) The second one is from a highly respected cookware manufacturer that works well and the finish is staying put. But it retails for quite a bit more than this pan.
So I've been using my green nonstick pan for a few weeks and I have to say, I've seen no degradation in quality of the finish and nothing sticks to it. And I mean, nothing. These pans are priced somewhat higher than other green nonstick pans on Amazon. (The cheapest ones are around $25.) But I'm happy with it and would certainly invest in a "green" nonstick skillet of some sort after using one to cook a few things.
I gave it a spin with a fried egg with just a teensy bit of butter, a batch of fried rice, sautéed wheat berries with tofu, and even bacon. In France, poitrine fumée (bacon) often requires the addition of extra oil since it doesn't spew off the grand slick that American bacon does. And like Italians (and perhaps the French), I use oil and fat for flavor, not merely to keep things from sticking. But I don't need to overdo it and will often toss pasta in bacon to give it good flavor, along with dandelion greens, garlic, and red chile flakes, adding oil .
As a test, I heated bacon without any oil in the pan. As it cooked, any sticky bits were easily scraped up with a wooden spoon, although they would have browned up nicer if I'd added a few drips of oil. My bacon didn't reach that heavily bronzed, crisp state that I was looking for, although American bacon likely would because of all the fat it tends to exude.
Then I added the rest of the ingredients, tossing them well to get everything good and hot, finishing it with a ladleful of the hot, starchy pasta water to give it some moisture. It came out just fine with no sticking. A few days later I made a quick version of fried rice as well as a skillet dinner of marinated tofu and had no sticking problems. Am not sure if I should be waiting for the other shoe to drop, but so far, so good.
I also feel good because I don't have to worry about tossing the pan when the finish wears down, like I did with the cheaper nonstick pans I've had in the past. So far, I'm liking it.

Related Links
Is Cooking with nonstick pans bad for your health? (Consumer Reports)
How Not to Wreck a Nonstick Pan (New York Times)
Dangers of Cooking with Teflon (Culinaut)
Compound in Teflon a Likely Carcinogen (Washington Post)
Is GreenPan a Safe Alternative to Toxic Teflon? (Blogher)
Coated Pots and Pans Can Present Health Hazards (Seattle Times)


Disclosure: This is not a paid product promotion or sponsored post.
---
UPDATE: Almost one year after I wrote this post, I am still using the pan and the finish is holding up perfectly. I use it a couple of times a week, and after use, I hand wash and towel-dry it.