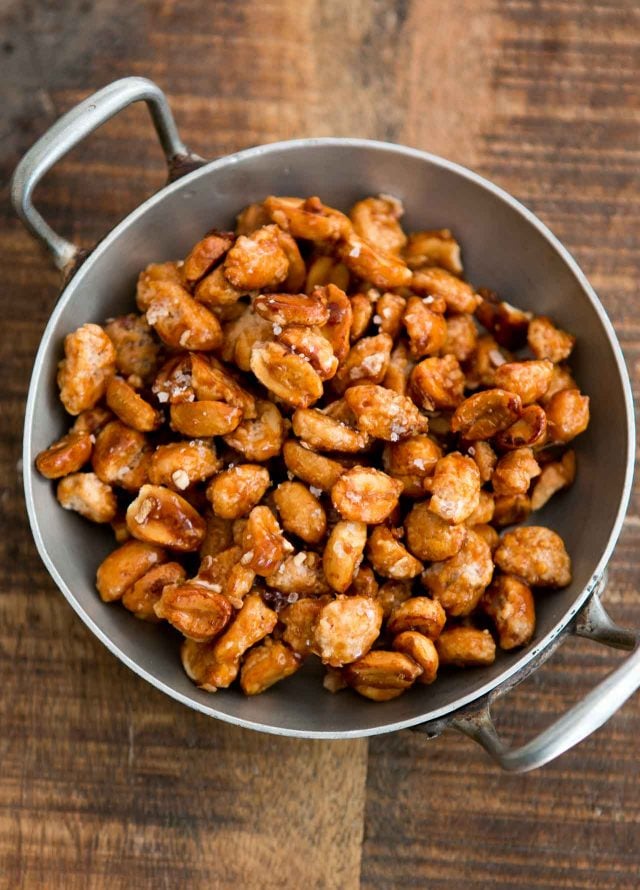 Let's get right to the point: this is my killer app recipe, the one I go to more than anything else. I could tell a million stories about this, but I'll just skip all that stuff for now, and scoot right to the goods.
I love these peanuts! Not only are they absolutely scrumptious and the easiest candy you can make, but if you keep a sack of almonds or peanuts on hand, you can make them in about 10 minutes. Tied into a little sack, they're a great hostess gift in lieu of a bottle of wine (and cheaper!), and I serve them often as a cocktail snack, or after dinner, in a bowl, for everyone to dig into.
I also like to mix these candied peanuts in just-churned ice cream, which I'm going to do with this particular batch, along with a swirl of homemade dulce de leche. A handful chopped and sprinkled over a spinach salad or batch of cole slaw would be pretty terrific, for those looking for savory apps.

You can use any kind of salt, such as cinnamon salt, smoked, or coarse sea salt, and you can add some spices at the end (if you add them earlier, they'll burn.) But resist the temptation to get too fussy; these simple candied peanuts are great just the way they are.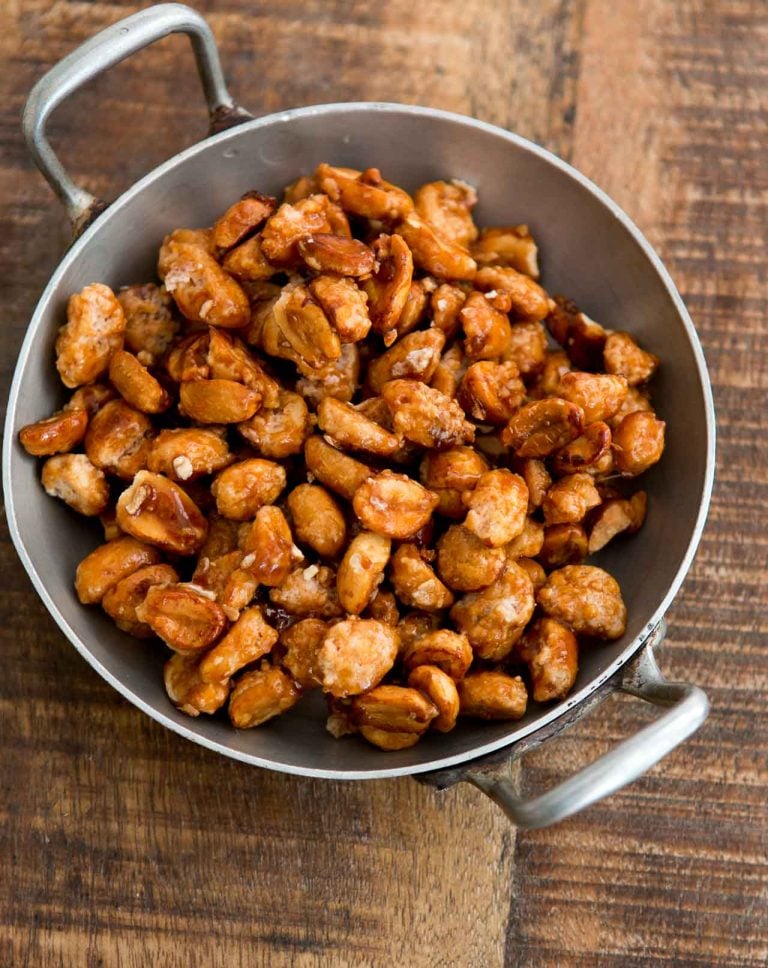 And once you tilt out your first batch of candied peanuts, you'll beam with pride like the accomplished candy maker that you've just become.
Caramelized Peanuts
Adapted from
The Perfect Scoop
You can easily cut the recipe in half, although I don't think you'll have any trouble finishing off a whole batch. I've made this many times using raw almonds, but if you want to experiment with other nuts, I'd be interested in hearing how they turn out. I think round nuts work best so the sugar can tumble around and coat them, rather than get stuck in any pecan-like nooks and crannies.
2

cups (275g)

raw or roasted (unsalted) peanuts

1

cup (200g)

sugar

1/3

cup (75ml)

water

a sprinkle of coarse sea salt

, or smoked salt

optional: ground cinnamon or chili powder
In a wide, heavy-duty skillet, mix the peanuts with the sugar and water. Cook the ingredients over moderate heat, stirring almost non-stop, until the sugary liquid begins to crystallize. (You'll think you made a mistake, but you didn't.) It will take a few minutes.

Keep stirring until the sugar gets sandy and dry around the peanuts.

Lower the heat and keep going, scraping up any syrup collecting in the bottom of the pan and stir the peanuts in it, coating them as much as possible. As you go, tilt the pan, removing it from the heat from time-to-time to regulate and control the heat and the syrup, so you can coat the nuts with the liquid as it darkens without burning the peanuts or the syrup. This is the only tricky part—I like to get the peanuts as deeply-bronzed as possible. If the mixture starts to smoke, simply remove it from the heat and stir further, coating the nuts.

Right before they peanuts are done, sprinkle them with a flurry of flaky salt (and pinch of cinnamon or chili powder, if you want), stir them a couple of times, then tilt the peanuts out onto a baking sheet or a marble countertop.

Let the peanuts cool completely, breaking up any clumps as they cool. Store in an airtight container. The peanuts will keep for up to a week.