Chocolate Mousse Cake
There are two things hard about living in France. The first is ….well, let's not get into that today. The second is getting recipes from French women. It's not because they closely guard their secrets, but it's because they frequently use recipes as guidelines rather than making them by rote.
So if you ask a question, the response is often—"Because that's always the way I did it." Which was what I was told when I read the instructions on the hand-written recipe I snagged, that said to dip the bottom of the bowl of melted chocolate in a larger basin of cool water to bring down the temperature, where lazy old me would just let it sit on the counter until it was cool. Who wants to empty all those dishes out of the sink?
They often refuse to specify exact quantities. "Just add enough flour until the dough looks correct" is a fairly common response when I press for things like 'details', and I keep imagining how much easier writing a cookbook (and a blog) would be if I could give instructions like that.

They are happy to add a little more or this, or take out a little bit of that, and variations are just part of the recipe, which isn't expected to turn out the same way twice. At least in my experience baking with them.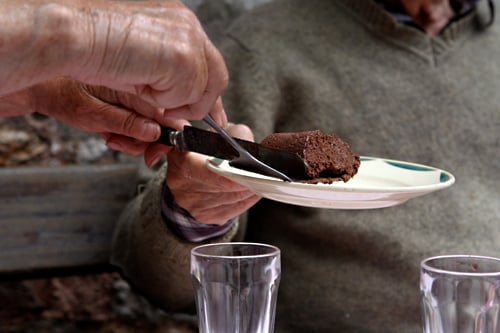 This is a recipe from Romain's mother, who leaves most of the regular cooking to her husband (who is a very good cook) and takes over the baking duties herself. She made the cake for me and I was floored at not only how rich and chocolaty it was, but by the unusual method of preparation.
It's called, technically, Gâteau de Pape, or "Pope's Cake", but she didn't know why. And a quick search on the newfangled internet revealed nothing else like this out there fitting that description. So if anyone knows anything about it, I'd love to know.
French people also don't have all the gadgets and batterie de cuisine that Americans have; I haven't seen all that many avocado slicers or automatic butter slicers in the kitchens of French people. Most newcomers to my apartment enter and immediately their eyes widen as they hone in on my imposing KitchenAid mixer and ask if I am running a professional bakery here. (I would concur that sometimes it does feel that way.)
I had some questions about her recipe after she gave it to me so I went over to her apartment to make one alongside her. And I brought along a scale, which when I pulled it out of my bag, she looked at it as if I just brought over the iPhone v.20, the one from ten years from now.
So we cut, sliced, measured, and melted. We had to do a little math because the usual Nestlé chocolate bars that almost everyone uses in France for baking are sold in 200 gram tablets. She said she used "One-and-a-half" bars for the cake, and we had a little disagreement about that, since in my book, that's 200 + 100 grams = 300 grams. And although I usually just let folks around here have their way when conjuring up their own peculiar rules, if I am sure I can win—and this time I had a scale on my side—an amount of chocolate was mutually agreed upon.
When we got into the actual making of the cake, she realized her sugar tin was empty but said she preferred to use light brown sugar anyways and crumbled in a few of the cubes that were in the sugar bowl instead. Because I'm such a good guest, I let her get away with without weighing them. She also insisted on using a very worn down wooden spoon for folding in the egg whites…and a vintage square tureen for whipping the egg whites.
When I noticed a modern blue silicone spatula sitting in the utensil crock and asked why she didn't use it, she said that she liked the wood spatula she was using, which was so worn down that when I tried using it, it was like folding in egg whites with a screwdriver.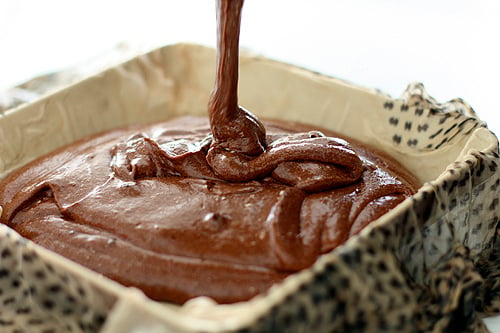 One might say that this Chocolate Mousse Cake isn't spectacularly high, or perfectly proportioned, or whatever, which is fine with me. I must be becoming French. And it does vary in texture; I've had it when it's relatively firm and sliceable, and other times, a spoon would be the more appropriate serving utensil.
Most of the French people I know don't shy away from using raw eggs. (They also don't always refrigerate their eggs, but I do, so I'm not completely French I guess.) If you have concerns about eating uncooked eggs, buy eggs from a trusted source like a local farmer's market. They cost more, but to me, I'm okay spending a little extra on an egg if I'm feeding it to my favorite person: Me.
And honestly, I can't think of a better place to spend my hard-earned money than on a chocolate dessert as good as this chocolate mousse cake.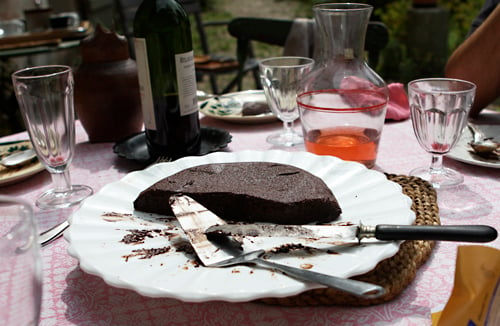 | | |
| --- | --- |
| Chocolate Mousse Cake | Print Recipe |
For similar results, use chocolate that is approximately 52% cacao solids and whip the egg whites pretty firm before folding them in. A clean cloth or thin tea towel is what she uses to line the cake plate and I was told that it was best eaten two days after it's made, so plan ahead. Lastly, don't worry if your cake isn't sliceable; if not, simply serve portions with a large spoon. It tastes just as good.
250g
(9 ounces)
dark chocolate,
coarsely chopped
45ml
(3 tablespoons)
water
190g
(7 ounces)
unsalted butter,
cut into pieces
3
tablespoons
sugar,
preferably light brown
1. In a medium saucepan, warm the chocolate, water, and butter over low heat, stirring, until melted and smooth.
2. Remove from heat and stir in the sugar then the egg yolks.
3. Fill a basin or the sink with a few inches of very cold water and beat the chocolate for a few minutes until the consistency of brownie batter.
(The original recipe said "blanchiment" which I thought meant "whiten" but when she did it, it didn't whiten, or even really lighten at all. But I'd still do it.)
4. In a separate bowl, beat the egg whites until stiff. Fold the whites into the chocolate mixture until smooth.
5. Moisten well a muslin cloth or a clean (lint free) tea towel, and line a 9-inch (23 cm) round glass or earthenware baking dish such as a pie plate, with it, letting the sides overhang the edges over the dish.
(Note: Although she normally uses and recommends a round dish, we used a square baking dish which worked fine.)
6. Scrape the batter into the dish and smooth the top. Lift the sides of the damp cloth and fold it over the batter, enveloping it.
7. Let chill for 2 days before serving.
To serve, open up the towel and invert onto a serving plate. You could serve it with whipped cream or vanilla ice cream, but it's actually best just by itself.
Related Posts and Recipes
Julia Child's Chocolate Mousse
Eggs Without Fear of Salmonella
Baking Ingredients and Substitutions
The Chocolate Cake Recipe I Found on a Men's Room Wall