Chocolate Mousse Recipe
My search for the perfect, most luscious and intense chocolate mousse brought me right back from France, to America, to Julia Child's recipe. Although I have a few other chocolate mousse recipes in my repertoire, her recipe is a classic and has that perfect slightly sticky texture, that sticks to your tastebuds, then hits you with a wallop of pure dark chocolate flavor.
This recipe requires a bit of whipping. So if you've ever wanted to really know why French women don't get fat even though they eat all those luscious desserts, well…once you make this mousse, you'll find out. But trust me, it's worth it.
As the recipe is classic French, it uses raw eggs. Some folks are concerned about raw eggs, and if you're one of them, use pasteurized egg whites, which you should verify are suitable for whipping. (They should say on the label whether or not they can be whipped.) Some won't whip, which I learned the hard way a few year's back. When I make anything that uses uncooked eggs, I use the freshest eggs I can get my hands on.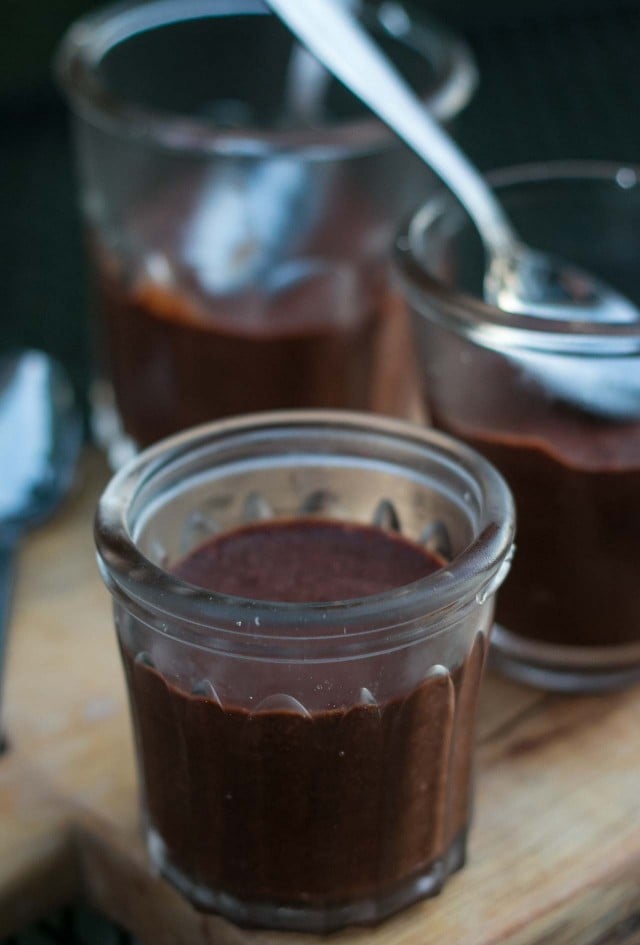 Speaking of top-quality, since the flavor of the mousse depends on good chocolate, feel free to splurge on a good brand; you won't regret it. For this batch, I broke up a tablet of dark, bittersweet Belgian chocolate and melted it with rum along with good, strong coffee.
Bon Appétit!…as Julia would say.

| | |
| --- | --- |
| Chocolate Mousse | Print Recipe |
Adapted from Mastering the Art of French Cooking (Knopf) by Julia Child. There's not a lot of tweaking that I would do to this recipe. If you want to give it a little salty kick, use salted butter. For those avoiding coffee, you can use decaf or black tea. The rum can be omitted. If so, use 1 teaspoon of vanilla extract. It may seem like a few steps (and bowls) but the recipe is quite straightforward. You'll need one medium saucepan partially filled with barely simmering water for melting the chocolate and butter, then use it again for whipping the egg yolks and sugar. It's a bit of a workout so feel free to use a handheld electric mixer if you don't have the moxie for a bit of whisking.
6
ounces (170g)
bittersweet or semisweet chocolate,
chopped
6
ounces (170g)
unsalted butter,
cut into small pieces
1/4
cup (60ml)
dark-brewed coffee
2/3
cup (170g) plus 1 tablespoon
sugar
2
tablespoons (30ml)
dark rum
1
tablespoon (15ml)
water
1/2
teaspoon
vanilla extract
1. In a medium to large bowl set over a saucepan of barely simmering water, melt together the chocolate, butter and coffee, stirring until smooth. Remove the bowl from the heat and let sit until tepid.
2. Fill a large bowl with ice water and set aside.
3. In another medium bowl set over the simmering water, whisk the yolks of the eggs with the 2/3 cup of sugar, rum, and water for about 3 minutes until the mixture is thick, like runny mayonnaise. (You can also use a handheld electric mixer.)
4. Remove the bowl from heat and place the bowl of whipped egg yolks in the bowl of ice water. Beat gently until cool and thick. Remove the bowl from the ice, and fold the chocolate mixture into the egg yolks.
5. In a separate bowl, beat the egg whites with the salt until frothy. Continue to beat until they start to hold their shape. Whip in the 1 tablespoon of sugar and continue to beat until thick and shiny, but not completely stiff, then add the vanilla.
6. Fold one-third of the beaten egg whites into the chocolate mixture, then fold in the remainder of the whites just until incorporated, but don't overdo it or the mousse will lose volume.
7. Transfer the mousse to a serving bowl or divide into 6 or 8 serving dishes, and refrigerate for at least 4 hours, until firm.
Serving: I like to serve the chocolate mousse as it is, maybe with just a small dollop of whipped cream – it neither needs, nor wants, much adornment. It's great on its own. Another option is some orange creme anglaise: if you serve it from a large serving bowl, you can spread a pool of icy cold creme anglaise on individual plates, then put a scoop or two of chocolate mousse in the center of each.
Storage: The chocolate mousse can be refrigerated for up to 4 days.