Renting an Apartment in Paris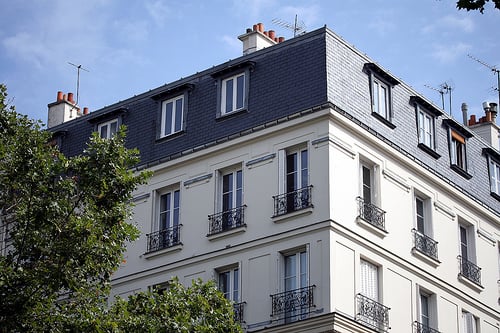 Many visitors to Paris wish to rent their own apartments for a variety of reasons, from wanting to save money, to "living like a local." In the last few years, Air BnB (started in 2008) and similar rentals have popped up, making a big splash in the Paris rental market. If you're looking to rent an apartment there are now scores of websites and companies that rent in all prices ranges, from a space on a sofa, to a chic loft in the Marais. But while many owners will rent a short-term vacation apartment from an agency, the most economical way to stay in Paris is to find an apartment that's for rent by owner. (FRBO).
Aside from being less-expensive than a hotel, a benefit of renting an apartment is that you can save big-time by skipping hotel breakfasts and get your own freshly-baked pain au chocolat from that charming little pastry shop on the corner.

The downside is that there is no concierge or desk clerk. And in some cases, owners may cancel at the last minute, leaving you stranded for a place to stay – which could be a problem in high tourist season. Be sure to ask all pertinent questions and advance and read reviews, although those are sometimes curated by rental websites: I once left one that was honest about an apartment rental that was lukewarm from the most widely known for rent by owner website . (But mentioned how nice the owner of the apartment was.) It was deleted from the site, and only very positive reviews remained published for that listing. Hmmm…
Here are a few other things to know about renting an apartment in Paris:
-If you're looking for a desk clerk or maid service in a rental-by-owner apartment, there usually isn't anyone to call for museum hours, transport, calling a cab, restaurant reservations, of if there's a problem. Some private hosts will give suggestions and be helpful. Others might have you pick up a key at a nearby business, and you may never meet them. In any case, always ask if they have someone you can call in case of an emergency. Going through a trusted apartment rental agency (a few are listed below) can mitigate those problems.
-Luggage storage may be a problem. Unlike a hotel, if you arrive early, you'll have to cool your heels with your bags until the apartment is ready. Seasoned travels often rent the apartment the day before their arrival, if it's early, so they don't lose valuable vacation time waiting on the street or in a café. You may need to leave the apartment long before your flight home and unlike a hotel, there is nowhere to store luggage. (Most of the train stations have luggage storage, or you can use a service like City Locker.)
-The owner's stuff may be there if you're renting an apartment directly from an owner. You should expect a set of clean sheets, as well as towels. Always ask about linens. I've stayed in places in France that expect you to bring your own linens. Don't necessarily expect fluffy stacks of high thread-count, brand-new linens or spacious, empty closets with lots of space.
-With any apartment, you'll pay a premium for location. Apartments in the Marais or Left Bank will be more expensive than other neighborhoods. Similarly, space is valuable in Paris, too. A studio will be far less than a 1 or 2-bedroom apartment. Consider how much time you'll really be spending in your apartment and that tiny—and less-expensive—studio will probably be just fine if there's just one or two of you.
The first 9 arrondissements are considered the most desirable by visitors (often called the "single digit" arrondissements, although there are great places in other areas, too. Parts of the 10th, 11th, and other neighborhoods are not to be overlooked. Most of the popular (ie: trendy) restaurants are in the 9th, 10th and 11th. Paris is a relatively safe city but like most other cities, there are areas which you should take precautions in. (Train stations are attractive to pickpockets, especially the dicey Gare du Nord.) Avoid areas where you'll feel uncomfortable, especially on the outer reaches of the métro lines. Taxis can be scarce in Paris, especially late at night. Visitors might want to download the Uber app and use that. A restaurant anywhere in Paris would be happy to call a cab for you as well.
-Many rentals advertised may be by owners who are not legally entitled to rent their apartments. Keep in mind that they may not have insurance to cover events, such as personal and accident coverage. Check before you go, especially if you have homeowner's insurance to see what is covered when you travel.
-Other things to inquire about: what floor is the apartment on, is there an elevator, what is the neighborhood like, are the owners smokers, can you use any food in the kitchen, are there any pets or plants, does the building have a guardienne who keeps an eye on things, is there a washer/dryer (few apartments in Paris have dryers, so it's not common not to have one), and ask if they will leave any instructions for operating the appliances as European machines work differently than their American counterparts. Be sure to get the Wifi code as well.
-Ask about a security deposit and how the rent will be paid, as well as the length of time before the deposit is returned. In spite of what some of the travel sites are telling you, few in Paris are interested in giving someone a deal who wants to pay in dollars.
-Do ask if there is a cleaning fee and if you will be responsible for utilities. It's not uncommon for renters to pay those charges.
-Respect the owner's belongings. Don't snoop, and if you break something, leave a note and offer payment. If you are in a residential building, respect the neighbors and keep noise to an absolute minimum, especially in common areas, like stairways and hallways. Keep in mind that people live in the other apartments and are probably owners, and want their peace and quiet. Paris apartments aren't well insulated and sound travels.
-Make sure to get explicit instructions and directions from the owner about the apartment. Many places in Paris have door codes, numbered elevators, and what-have-you, which can be confusing if you're jet-lagged and unaccustomed to Parisian apartment buildings. Print them out and bring them with you along with the phone number. Don't store them on your phone only, as the battery may die or your internet connection could be spotty.
-Always take caution sending money to strangers in advance and ask for references that you can telephone (not email) so you can confirm, to avoid being scammed. Never send money by telegram or Western Union, or places where you can't verify the owner or get a refund unless you are 110% sure of the recipient. Some of the B&B websites have online reviews or verify owners, for an additional measure of assurance.
-If you do rent an Air BnB or similar apartment arrangement, be aware that the city of Paris is cracking down on those type of rental arrangements, to some degree. While most people don't have any problems, it's best to be discreet and respectful of neighbors and the neighborhood, to avoid problems.
Paris Apartment Rental Tips & Links
These are links to sites that are either non-commercial or offer interesting alternatives to the usual apartment rental sites. As mentioned above, apartments rented from non-commercial agencies may not have appropriate insurance which traditional agencies might offer and one should accept any risks associated with that. Some of these sites offer swapping arrangements.
Air BnB
Apartments and rooms for rent in private apartments.
9Flats
European rental-by-owner site.
Roomorama
Rooms and apartments for rent.
FUSAC
And old favorite amongst Paris expats for apartments, for long or short term.
Craigslist Paris
Check under "Housing" and "Sublets" for short-term rentals. (Be aware of scams and sending money to strangers through Craigslist.)
Haven in Paris
Luxurious rentals are the specialty of this highly respected boutique agency.
Particulier-à-Particulier
One of the largest resources in France for long-term rentals. (Site in French and English.)
Flipkey
Short term apartment rental site, by TripAdvisor.
Paris Bed & Breakfast Network
As the name implies, Paris' bed and breakfast network.
Bed & Breakfast Paris
Another B & B network.
Paris Perfect
Upscale Paris apartment rentals.
Home Exchange
Offers the possibility to do a home exchange.
Frommers
Description of Paris neighborhood and the attractions within each.
Secrets of Paris
Great tips and links for renting an apartment in Paris, including information about apartment rental scams.
Paris Marais
Some unusual apartments for rent in the historic Marais.
Vacation Rentals By Owner (VRBO)
Apartment rentals directly from owners in Paris.
Couch Surfing
Worldwide network for travelers wishing to network and willing to crash on someone's sofa.
Guardian Home Exchange
UK-based home exchange program.
Paris Apartment Info
Cross-reference listing of commercial rental apartment companies in Paris.
Health Care Tips for Travelers to Paris
Archive of my Paris travel tips