Jamie Oliver
My desktop is a mess, cluttered with posts that I started, but never got around to finishing. Like the one about Jamie Oliver, who personally doesn't make me sick, but the camera work on his show definitely makes me quesy.
A lot of times a thought will hit me when I'm out and about, then I'll race home and start writing, only never to go back and follow up and finish the post.
Anyhow, these are some posts that I started and never got around to finishing up. But I have so many new things that I want to write about, it was time to let these go. So here's a look at what could've been, but never was, and never will be…
How To Look Parisian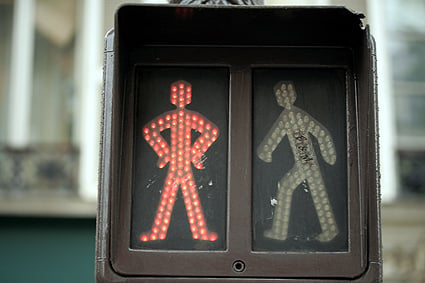 I found a wallet on the street, and was with my partner, who's Parisian. Opening it up, there was a school ID so we stopped in the nearby school to return it to the front desk. He did all of the talking, I stood by not making a sound.
When it was time to leave, she looked at me, and said…in English, "And thank you very much, too."
I hadn't said anything. I wasn't wearing my fanny pack or puffy white sneakers. Heck, I wasn't even smiling. Yet somehow she knew.
(Ed: Then, for some reason, I went off on this tangent. Don't know what I was thinking…maybe I'd just had a bad encounter elsewhere that day?-dl)
The most important thing to remember is this:
Whenever you approach someone, realize that you're bothering them.
Whenever someone approaches you, act like they're bothering you.
It's a fine line and there's a little dance you do in shops when you need assistance. First, you have to bother them, so they have to act bothered back.
Then if they ask you a follow-up question, you need to act bothered back. Most of the time, even more so than they looked when you bothered them. You don't want them to think you're more important than they are, do you?
So then they think that you being bothered by them is more important than them being bothered by you.
Got that?
(I have no idea where this one was going, but was found it amusing that in spite of the fact I rarely wear sneakers, and try not to smile, I get pegged as an American without even moving a muscle. Then I kind of segued into a thing about Parisians that I never got back to and even confused myself by the end.
I also like the crosswalk signs, showing a notoriously impatient Parisian with his hands on his hips, waiting indignantly to cross the street. That sign says so much, and I wanted to share a photo of it with a story. But I guess I'll just have to let the sign speak for itself. -dl)
3 Sure-Fire Ways to Avoid Going Postal in Paris

1. Use the machine
2. Check the busy times
(I couldn't figure out a third one. But believe it or not, La Poste is pretty good. They have electronic machines, in several languages, for buying stamps, and outside, there's a chart at each post office listing their busy and not-so-busy times. I just liked the title of this. I was also afraid if I started taking photos around the post office, I might get in trouble. -dl)
French Salads
I've been trying to figure out who you have to blow around here to get a decent salad?
I ordered the "house" salad, which the blackboard said was composed of five ingredients: lettuce, green beans, ham, melon, and dressing. When I dragged my fork through it, I noticed it was missing both the green beans and the dressing. How on earth does one forget to put 2/5ths of the ingredients on a salad? I can see missing one. But 2 out of 5 of them?
Last week I had a salad at some fancy name café. When it came out, it was riddled with canned potatoes that were sliced. Honestly, is it really that much easier, or cheaper, to open a can than to dump a bag of little potatoes in a baking pan, drizzle them with olive oil and salt, then bake them
(I was, and am, frustrated by the lousy salads in Paris. Sure you can get good ones, but most likely, one shouldn't expect lots of fresh vegetables or even housemade dressing. Most often it comes from a bottle. I was on a rant after I had a salad that I couldn't even finish, that cost almost 17€ and had canned potatoes on it. For that kind of money, you'd think they'd use real taters. Wouldn't you? I also thought of that phrase I used in the first sentence since I cooked with a woman, named Mary Brown, who had the demeanor of a librarian, but came out with that phrase once about something, the rest of us in the kitchen practically dropped our knifes, and jaws, when it came out of her mouth. -dl)
Om
For Anglophones, one of the more frustrating things about learning French is half- to one-third of the end of the word isn't pronounced. No one quite seems to be able to explain it to me, since why put something there that's unnecessary in the first place? But I've been told that a couple of centuries ago, in the past, people did indeed pronounce the entire word. Maybe since Parisians are always in a hurry—except when they're in front of you in line—they just at some point collectively decided to drop the end off of words. Either that, or they did it right before I arrived a couple of years back to mess me up.
To make matters plus complique, sometimes you do pronounce the end of the word, although if you're looking for a hard-and-fast rule, you can forget it because it doesn't exist. For instance, 'Paris' is pronounced 'pare-ree', but the name 'Régis' is pronounced 'Ray-jeese'.
For those of you who practice yoga, often the word 'om' is chanted. Although there are a lot of various definitions about the meaning of 'om', what I remember most from a teacher in San Francisco is that the final 'm' is the sound of compassion and…
(Hoo-boy. Trying to translate Sanskrit it bad enough. Combining it was an analysis of the French is another story altogether. (My mind does indeed work in mysterious ways.) I was told the "M" in OM is compassion and since the French often don't pronounce the last part of words, maybe they lack compassion. I dunno, but it was a road I wasn't sure how to go down. So I detoured. -dl)
Rosemary Cornmeal Sables with fleur de sel
French people don't use cornmeal much in baking like Americans do. You will find breads labeled pain de maiz, but they're nothing like good old American cornbread.
These simple sables are shortbread cookies, which get their name from the word 'sandy' or sable. Little bits of fleur de sel enliven them
Because the recipes in this book were getting awfully chocolate-centric, I thought I'd add a cookie that I love, which was inspired by the Rosemary Shortbread cookies in my second book, Ripe For Dessert.
(I loved the idea of cornmeal, salt, and rosemary in a buttery cookie. But somehow the idea and the reality never made it onto the site. Someday maybe I'll come back to them. Or not.-dl)
Jamie Oliver Makes Me Sick
For some reason, I'm now getting Cuisine TV on my cable line-up. I don't know if it's a teaser, and how long it's going to last, but I'm getting a chance to watch some of the food television that people are always talking about.
There's Top Chef, dubbed in French (!) and Jamie Oliver. I remember before he was famous, I was at a terrific cookbook-only store in Los Angeles and they showed me this book that was full of great, 'normal looking' food; things I'd want to eat.
So I've been watching his program, dubbed in French, but the moving camera makes me sick. I can barely watch as he chops and slices, cracking an egg, the camera following his movements as he raps it on the counter, the swooping along as he plops it into the sizzling pan. The food looks delicious but after a few minutes, my stomach starts flipping and I can't watch anymore.
(For a while, I was getting French food television as a free preview, which is now a 10€ a month option. Although I didn't get it for free, the porn channel is another 10€ option. I'm still making up my mind which is a better deal.
People often ask me what I think of various food personalities and since I don't have access to food television, I rarely see it. Jamie Oliver makes food that looks really good, and his recipes are great, but he runs around and the camera follows him like a madman, swooping up and down as he pours, chopping and moving around. After a few minutes, I can't look at the screen anymore. Can anyone sit through an episode without the aid of a Dramamine?-dl)
Ok, that's it. Thanks for indulging me and letting me clean off my desktop. That feels better. Now if I could only tackle my freezer. Or my closet. Or the bakeware cabinet. But I'll spare you the details of those.
Have a great weekend!