Yes, that's me in the corner, wolfing down falafels at Maoz. I was trying to figure out a way to break the news, but my favorite falafel place in Paris is not where you think it is. Last time I went to another joint, the French fries that came out were so light and limp that I was wondering what was going through the head of the cook who plated them up. Let me state this simply (and in bold): If you have a professional-strength deep fryer, there's no possible excuse for soggy fries.
When the waiter came by again and noted the sad heap still sitting on my plate, that I'd left mostly untouched. I told him they were "Pas cuit" (uncooked). He shrugged, and walked away. So let's just say I like icons well enough, but the proof is in the pita and I've been getting my falafel fix at Maoz.
I should apologize for the less-than-stellar photos but I have a few excuses. Actually, I have only one—the falafel I was eating was so good that I was diving full-force into it, and at the moment nothing else really mattered. A few folks might raise an eyebrow that Maoz is an international chain. But with just over a dozen small outlets around the world, I'd like to think that they're just spreading a good idea around.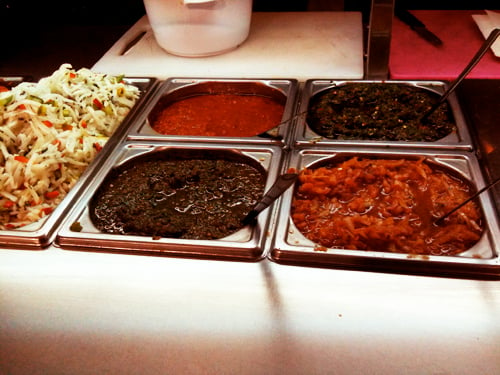 They get things right. The pita, which comes in regular or whole-wheat, gets toasted and split to order and is still warm when they hand it over. The falafels also get deep-fried to order, too, and aren't buried under a pile of wan cabbage. They come out moist on the inside, crisp on the out. But the best part is the help-yourself condiment bar.
(I should also comment that the times I've been, the staff has been super nice and when they're not making falafels, they're always wiping down the counters, and re-stocking and making sure the condiment bar is nice and neat.)
It's one of the few à volonté places in Paris where you are welcome to heap as much of the salads and condiments on your falafel as you like. There's vegetable slaw, couscous salad, green and black olives, pickled vegetables, chiles, tomatoes, marinated carrots and a few other goodies.
I am dizzy at the option of four different hot sauces, two of which are mild and the other two, that I use in tandem to tag team each other in my sandwich, are lively and will appeal to those of us who still haven't become accustomed to tamer versions masquerading as le sauce piquante. The hot sauces here aren't just a dull, background murmur, but will leave your lips tingling as you walk back down the street. I don't know what's in it, but I like the fiery green one best.
I haven't had the fries because I've given up on them around town, unless I can see them before ordering. And I've not seen anyone eating the fries at Maoz, so I can't make tell you if they're any good or not. But next time I'm going to take one for the team, and give them a try. And I'll probably add some of that green hot sauce as well, which I'll help myself to, à volonté.
Maoz
36, rue Saint-André des Arts (6th)
and
8 rue Xavier Privas (5th)
Related Links
Vegetarian Dining in Paris

The Hottest Restaurant in Paris
Tips for Vegetarian Dining in Paris
Maoz Vegetarian Falafel (Secrets of Paris)