Provencal Chicken with Pastis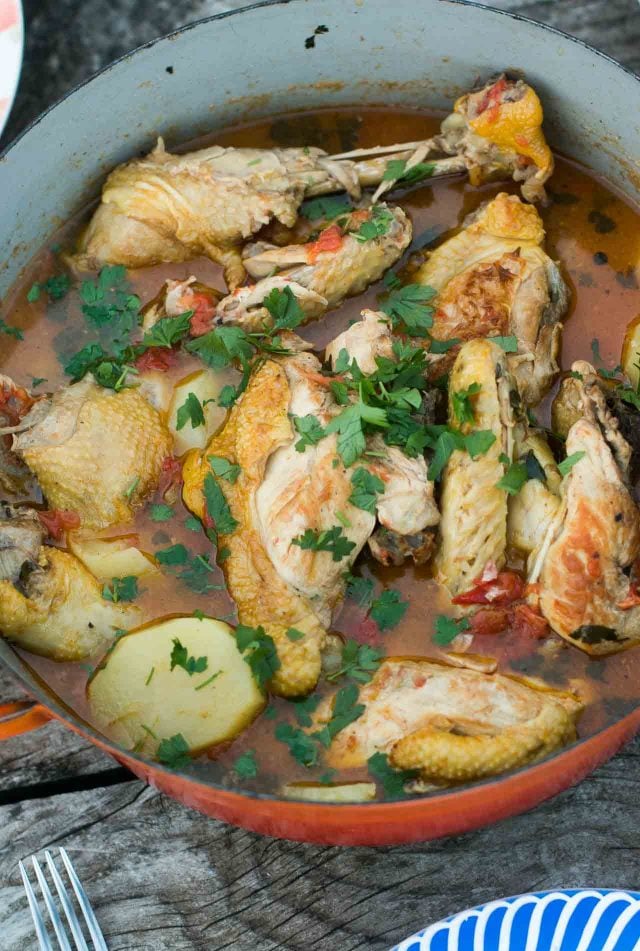 In France, you're either a juilettiste or aoûtien, meaning you take your annual summer vacation in July or August, although many get more than four weeks off (and some get less), so there's room for a few crossovers as well. I don't know what the word for someone who takes their summer vacation during both months is…chanceux? (lucky?) – or if there is a word for those of us who go on break in September is, but that's where I fall.
However, it's impossible if you live in France not to get swept up in the "I gotta get out of town" feeling, as places shutter up and Parisians race toward train stations and airports, with the sounds of luggage being wheeled over the uneven sidewalks, or families packing up their kids, and cars, and hitting the autoroute.
While others think the French vacation is extremely generous, it's a right the French fought for in 1936. Before that, most working-class people had never had time off, although now it's something that's taken for granted in France. So if you want the same thing, follow their example and hit the streets where you live.
Our trip was, for me, a working vacation, because we Americans are wired differently. (Although I'm investigating how to change mine.) In the meantime, I found myself wanting to share a story and pictures of a favorite antique shop, so pulled out my laptop, and got carried away, sharing lots of photos, I think around fifty, and a story. Then we went to a local outdoor market that I just couldn't not share with you either.
Regardless, after patting myself on the back, I started to fade into the slower way of life in the French countryside, right about the time my internet connection began to fade, which happens that farther you get from major cities in France. That's why you'll see Parisians out in the countryside, standing in the middle of town squares or open fields, pulling on cigarettes, desperate for a network connection. At least that was us, minus the cigarettes.
On another note, I was on a fairly secluded beach that was sublime – not crowded…and not looking for an internet connection, but admiring the sparkling clear skies and swimming in the gentle waves that lapped the water forward, as the dramatic tide on Brittany came in. But as the water moved toward where I laid my towel to catch some sun, so did the smokers, who moved their blankets and towels closer and closer to me, until I was completely surrounded
: -/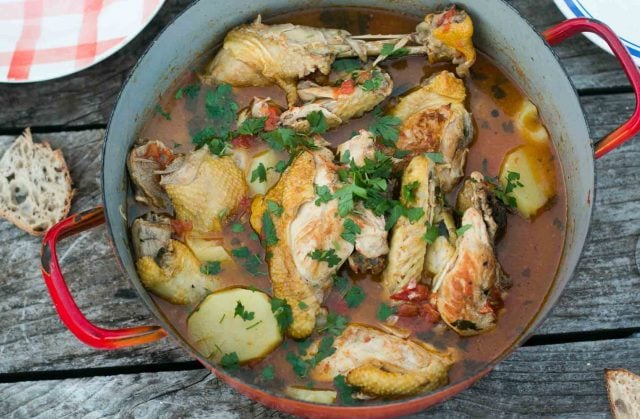 As we moved farther from cities, my internet connection became even more spotty – much to the chagrin of people trying to reach me, who didn't understand that in France, in August, closed for business means closed for business. But I was glad I brought along my camera, for un petit travail, when my friend Hélène said she was going to make poulet au pastis for dinner.
Hélène and her husband live out in the country and grow most of their own vegetables. It's easy to forget what a tomato right off the vine taste like, or how much better green beans that were just picked a few minutes ago are, compared to their counterparts that have been shipped from elsewhere.
Right before hitting the kitchen, Hélène heads out to the garden to gather vegetables for whatever she's going to make for that meal. (She also said she didn't like thinking too far in advance what she was going to make for a meal because it was too stressful, which I think is good advice.) So I stopped pursuing an internet connection and joined her, searching for beans, tomatoes, herbs, and whatever else was ready to be picked, and cooked.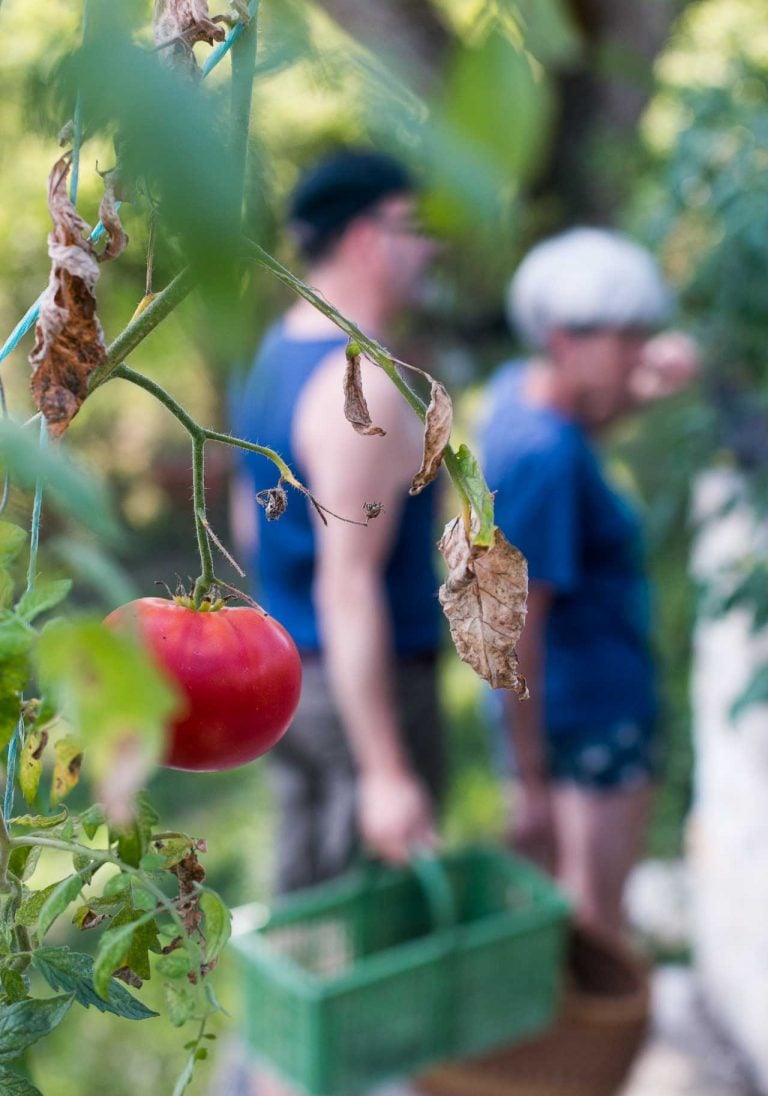 When Romain first met Hélène and her husband, he stayed with them and dined at their table for a few weeks. Midway through his stay, he called me to tell me how great he felt eating so much healthy food, especially all the vegetables. (And I like to think we eat pretty healthy at home.) But our city vegetables are no match for those that are just-picked.
I love vegetables, but after a few days, when we went to the market, I spotted the one last poulet fermier on display and asked if she felt like cooking it.
In addition to extended vacations, great outdoor markets, and gorgeous countrysides in France, butchers will cut up poultry for you. It's part of the service, and while I don't mind cutting up my own, they do it so much better.
Once it's done, they wrap all the pieces up in crisp paper, with the name of their butcher shop on it, then hand the chicken over. All you have to do is take it home and cook it.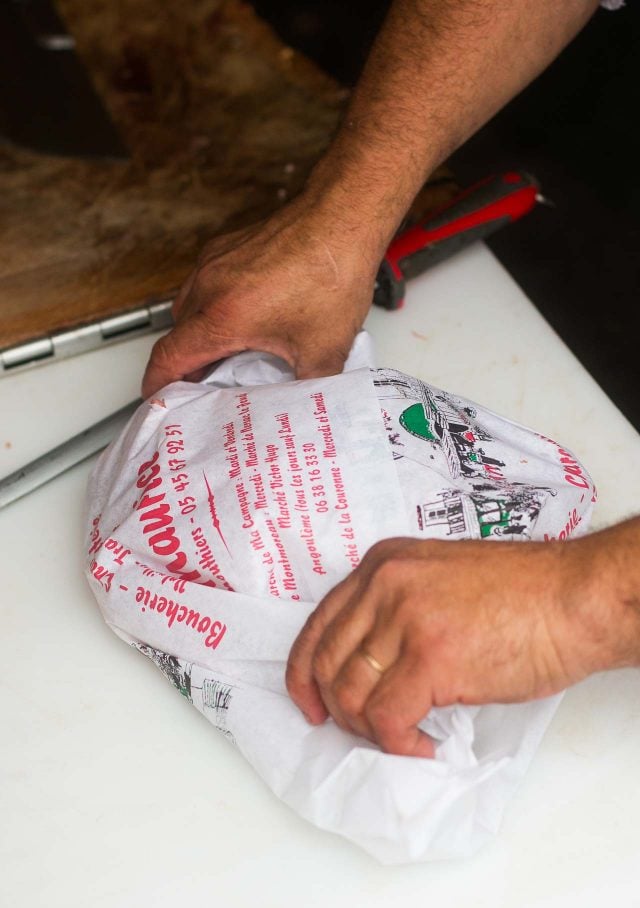 French farm chickens are less-plump than their supermarket counterparts, although you can get a poulet fermier at most French supermarkets. They tend to taste more "meaty," and give off some natural gelatin, which thickens sauces nicely. To others, the chickens may look boney and sparse (I've seen American visitors mock the gangly French dindes when they're invited to a Thanksgiving dinner in Paris, but the free-range turkeys are much, much tastier than their plumped-up counterparts), and I'm happy to choose the perhaps less-photogenic farm chickens, when I can.
French cooks don't have cans of chicken stock at their disposal, so either they use water, or resort to "the cube," which I'm not a fan of. I usually either make my own, or use water. (Although this stuff will do in a pinch, which I've been known to pack in my suitcase on trips back from the States.)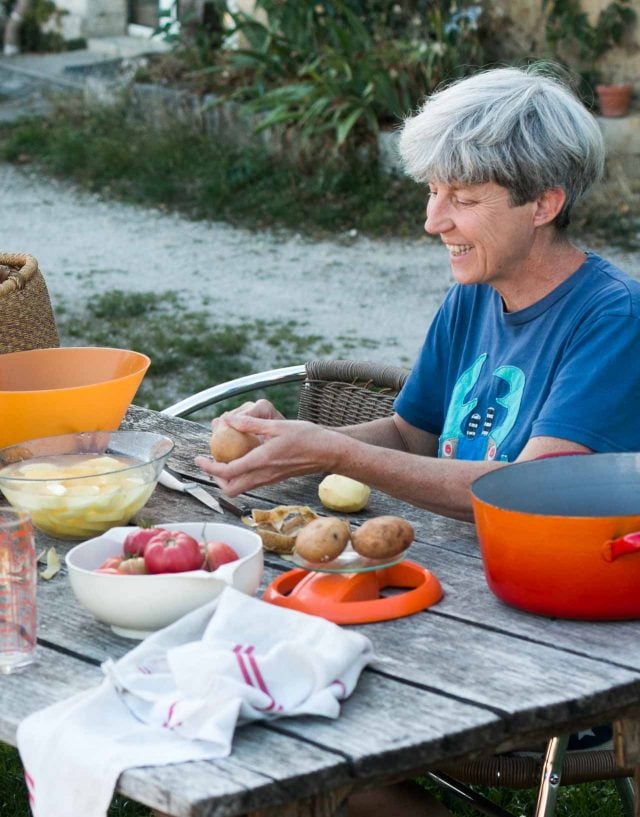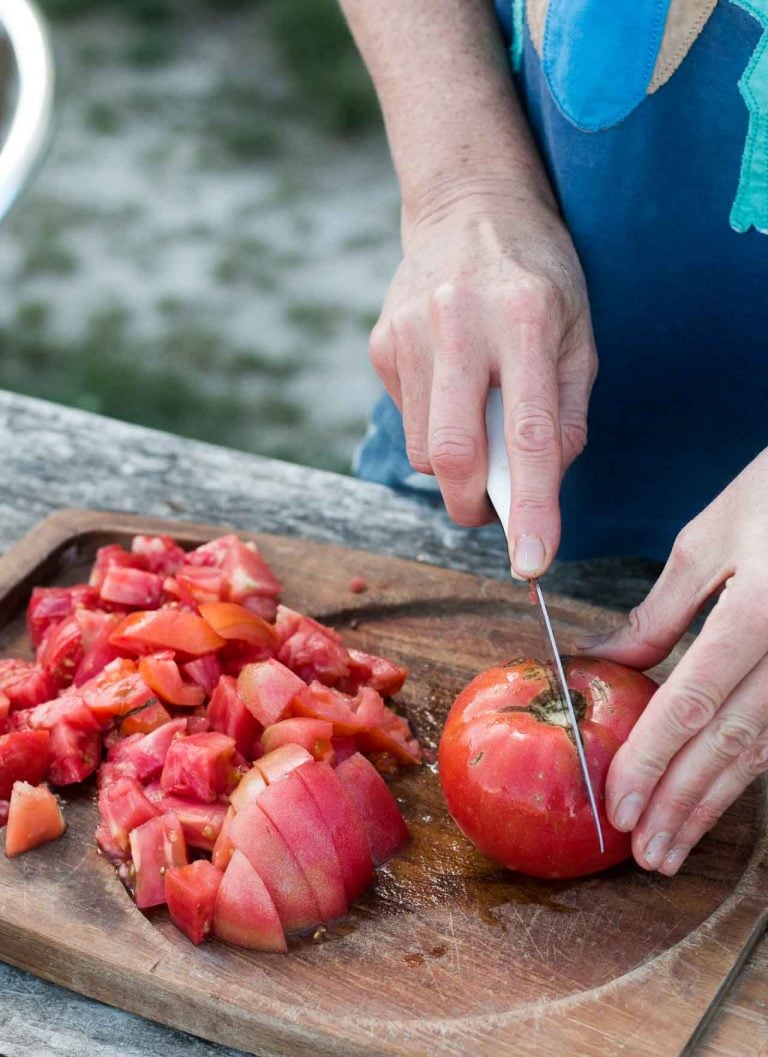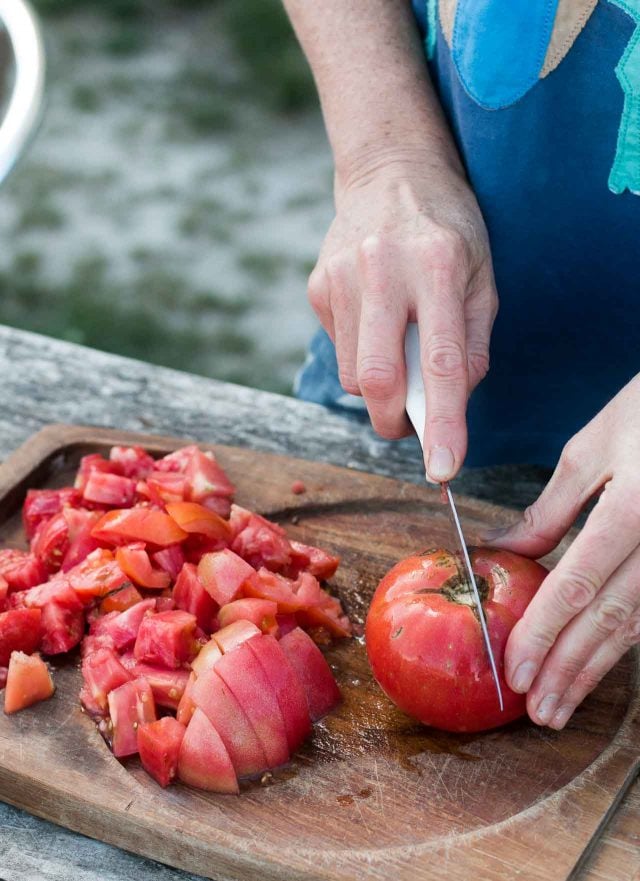 Once home, Hélène got to work on the tomatoes and potatoes, with Romain pitching in to help.
I've cooked for, and with, French people who like to peel tomatoes, believing the skins to be undigestible. I've had guests carefully, and discreetly, dissect tomato slices in salads I've made, peeling off and moving aside the offending skins. Helene doesn't do that, nor does she trim the pointy ends of green beans, which French people always clip off. As a gardener, she wants to use as much of the plants as possible. (However, she did peel the organic potatoes, which we picked up at the market. Go figure.)
When I told her that I wanted to share the recipe, and we'd need to measure ingredients, she froze. She wasn't used to doing that, but was a good sport and out came the balance (scale), and into the pot went the tomatoes, potatoes, and other ingredients, after I weighed everything and converted them pounds and cups.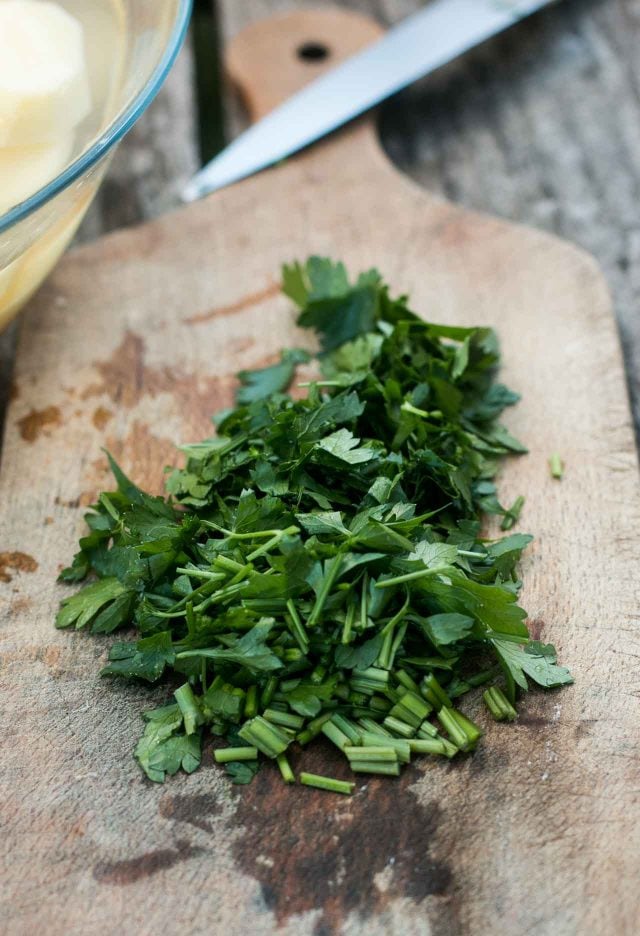 When Hélène suggested adding just a suggestion of garlic, I said it was fine to ramp it up for les américains, who like a lot of ail, and she added a few extra cloves to the pot.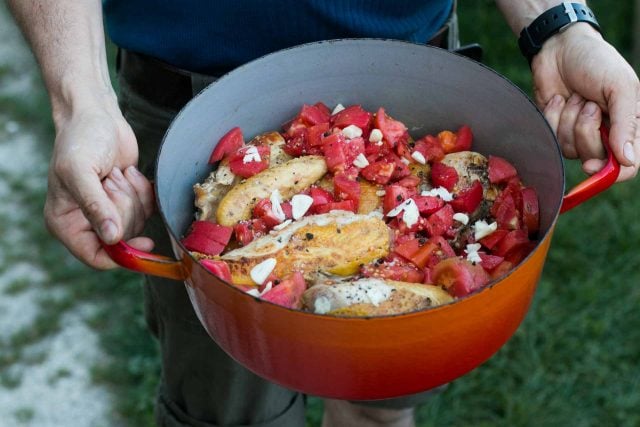 While we're on the subject of cultural differences (or at least I am…), when we were at the market, we talked about portion size. When I arrived in France and made my first dinner for guests, I figured the usual one half-chicken per person, as we ate in the States. I was surprised when I had so much food leftover after buying two chickens to serve at a dinner for four.
This Provençal Chicken with Pastis turned into a great one-pot meal. One last generalization is that the French generally don't overdo seasonings, especially when it comes to spices: Herbs are used more frequently than spices. So I gave some ideas in the headnote to the recipe if you want to tweak the recipe a bit, with the addition of olives or fennel seeds, or even replace some of the parsley with tarragon.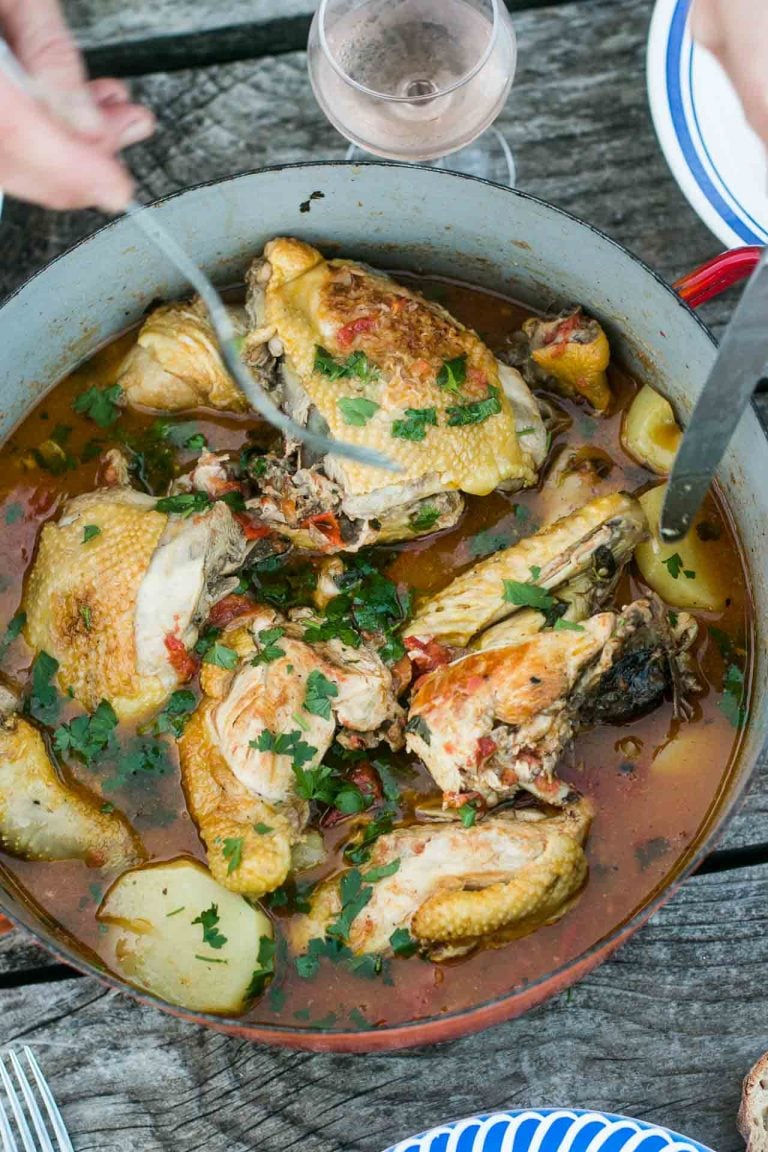 Provencal Chicken with Pastis
Helene doesn't cook fancy or time-consuming food, and added potatoes to her stew, along with water to help them cook. When I make it at home, I'm may serve it with wide noodles, so will add less water, enough just to cover the chicken – perhaps 2 cups (500ml). The French tend to like lots of sauce, especially if there is good bread handy, so feel free to add 1 quart (1l) of water if you're using the potatoes. When I got home (and had an internet connection), I did notice some French recipes for
Poulet au pastis
call for the addition of things like star anise, fennel (fresh or fennel seeds), black olives, saffron, thyme, rosemary, or summer savory. The recipe is very flexible so you can use this recipe as a base, and add any other seasonings in step #4. Personally, I'm going to try swapping out fresh tarragon for some of the parsley and add fennel seeds next time I make it. If you don't have pastis, another anise-flavor liqueur, such as
ouzo
,
arak
,
absinthe
, or
anisette
, will do. You may need to adjust the quantities, depending on the strength of the liqueur or spirit that you substitute.
1

whole

chicken

,

cut into 8 pieces; two legs, two thighs, and two breasts, cut in half crosswise (rather than lengthwise), with wings attached

kosher or sea salt

freshly ground

black pepper

extra-virgin olive oil

2/3

cup (160ml)

pastis

1 3/4

pounds (800g)

fresh tomatoes

,

(about 3 large or 4 medium)

4

cloves

garlic

,

minced

2

pounds (1kg)

small potatoes

,

peeled or unpeeled

3/4

cup (45g)

coarsely chopped flat leaf parsley

1

teaspoon

raw sugar

,

(optional)
Rub chicken all over the salt and pepper. If possible, let sit overnight in the refrigerator, although it can be prepared right away.

In a Dutch oven or similar vessel, add enough olive oil so it covers the bottom of the pan. Over medium-high heat, when the oil is hot, brown the chicken pieces on all sides, turning them only when one side is brown. (Constant turning won't encourage browning as much as letting them stay in one place until browned.) If your pot isn't large enough, fry them in two batches and remove the first chicken pieces to a bowl while you brown the second. You may need to add additional olive oil to the pot while browning or in between batches.

Once the chicken is browned, wipe excess oil from the pot. Deglaze pan with about a third of the pastis, scraping the bottom of the pot with a flat-edged spatula to incorporate any dark bits.

Add half of the tomatoes to the pot, then the chicken, and any juices that may have collected in the bowl, the garlic, then the rest of the tomatoes. Pour in the rest of the pastis, and bring to a boil. Add 1 quart (1l) water. (See headnote about how much water to add if not using potatoes.)

Reduce the heat to a gentle simmer, cover, and cook for 15 minutes. While the chicken is cooking, slice the potatoes into pieces 1/3-inch (1cm) thick.

Stir everything in the pot gently to mix everything together, then add the potatoes, half the parsley, and the sugar, sprinkling a bit of salt over the potatoes.

Continue to cook, uncovered, basting the potatoes with the liquid in the pot while everything is cooking, until the potatoes are tender and the chicken is cooked through, about 20 to 30 minute, depending on the variety of potatoes and the chicken.

Taste the sauce, and add sugar (if desired) and more salt if it needs it. If you'd like, you could give the sauce a small squeeze of lemon, to add a nice note of acidity to the sauce.
Notes
Serving: Serve the chicken warm with potatoes and some of the sauce. If you decide not to cook potatoes with the chicken, you can serve this with pasta, rice, or a favorite grain.
Related Posts and Recipes
Chicken with Caramelized Shallots
The Grand Vacations: July and August in France (The Curious Rambler)
Take a Break: France's Love Affair with Vacations (France24, video)
54 Non-Smoking Beaches in France (Le Monde du Tabac)