Cafe de la Nouvelle Mairie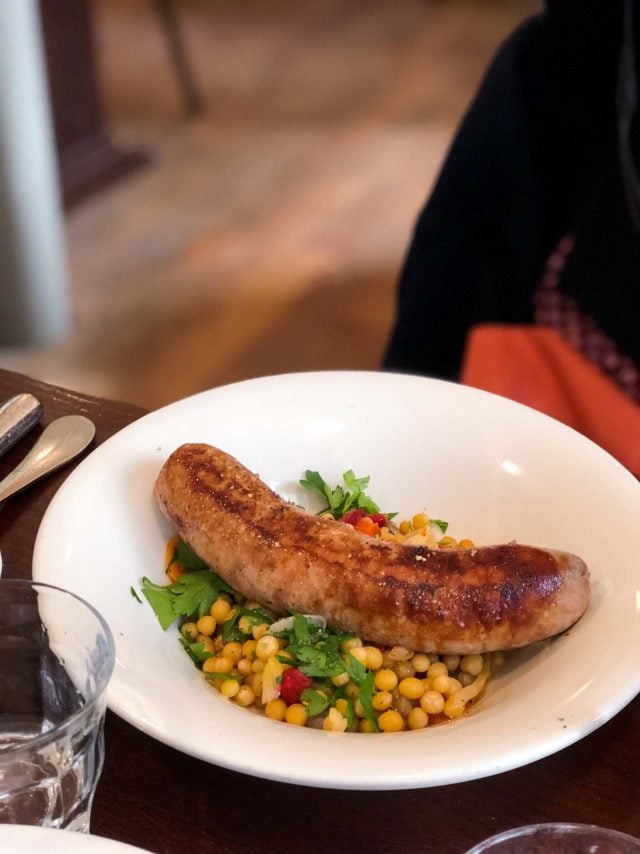 News of a favorite classic French restaurant, Moissonnier, closing from a reader (thanks for the tip, Annette) reminded me of the challenges of running a good restaurant. The food was traditional French, done right, prepared with care by the chef/owner, with his wife tending to the details in the dining room. A drive-by location, and a younger generation not as interested in quenelles in cream sauce as their grandparents (and me), were perhaps factors for their closing. Or maybe the owners were just ready to retire.
Nevertheless, it was a perfect chance to visit Café de la Nouvelle Mairie with my friend Michael, who's visiting from San Francisco, before he headed south to attend a wedding. He suggested lunch in the 5th arrondissement, where he was staying, and I suggested meeting here.
Instead of lamenting a closing, it's a reminder that the Parisian bistro has been going through a reboot during the last decade or so. Some of the places that have sprung up in the last few years are still finding their way. The bistronomy movement, that promised a return to casual dining, and freshness, in many cases evolved into showplaces for young chefs trying to impress by audacity, rather than to satisfy. The carefully balanced plates with bits of meat, the obligatory root vegetable, a flower here and there, herbs you've never heard of (and wonder where they find in Paris), along with brushstrokes of sauce, works well when they're done right. But when they aren't, I'm left not feeling satisfied, and even a little cheated.
At Café de la Nouvelle Mairie, they're doing bistro v2.0 right. An energetic, engaged staff, quick with banter, exemplifies the word convivialité. You'll get a friendly welcome, and perhaps a glass of wine at the zinc bar if you've got to wait, from their reassuringly reasonable list of wines.
The café features natural wines, championed by some, although not to everyone's taste. If well-selected, they can be vibrant and captivating (and intriguing). If not, you can expect some fizziness, errant acidity, or other qualities you might not expect in a glass of wine. The white Côte du Rhone we fell into the first category, and since the prices are gentle, you won't feel bad if take a chance on something different.
I'm hopelessly hooked on œufs mayonnaise, the bistro classic of hard-cooked eggs with mayonnaise. This dish doesn't really need much updating, except maybe using organic eggs, as they do here, topped with what tasted like house-made mayo. The other appetizer that we split while catching up (i.e.; me getting caught up on San Francisco gossip), was a rillette of fish with capers, cilantro, and lemon, with a drizzle of good olive oil, lots of freshly chopped herbs, and strips of tangy pickled red onions.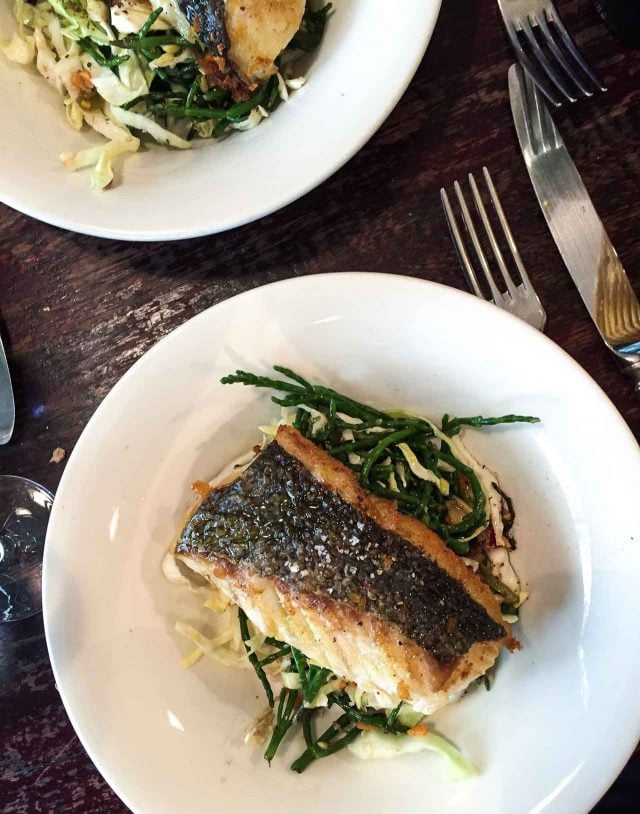 We both went with merlu (hake) for main courses atop crunchy cabbage salad and salicornes (glasswort), whose briny taste linked the salad to the salty, crisp-skinned fish, cooked by someone not afraid to give food the texture, and flavor, that quick-searing over high heat gives it.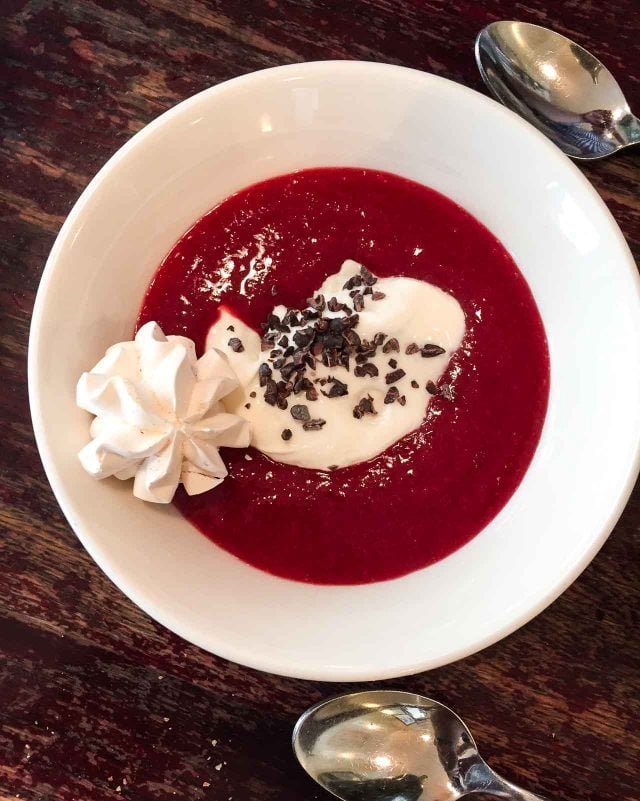 Dessert was a soup of pêche de vigne, little red-fleshed peaches that are notoriously difficult to peel. (Trust me, I've peeled a lot of them.) Because peaches are susceptible to a fungus that attacks grape vines, grape growers in the Rhône planted them nearby, so they could get advance warning of any encroaching maladies.
Nowadays the peaches are celebrated for their concentrated peach flavor, and thick, rich, rosy pulp. The soup was, indeed rich, and more of a puree, and served with a spoonful of fromage blanc, a scattering of roasted cocoa nibs, and a meringue, that Michael tried to spoon up, thinking it was a rosette of whipped cream gone wrong. (Ah, jet-lag…) While I thought it would have been nice served with a contrasting scoop of sorbet, we left happy.
Café de la Nouvelle Mairie
19-21, rue des Fossés-Saint-Jacques (5th)
Tél: 01 44 07 04 41
Métro: Cardinal Lemoine or Place Monge
RER: Luxembourg
Open Monday through Friday, 8am – 12:30am (closed weekends)