Moissonnier
Call me old-fashioned, but sometimes I like old-fashioned places. One place that does old-fashioned especially well is France. But I'm not the only one who feels that way; people come from around the world to visit the city, and bask in the à l'ancienne charm, which is sometimes derisively described as carte postale Paris. Like other cities, Paris is changing and isn't a museum, per se, but there's something about the city that attracts people like no other city in the world. Many visitors come specifically to eat. Which I know for a fact because I came for the same reason.
The loss of bistros has been well-documented, but there's been a resurgence of interest in bistros that has sprung up in New York, London, Tokyo, and of course – even Paris, where la cuisine française is having a renaissance, too. But at some places, it never left. One such place is Moissonnier, which is considered a bouchon lyonnais, sending out plates of hearty, copious French food in the style of the bouchons of Lyon.
The restaurant is run by the husband and wife team of Philippe and Valérie Mayet. Chef Mayet has been called "the ambassador of the cuisine of the Jura," a region in the northeast of France known for its mountains, mountain cheeses, and wines. The wines of the Jura aren't widely poured outside of France. But even in France, the waiter might hesitate if you order a glass since the flavor of them is very particular. The wines have a slightly maderized taste, almost oxidized, and reminiscent of sherry. Most people don't expect that in a glass of vin blanc but the wines go extremely well with Comté, Bleu de Gex, Mont d'Or, and Morbier (which is the only one of them that I don't love), the cheeses of the region, as well as cream-based dishes, but can be a tougher sell on its own.
(Because the region is mountainous, winters can be snowy and quite fierce. I tumbled over and off an icy mountain road one night in a car with a friend, coming back from a cheese-ripening cave. Our rescuers invited us in for cheese and white wine, which went a long way toward helping us get over the shock. The locals laughed, and waved it away, "C'est pas grave. It happens all the time…")
Vin jaune is another wine from the area that's best enjoyed with foods of the region. The wine is fermented in oak casks for six years, giving it a partially peculiar oxidized flavor. It's a tough sell by the glass or bottle, but terrific when swirled into a creamy sauce or served with cheese.
I knew I was in for a rich meal at Moissonnier so started with a salad, a classic Frisée aux lardons, served in a tight bowl with an appropriately correct mustard dressing and big chunks of semi-crisp bacon. It's one of my favorite salads in the world and this was a textbook example of the classic. Although, to be honest, I went in knowing that it wasn't going to be exactly a "light" salad. I was glad it wasn't huge because of what was to follow.
As we went on the main courses, a visiting friend from New York had ordered the Quennelle de brochet soufflée (pike dumpling), without any hesitation. It's one of those dishes that always makes me chuckle when people say that eating "the French way" is all about moderation, and portion size. Well, I'm not sure this is a pretty good argument for that! (It might be hard to tell from my iPhone photo, but it was nearly as long as my forearm, from elbow to wrist.)
It was huge, which my friend eating it said repeatedly, and no one was arguing with him. While he kept offering tastes to everyone at our table, insisting he wouldn't be able to finish it, somehow, he did.
In keeping with my "light" idea for dinner, I wanted the scallops with leeks fondue (meltingly soft leeks), someone else at the table scooped up the last order from the specials board, which was okay with me because it gave me permission to order the Chicken with morel mushrooms and vin jaune.
Creamy and rich, the chicken was served with egg noodles and I was glad it was just a cuisse (thigh), because if it had been a half a chicken, I wouldn't have been able to finish it. (Well, I probably could have…) My guess is that this is the dish to get here, especially when morels are in season.
Others at the table had monkfish with shellfish sauce (above), and roasted lamb chops persillé, below.
The desserts were a bit mixed. I took a bite of my friend's chocolate mousse flavored with orange and have to admit that I'm biased and don't adore chocolate with citrus, or raspberries, which detract from the chocolate flavor. Just give me the chocolate, thanks. And that was the case here.
The entrement citrus had me wondering if fresh lemon juice were used in the individual cake, as I missed that unmistakable and refreshing zing you get from freshly squeezed lemons, especially after a generously rich meal. I am a big fan of Œufs à la neige and while mine was fine (shown at the top of the post), part of me was very full from the creamy chicken but part of me wanted a little more légerité (lightness) to the meringue. I didn't take a taste of my friend's meringues glacées which I'm sure was good (it was the one the people behind us were going nuts over), but I couldn't manage even a bite, and let him enjoy it all by himself.
(I also have to admit that I'm not so good at the "Take a bite and pass it around" kind of thing. Sometimes I just want it sit down and eat my own plate of food. Sorry, dining partners.)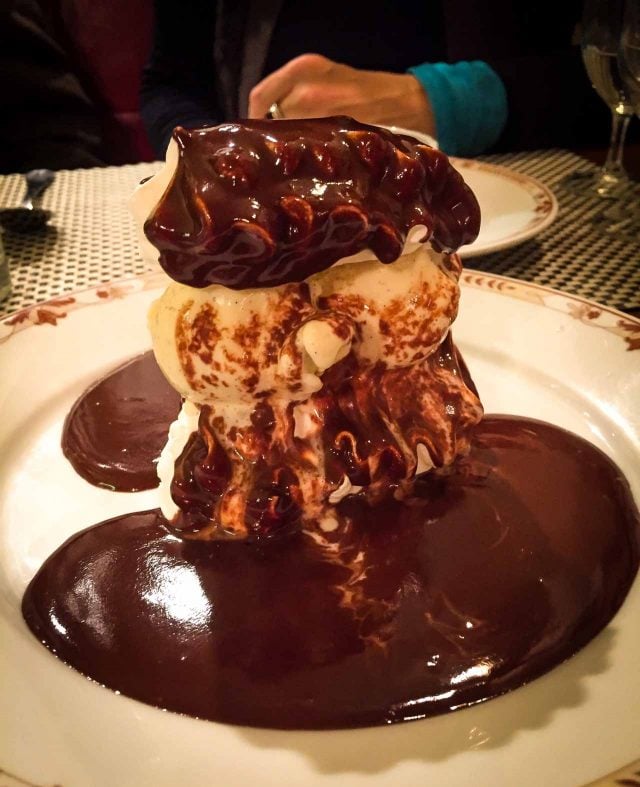 You won't find bearded hipster/bobo dudes or les jeunes filles clutching mobile phones and hopping up from the table between every course to go outside for a smoke at Moissonnier. The night we went, it was a pretty staid evening, with two French grandparents with their grandson, sighing with pleasure over their ice cream meringue,) and a few other couples getting respite from the chill of winter courtesy of the hearty cuisine from the Jura. But by the end of the evening, everyone seemed to leave happy – and full, including us.
Moissonnier
28, rue Fossés Saint-Bernard (5th)
M: Cardinal Lemoine
Tél: 01 43 29 87 65
Closed Sunday and Monday
[Menu]