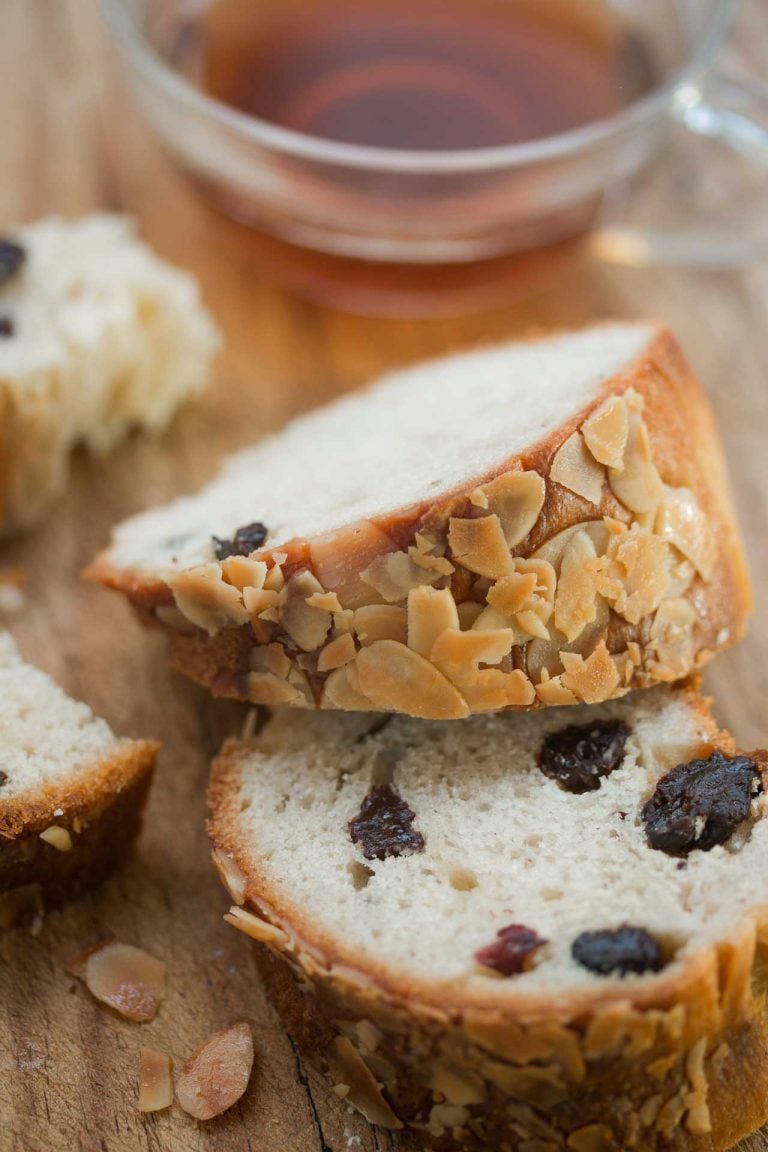 One thing that seems to cross international lines with success is baking. I never visit a country without sampling their baking. I visit bakeries, and enjoy everything from French croissants and hearty German breads, to Indian naan breads and bagels in Brooklyn, Montreal, and Jerusalem.
Here in France, just after the new year, the windows of pastry shops are lined with all sizes of Galettes des Rois, beautiful rounds of caramelized puff pastry filled with almond paste. Bakers also offer sweet, doughy Gugelhofs with plumped raisins and toasted almonds, accented with freshly grated citrus peel. (And even the United Nations probably couldn't get everyone to agree on the spelling of the name of this Alsatian cake, which are also known as Kugelhofs, Kouglofs, Gugelhofs, Kugelhopfs, and possibly a few others.)
I sometime trek out to
Vandermeersch
for their amazing kouglof (as they call it), but found out the hard way that they were only available on weekends. Although a visit to the
Vandermeersch website
 more recently revealed that they're making them daily. Which goes to show that not only can recipes and blog posts be updated, but kouglof availability can be, too.
Speaking of which, after watching
Jacques Pépin
talk about how recipes can vary depending on a number of factors, I also forgot to add to his words that recipes change. Sometimes we make something (or at least I do), then years later, when we revisit it, we make changes. That's what happened with this recipe. I'd published it on the blog way back in 2005 and the photos were taken on a point-and-shoot camera. Fifteen years later, they looked like they were printed out on a dot matrix printer. (They're at the end of the post if you want to scroll down and take a look.) As you'll see, it was time for a refresh.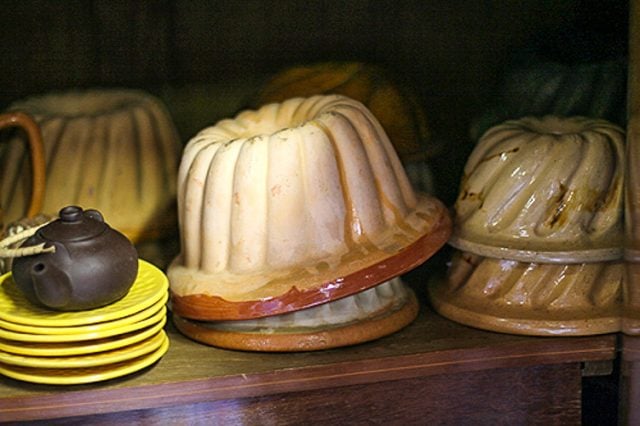 Back then, I'd picked up an earthenware kugelhopf mold. They're fairly easy to come by at flea markets in France, since I think people buy them with good intentions – like madeline or cannelé molds – but after giving them a go, they get relegated to the back of the kitchen cabinet, only to be sold at flea markets a few years later.
Which I know about, because I also let my kugelhopf mold go, too, when I was doing some apartment cleaning. But it gave me a chance to make one in a standard bundt pan, which was a question a number of people asked when I first posted the recipe and I didn't have an answer. So now I do. And yes, you can.
Kugelhopf is more like bread than a cake, and you can duke it out whether it's one or the other, but either way, don't expect it to be like a super-moist, sugary confection. With just a few tablespoons of sugar in the dough, its decidedly on the less-sweet side. That said, I like mine moister, so took a tip from baker Dorie Greenspan and soak it in a syrup imbibed with rum or orange flower water. It seems like a lot of soaking liquid, but believe me, it'll all soak in. Just keep brushing.
Your kugelhopf may also be more sunny-colored than mine. Today was one of those dark winter days in Paris when the sun stubbornly didn't want to come up. I woke up early to get the yeasted dough going, and when it was time to snap a few pictures, it was still disconcertingly dim outside. I tried to brighten things up with editing tools, but couldn't capture the gentle golden color of the cake as much as I'd like. So I just might have to make it again, which I don't think would be such a bad thing.
I'm which case, I'd better go searching for another kugelhopf mold…
Kugelhopf
Ideally, you want to use a high-sided
Kugelhof mold
or
bundt pan
that has a 6 to 8 cup (1,5-2l) capacity. I made it in a larger-sized bundt pan (10-inch/25cm) and it works fine, but the cake will be lower than a traditional Kugelhopf and will take less time to bake. I don't use instant yeast (nor did I use fresh cake yeast for this cake), but if you want to use one of those, check the manufacturer's website for instructions on substituting them for the active dry yeast.
Sponge
1/2

cup (125ml)

whole or lowfat milk

3

tablespoons

sugar

2 1/4

teaspoons (1 envelope, 7g))

active dry yeast

2/3

cup (90g)

flour
Dough
1/2

cup (80g)

raisins

1

tablespoon

dark rum or kirsch

10

tablespoons (5 ounces, 140g),

unsalted butter

,

cubed, at room temperature, plus additional soft butter for preparing the pan

1/2

teaspoon

salt

2

teaspoons

lemon or orange zest

1

teaspoon

vanilla extract

1

large

egg

,

at room temperature

1

large

egg yolk

1

cup (140g)

flour

1/3 to 1/2

cup (30-40g)

sliced almonds, blanched or unblanched

,

for preparing the cake pan

One 6- to 8-cup kugelhopf pan

,

or a 10 cup/25cm bundt pan (see headnote)
Make a sponge by warming the milk over low heat in a small saucepan until it's tepid. Pour into the bowl of a stand mixer, add the sugar, and sprinkle in the yeast. Stir in 2/3 cup (90g) flour. Cover with a kitchen towel or plastic wrap and let rise until bubbly, about 20 minutes.

Butter the inside of a kugelhopf mold or bundt pan very well then scatter sliced almonds over the inside of the mold, pressing them in a bit and turning the mold so there is a relatively even coating of almonds. Gently tilt out any excess almonds.

In a small bowl, stir together the raisins and the rum, and set aside.

Add the cubed butter to the sponge and attach the bowl to the mixer. Using the paddle attachment, beat the butter with the salt, citrus zest, and vanilla until incorporated.

Beat in the egg and the yolk until smooth. Stop the mixer and scrape down the sides of the bowl

On low speed, mix in the 1 cup (140g) of flour. Once the flour is incorporated, increase the speed to high and beat until smooth, shiny and elastic, about 3 minutes.

Beat in the raisins and any liquor in the bowl.

Cover the bowl with a kitchen towel or plastic wrap and let rise in a warm place until the dough begins to puff, about 30 minutes.

Make a hole in the center of the dough with your hands and stretch the dough out so the hole will be is large enough to go around the center of the kugelhopf mold or pan. Lift and transfer the dough into the cake pan. Make sure it's of even thickness all the way around. (A damp hand works well for that.)Cover the mold with a kitchen towel or buttered plastic wrap. Let rise until doubled, 1 to 1 1/2 hours. If using a kugelhopf mold, it should reach to the top, or almost to the top, of the mold. If using a larger bundt pan, it will likely take the maximum amount of time to rise.

Fifteen minutes before the dough is fully risen, preheat the oven to 375ºF (180ºC). Bake the kugelhopf until it's deep golden brown across the top, about 40-45 minutes. (In a large bundt pan, the cooking time will be closer to 25 minutes.) When done, a toothpick inserted into the center should come out clean. Let the cake cool for 10 minutes.

While the cake is baking, make a glaze by bringing 1/3 cup of water (80ml) and 1/3 cup (65g) of sugar to a boil. Remove from heat once the sugar is dissolved and add 1 ½ teaspoons of orange flower water or 2 tablespoons of rum or kirsch. Poke the kugelhopf 35 times with a skewer and liberally brush half of the syrup over the cake, repeatedly, letting it absorb. Turn the cake out of the pan onto a cooling rack set over a baking sheet (to catch any dripping syrup), and brush the rest of the syrup, repeatedly, over the top and sides (and the inside hole) of the cake. Cool completely before slicing and serving.
Notes
Storage: The kugelhopf is better served the same day, or the day after it's made. Store at room temperature, well-wrapped.
Here are photos from my previous post and recipe on Kugelhopf, which I updated above. I used an earthenware Kugelhopf mold, although due to questions about whether a bundt pan could be used, I tested the cake in a one of those and used those photos in the post.
Related Recipes and Links
Banana-Chocolate Chip Upside Down Cake
Chocolate Cherry Fruitcake & Christmas Cake
Chocolate Orbit Cake with crème anglaise
Gateaux aux kakis/Persimmon Cake (French)
Individual Hot Chocolate Cakes
Kouign Amann: Breton Butter Cake