Saj, Flatbreads and Lebanese Pastries
Since a number of people have been asking, whenever I ask the bakers who are making flatbreads in Lebanon, specifically what their formula is for they breads they are rolling out (or tossing), I'll get the same, vague response; "Flour and water..oh, and a little olive oil." And that's it, as they continue with their busywork.
While I suspect if I pressed them further, they might admit "Okay, and some yeast or leavening, and perhaps a pinch of salt." But more than any recipe or baker's formula, the most important ingredient that goes in to all the marvelous flatbreads I'm discovering in Lebanon: technique.
These bakers at Heloui, en route to the ruins at Ba'albeck in Chtaura, are making Saj, supple breads cooked on a domed griddle, which by no coincidence, is called a saj, too. The bakers start with a soft dough made with what they told me was "brown" flour.
Wanting to know more, when they weren't looking, I ran my hands through the flour, which felt like toasted white flour and I think their mix was a combination of whole wheat and toasted flour. However they were quite nice and I don't think they would have minded if they did see me doing that.
(But I think the butcher shop that had a pile of meat spread out right on their floor, that I saw later that day in a souk, was probably irked that we were staring at them. Fortunately I was with my friend Bethany, who knew the souk, and got the meat for our pastries from the right butcher shop. And I lived to tell about it.)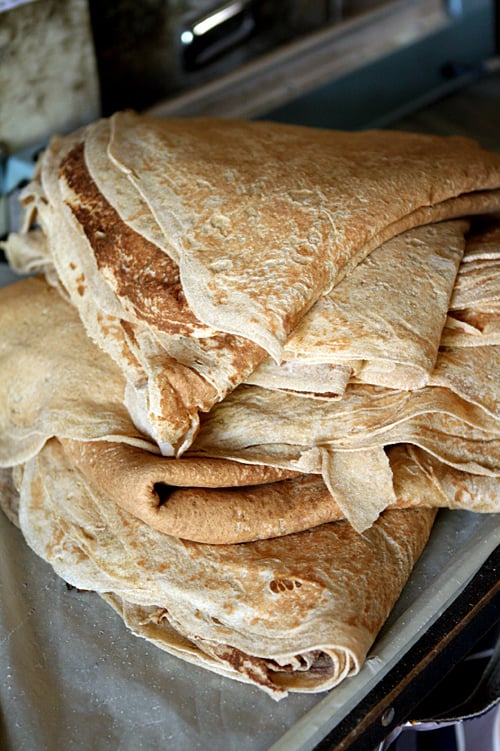 But you can never go wrong eating good ol' bread, and the making of Lebanese flatbreads is all about tossing, and turning, lifting and tilting. It was pretty amazing to be surrounded by a roomful of guys all pulling off hunks of dough, widening them with their fingers, then tossing and twirling each one round and round, until they were big enough to be stretched over tufted pillows, then flipped onto the saj.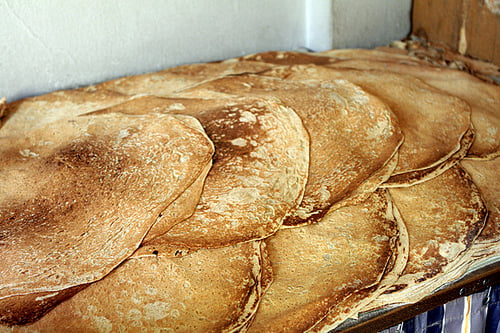 Each saj bread is about the size of a round pillowcase, and so thin that you could almost see right through it. A few fellows has an occasional rip or tear, but we decided the champ was the guy working in the coveted window spot, whose breads were lighter, rounder, and more perfect than any of the other guys working around him. And it's nice to see excellent rewarded, even in a small, roadside bakery. (The butcher shop, however, deserves a slap on the wrist…and a visit from the health inspector.)
As the guys lifted the breads off the domed griddles, they were stacked up high, then folded into bags, waiting to be picked up for customers pulling up in their battered cars – an inevitable state if you have the verve to drive in Lebanon – for their daily bread.
But lest you think this is man's work, a few hours later when visiting Clos St. Thomas for dinner and a tasting of some terrific Lebanese wines, a woman from the local village was there, twirling away. And she could easily show those fellows that she's still got it…
---
Speaking of women, a few days before, we made a morning stop at Furn Al Sabaya, a bakery in Amchit run by three sisters. While a number of women are at home, cooking only for their husbands and families, Lorenza, Martha, and Lucie are baking up traditional Lebanese pastries, sweet and savory.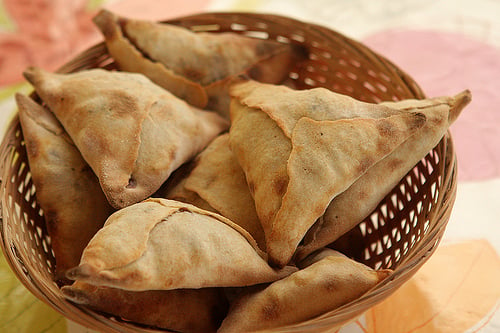 First up, which was definitely in the category of "Don't try this at home unless you live in a small village in the hills of rural Lebanon", were triangles of whole wheat dough, pinched together, surrounding a warm mound of cooked wild herbs, called Fatayer.
While watching the women work, a neighbor came in with her own container of za'atar, which many people in Lebanon blend – and grow – on their own since they like their own balance of herbs, sesame, and sumac.
One thing you learn about the Middle East, if you travel and eat, is that everyone will insist that their way of doing or cooking something is better than the way others do it. But I didn't see that with za'atar, which is a national obsession in Lebanon, as people seems accepting of variations. However my comprehension of Arabic is nil, so perhaps I wasn't privy to any spirited conversations that were going on around me about it.
At the bakery, bread doughs were quickly rolled out, the za'atar was mixed with local olive oil, then spread over the dough and baked until firm and chewy. Then handed back to the customer, who'd leave with their container of za'atar and a couple of warm flatbreads wrapped in paper.
But for morning visitors like me, one could start with a simple egg tart. (Well, after I ate two of the herb-filled triangles.)
I've never seen anyone make a tart filling right in the tart shell. So score another one for the ladies of Lebanese!
It was very simple; two eggs, some fresh herbs, olive oil and salt got stirred together with a fork in the partially baked crust, then it's quickly baked inside, creating an open-face breakfast tart. Cut into wedges, I enjoyed it with a cup of the ubiquitous Nescafé. (I mean, I enjoyed the pastry. The Nescafé is something you learn to deal with in many places.)
The specialty of the bakery is a not-too-sweet morning pastry, called Mwaraka (or Mouwarka). And for that, another round of dough was rolled out.
A few dabs of butter are dotted over the very thin pastry, then a mixture of almonds, walnuts, sugar, and a touch of cinnamon gets spread over the top. A hole is cut in the middle, and very, very gently, the dough is rolled outward, with a little patience and a lot of finesse, to make a large, nut-filled circle.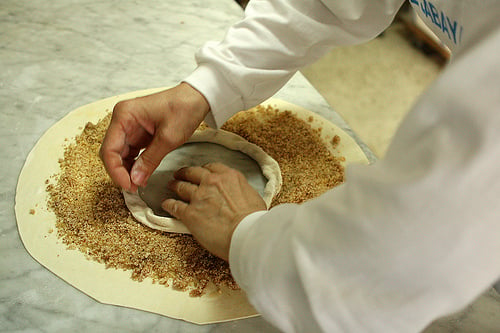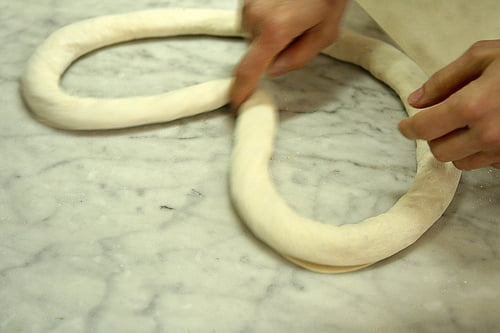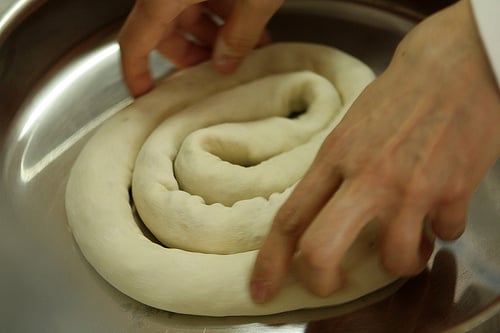 Then the serpentine pastry is cut into sections, and eaten right away, while the nutty filling is still warm.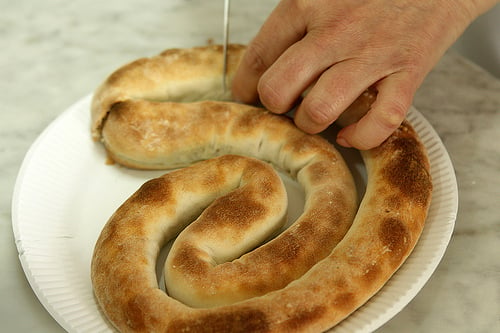 Related Links & Notes
A number of people have asked me about books on Lebanese baking. Some of the best authors about Middle Eastern food include Claudia Rodin, Anissa Helou, Yotam Ottolenghi and Sami Tamimi, Greg Malouf, Bethany Kahdy (who I'm traveling with) as well as others, would be good places to check for recipes, baking techniques, and descriptions. You can also find recipes online, such as a Saj Bread recipe and video, and a recipe for Markouk Saj Bread.