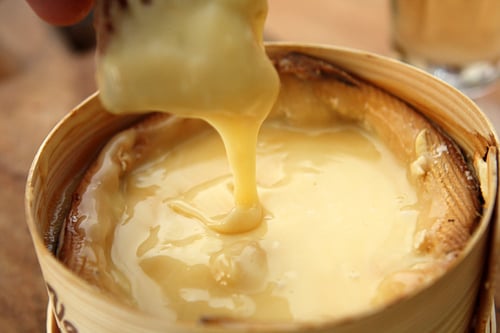 "Goopy" isn't a word used too often when writing about food. Am not sure why, but perhaps because there aren't a lot of things that are goopy, that you actually want to eat. Mont d'Or has been called the holy grail of French raw milk cheeses. It's goopy for sure, and if that bothers you, well, that's something you're going to have to work on for yourself. In the meanwhile, I've been lapping up this Mont d'Or I recently acquired, enjoying every single goopy mouthful.
Called "the holy grail of raw milk cheeses", Mont d'Or (also called Vacherin Mont d'Or, and Vacherin Haut-Doubs) is truly a spectacular cheese. And even though they're widely available in the winter in France, because of their richness, it's something I reserve for special occasions. For me, that special occasion was lunch yesterday.
According to French Cheeses, the origin of this cheese was a point of contention between the Swiss and the French for centuries, with the Swiss finally conceding to the French. I've read further and the kerfuffle between the two countries resulted in some confusion in names: In Switzerland, it's called Vacherin Mont d'Or, whereas in France, Vacherin refers to the same cheese molded and ripened in large wooden hoops, and the smaller ones, packed and sold individually, are called Mont d'Or.
On a trip to Switzerland, I visited a cheese-maker who specialized in this cheese and noticed their cheeses were a bit lacking in that barnyardy flavor (another food-writing word to avoid?) and I learned the Swiss versions are made from pasteurized milk. In France, you can get both versions; those made with lait cru (raw milk) and the pasteurized ones. (Tip: Go for the lait cru.) The cheese is ripened for about three weeks in the spruce boxes, which give the cheese a particular flavor.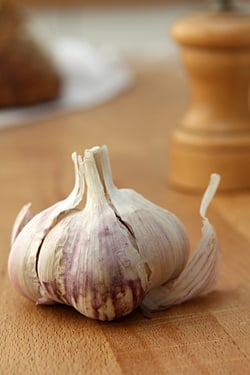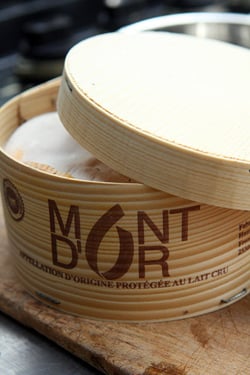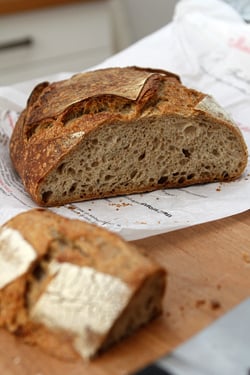 In spite of the European Union cracking down on things like wood used in cheesemaking in favor of stainless-steel and plastic, Mont d'Or is a protected cheese and must be ripened in wood. So for now, the cheese appears to be safe. And let's hope it stays that way. (Just in case the EU is reading this site.) The only real problem with Mont d'Or is that once you pull a warm one out of the oven, and start eating it, it's impossible to stop.
You might have trouble finding one, depending on where you live, and their season is short; in France, we start seeing them stockpiled at the fromageries around November and December, and they are available throughout the winter, with interest declining when the weather turns warmer.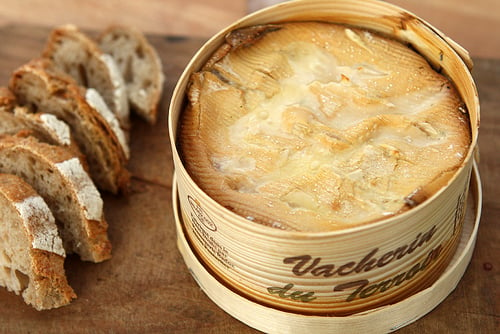 Folks, I gotta tell you, this is one amazing cheese and if you get a chance to try one, you won't know what hit you. I've had a few in my life that were exceptionally good just as is (unbaked). But when baked, it's like a brain wreck of everything going on – fat, funk, fresh cream, wood, garlic, rank, and a peculiar buttery sharpness scrambling all of your senses together in each single mouthful. And if that description didn't scare you away, then you'll be rewarded with a life-altering eating experience.
Years ago an American food magazine published a recipe for baking this cheese and they had a slew of complaints from readers because the wooden molds the cheese was packed in fell apart during the baking, leaving a stinky mess. It wasn't until they realized that the wooden cheese forms sent to the states weren't stapled, but glued (for some reason, Americans don't like staples anywhere near their food), and the heat of the oven melted not just the Mont d'Or, but the glue holding the container together. But it's easy to see how anything, or anyone, can become unglued in the presence of such a cheese.
Baked Mont d'Or
Four servings



Mont d'Or is a special experience and if you find one that's perfectly ripe, you can just spoon it out of the container without heating it. However baking the cheese brings out its special flavor, especially if you add garlic and a splash of wine, and the texture is like nothing else you've ever had. Some folks grind some black pepper over the cheese before baking as well.

If you find one where the wooded box is glued rather than stapled, use a sturdy clip to clasp the box firmly closed during the baking. (And be careful removing it if it's made of metal, since it'll be hot.) Outside of Europe, it can be difficult to find. I've given a few sources and tips below if you want to try to track one down.



1 Mont d'Or cheese, room temperature
1 clove garlic, peeled and thinly sliced
1/4 cup (60ml) white wine



1. Preheat the oven to 375ºF (190ºC.)

2. Wrap the container of cheese securely in foil, making sure to enclose it so the foil goes up to the top of the outside of the container, but leave the top exposed. Set the wrapped cheese on a baking sheet.

3. Poke eight-to-ten slits in the top of the cheese with a paring knife and slide the slivers of fresh garlic in them. Pour white wine over the cheese, and bake the cheese until it's very hot – it will take between 20 and 30 minutes.

Serve with good bread, although some people like to boil up some new potatoes and make a full meal out of it, often including slices of ham. Pair it with a a good, flavorful white wine (such as Arbois, Chasselas, Sancerre, Chardonnay, or Gewürtztraminer), Champagne, or beer.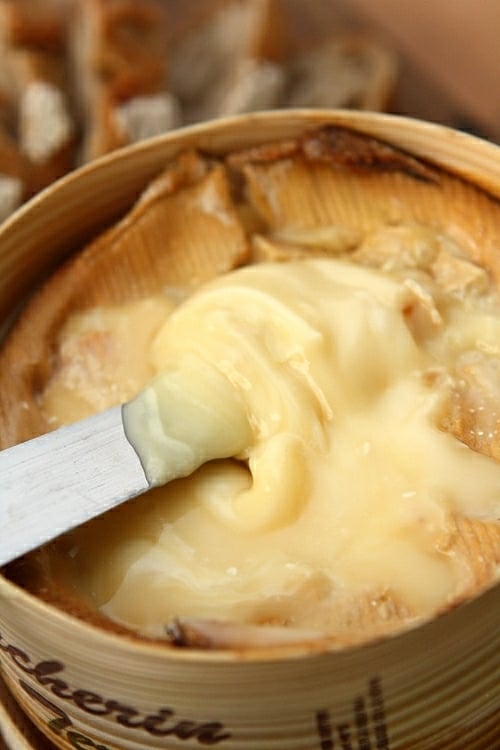 Sources for Mont d'Or and Related Links
10 Things to Bring Back from Your Trip to Paris
How to Find Foods Mentioned on the Site
The Rules: Bringing Foods Home from France
French Cheeses (archives)