Making Swiss Cheese Fondue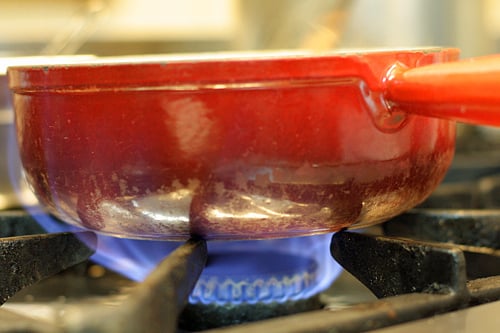 I've never really had fondue. Well, I am sure that at some point in my life someone dusted off their never-used fondue pot from the back of their kitchen cabinet and melted some stringy cheese in it. But it must not have been memorable because I can't recall it at all. (Or perhaps a few shots of kirsch took care of that.)
Swiss fondue is not just melted cheese with bread dipped in it; it's an opportunity to gather some friends around a heaving pot of bubbling cheese and having a great time. The word fondue is a riff of the French verb fondre, which means "to melt." So theoretically anything melted could be a fondue, although I didn't see any chocolate fondues in Switzerland and if you mentioned one to someone they might give you a funny look.
Fondue isn't that hard to make (or eat), and I recently had an authentic one in Switzerland that I spent all night afterward thinking about it. Of course, I'm sure that digesting a big pot of melted cheese probably had a little to do with that as well.

One thing I loved about Switzerland, or at least the Vaud region, is that folks mostly drink white wine, which is always served quite cold. It makes the perfect accompaniment to fondue and if you make it, I suggest pairing it with a dry Swiss wine, or something like Sauvignon blanc, making sure it's well-iced, to offset the richness of the melted cheese.
I had my astounding fondue at Café du Grütli in Lausanne, made by an Austrian chef who's been making fondue and other local specialties for nearly thirty years. The upstairs dining room of this comfy local bistro is lined with mounted skulls, attesting to the hunting his brother-in-law does for the restaurant. There wasn't any game on the menu when I was there, but even if there was, I still would order the cheese fondue. It was that good.
Since I liked it so much, I asked chef Willi Prutsch to show me how to make one. "It's easy" he said, "Come by tomorrow night at 5:30pm before service and we'll make one together."
But then the next morning, he called and asked if I wanted to go to the market and buy the cheese with him earlier in the day, and I jumped at the chance; how can anyone refuse to go to a market with a local chef?
"People—especially young people, are tired of eating trendy things" he told me, "No one wants 2 grams of beef artfully arranged on a plate. They want classic, home-cooked food."
Then he took me over to a market vendor, whose table was piled with baskets of earthy wild mushrooms, a few I'd never seen before. He made me smell one, which was damp with humidity and he told me he was going to use those in omelettes at the restaurant.
The residents of this Swiss city are pretty advanced about using locally-grown foods and the market in Lausanne is street-after-street lined with farmers selling everything from choux Nordique (kale) to interesting and odd varieties of leafy greens and squash. I would say that less than ten percent of the items I saw were shipped from other countries, or even from outside of the region.
Chef Prutsch buys his rosy Gala apples at the market for the tarte Tatin he serves in his restaurant and his frites maison are made from potatoes sold by a farmer who he's bought them from for years and years.
Fondue is so popular in Switzerland that cheese vendors sell a pre-made 'mix' of cheeses, already grated and ready to go. When I went to a major department store in Lausanne, the shelves were packed with every kind of apparatus, and fork sets, one could want for making and eating cheese fondue.
Chef Prutsch buys his cheese from André Macheret, who sets up at the market in the center of Lausanne that sprawls out across the winding streets in the city on Wednesday and Saturday. We stopped by and unlike France, where you trust the judgment of your fromager (who is, admittedly, invariably right), the cheese vendors here are happy to hand out copious samples.
Of course, it completely worked and I bought three huge wedges of Gruyère to bring home because each one was better than the previous sample.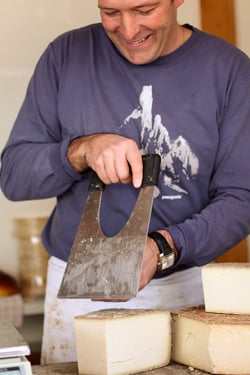 They're also constantly bagging up a pre-made mélange of cheeses for people to make fondue at home. When I was in the railway station, en route back to Paris, the corner store-style market in the station had pre-packed bags of them as well. Now that's my idea of take-out!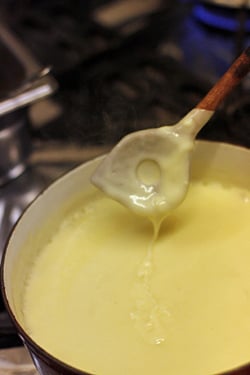 Making fondue is as simple as this: You heat up some white wine with chopped garlic, add grated cheese and a bit of cornstarch, then heat it up while stirring until it's thick and creamy. And that's it.
I read a few things about fondue, which included warnings not to heat it over high heat, but the heat the chef was using seemed fairly hot to me. And in spite of the fact that I have seen recipes that used various cheeses, you do want to use a mountain cheese, such as Gruyère, Comté, or top-quality Emmenthal, if you're looking for authentic taste.
This would be considered a Fondue Moitié-moitié, which means it's part Gruyère and part Vacherin Fribourgeois. And chef Prutsch told me that his mix is roughly 60%/40%, tipping in either direction, depending on the seasonal variations in the cheeses. His Gruyère is typically aged for 10 to 12 months and the Vacherin Fribourgeois (which is different than what the French refer to as Vacherin cheese, which is a larger circle of Mont d'Or cheese) gets about 4 to 5 months of aging.
He also prefers to use glazed enameled pots because they're durable and thick enough to stand up to high heat. And since they make 50 to 100 fondues a night, I think he knows what he is talking about and was glad I bought some cheese at the market to make it at home. Although I do wish I'd bought a bag of the mix*, just because I like the idea of something you just dump in a pot, stir around, and serve it forth. For those who say they don't have time to cook, I don't think you can find anything easier than fondue. And no clean-up either—just one pot to wash. I love that, too.
The fondue is ready when it forms a 'skin' across the hole in the spoon. That's when it's reached the just-right texture of thickness and stickiness. You can add some kirsch to it when you're done, but I tasted the fondue before and after he added it and to be honest, as much as I love kirsch in lots of things, I preferred the fondue without it.
But I did learn that some people like to dip the bread in a glass of kirsch before swirling it around in the cheese. "Not too much!" said the Swiss woman next to me, "Don't saturate it, just get it a little bit wet."
And she was right; a little touch of kirsch in there was just spot-on. She also told me that if you drop your bread chunk into the fondue, you have to kiss someone at the table. Since she was right about the first one, I took her word on the second one, and was certain to not lose any pieces of bread in the creamy pot.
The best part, of course, is when most of the liquid has boiled off in the pot and all that's left is just a thick glop of almost-stiff cheese. And just when you feel like you're about to burst you wonder what do you eat for dessert after polishing off a whole fondue with friends?
I love tarte Tatin, the upside-down caramelized apple tart, but it didn't seem right to order it. For some reason, the Raisins secs à la lie sounded good to me: golden raisins macerated in marc (clear distilled brandy) along with a cold scoop of vanilla ice cream. And I later discovered that my instincts were right and that's considered the classic dessert after cheese fondue.
To keep the peace, we ordered a few desserts and surprisingly, my appetite rose to the challenge posed by the tart, although the boozy raisins were still my preferred dessert and I didn't offer to share with anyone. After all, what good is being in Switzerland if you can't hide something valuable from others?
As I was putting on my coat to leave after making fondue with the chef, I noticed the crew was sitting down to staff meal before the dinner rush. And even though some of the staff members have been there for over a decade, spending night-after-night tending to pots of bubbling fondue for guests, guess what they were sitting down and having for dinner themselves?
Cheese Fondue
Adapted from Chef Willie Prutsch of
Café du Grütli
The chef uses a combination of Vacherin Fribourgeois and slightly aged
Gruyere
. You could use whatever is available. Avoid a dry, well-aged cheese as they tend to be rather salty. Use cheeses that are less than one year old. There's some notes at the end of the recipe. The bread we dipped was dense white bread with a nice crust. Whatever you use, it should be thick-cut and on the drier side but not crispy. When the fondue is finished, the hardened cheese at the bottom of the pot, called la religieuse is considered the reward for finishing it—it's considered the reward for getting through it!
1 1/2 to 2

cups (375ml-500ml)

dry white wine

3

cloves

garlic

,

peeled and minced

2

teaspoons

potato starch or cornstarch

1 1/2

pounds (700g)

mixed grated cheese

,

such as Gruyère and Emmenthal (see headnote & note)

optional: 1 to 2

teaspoons

, kirsch
In a sturdy pot, add 1 1/2 (375ml) cup white wine, the garlic and the starch.

Add the grated cheese and cook over moderately-high heat, stirring often, until the cheese is melted and smooth. The fondue is done, according the the chef, "When the mixture leaves a skin in the hole of the spoon." (See photo in post.)

If the mixture is too thick, add up to 1/2 cup (125ml) more white wine until its texture is to your liking. If you wish, add the kirsch.

Serve warm, preferably in a fondue pot.
Notes
Notes: Because of geographical differences, you may or may not be able to obtain the exact same cheeses. But Emmenthal, Gruyère, and Comté are widely available, although as one commenter noted, Emmenthal (sometimes spelled 'Emmental") can be stringy when melted.
Vacherin Fribourgeois is a softer cheese, and if you can't find it, Fontina would make a good substitute. I've linked to some recipes below that call for a variety of other cheeses.
For those avoiding alcohol, Chef Prutsch says that he will make a fondue using lemon juice in place of it. I didn't get a specific quantity, but you can swap out the same amount of water with a good-sized squeeze of lemon juice, enough to approximate the acidity of wine. In fact, some people add a squeeze of lemon juice to prevent the cheese from clumping or to fix a broken fondue, which is good advice if that happens to your fondue.
*Interestingly, when I got back to Paris and made this at home, when I was at the supermarket, I checked the cheese aisle and there were a couple of fondue "mixes". One was a packet of pre-grated cheese and the other was a stout container encasing something that felt quite solid inside. I don't know what was in that one, but the grated cheese version had more appeal.
Related Links and Recipes
Cheese Fondue (Simply Recipes)
Swiss Cheese Fondue (Just Hungry)
French Cheese Guide (DK Publishing)
Aged Cheddar and Guinness Fondue (Steamy Kitchen)
Fondue (Wikipedia)