Librairie Gasterea: Gastronomic Bookstore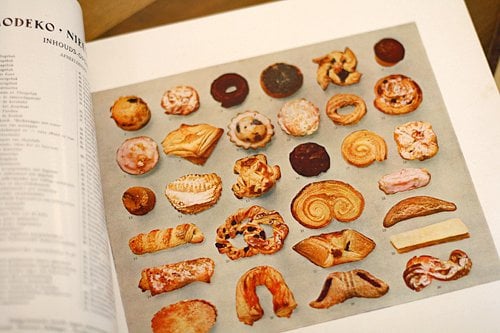 Like most men (and it seems from my previous post, quite a few women, married or otherwise), have a crush on Sophia Loren. My passion was aroused when I walked by the Librairie Gastéréa and saw her beaming face as she lovingly rolled out sheets of pasta on the book jacket parked enticingly in their window.
So I was happy to have a chance to go inside and see the collection of Henri-Daniel and Tania Wibaut, who've owned this shop for about six years.
Henri-Daniel told me that although he's a collector of books on various other topics, he's especially attracted to cooking and food books because they range the gamut from winemaking, pastry, poetry, baking, charcuterie, and regional cooking, as well as being beautifully illustrated and designed.
Since it was Saturday, I'd called to make an appointment; they're in a small sidestreet so don't get much foot traffic and are generally open only in the afternoons, or by appointment. And I arrived right on time. (Or as we say, "Swiss time" which is about twenty minutes different than "Paris time.") Hearing my Parisian accent, Monsieur Wibaut had selected a few books from the shelf that he thought would interest me.
Like any dealer of specialty items, knowing what people are looking for and tailoring your shop (and searching for them) is part of what a gastronomic bookstore is all about and what makes them so special to me.
I didn't realize that Sophia Loren was in such high demand, but he told me that her cookbook was rather hard to find. (Which I hope I didn't contribute to.) He also said Julia Child's book are really going up in value and had a book he'd picked up back in the states. I didn't have the heart to tell him all my personally signed copies of her were still in transit between San Francisco and Paris, although after over half a decade, I am just now beginning to give up hope that I will ever see them again.
(In retrospect, I probably should have given him a list and told him to keep his eye out for them. Especially any that are signed: "To David-")
But the book I really flipped over was a German pastry book with the most amazing designs of pastries I've ever seen. Each page was sharp and textbook-like perfect, showing the various puff pastries, croissants, cookies, and cakes. Along with the book came a set of stencils that, like the book, were in mint condition. I was extremely tempted to reach for my wallet, but then I had to sadly remove my hand from my billfold when I saw what it was selling for.
However my birthday is coming up in December, folks….
Other books that caught my eye were a colorful pamphlet on Dutch cheeses with recipes, all done up in blue and gold, and a old—but in perfect condition—book on French pastries from the Elsa, a company which makes baking products. Wouldn't it be fun if one could do a cookbook today with these kinds of designs and drawings?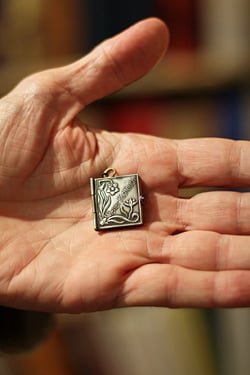 There were also some very, very old cookbooks, hundreds of years old. I very carefully turned the pages of them. Not quite as old was the world's tiniest cookbook, from Austria, which Monsier Wibaut said published in 1900 and had one hundred-and-forty recipes in it. I don't know how he counted them, but it would not be a easy book to cook from.
When I left, I wasn't carrying the German pastry book with me, nor had I pocketed the tiny cookbook. And Sophia in all her colorful splendor, and oversized bowls of pasta and utensils, won't be coming home with me either. But I know where she is, and the rest of them are, in case I change my mind.
Librarie Gastéréa
Rue Cité-Dèrriere 5
Lausanne, Switzerland
Related Posts