Every so often I get requests for "healthy" recipes, or I see things online posted as "healthy" – and I'm not quite sure what the heck people are talking about. What is healthy? My idea of healthy eating is eating fresh foods – some eggs, cheese, and meat, poultry, and fish, along with fruit and vegetables. Buying foods that you prepare yourself so you know what's in them, to me, ensures you'll be eating "healthy." But if you want to only eat good things, the best way to do it is just shop and cook for yourself, so you know what you're eating.
My "diet" used to be – "I can eat anything I want, as long as I walk there to eat it, and walk home." Which seemed sensible to me at the time. Although the walks to my corner bakery for an éclair au chocolat became a little more frequent, so I had to come up with a better plan.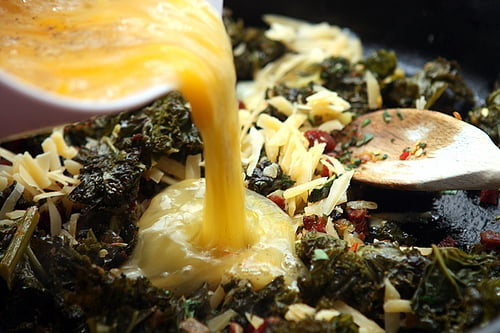 Another of my ideas about healthy eating is to eat things like sausage and bacon, if you want, but use them as seasoning rather than pulling up to a giant plate of meat. (Which I've been known to succumb to from time-to-time, or cheese.) It also means using ingredients intelligently. If you're going to eat cheese, eat very good cheese.
And here, I used a sharp cheese, which has a lot of flavor and a little goes a long way. Smoked cheese is another good addition. Ditto with sausage; this chorizo I had on hand is very spicy and just a handful, chopped into little bits, flavored my entire frittata nicely.
This is a bit thinner than other frittatas (similar to tortillas in Spain), and is reminiscent of the French crespeou or crespeù, a Provençal quick-cooked frittata that's thinner than its Northern French counterparts.
I always have tons of (healthy) egg whites in my refrigerator because I make so much ice cream (which is healthy too – uh, right?), and blend them with a few whole eggs for richness of flavor. I had some sautéed kale on hand and used a generous mound of that in there, too. But you can use any sautéed greens, or swap out the sausage for something like smoked tofu (or leave it out), and mix up the herbs to suit your taste.
À votre santé!
Kale Frittata
In Europe, chorizo is a cured spicy sausage that doesn't require cooking (it's different from Mexican chorizo.) You can use any cooked sausage, or crumbled bacon or smoked tofu, in its place. I used sage, thyme and flat-leaf parsley since I had them on hand. Chives would be great if you have them, but avoid rosemary, or use it in small doses as a little goes a long way. There is an ongoing debate about cast-iron versus non-stick and I've concluded that each has their place. If you use a cast-iron skillet, note that the pan tends to retain heat and get very hot. So be a little extra vigilant to make sure the frittata is not burning on the bottom after you add the eggs. If using a non-stick pan, I've had good luck with the new generation of
"green" non-stick cookware
, although if you plan to run it under the broiler or finish it in a hot oven, check to make sure that temperature the manufacturer recommends heating it to.
3

large eggs

1/2

cup (125ml)

egg whites

,

about 4 (see Note)

salt and black pepper

1

tablespoon

olive oil

2

shallots

,

peeled and minced, or 4 scallions, chopped

1

cup (90g)

sautéed kale

1/3

cup (40g)

finely diced cooked sausage

,

(smoked or spicy)

1

tablespoon

minced fresh herbs; any combination of parsley

,

sage, thyme, parsley, or chervil

1/2

cup (50g)

grated cheese

,

(smoked or sharp)
Mix the eggs and egg whites in a bowl with a fork, seasoning them with salt and pepper. Set aside.

Heat the oil in a 10-inch (23cm) cast iron or non-stick skillet. Add the shallots or scallions and cook until soft and wilted, then stir in the cooked kale, sausage, and herbs. Season with salt and pepper and cook for a few minutes until everything is nicely cooked together. Add the cheese and pour the egg mixture into the pan.

Use a spoon to coax the eggs around the kale and sausage so that it's evenly dispersed. Cook over medium heat for 5 to 6 minutes, then run a spatula around the edges to loosen it from the pan. (At the same time, if you can lift a little of the bottom while the frittata is cooking, it's a good idea to make sure that it's browning, but not burning. After loosening the sides, wearing oven mitts, invert a large dinner plate over the top of the skillet and flip both the pan and the plate over simultaneously being careful of the hot skillet. Then slide the frittata, cooked-side up, back into the pan and cook for another minute or so. (Alternatively, instead of flipping the frittata, you can run it under the broiler or put it in a very hot oven, until the top is cooked.)

When done, slice the frittata onto a serving platter. Serve warm, at room temperature, or cool.
Notes
Serving: You can serve the frittata with a side salad or it's very good cold, served with cold white wine or rosé, or sparkling cider before a meal. Storage: The frittata will keep up to one day refrigerated. Note: If you wish, you can use 6 large eggs (total) in place of the 3 eggs and 1/2 cup of egg whites.
Related Links
Recipes for Using Leftover Egg Whites
Sautéed Kale (Simply Recipes)
Paris Kale Map (via The Kale Project)