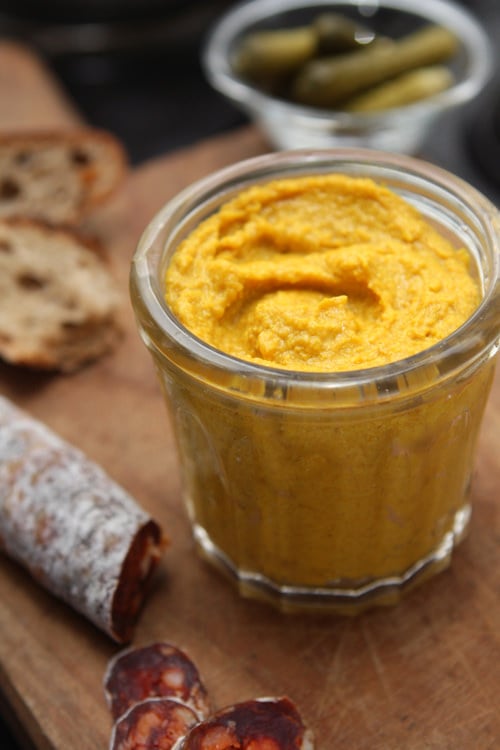 A few years ago, The Art of Living According to Joe Beef – which calls itself "A Cookbook of Sorts" – landed in my kitchen. I wasn't sure what to make of the book. It had a four-letter word in the beginning of the introduction, courtesy of a New York chef known for swearing. There was a chapter on Canadian trains. And as interesting as they sounded, I wasn't sure I would ever make Filet de Cheval à Cheval (pan-fried horse steaks with a sunny-side up egg saddled-up on top), Pork Fish Sticks (yum), or Chicken Skin Jus (sauce made of…yes, chicken skin – ok, I'm in on that one.)
Cornflake Eel Nuggets (the story is pretty funny in the book), well, I'd give them a try at the restaurant because I'm not especially anxious to clean my own eel at home, there's a Foie Gras Breakfast Sandwich that tempts (maybe not for breakfast, but I could imagine that for lunch), and I am not sure I would build my own metal Marjolaine cake mold (there are dimensions in the book) – although the multilayered cake made inside of it looks absolutely great.
(However I wish they hadn't included pictures of their homemade cake pan for making the cake in, because I haven't been able to stop thinking about tackling that welding project ever since I read about it. Darn you, Joe Beef!)
But the book really struck me as something special and I called it my favorite book of the year because I liked the voice of the owners, their quirky stories, and the fact that it just goes against a whole bunch of stuff – different than some of the self-conscious, "bro-food" kinds of schtick. It just felt genuine and honest, qualities which came right through the pages to me. It's the story of building a restaurant in the middle of nowhere, planting a garden in a former crack house, and includes a whole bunch of wacky cocktails, including a do-it-yourself recipe for Absinthe.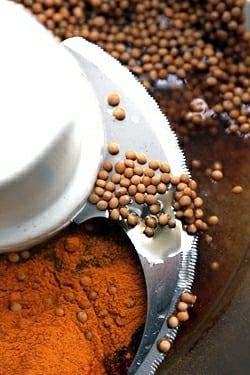 It really is, indeed, a cookbook "of sorts" and it's a book that I like on so many levels. The folks at Joe Beef celebrate eating with gusto without all the boasting and chest-beating. And most of all, it makes me want to get back on a plane to Montreal where I once went and almost every morning, I'd say to someone – "I had the best meal of my life last night."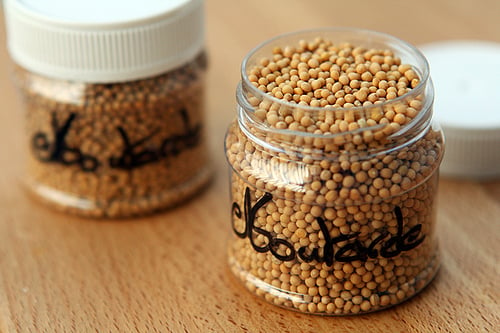 One point they brought up in the book is that in Canada (and elsewhere), the "Dijon" mustard imported from France is made with Canadian spices, which are shipped to France. So they decided to make their own mustard and save the round-trip fare for the spices. Since I am not quite ready to tackle making my own cake pans, or make eel nuggets, I thought it would be more prudent to grind up a batch of homemade mustard on my own, in the spirit of Joe Beef.
I was shopping at my new favorite store in Paris, Le Retour à la Terre, and scored my trifecta of hard-to-find ingredients there; kale, white wine vinegar, and citrons. I had some mustard seeds in my pantry and a jug of maple syrup. Horseradish is still elusive in root form (I was told I had to go to Alsace, but wouldn't it be easier just to put a case of the roots on a TGV bound for Paris every once in a while?) Yet I had a jar of prepared horseradish on hand, so I used that to add some zing to the mustard.
So now I have a nice pot of mustard maison on hand for my next sandwich or marinade. And when I was grinding it up, a certain Frenchman observing the process said to me, "It's smells comme le pastrami", which I'll take as a compliment. However I still don't think I'm ready to tackle welding together my own cake pan quite yet, distilling my own absinthe, or building my own smoker (I somehow don't think the neighbors would approve), but I do know that if I get back to Montreal, my first stop will be Joe Beef.
Homemade Mustard
Inspired by
The Art of Living According to Joe Beef
(Ten Speed) by Frédéric Morin, David McMillan and Meredith Ericsson. I played around with Joe Beef's version of homemade mustard, and came up with my own recipe, taking a nod from them by adding a dose of Canadian maple syrup to the batch. I added a spoonful of prepared horseradish to liven it up further. If you want to skip the wine, add water in its place. I've seen versions that used beer, too. Note that I used white (or yellow) mustard seeds. There are darker seeds are much stronger. I didn't use them with this batch but it might be interesting to do a mix or use those instead. You can find mustard seeds in most supermarkets as well as Indian markets. The turmeric gives the mustard a lively color, doesn't it? You could tone it down by adding less, although I find it rather amusing.
1/3

cup (55g)

mustard seeds

1/3

cup (80ml)

white wine vinegar

1/3

cup (80ml)

dry white wine

,

or water

1

tablespoon

maple syrup

1

teaspoon

ground turmeric

1/2

teaspoon

salt

pinch

bigof cayenne

2-4

tablespoons

warm water

,

if necessary

optional: 1-3

teaspoons

prepared horseradish

,

to taste
Combine all the ingredients, except the horseradish, in a stainless-steel bowl. Cover, and let stand for 2-3 days.

Put the ingredients in a blender and whiz until as smooth as possible. Add 2 to 4 tablespoons of water if the mustard is too thick. Blend in the horseradish, if using.
Notes
Storage: The mustard will keep for up to 6 months refrigerated, although it's best if used within one month.