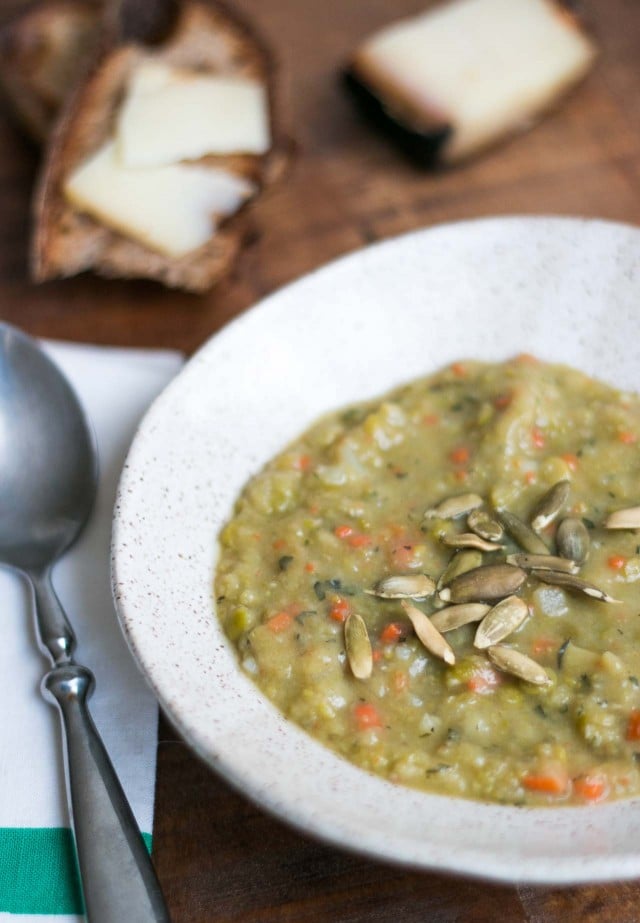 We don't always get snow in Paris in the winter. But when we do, it blankets the city with a brilliant layer of snow. It illuminates what can be gray and drab, and brightens things up when everyone's spirits are beginning to sag. People tend to stay indoors or huddle in cafés, drinking hot chocolate or vin chaud, hot mulled wine.
It's the time of year that I want to make soup. The word soupe in French is thought to be the base of the word "supper," the evening meal. And in fact, French people often call dinner la soupe, attesting to how prominent soup is in the French meal. Sometimes it's the whole thing!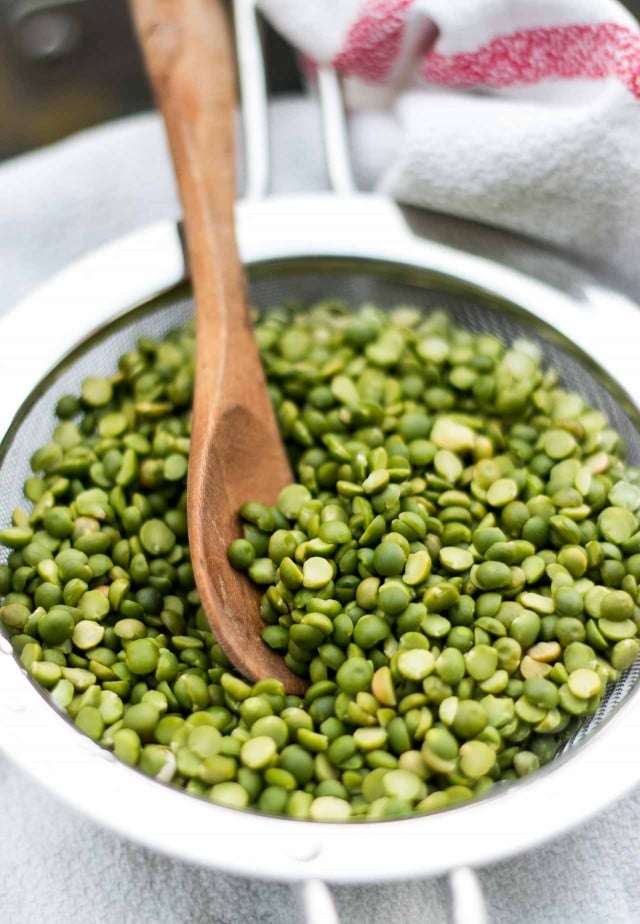 Split pea soup one of my favorite soups, which I started making way back in my vegetarian days. But now that I eat meat, I like the smoky flavor that bacon gives the soup. Yet it's open to lots of improvisation in terms of add-ins and toppings. But its simplicity is also what makes it an especially attractive recipe: You basically sauté a bunch of ingredients in one big soup pot, add the split peas, and let it simmer. And within an hour, you'll be ladling hot soups into bowls.
The lingering question is always to blend, or not to blend? Well, that all depends. Some soups benefit from being velvety smooth, but I don't know if split pea soup is one of them. I like it to have some texture, and to see and taste a few little bits of colorful carrots and smoky bacon in the thick liquid, here and there. The best accompaniment to a hardy bowl of split pea soup is good bread and cheese, like a tangy blue cheese or goat cheese, or something strong-tasting which offsets and compliments the richness of the pea soup.
Split Pea Soup
Split pea soup is open to lots of interpretations. You can leave out the bacon to make it vegetarian/vegan, or add shredded ham hock meat to the soup after you blend it. (If you choose to do so.) Garnishes could include some toasted seeds, a dab of sour cream, or some crisp bacon strewn over the top. With good bread and cheese, it makes a nice winter meal.
2

tablespoons

olive oil

1

cup (100g)

diced bacon

1

onion

,

peeled and diced

1

large carrot

,

peeled and diced

2

cloves

garlic

,

peeled and minced

1

tablespoon

minced fresh thyme

,

or 2 teaspoons dried thyme

2-3

teaspoons

salt

freshly ground black pepper

1

bay leaf

2

potatoes (1-pound

,

450g), peeled and cubed

1 1/2

cups (300g)

dried split peas

7

cups (1.75L)

water

,

or more, if necessary
In a large soup pot, heat the olive oil. Add the bacon, onion and carrots, and cook, stirring frequently, until the onions are completely wilted. Add the garlic, thyme, salt (you can start with the smaller amount and add more later), a few very generous grinds of black pepper, a bay leaf, the cubed potatoes, and the split peas.

Pour in the water and bring to a boil, then reduce the heat to a very low boil. Put a lid on the pot, but leave it askew with room for steam to escape, and cook the soup, stirring every once in a while, until the split peas and potatoes are very soft, about 45 minutes.

Remove from heat. Pluck out the bay leaf. Puree the soup to whatever consistency you like with a stick blender. (Or you can use a traditional blender, letting the soup cool to room temperature before blending it. Never fill a blender more than half-full with hot liquid, which can be dangerous.) I like mine partially chunky, partially smooth. Add additional water to get to the soup to the consistency that you like, and season with additional salt, if desired.
Notes
Serving and storage: The soup can be served as is, or you can scatter sliced scallions or chives, nuts or seeds, garlic croutons, crumbled bacon, and perhaps some smoked salt over the top. The soup will keep in the refrigerator for up to four days or can be frozen for several months.
Split Pea Soup Recipes
Split Pea Soup (Simply Recipes)
Yellow Split Pea Soup with Ham Hocks (Gluten-Free Girl)
Spicy Harissa Split Pea Soup (Lunch Box Bunch)
Spanish-Style Split Pea Soup (Kayotic Kitchen)
Slow-Cooker Split Pea Soup with Sausage (Soup Chick)
Vegetarian Split Pea Soup (101 Cookbooks)
Indian-Style Split Pea Soup (Lisa's Kitchen)