Watercress Soup
One of the differences between French and American dining is that the green salad is normally served after the meal, either with cheese or on its own. I remember Romain being very surprised when I told him that Americans usually ate cheese before a meal, with the apéritif. "Ah bon?" he replied, having a moment believing that we did that. (And this is from the only French person that insists on having his coffee with dessert, which is unusual in France as well.)
There are some exceptions; gut-busters like Hachis Parmentier (meat pie with mashed potato topping), and Brandade (salt cod puree), are often served with a salade verte, a few leaves of lettuce in a mustardy dressing. But most of the time, the salad arrives after the plat principal. (Curiously, we call the main course the entrée in America, whereas in France, the entrée is the first course – or the "entry" into the meal.) The after-dinner salad in France isn't usually a complicated affair with tomatoes, eggs, croutons, and all other sorts of other things tossed in with it: it's often a nice bowl of leafy greens with a punchy dressing.
A friend who used to live in Paris was visiting last week and I invited her to dinner. I always like to serve guests who don't live here certain French cheeses, like Brie de Meaux or a raw milk Saint-Nectaire, which are hard to get outside of France, and I know they miss them when they are not here. I know when I go away, the first thing I do when I get back is to go to a bakery, buy a fresh, crunchy baguette, slice it wide open, smear it with lots of salted butter from Brittany, and eat that. And then, I dive into the cheeses…
We had a nice dinner in my kitchen, and after the meal, out came the cheeses before we moved on to dessert. But – oops! – I'd forgotten to serve the watercress salad. In the winter, I move from leafy salads to winter greens, like Belgian endive, escarole, frisée, and peppery watercress. I had picked up a big bunch of watercress at the market and carefully washed it all in preparation for an after-dinner salad with the cheeses I'd selected for the night.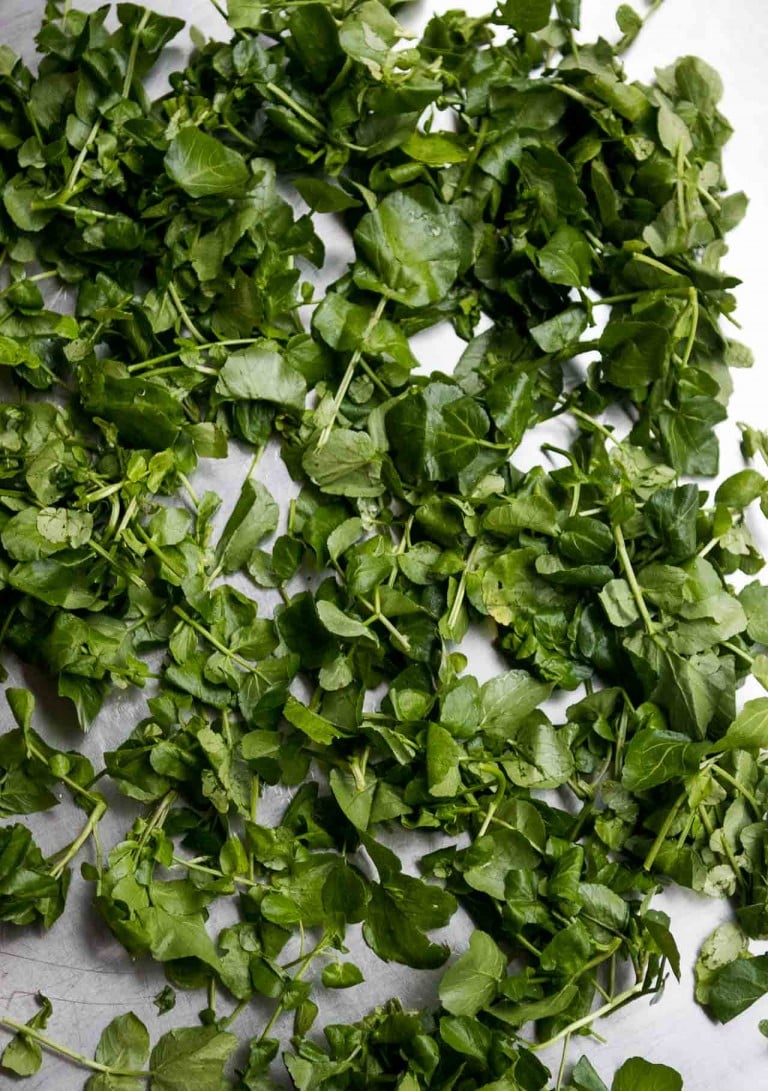 It was like a gift when I spread out all the watercress leaves on my kitchen counter the next day, and found myself with an abundance of watercress. And as we all know, when life gives you lots of watercress, you make soup. Or whatever.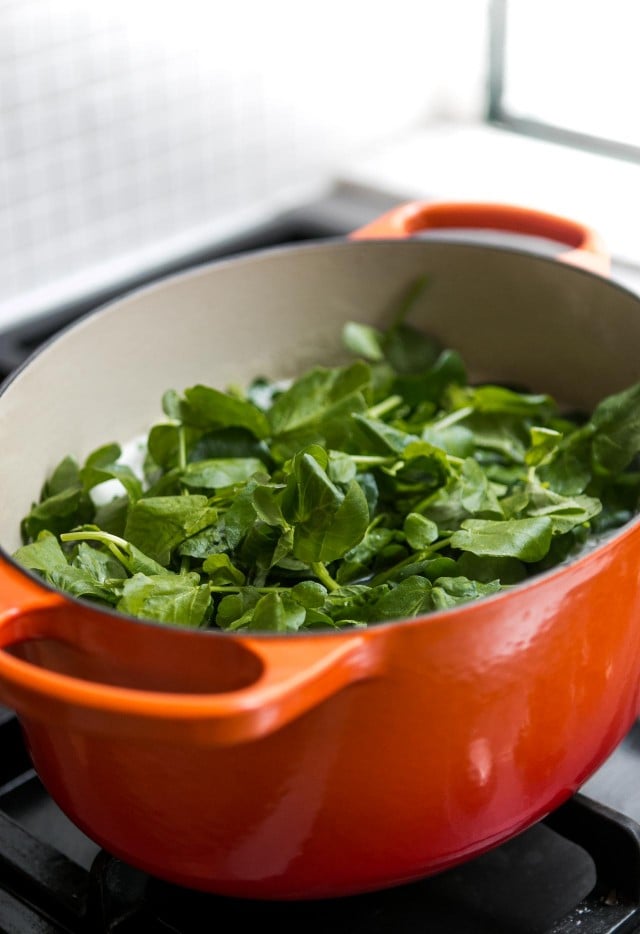 Watercress soup is one of those great soups, like a lot of French dishes, that don't necessarily require a lot of ingredients. Instead it depends on coaxing flavor out of the few ingredients that you have. Watercress has tons of flavor, for example, so keeping it simple highlights that vibrant green color and zesty flavor of the cress.
I cooked up an onion with a big knob of butter until soft, added a few potatoes and simmered until the potatoes were tender. Then I grabbed handfuls of my well-washed watercress to the pot and stirred them in, letting them wilt. I did throw a curveball into the mix, adding a handful of frozen green peas to give it some extra body and color.
In the end, I was rewarded with a nice, colorful pot of soup, which made the perfect lunch along with some of the leftover cheeses I had after our dinner, as well as slices of baguette. La soupe in parts of France refers to dinner (or supper), and soup is indeed a popular, family style meal in France, especially if served with bits and ends of cheese, charcuterie, and some good bread alongside.
But I gotta say, I'm a fan of soup for lunch as well, especially in the winter when I need something to warm me up. And let me tell you, it's nice to open the refrigerator and find a pot of soup that I can dip into, rewarm a bowl for myself, and spoon up for a satisfying meal.
The great thing about simple soups like this watercress soup, is that you can customize it with toppings, to take it in a variety of directions. I liked it with a swirl of goat milk yogurt and chopped chives. Garlic croutons would be nice, as would cubes of crisp bacon. Nuts or seeds, like pumpkin seeds, add a good crunch sprinkled over the top with a drizzle of olive or pumpkin seed oil. Or you can just serve it as it, with a selection of cheeses (that you might have leftover from guests the night before), and some good bread.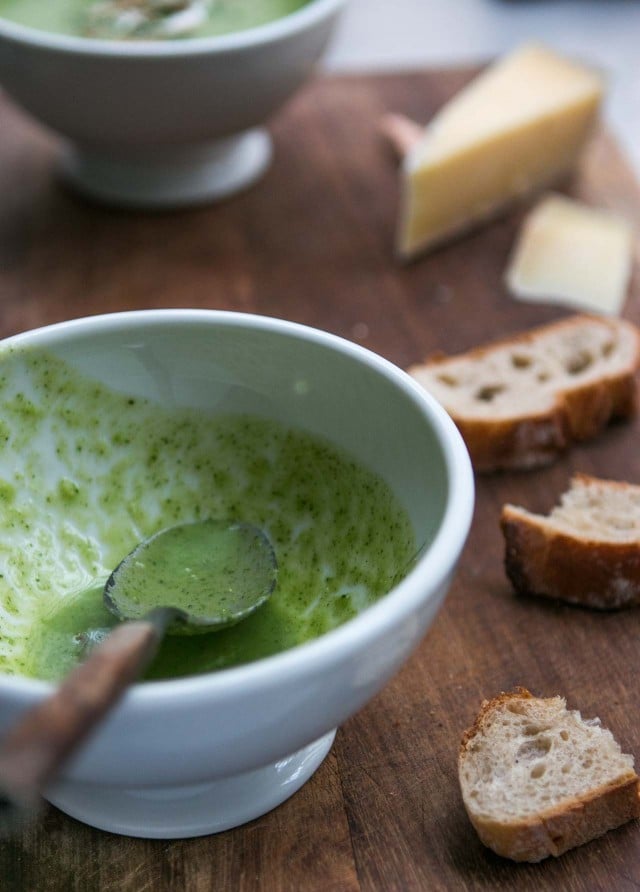 | | |
| --- | --- |
| Watercress Soup | Print Recipe |
Clean the watercress well in a couple of changes of cold water to make sure there's no grit. You can use all the leaves and tender stems, but any stems that feel especially tough and woody, don't use. I added peas to give it some extra body and to bolster the color, but you can leave them out if you wish. If you want a creamier soup, blend a few tablespoons of heavy cream or creme fraiche into the soup in step 3. You can garnish this soup in any number of ways, a few I mentioned in the post – from a spoonful of yogurt or cream swirled over the top with fresh herbs, to a handful of seeds or bits of crumbled bacon strewn over the top. It's your call.
1
medium onion,
peeled and diced
salt and freshly ground black pepper
1
pound (450g)
potatoes
peeled and diced
8
ounces (225g, about 9 cups)
watercress leaves and tender stems
1
cup (150g)
fresh or frozen peas
1. In a Dutch oven or soup pot, melt the butter. Add the onion, season with salt and pepper, and cook over medium heat, stirring frequently until the onion is translucent, about 5 to 6 minutes. Add the water and diced potato and cook, partially covered, until the potato cubes are tender, about 10 minutes. When poked with a paring knife, the knife should meet no resistance.
2. Turn off the heat and add the watercress and peas, stirring a few times to wilt the cress.
3. Puree the soup using an immersion blender, or wait until the soup is lukewarm and puree until smooth in a blender. (Pureeing hot soup in a traditional blender will cause it to overflow, so wait until the soup is tepid.)
4. Once the soup is pureed, rewarm the soup in the pot, season with salt and pepper, and serve.
Storage: The soup will keep for up to three or four days in the refrigerator. It can be frozen for up to two months.
Related Recipes