I'd been anxious to eat at Honey & Co. in London, which was at the top of my list of places to try there, but never made it. One of the underrepresented foods in Paris is Middle Eastern food. With a large population from that part of the world, most of the restaurants are snack bar-like stands. And even at the standard Middle Eastern restaurants, I suspect they get their hummus, baba ganoush and other dips, from elsewhere. The knees on my pants are all worn down from begging people like Yotam Ottolenghi and Sami Tamimi of Ottolenghi and Sarit Packer and Itamar Srulovich, the owners of Honey & Co., to open a branch in Paris. But so far, they're staying on the other side of the Channel.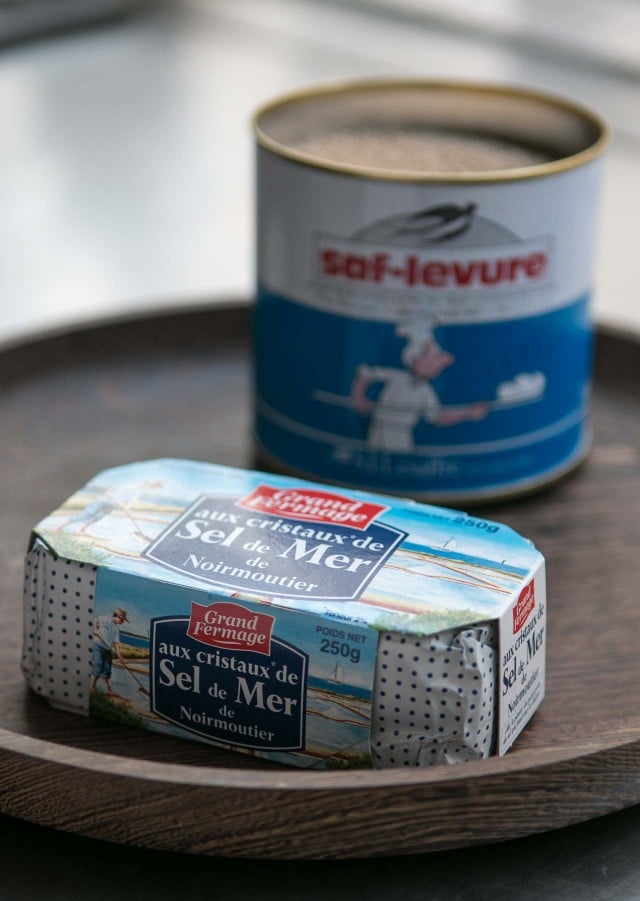 My last trip to London was only twenty-four hours (too many places…not enough time!) and as much as I tried to get to Honey & Co., and a few other places, it didn't happen. And before I knew it, I was back on the Eurostar train, heading home. But proof that if you wish for something hard enough, when I was in Ireland at Ballymaloe, spending time in the kitchen early one morning with the head baker, in walked Sarit and Itamar, who started to prepare a generous lunch of all the Middle Eastern foods that I love. And a few hours later, I was sitting around an amazing table loaded with gorgeous salads, spreads, and long-roasted lamb, prepared by the talented team themselves!
And proof that double-dreams do come true, Sarit and Itamar recently came to Paris and we had a lovely lunch together. They're had a little difficulty adjusting to all the rich foods, but were troopers. And when we parted, again, they handed me a copy of Honey & Co. The Baking Book, which I was planning on picking up the next time I was in the U.S. or England, along with a bag of their chocolate and pistachio cookies (page 202) that were loaded with beautiful, bright green pistachio nuts.
The book was named the Food Book of the Year by the Sunday Times and it's easy to see why: If I had more time on my hands, and I hadn't been laid up for three months with a bum knee that eventually needed surgery, sitting around eating chocolate on my couch, I'd be able to eat everything in the book.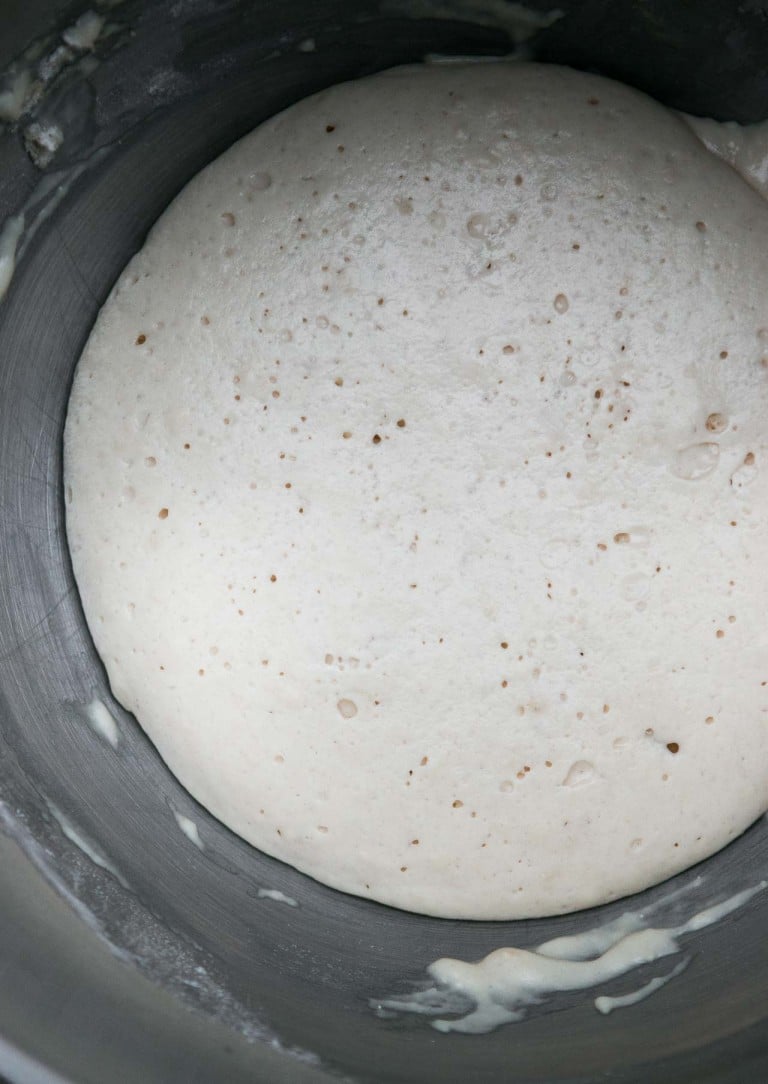 Still, man cannot live by peanut M&M's alone, and one must have babka. I've been working on babka for a while. The loaves you get in bakeries tend to be dry, sad affairs, with a few chocolates dusty bits here and there. When I saw the picture in the Honey & Co. Baking Book, I had to try it.
However when I was in Tel Aviv, I had the most delicious rugelach of my life and the baker told me his secret was brownie crumbs. Although I never was able to get the recipe from him, which he promised me, I had the idea stuck in my craw and decided to use them here. And for those who don't eat nuts, you can leave them out and just add the brownie or cookie bits.
In another bit of serendipity, I had some chocolate wafer cookie dough that I'd made, but I goofed adding the flour, so into the freezer the dough went. Usually things that go into my freezer disappear farther and farther to the back, until I find them years later. But this dough was right on top. So I made makeshift "cookies" out of it, baked them so they were still soft inside, and crumbled those up to use.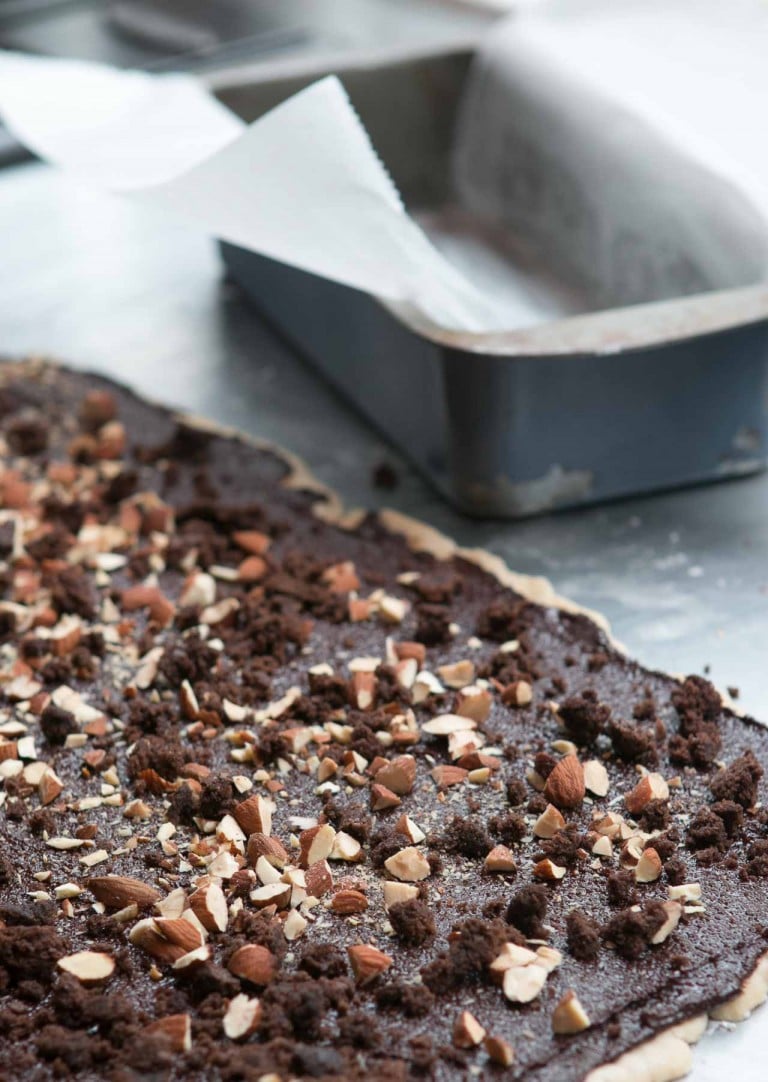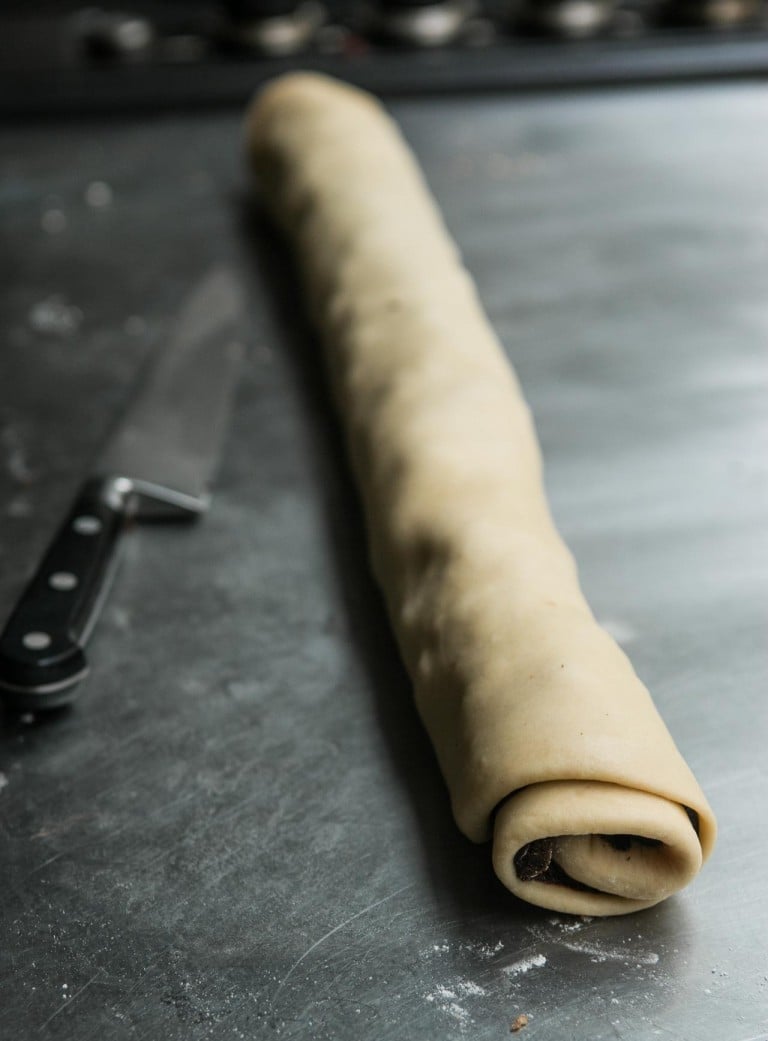 Another change I made was some adjustment with the flour. I wrote to Itamar to inquire further and he thought the flour in France might be too strong compared to what they are used to. (Interesting, supermarket flour in France is very soft, and low in protein, which American bakers find out the hard way when they go to bake their first batch of chocolate chip cookies in France and open the oven door midway through the find the dough had spread and flowed, lava-like, all over the baking sheet.)
The first babka I made tasted incredible. I could not keep myself from snatching bits and pieces of it. It was nothing like the babkas I had at Jewish bakeries when I was a kid. Rich dark chocolate and crisp nuts were embedded in a twisted loaf that offered a variety of compelling textures with every mouthful that I lopped off. Soon I found myself forgetting about those peanut M&M's, and thinking more and more about babka.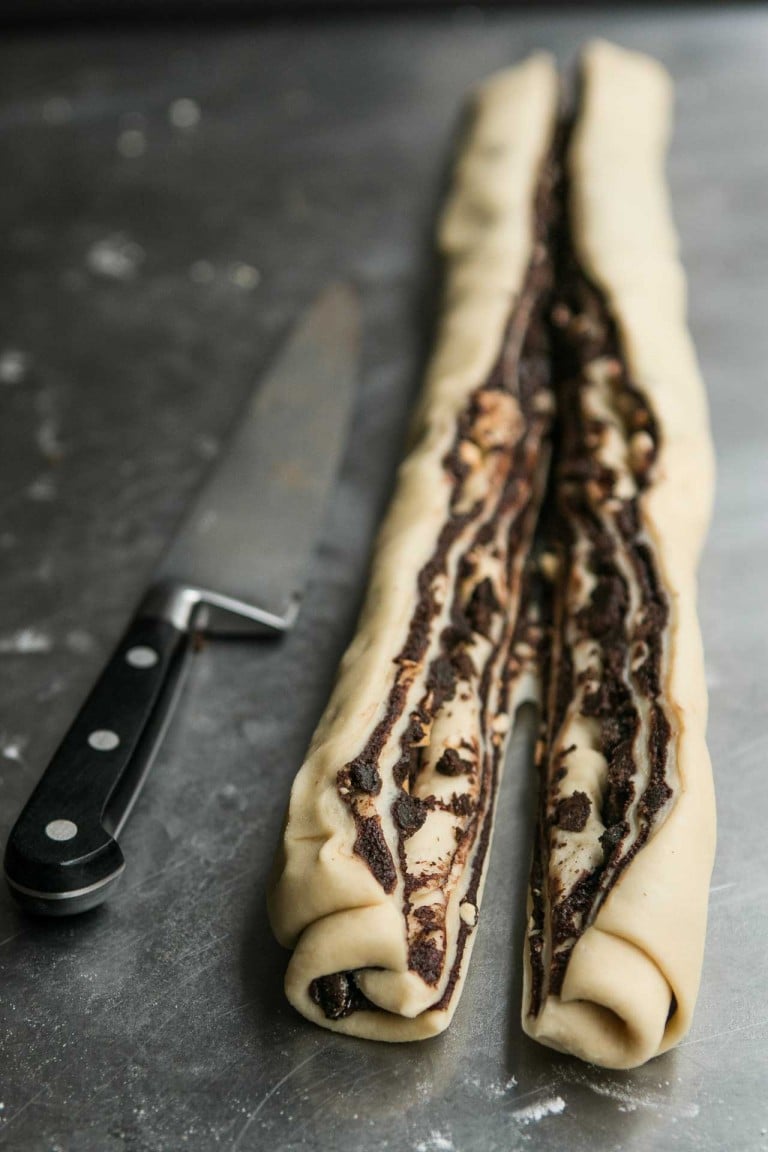 But I still wanted to get the dough right as mine seemed awfully stiff. Their instructions say the dough will be quite soft so best to refrigerate it, to make it easier to work with.
Because I'm such a nice person and wanted to share a recipe that I loved so much, I ended up dipping into my coveted stash of American flour to test this out again, and it came out beautifully, although I made a few modifications noted in the recipe. One thing that people often forget is that recipes can vary based on ingredients. A high-percentage chocolate might be dry due to less cocoa butter, and more cacao beans, or your water may be wetter than the water in France. You just never know.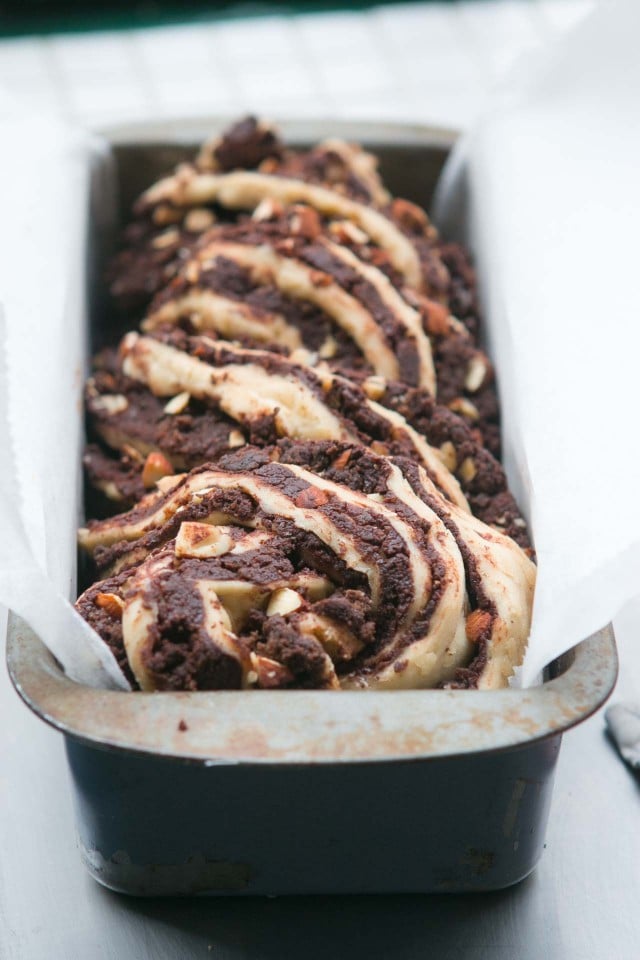 The icing on the cake is the syrup on the babka. It takes this cake/bread (also known as a kranz) to a whole other level of moist goodness. So no matter how wet your water is, the syrup will assure that everything gets a nice soaking from the honey-spiked syrup.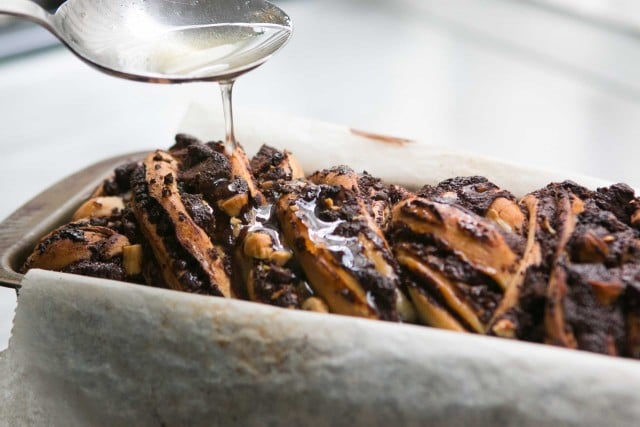 I am anxious to get back to London, now that my knee got fixed and I am no longer confined to my sofa, so I can have a meal at Honey & Co., until I can convince them to open closer to me. In the meantime, I'm eyeing those chocolate and pistachio cookies, and a few other goodies from their baking book.
Chocolate Babka
Adapted from
Honey & Co. Baking Book
by Sarit Packer and Itamar Srulovich I used leftover cookie bits in the babka which dialed up the chocolate flavor beautifully, but you can omit them. (The recipe is the Chocolate Wafer Cookies in
Ready for Dessert
.) Or if you are on a nut-free diet, you can omit the nuts and just use the cookie (or brownie) bits. This can, of course, be made by hand without a stand mixer. Simply mix the ingredients for the dough in a mixer bowl, then turn the dough out onto a lightly floured countertop and knead until smooth. One interesting variation I saw was using spelt flour in this adaptation of the same recipe:
Cinnamon and Walnut Babka
. The original recipe said to chill the dough after the initial mixing, after step 3, for at least 6 hours, or overnight. I made it several ways – including once rolling it out right away, and it worked fine without the overnight in the refrigerator. But usually doughs like this improve if left to rest overnight, so if you can wait that long, I'd do that.
Babka dough
2

teaspoons active dry yeast

,

or 3/4 ounce (20g) fresh yeast

Scant 1/2

cup (100g)

whole or lowfat milk

,

very slightly warmed

1

teaspoon

sugar

3

ounces

(90g, 6 tablespoons) unsalted butter

,

at room temperature, cubed

1

large egg

,

at room temperature

1/4

teaspoon

kosher or sea salt

2

cups (280g)

all-purpose flour
Chocolate filling
3 1/2

ounces

(100g, 7 tablespoons) unsalted butter,

,

cubed

3/4

cup (150g)

granulated sugar

3

ounces (80g)

bittersweet chocolate

,

coarsely chopped - (the authors recommend one that's 70% cacao mass)

5

tablespoons (40g)

unsweetened cocoa powder

,

natural or Dutch-process

1

teaspoon

ground cinnamon

1/2

cup (65g)

toasted hazelnuts

,

walnuts, almonds or pecans, coarsely chopped

optional: 1/2 cup (65g) crumbled brownie or chocolate wafer cookie bits
Syrup
1/2

cup (100g)

sugar

1/2

cup (125ml)

water

1

tablespoon

honey
In the bowl of a stand mixer, mix the yeast with milk and sugar and 1/3 cup (40g) of the flour. Let rest until small bubbles appear and break the surface, about 10 to 15 minutes.

With the mixer fitted with the dough hook, on low speed, mix in the 3 ounces butter then the egg and salt. Gradually add the flour until it's incorporated. Turn the mixer to medium-high speed and knead the dough until smooth, about 5 minutes.

(Note: The original recipe called for an additional 1/4 cup (35g) of flour. When I used that amount, my dough became quite stiff, so I reduced it to the amount here. If your dough seems too soft and is sticking considerably to the sides of the mixer bowl after kneading, add more flour, 1 tablespoon at a time, until it pulls away from the sides. The original recipe called for a total of 330 grams of "strong white wheat flour," which is about 2 1/4 cups.)

Either cover the bowl with a kitchen towel and refrigerate the dough for 6 hours, or overnight, or roll out in the next step.

(Note: I found the dough firm enough to roll right away, but it may be easier to roll if you refrigerate it. And often bread benefits from a leisurely rise, so if you can spare the time, I recommend it.)

Butter a 9-inch (23cm) loaf pan and line the bottom and up the sides with a piece of parchment paper overhanging the two long sides, which will help you remove the baked babka later.

To make the filling, melt the 3 1/2 ounces of butter in a medium saucepan. Add the sugar and stir until dissolved or almost completely dissolved. (It's okay if there are grains of sugar visible – they'll melt later.) Remove from heat and add the chocolate. Let stand 1 minute, then stir until the chocolate is melted and smooth. Stir in the cocoa powder and cinnamon. Set aside.

On a lightly floured surface, roll the dough (chilled or at room temperature) to a rectangle 12 x 20-inches (30 x 50cm). If the dough contracts and resists when rolling it, roll it out partially into a rectangle, let it sit 5 to 10 minutes, then continue to roll it out to the final dimensions once it's relaxed.

Spread the chocolate filling over the surface of the rectangle all the way to the edges. Strew the nuts and cookie or brownie bits (if using) over the chocolate. Starting at one of the long ends of the rectangle, roll up the dough tightly so you have a log that's 20 inches (50cm) long.

Using a sharp knife, slice the dough completely in half lengthwise. With the cut sides facing up, overlap the end of one cut half over the other (with the cut sides still facing up), then take the other cut half and fold it over the other, making sure the cut sides are always facing up.

Continue making a rope-like formation (check the photos in the post) overlapping and twisting the two halves of the dough together until the dough into one big twist. Any nuts or filling that have fallen out, toss into the bottom of the loaf pan.

Lift the twisted loaf and squidge it into the prepared loaf pan by pushing in on the two ends, so it fits in nicely.

Put the loaf pan in a very warm place, such as near a radiator or in an oven that has a pilot light, and let rise for about two hours, until it's puffy and almost doubled in size.

While the dough is rising, make the syrup by bringing the water, sugar, and honey to a boil in a small saucepan. Let boil for 4 minutes, skimming off any foam that rises to the surface with a spoon. Remove from heat and set aside.

Fifteen minutes before you bake the babka, preheat the oven to 375ºF (190ºC). Bake the babka on the middle rack of the oven for 30 minutes, or until a skewer inserted into the center (in a part where there is less chocolate filling), comes out clean of dough. There may be some bits of chocolate clinging to it, which are normal.

Remove the babka from the oven and spoon or brush the room temperature syrup over the babka and let cool completely before lifting the babka out. Do not try to remove it or slice it while it's warm, or it will break.

Serve the babka sliced. It will keep for up to 4 days at room temperature or can be frozen for up to two months, if well-wrapped.
Related Posts and Recipes
Baking Ingredients and Substitutions
Ingredients for American Baking in Paris
Salty, Deep-Dark Chocolate Brownies
Chocolate-Covered Caramelized Matzoh Crunch