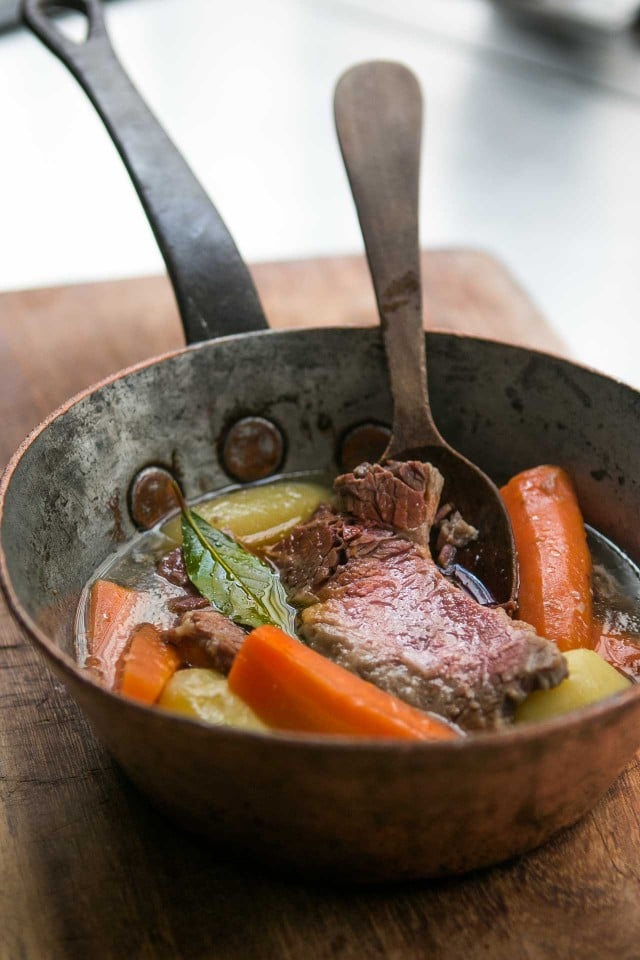 My desert island food is corned beef. Hot, piled up on a sandwich, between two pieces of rye bread with spicy brown mustard smeared liberally inside, corned beef is the one food that I could find myself being happily enjoying if trapped on a desert island. (With unlimited ice-cold pitchers of tropical cocktails, of course.) I also want cole slaw and half-sour pickles, too. Although if truth be told, I'm okay with just fat slices of corned beef, warmed, served on their own. Or simmering in a pot with potatoes and carrots with a bottle of French wine alongside.
Many French people know pastrami, but don't know corned beef as most of us know it. (What they get is a canned version, which looks from photographs to be closer to Spam than to actual corned beef.) Romain can't seem to get enough pastrami and once we went to a not-so-good restaurant in Paris where I'd heard they had it on the menu. When he was served two slices of bread with only two meager, thin slices of pastrami hidden in between, he walked back into the kitchen with his sandwich in hand and told them it needed to be really, really thick. I couldn't hear what he was saying, but he was demonstrating how thick it needed to be with his hands to the astonished cooks.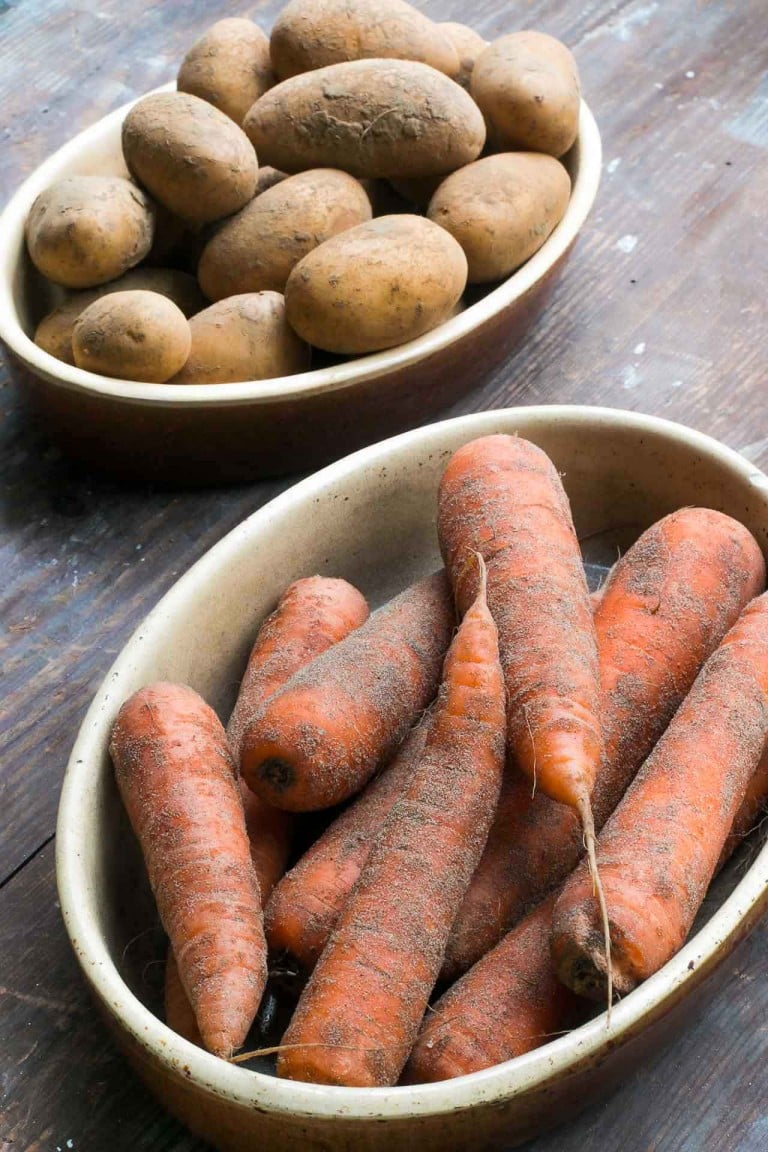 Growing up in New England, my mother sometimes made a boiled dinner of corned beef with cabbage, potatoes and carrots. I can't say I was a big fan of the cabbage and it wasn't until recently that I learned that it's actually called a New England boiled dinner, but the potatoes and carrots were great along with slices of the moist, pink meat always served with a dollop of spicy brown mustard alongside.
When delis were more plentiful in New York City, back then, I'd look forward to our visits to get one of those loaded-up sandwiches stacked ridiculously high. A friend who grew up not far from me, recently told me that you're supposed to order an extra piece of bread, pull out some of the meat, and eat a "normal-sized" sandwich – then take the rest home to make another one. I didn't know that. I always ate the whole thing. Gulp.
A few weeks back, I was having lunch with Gregory, a French chef friend who runs Mon Éclair. He used to live in the U.S., and the subject of corned beef came up. I replied that it was unusual for French people to know corned beef, rather than pastrami, and he said "Moi? J'adore le corned beef!"
Part of the affection for pastrami is that it has somewhat of an iconic status, and the vowel-ending word rolls off the French tongue easier than the hard consonant-ending, "corned beef." But the other part is that "to corn" is a verb that doesn't exist in the French vocabulary. (The word "corn" originally referred to the large grains of salt that is used for salting the meat.) The verb maïser, or "to corn," hasn't been added to the French verb dictionary, yet.
While lunching with my chef pal over lunch, he mentioned that he could get brisket in Paris. Huh? That was news to me, and others who've sent me quite a few messages from people over the years looking for brisket-cut meat in France.
French butchers cut meat differently than their American counterparts and an American woman who has lived in Paris since the '50s showed me some recipes and notes she had collected over the years, which probably answer the question – in words and pictures – what cut of meat brisket is, in French. Feel free to show the picture above to your local butcher in France, in the future.
[A few readers let me know you can order brisket from sources in Europe such as Bacon by the Box in Ireland (by the kg) and Otto Gourmet (in 8-10kg slabs.) Metzger Frères in France also sells it but it may be wholesale only, so you may need to call.]
She also had a handwritten recipe for corned beef, which curiously called for "1 œuf cru dans sa coquille," or "a raw egg still in its shell." I figured it was a way to test the brine for salinity, which Michael Ruhlman, author of several books on curing meat, agreed with.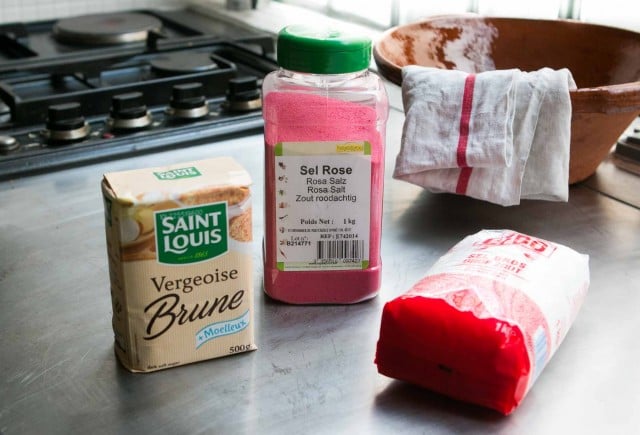 Waiting for our 5 kilos of brisket to arrive, the minimum, I went on the hunt for sel rose. It's usually called curing salt in English and gives corned beef its distinctive pink color. You can make it without, although the corned beef will not look like traditional corned beef. (I did see this post, where they used beet juice to color the meat.)
I also read about a new-fangled way to "bake" corned beef*, which looked and sounded interesting, until I read the words "too salty," from people who've made it. I'm sort of a traditionalist about corned beef and don't mind boiling mine. And did have fun brining my own from scratch.
My curing salt was from G. Detou in Paris, and I went to my local market to buy carrots and potatoes. Fortunately, someone had given me a branch of bay leaves from their tree, and once my brined brisket was ready, I was on my way to my own New England boiled dinner.
I served this to French friends, who loved it, and told me it reminded them of Pot-au-feu, a traditional boiled beef dinner served with mustard, coarse salt, and sometimes horseradish. I was fortunate to have leftovers the next day but until I find New York-style rye bread with caraway seeds in it, in Paris, I'll be eating my corned beef in bouillon, rather than en sandwich.
Homemade Corned Beef
If you're a fan of cooked cabbage, you could add some green cabbage wedges along with the potatoes and carrots to the bouillon. And although not traditional where I come from, there's no reason why you can't sneak some other root vegetables in the broth, such as turnips or rutabagas, like they do in French Pot-au-feu. Just make sure to cut them about the same size as the other vegetables so they cook for the same time. The pink curing salt is not required but does give corned beef its traditional red color. You can omit it, if you'd like, being aware that the corned beef will be brown, rather than pink. There is a link in the post to someone who used beet juice to color the meat. If you want to use the curing salt (sometimes called Prague Salt), you can find it at
Amazon
,
Butcher Packer
or at stores that sell spices and seasonings. Note that Pink Himalayan salt is not the same thing, nor is
Morton Tender Quick
. Mustard is obligatory to serve with this dish. Here in France, I served it with Dijon, but spicy brown mustard in America is good, or you can make
homemade mustard
. (For a brown version, use dark mustard seeds.) Other options for condiments include horseradish, cornichons and very coarse salt.
For the corned beef
One

beef brisket

,

(4 to 5 pounds, about 2kg), trimmed of most of the excess fat

2

quarts (1.9L)

water

1 1/4

cups (310g)

coarse sea or kosher salt

1/2

cup (90g)

light or dark brown sugar

12

whole cloves

1 1/2

teaspoons

black peppercorns

1

teaspoon

allspice berries

2

teaspoons

mustard seeds

,

light or dark

4

crumbled bay leaves

1

cinnamon stick

,

crumbled

1

teaspoon

red pepper flakes

1/2

teaspoon

ground ginger

5

teaspoons

pink curing salt
For cooking the corned beef
1

large onion

,

peeled and quartered

4

large cloves

garlic

,

peeled and minced

Seasoning for the cooking water

,

such as a few bay leaves, thyme or parsley sprigs

10

large carrots

,

(about 2 pounds, 900g), peeled and cut into sticks (quartered)

2

pounds (900g)

boiling potatoes

,

peeled and cut in pieces similar in size to the carrots
To make the corned beef, put the water, salt, and brown sugar in a large pot and bring to a boil.

While the salted water is heating up, in a skillet, toast the cloves, peppercorns, allspice berries, and mustard seeds, until they smell fragrant. It will take just a couple of minutes. Remove from heat and let cool. Once cool, lightly crush the spices in a mortar and pestle or in a zip top bag with a hammer or rolling pin. (Note: In the photo in my post, because I was so excited to have brisket, I neglected to crush them, which I do recommend to help release their flavor.) Add them to the brine, along with the bay leaves, cinnamon stick, red pepper flakes, ginger, and pink curing salt.

Once the brine is hot enough so the sugar and salt are completely dissolved, remove from heat and add 2 pounds (900g) of ice cubes. Put the brine in the refrigerator until it's completely chilled.

Once cool, put the brisket in a large, zip top freezer bag set in a larger bowl. (The bowl is in case there is any overflow or spillage.) Make sure the beef is lying flat in the bag and pour the cold brine over the meat so it's completely covered. If you have too much brine, strain out the spices, add them to the meat bag and discard the excess brine. Close the bag and let the meat sit in the refrigerator for 7 to 10 days, turning it every couple of days so the meat marinates evenly.

To cook the corned beef, rinse the corned beef with cold water and put it in a large pot or Dutch oven. Add the onion, garlic, and any seasonings, and enough water to cover the beef. Bring to a boil then reduce the heat until the water is at a gentle simmer. Put the lid on the pot so it's ajar and cook, turning the beef a few times while it's cooking until very tender.

About 45 minutes before the meat is done, add the carrots and potatoes. (And cabbage wedges, if using.) When the meat is tender and the vegetables are cooked through, the corned beef is ready to serve. The meat will take about 3 1/2 hours to cook.

Serving: Serve slices of corned beef with the potatoes and carrots, along with some of the broth. Mustard is obligatory to serve alongside. A few condiments are mentioned in the headnote.
Notes
*Note: I mentioned Baked Corned Beef in the post and I did get around to trying it. (I used a store-bought corned beef to test it.) Because I had heard it produced a saltier corned beef, I brought the corned beef to a boil in two changes of water to desalt it a bit, then patted it dry. In a small bowl, I mixed 1/3 cup mustard and 1/4 cup light (or you can use dark) brown sugar with 1 teaspoon cider vinegar and a few good turns of black pepper. I reserved a few tablespoons of it then smeared the rest over the corned beef. It got placed fat side up on a large sheet of aluminum foil, set on a rimmed baking sheet or baking dish, and closed tightly.
I baked it at 350ºF/160ºC for 2 1/2 hours. Then I opened the foil (carefully, as there was hot liquid in it), then smeared the rest of the glaze on the corned beef and ran it under the broiler until browned. The results? I thought it was still saltier than regular corned beef, which may be because I used a store-bought corned beef, but I found it tougher than a simmered corned beef. However it was firmer and easier to slice, so it might be preferable if you were planning to use the corned beef for sandwiches.
Related Posts and Recipes
Ingredients for American Baking in Paris
Corned Short Ribs (Washington Post)
Corned Beef and Cabbage (Simply Recipes)
How to Make Beef Brisket Pastrami (Ruhlman)
What's the Difference Between Pastrami and Montreal Smoked Meat (Serious Eats)
(Note: I've been to Montreal and had it there, and in Brooklyn, at Mile End Deli.)
Nitrites and Nitrates: Are They Harmful or Actually Healthful? (Prevention)
Nitrate in Food: Harmful or Healthy? (The American Journal of Clinical Nutrition)
The Red-Meat Miracle (New York Times)
Corned Beef or Pastrami: What's the difference? (Deli Done Right)
Is Corned Beef Really Irish? (Smithsonian)
Why are millions of Irish-Americans serving corned beef on St. Patrick's Day (The Irish Times)
Information and Websites About Brisket and French Cuts of Meat
According to the handwritten notes in the post, one says that you can use tendron, flanchet, or bavette to make corned beef, that is similar to brisket. Another says that brisket is milieu de poitrine, according to Julia Child (says the note card), accompanied by a diagram. As mentioned, I used brisket meat from Metzger which was purchased from their professional shop at Rungis, Metzger Frères. Note that my friend ordered a 5 kilo (11 pounds) piece of brisket, which is what they call it, and 5 kilos is the minimum order. (Ours came in a large, cryovac package.) My recommendation would be to call the shop (not the one at Rungis) and see if they can order it for you. Note: You may have to buy 5 kilos.
This website gives a good lexicon for French pieces of meat, in French. Although most beef cuts don't translate exactly from French to English, or vice-versa, Grasspunk has a post: What are the English equivalents of French beef cuts. And Posted in Paris has a series of posts on Making Sense of the Supermarket in France, with a post on Cuts of Meat.