New York Noshing
One of the best markets anywhere, and a great place to start a whirlwind culinary week in New York, is the Greenmarket, which takes place a few times a week in Union Square.
New York's Greenmarket is a colorful riot of fresh corn, technicolor heirloom tomatoes, fresh-made Ronnybrook ice cream (which I didn't get to try since my consorts put a damper on things and said it was too early in the morning and I didn't think I could finish a pint by myself), tiny little chili peppers, sweet amber-colored maple syrup and some respectable locally-made cheeses.
I'd be happy to go on and on and one, but the visit was recorded for posterity on video. Stay tuned…
Greenmarket
Union Square
NYC
Speaking of corn, ever since the Second Avenue Deli closed their doors, life hasn't been the same. Even though I live thousands of miles away, just knowing Sharon Lebewohl and her crew were there slicing mounds of corned beef and pastrami was always enough to make it my first, and often last stop too, on trips to New York.

Thankfully Katz's Deli is still going strong and people still line up daily for their overstuffed sandwiches. My corned beef was somewhat fatty, which made it a bit difficult to chew, so I advise asking for 'lean' when ordering.
But with crunchy half-sour pickles served by the plateful washed down with an icy-sweet Dr. Brown's Black Cherry soda, I may be returning for a final fress.
Katz's Deli
205 Houston Street
NYC
One of my favorite buildings in the world is the Lever House. And ever since they opened a retro-sleek restaurant inside, I've wanted to eat there. So when my editor gave me a list of places to confab, I picked Lever House.
The dining room is amazing, but the pallid lighting doesn't do it justice. We swapped seats to be in a quieter area overlooking the other diners and enjoyed Iceberg Lettuce Salads with Bacon and Tomato, and I followed up with a appetizer-portion of short ribs, which were tough and a bit too fatty. Dessert was a frozen Peanut Butter Parfait dipped in dark chocolate with Sour Cherry Ice Cream, which sounded promising but was clunky and too dense and we picked at it for a bit, then stopped midway.
Although we weren't blown-away by the meal, I'd return to the bar for the superb French Fries and to soak up the atmosphere.
Lever House Restaurant
390 Park Avenue
NYC
I had a fun, floorside Korean dinner at Cho Dang Gol with Deb and her dishwasher/hubby, and Luisa, and although the company was super-duper, the waiter had a hard time believing that we wanted to order things…like more beer and more food. You would have thought I were asking for his left nut when I asked for more banchan, the little side dishes that go so well with Korean bbq (they only brought a measly four), but after a bit of prodding, reluctantly a few more came out.
They're most famous for their homemade tofu, but the kimchiand tofu soup was a tad too tame. It was no Korea House but the company was terrific—although I think Alex is still trying to unkink his legs.
Cho Dang Gol
55 West 35th Street
NYC
It's hard not to like a place that makes excellent Whiskey Sours (in the plural). And has the most amazing roasted peanuts I've ever eaten. And where the friendly staff is genuinely happy to serve you and make sure you're having a good time.
While all these things are nice, the barbeque at Blue Smoke is the star of the show. This is one of those places where it's wise to over-order, since you want to taste everything: fried chicken, two kinds of ribs, hush puppies, just-fried potato chips, and sublime and smoky beef brisket. We had it all.
The desserts of Chocolate Pudding and Chocolate Cake didn't win us over, but it's safe to stick with anything else on the menu. What a great restaurant and it's going on my always go-to places in New York City from now on.
I may go back this weekend!
Blue Smoke
116 East 27th Street
NYC
There's quite a few places in New York serving 'street food', where meats and things are fried up and served on the sidewalks. But the best is where the lines are longest…
For just five dollars, you can stand overlooking the Hilton Hotel and surround yourself with every kind of New Yorker shoveling in Gyros. It's one of the best deals in town and quite a scene, day and night.
Oh, in case you want the address…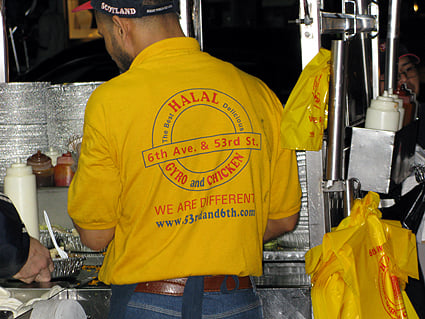 Also read New York Noshing Part 2.