Dining Around New York
The French have their paradoxes and so do Americans. Which was something I discovered over and over again while I was exploring New York with an especially inquisitive Frenchman in tow. There were lots of questions, like when watching television, it's tricky to explain why there's a commercial for people stuffing their faces from all-you-can-eat buffet for $6.99 suddenly followed by an ad pushing low-calorie frozen entrées. Or on that note, why in America, a main course is an entrée – since that means "before" in French?
I tried to explain how so many men put themselves on television and talk freely about how they couldn't perform some of their, um, manly acts in front of millions of people on talk shows. Or what makes a presidential candidate go on television, rather than the church, to pray "for the economy." And why the people cooking on television talk non-stop while they are preparing dinner. (And this is from someone who talks non-stop, no matter what he's doing.) There were videos in the taxis featuring Broadway shows, magic bras, and Larry King, one right after the other.
As we stopped into stores and strolled the streets, there were other unanswerable questions, such how everyone and every product has gone "green", but there's still tons of excess. But as the woman on Bitchin' Kitchen said – who was especially tricky to explain – "Life ain't supposed to be like a laundry detergent ad, folks."
In spite of all the paradoxes, there are a lot of great things about America that we take for granted: the bountiful greenmarkets, the unexpected scenic vistas, our friendly openness, and the "can do" attitude that are some of our best traits.
In addition to my duties as an ambassador to New York City, I was also in charge of the food. Which was a great because I had a bunch of new places to check out and a few older ones that I wanted to revisit….
Luisa said that Back Forty was a good place to bring Europeans and she was right; people often don't realize the charm of America when they come to visit, preferring to see Times Square, museums, and other sites, while not knowing (or bypassing) the fantastic greenmarket and tucked away places like this. I mean, you're actually eating in someone's backyard in the middle of one of the most urban cities in the world. How cool is that?
Still, I had to explain why cocktails were offered before noon and why waffles were served with fried chicken. And the entrée versus plat principal issue came up again. But it was nice to sit in the backyard under some trees while still being in Manhattan. The food was okay (although I think they need to find a new doughnut recipe), and I prefer my waffles on the crisp side. But it's a nice place to show someone a slice of Manhattan that they normally would likely not find on their own. [UPDATE: Back Forty is now closed.]
Il Laboratorio del Gelato has opened an ultra-modern gelato "laboratory" which is immense and I was surprised – and happy – to see so much space devoted to my favorite things: house made ice cream and sorbets. There were lots of flavors to choose from, including acacia honey, fig, and sesame seed, but being a traditionalist, I stuck with coffee atop a scoop of chocolate-chocolate chip.
And for those who think the French are too refined to eat with their hands, the person splitting the cup of ice gelati with me wiped the cup clean with his fingers and pronounced the coffee ice cream the best he's ever had.
So take that, Berthillon. Aside from people eating ice cream with their fingers, another thing you won't find easily in Paris are paletas.
Fany Gerson is the author of a nifty book on paletas, Mexican ice pops, and I hit the stand of La Newyorkina on the High Line walkway during one of the blazing hot days of August. Right before it was my turn in line, they ran out of lime (merde! I guess that's why the French are so adept at line-jumping…so they get what they want before they run out), but there was fresh coconut, mango-chile, and strawberry and cream to choose from. I chose the mango-chile since it seemed the most cooling, but I had to lap quickly to keep it from melting as I walked in the unrelenting sunshine while trying to admire the New York skyline and eat my ice pop.
I'd heard so much about Peter Luger that when my friends invited me to lunch there, I jumped on the chance. Since they only serve the burgers at lunch, everyone at the table chose that for lunch and since I'm not one to pass up a burger, I joined them. The hamburgers are served plain, on an untoasted bun, with onions, and that's it. I asked for mustard, which seemed like a big surprise to everyone. (Don't people still eat mustard on their hamburgers in America? Or did something happen in my absence..?)
My burger, which I ordered rare, came out a little more cooked than a steak house would probably normally serve, but there's a funny divide in America between people who like their burgers red and juicy, and those who like them well-cooked. (For some reason, the French think all Americans like well-done meat and I'm never sure where that comes from, but perhaps it's the half that likes it that way tend to travel to France more often.) The fries were really great, and so were the grilled bacon strips. Oh yeah, and the company was swell, too.
It's hard to imagine a more urban city than New York, which also boasts an outstanding greenmarket in Union Square. Whenever people in Paris tell me the reason we can't get very much locally grown produce is because we're in a big city, I raise an eyebrow because if New York can do it, I can't see why others can't. There's also vendors dotted around Manhattan, from small parks to the Staten Island Ferry terminal building, so even if you're a commuter or live elsewhere, you can still have access to fresh, local fare.
We did the majority of our shopping here and a certain someone, who is rarely speechless, stopped in his tracks when surrounded at the rows of colorful heirloom tomatoes, dozens of varieties of fresh herbs, and bins of uniquely striped eggplants. I picked up a pound of padrón peppers and as someone who doesn't even like peppers, I took my other half completely off-guard. But ever since I had them at Nopa…and loved them, I was anxious to roast some off myself and introduce them to Romain.
Equally intriguing is the coffee culture in America, and it's hard to go into a coffee shop nowadays and not have to choose from a number of different kinds of coffee, classified by origin, extraction technique, roast, and sustainability. Joe the Art of Coffee is one of the best in New York, although like most (caffeine) addicts, everyone seems to have their own accro.
Another addiction that I share with quite a few others are the pretzel croissants at City Bakery. These salty, buttery, flaky twists are pretty good for breakfast, although I like them as an afternoon snack since they do double-duty as sweet and savory. They're really astoundingly good and no one should go to New York City and not try one.
I had lunch with Melissa and Carrie at Momofuku Ssäm Bar which at lunch, now features rotisserie duck and snack-sized food. So when I asked Melissa where I should go yet another Asian-inspired meal, she suggested Baohaus, which she said she hadn't been to heard raves about.
So the following day I met up with Deb for gua bao (upper left) and it's interesting that even humble "stand"-style eateries in New York City are now boasting they use free-range chicken, organic tofu and Berkshire pork. Interestingly, we liked Uncle Jesse the best of all the steamed bun sandwiches on offer, but if you go, be sure to try the Sweet Bao Fries, which I didn't look at the menu too carefully when ordering (I thought we were ordering sweet potato fries). But out came a basket of deep-fried bao with a sweet black sesame dipping sauce, meant for dessert, although I ate them in between bites of the savory bao sandwiches.
On the other hand, I was walking by Vanessa's Dumpling House another day, a place noted by many for their inexpensive dumplings (upper right), and decided to pop in and try them. Four pork-chive dumpling cost just $1 and it's hard to beat the price. But I didn't really taste anything that reminded me of "pork" (or chives) and I was kind of wondering what ingredients were used to make them cost so little, and I didn't finish my dumplings. It's be interesting to see what could be done here using similar ingredients to Baohaus and other places, and even if they had to triple the prices, it'd still be a bargain.
Another Asian place that we loved was Republic, right on Union Square. A multitude of readers recommended this place when I asked on Twitter where to go for lunch one day in this neighborhood. Aside from the thundering noise inside (note: If people three tables away can hear you, you're talking too loud), the food was lively and fresh, spiced right, and absolutely delicious.
From the crunchy green papaya salad to watercress dressed with lemon grass and ginger, to a heap of mini-dumplings sautéed in oyster sauce, we cleaned our bowls. And I ended up going back a few days later with my friend Bryce, from Australia. (See what a good international ambassador I am?)
But the one thing that remains elusive in Manhattan is a great pastrami sandwich. The last one I had at a famed deli was so tough, gristly, and inedible, it made me swore off trying to find a good one in the city. But a few people told me about Pastrami Queen and since I was staying in the neighborhood, we saved that for our last meal.
Although they were not overly generous with the half-sour pickles, they probably heard that I could eat a giant bowl of them, so prudently only gave us each a half of one (plus two of the other kind of pickles, which I don't like nearly as much). But when the sandwiches came out and we both took our first bite, we had to agree that they were – as they say in France, pas mal, which is a compliment.
The pastrami was sliced in smaller pieces, rather than long strips, which made our sandwiches easier to eat, although the meat was so rich and a bit fatty, that I could barely finish mine. But then again, I could just buy one of those low-calorie entrées (or plats principaux), which would mitigate all the pastrami, hamburgers, fried chicken, bao, pretzel croissants, dumplings, and ice cream that I ate while in New York—right?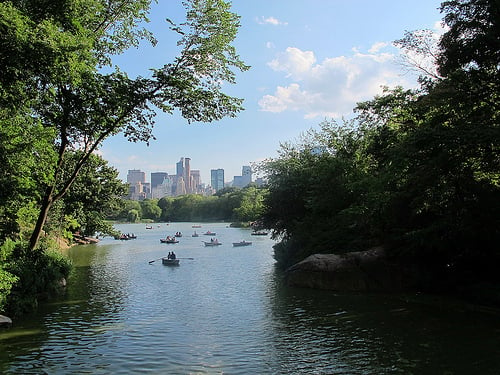 New York Dining & Travel Archives