New York Noshing, Part 2
I think I need to move to New York City for a whole year to eat at all the places that were on my list to try. Although, honestly…I could certainly just go to Zabar's everyday and die a happy man. And for all the scoffing that Whole Foods gets, I'd be thrilled to have a store with the range of fine products that they do. Sure it's not all local, or organic. But it's nice to find a major supermarket chain carrying healthy foods, unscented products (which I stocked up on), a huge selection of local cheeses, plus chocolates from all over the place, near and far.
And for anyone that wants to complain about 'Whole Paycheck', go out and pick a basket of raspberries in the blazing-hot sun…then figure out how much it's worth if you were to sell it?
So I came back cranky, probably because I had to suffer the indignity of the flight attendants physically unhooking my fingers from the outside of the airplane door at JFK Airport so we could leave. Luckily I brought an extra empty suitcase and stocked it up with maple syrup, dried California apricots and sour cherries, and a few other odds and ends as souvenirs. But while in New York, I had plenty of delicious moments…
If I had to name one of my Top Ten foods of all-time, it would be the Black & White Cookie. Although it's getting harder to find freshly-made ones that aren't shrink-wrapped, in New York. But good things come to those who search…
I once made them (from a recipe in here), and realized it was a dangerous proposition. The good thing about making them yourself is that you can make them slightly smaller than the jumbo 7-inch disks you normally find.
And speaking of abnormally-sized Black & Whites…holy mother-of-Black & Whites!…
It's a Black & White Cake!

Excuse all the exclamation marks! But was I excited to come across this beauty! If I wasn't by myself and had amassed a considerable amount of foods definitely not in the 'healthy' category in my hotel room, I would have had them tie one of these striped babies up for my in the sturdy cardboard box with the twine for me.
Moshes
115 Second Avenue
NYC
Ever since someone who writes about food for the New York Times told me, when I was writing my ice cream book, "David, you have to go to Il Laboratorio di Gelato. They have the best gelato!"
I never had a chance to go. But this time, I wised-up and planned in advance by asking owner Jon Snyder if I could set up a time to come visit. That way I'd be sure to get there,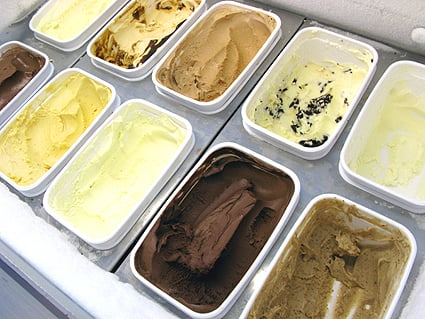 Il Laboratorio di Gelato is a tiny little shop, and when I walked in, Jon was simultaneously roasted pistachios on a hot plate burner, churning gelato, fielding phone calls, and scooping gelato for anyone walking in that morning.
Jon started making gelato way back in 1983. Then he sold the business and went to work on Wall Street. But he tired of that and decided to start again and opened Il Laboratorio di Gelato five years ago, and to much acclaim.
You never know what you'll find when you walk in. When I was there, flavors included Mastic, Olive Oil, Chocolate Malt, Pumpkin, exotic Toasted Sesame and tangy Crème Fraîche. I was pretty fascinated by the range of flavors Jon makes. But what really surprised me is that, if he feels so inclined, he's open to creating a special flavor for someone…even if they just want a quart!
The gelato here in pretty pure: few mix-ins are added and he uses no eggs or cornstarch for purity of flavor. I'm certain to be going back on my next trip to New York, and I won't need an appointment next time around to make sure I do.
Il Laboratorio di Gelato
95 Orchard Street (between Broome & Delancey)
NYC
One of the most interesting people in the chocolate world in Katrina Markoff, owner of Vosges Haut Chocolate. When I wrote my chocolate book, I just had to include her since I love what she's been doing with chocolate. And since then, she's expanded beyond her base in Chicago and opened shops elsewhere, including New York City.
Naturally I was dying to try her newest, wackiest creation: Mo's Bacon Bar—Applewood-smoked bacon and smoke salt embedded in dark milk chocolate. Okay, the jury's still out for me on this one. I love all three components, but I'm not sure they go together so well. If anyone has any thoughts, leave them in a comments. This is one controversial bar of chocolate, I am guessing. Would love to hear what others who've tried it think.
Vosges Chocolate
132 Spring Street (between Greene and Wooster)
and
1100 Madison Avenue
NYC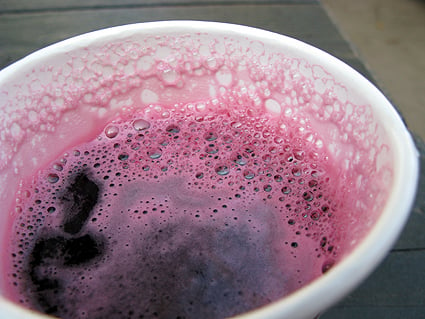 When I was a wee-toddler, my parents took me to Disneyland. I wasn't as fascinated by the rides and attractions as I was with the Welch's Grape Juice Pavilion. I still remember that taste of icy-cool, deep-purple cup of Concord grape juice. And the love affair never wavered with the juice of these native American beauties.
So I was thrilled to see glasses being served…make that self-served!…at New York's Greenmarket: I filled a big glass up and took a swig. Concord grapes are really delicious and at some point, I just know I'll find a French farmer willing to plant a few vines just for me. But until then, I guess I'll need to head back to New York each autumn for a frothy glass brimming with the sweet, flavorful juices of vitus labrusca.
Greenmarket
Union Square
NYC
I did have to get my junk-food fix. But on the scale of 'bad' foods, really…how bad can a handful of salted peanuts caramelized into a bar be? If you've never had a Planter's' Peanut Bar, do yourself a favor and pick one up. Now if they'd only come out with a version enrobed in dark bittersweet chocolate, like my beloved…
Often cited as one of the best places for wood-fired pizza in New York, I was walking down the street and ran into Waldy's. Since it was Saturday, it was almost empty (the women next to me said it was always so packed they never bothered), and I was happy that I could partake by chance.
If you're alone, a small pizza is p-lenty big. Mine has pepperoni, broccoli rabe and fresh tomatoes on it. My little beef is always to wonder why places serve fresh tomatoes when they're not ripe. Why not just leave them off if they can't get good ones?
And this was perhaps the sturdiest crust pizza I've ever had: I could barely slice it with a knife, Parisian-style, and had to pick it up with my hands. Sacrebleu! But it made a nifty lunch and was happy to have stumbled upon Waldy's.
Waldy's Wood-Fired Pizza & Penne
800 Sixth Avenue (between 27th and 28th)
NYC
And some other places I went to of note:
I loved the guacamole made tableside at the upscale Mexican eatery, Dos Caminos. Great enchiladas as well. Had superb French fries at Shake Shack, and would love to find a way to get them to teach the eateries in Paris to get them to that level of crispness. The cheeseburger I had was rather ho-hum, but it's a shack in the park for gosh's sake. And with fries like that, the burger can take a back-seat for all I care.
I went to both Momofuku and Ssäm Bar…on the same day!
Am I a trooper, or what?
The Pork Belly Buns were indeed hefty handfuls. But the food lacked a bit of depth of that which I've had in authentic Asian restaurants. While I think David Chang's fusion-ish food succeeds, you'll have to excuse my home-town bias is saying that if either of these restaurants was in San Francisco, I think they'd have pulled it off better.
(And I think you New Yorkers must have cast a hex on me: Just as I typed that last sentence, the tooth I cracked my first night in NYC eating pizza finally fell out with a plink onto my keyboard. Touché…)
Adam dared me to brave Brooklyn for dinner at Al Di La, which was a smart choice. Although the wait is long due to a no-reservations policy, all was worth the wait and my nicely-cooked flank steak followed by a trio of house-made ice creams and sorbets were great, the Concord Grape being my hands-down favorite. At Prune, I had the greatest waitress ever. Usually solo diners get the sort-shift in restaurants, but she sheered me up with a nice glass of Spanish white wine and took care of lonely me all the way, starting with spiced-fried Chickpeas, to Lamb Sausage and Clams, and through to dessert; a crumbly Torta di Grappa with black grapes.
And just a few more words…
One of the unfortunate refrains I heard from most of my friends who are bakers and cooks in New York was "Ugh! The food bloggers…" It's sad that people who love to write about food and share our experiences are getting a bad rap. Since I don't live in the US nor do I read blogs and sites that focus on trashing restaurants, I didn't realize the hostility being generated.
Maybe I've been lucky, but almost everyone I've ever worked with in a restaurant kitchen, who wrote a cookbook, or opened a food-related business, put a lot of hard work into it. Few have illusions of getting rich or famous; they do it because they have a desire to simply cook and share what they've made. Perhaps that sounds idealistic, but that's the feeling I've gotten working with even the greatest and most famous of chefs. No one ever began their shift saying, "Let's see what we can pull over on the customers tonight."
Sure not everything's a success and there's always a few rotten apples on both sides of the stove. But it's important to remember that being a guest in a restaurant, ice cream shop or bakery is a honor.
The operative word being 'guest'.
I don't know why anyone would deliberately set out to antagonize a chef or a customer, but it's sad to hear about it all the same. And it's especially unfortunate that cooks and bakers are all miffed at bloggers and have developed a wary skepticism of someone wielding a camera. It's okay to be critical if the situation merits it, or to mention something enervating. But please be respectful of others when you're a guest in their establishment. It's just food—and if we can't all sit down together and enjoy it, something's gone wrong.
Big thanks to everyone who I met in New York, who fed me, who showed me around, and who broke bread—and in a couple of cases, a Mallomar or two—with me.
Read New York City Noshing, Part 1