French Butter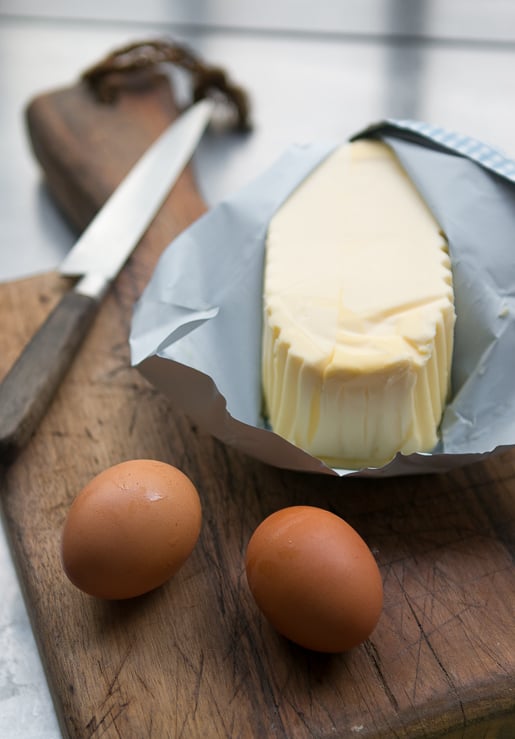 Although you can get a good amount of excellent food in the US, the one thing that I haven't quite found an equal to is French butter. In my life, I'm probably responsible for a couple of tons of butter being baked, melted, sautéed, rolled, crumbled, cubed, smeared and creamed.
When I arrived in NY late last evening, I made a beeline to Whole Foods to stock up on provisions for the week since they're open late. (I love America!) But after a search that involved engaging the entire cheese department in a discussion of butter, the conclusion was that they only had regular American butter and fancy European imports. And I didn't come all the way back to the states to eat French butter.
It wasn't until I moved to France and tasted the sunshine-yellow butter that's easily available at most fromagers and even in the supermarket, that I noticed a remarkable difference. I've become rather picky, and for eating on my morning toast or melted over vegetables—I'm at the point now where I'll only let the butter from the likes of people like Jean-Yves Bordier cross my lips. I know I sounds like an insufferable snob (more than I normally do), but like chocolate, if you're going to eat it, you may as well eat the best.

There are some decent American butters, such as Straus and Land O' Lakes, but why is French butter often better than ours?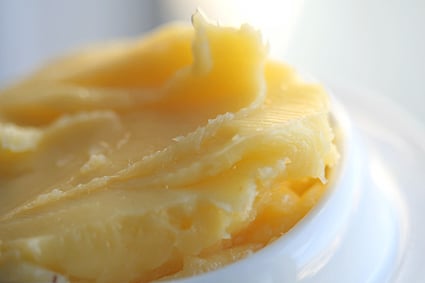 Part of it is the quality of the cream, and what the cows eat. It's also due to the fact that the butter is made from slightly-soured or cultured cream, which gives it a nutty, mellow tang and reacts differently when baked.
Here are some sources to find good butter in America, and some links about French butter….
Related Links
Vermont Butter & Cheese Company sells handmade French-style butter.
Gourmet Food Store online sells French butter, including Echiré and Beurre d'Isigny.
Try a French butter sampler!
A butter tip sheet and recipe for brioche from Dorie Greenspan.
Wikipedia on butter
Sablés bretons: French salted butter cookie recipe
French Échire butter available in America
How to make your own cultured butter.
Excellent photo set on French butter-making and molding.
Sam weighs in on British Butter
Jean-Yves Bordier butter is available in Paris at Le Bon Marché and da rosa.
Another good photo-post on churning up your own organic butter.
Butter With A Pedigree by Dorie Greenspan
Egg Farm Dairy in New York (no website found) 1-800 CREAMERY
Bordier butter is also on my list of Ten Insanely Delicious Things You Shouldn't Miss in Paris
Beillevaire raw milk butter in France