Farro with Mushrooms and Bacon
A few months ago, I was gifted a very large bag of farro, over five pounds of it. I never thought I could have enough farro, and sure enough, I'm almost at the end of it.
Farro is popular in Italy, and nowadays, it's available in the United States and elsewhere. It's a particular strain of wheat, similar to wheat berries, or épautre, in France, known elsewhere as spelt, emmer, and/or einkorn. But I've never found anything I like as much as the real-deal. So I was happy to have so much farro on hand!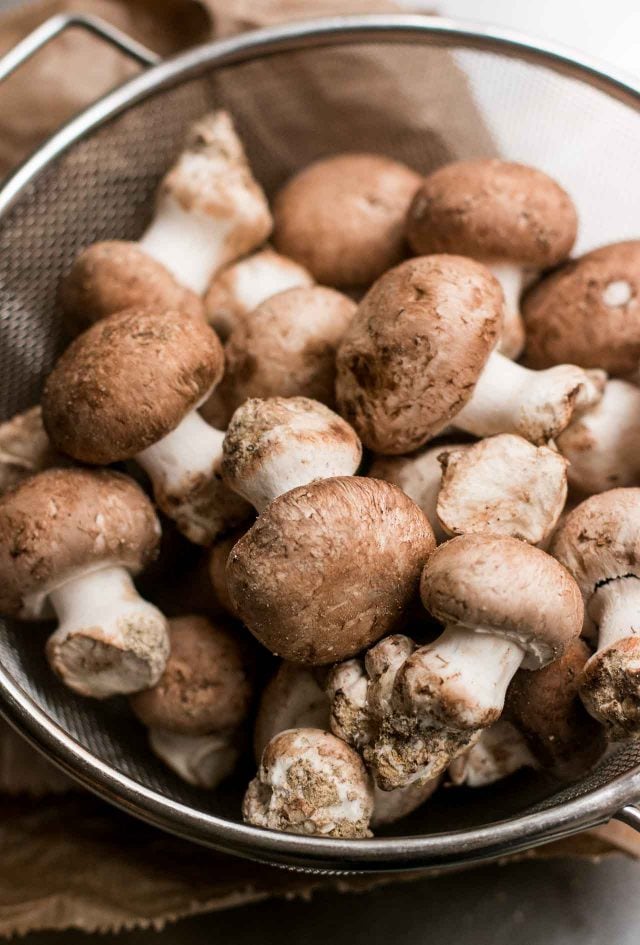 I often just cook it up and add diced roast vegetables to it, for a no-nonsense winter salad. But I'm always on the prowl for other uses for it. Rolando, who gave me the farro (and owns Manicaretti, a company that imports it) said, when he handed me the hefty sack of it, "Just cook it up like risotto, David. It's delicious!" And he was right – it is.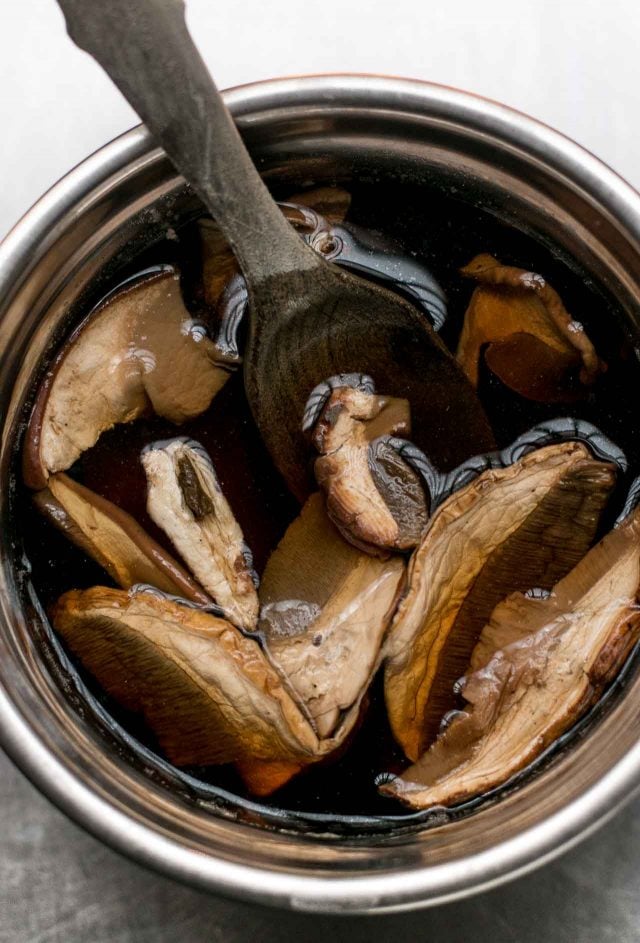 Farrotto starts out somewhat like risotto, but unlike risotto, is pretty forgiving once you get going. With risotto, you need to watch the pot and add stock slowly as it cooks. Farro, on the other hand, doesn't need a lot of tending once you've added it to the pot. You just add the stock, and richly flavored mushroom liquid (in the case of this recipe), and in about an hour, you'll have a big, generous pot of earthy tasting farro, punctuated by bits of chewy bacon and an abundance of earthy mushrooms. Some say you could use barley in place of the farro, or perhaps wheat berries (or emmer, or spelt), although I haven't tried it with this recipe. (Although now that I'm near the bottom of my bag, I may give barley a try.)
Even better, unlike risotto, farro reheats beautifully. (Risotto never seems to be the same to me, if it's rewarmed.) One of my favorite food columns is Food for Health, by Martha Rose Shulman, in the New York Times. From Garlic Soup to Green Goddess Dressing, and Whole Grain Macaroni & Cheese, I seem to bookmark a lot of her recipes. Last week I actually went through two enormous files of recipes I've clipped over the past few decades. A few of hers were in there, as well as an unusual number of recipes for braised short ribs, which admittedly, are on the opposite end of the spectrum. Which may be why I haven't gotten around to them…yet.
I liked her version of Farro with Mushrooms, but made a number of adjustments. For one thing, I added bacon. I like the background flavor it gave the mushrooms, and provided the nutty farro with a little meaty "backbone," so to speak. I also dialed up the Parmesan, and tinkered with a couple of other things. I get asked a lot about do-ahead recipes, healthy recipes, and recipes that can be adapted, and this one checks off all of those boxes.
Feel free to swap out artichokes and peas for the mushrooms, when they're in season. Another option would be to add chopped, sautéed radicchio (or other sturdy greens, like kale or chard) during the last few minutes of cooking. You can omit the bacon, or replace it with chunks of chicken or smoked tofu. And for those who are avoiding wheat, you could try it without the farro, swapping out barley. If you do, I'd be interested in knowing how it came out in the comments. (Unless I get to it first!)
Farro with Mushrooms and Bacon
This is a great, hearty winter dish. It was inspired by
Farro with Mushrooms
from Martha Rose Shulman in The New York Times. I made several changes, including adding bacon and adjusting the quantities to my liking. It can be made in advance and rewarmed on the stovetop. Vegetarians can omit the bacon and substitute vegetable stock for the chicken stock. The dried porcini mushroom liquid provides lots of flavor, so try to track some down. (Specialty shops often carry them, although Asian stores usually carry other varieties of dried mushrooms, which can be used.) If you suspect your dried mushrooms may have some grit, after you've soaked them and squeezed them out, you could swish them in a small bowl of water to remove any grit. The liquid could be passed through cheesecloth, to trap any debris. I used thick-cut unsmoked bacon. (Pancetta works well, too.) If using smoked bacon, try to find one that's not too smoky; you don't want to overwhelm the nutty flavor of the farro. Good-quality bacon can be found in natural foods stores, farmers markets, and at butcher shops. Farro can be found in Italian specialty stores and online. It's sometimes available "pearled," but I used whole grain farro for this recipe. (
Rustichella
brand.) If you use pearled, note that it cooks faster so you'll need to keep an eye on it, and adjust the cooking time. Follow the instructions on the package for using it.
Servings
4
generous servings
1/2

ounce (15g)

dried porcini mushrooms

1 1/2

cups (355ml)

water

2

tablespoons

olive oil

1

cup (135g)

diced thick-cut bacon or pancetta

1

small

onion

,

peeled and diced

2

cloves

garlic

,

peeled and minced

2

teaspoons

chopped fresh rosemary

12

ounces (340g)

brown mushrooms

,

trimmed, cleaned and quartered (about 4 cups)

salt and freshly-ground black pepper

1 1/4

cups (215g)

farro

3/4

cup (180ml)

dry white wine

2 1/2

cups (590ml)

chicken stock

,

preferably homemade (or low-sodium)

1

cup (90g)

grated Parmesan

1/2

cup (40g)

chopped flat-leaf parsley
Bring 1 1/2 cups of water to a boil in a small saucepan. Remove from heat, add the dried mushrooms, and let stand 15 to 30 minutes. Drain the mushrooms, reserving the liquid, then squeeze the mushrooms to extract as much liquid as possible. Chop the dried mushrooms into small pieces and set aside.(If you get the sense that the mushrooms had grit in them, you can pass the liquid through a very fine-mesh strainer, and swish the mushrooms after they've been soaked in a few changes of water until they're free of dirt, before chopping.)

Heat the olive oil in a soup pot or medium-sized Dutch oven, over moderate heat. Add the diced bacon and cook a few minutes, stirring, until it's cooked through. Add the onions, garlic and rosemary, and cook 2 to 3 more minutes, until the onions are soft and wilted.

Add the mushrooms and season lightly with salt and freshly ground black pepper. (The bacon and stock have salt, so you can add more later, if needed.) Cook the mushrooms until they're soft and cooked through. Stir in the farro and cook for another minute or two, stirring frequently. Add the wine and continue to cook until the wine is almost completely absorbed.

Pour in the chicken stock, the mushroom liquid and stir in the chopped dried mushrooms. Increase the heat until the liquid begins to boil, then reduce the heat to a low simmer and cover. Cook until the farro grains are tender and almost all the liquid is absorbed, about 50 minutes to 1 hour, stirring every so often.

Turn off the heat and stir in the Parmesan and parsley. Taste, and season with additional salt and pepper, if desired.
Notes
Serving: Serve warm with more freshly grated Parmesan cheese grated over the top. Storage: The farro can be made up to three days ahead, and rewarmed on the stovetop. It'll get thicker as it sits so you may need to add additional stock or water when you rewarm it.
Related Posts and Recipes
Roasted Root Vegetable and Wheat Berry Salad
Farro: An ancient and complicated grain worth figuring out (NPR)
Grain Exchange (NYT)
The Bold Flavors of Dried Mushrooms (Fine Cooking)