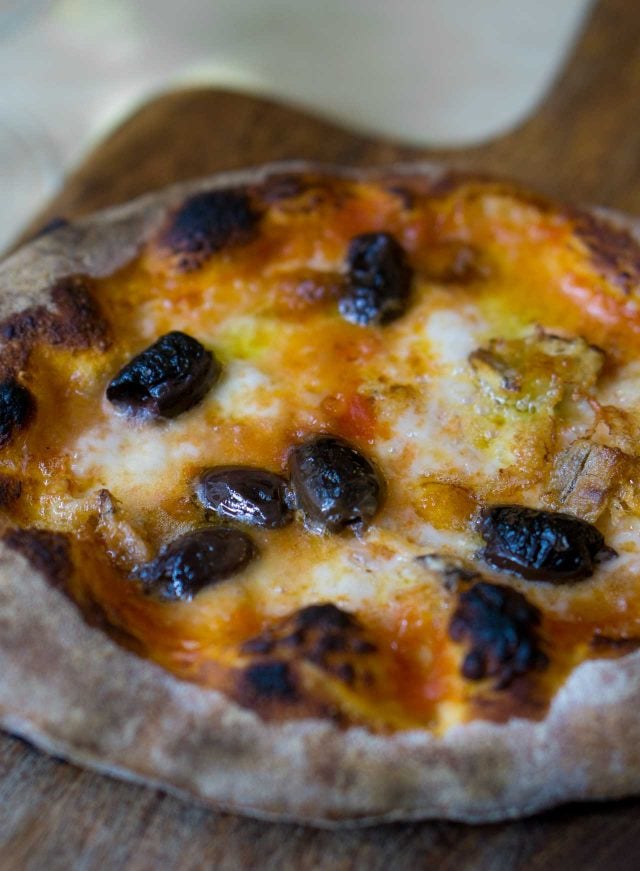 I'm often asked by people coming to Paris what neighborhood they should stay in. The usual "off-the-beaten-path…but not too far from the center" doesn't help me figure out what fits those seemingly opposing bills. Everything in Paris is pretty close and most places are a 20 minute métro ride away. Like most cities, the good places aren't clustered in the center of the city. They're everywhere.
People tend to opt for the lovely St. Germain area, or the Marais, which are nice areas and people feel comfortable there. I know when I travel, I don't want to stay in the outskirts of town and face a long commute to go anywhere. I don't necessarily want to live like a local. When I'm on vacation, I don't want to have to check my mail, do paperwork, and pay bills. I'm happy to go out to lunch every day and drink wine, or head to the beach.
I get that people don't want to eat in a tourist trap, but if you walk around the popular-with-visitors neighborhood around St. Michel (in the 5th), for example, there are plenty of those kinds of places over there. (Lest you think I'm turning my nose up at that area, there are good places around there such as Shakespeare & Co. Café, Maoz, Café de la Nouvelle Mairie, the Beaufort cooperative, Treize, and Les Papilles, that I frequent.)
But Paris has changed, and continues to evolve. The majority of interesting places are now in the double-digit arrondissements, like Café du Coin. Lower rents and a neighborhood vibe are much of their appeal to the chefs and owners. As a visitor one needn't feel hesitant about going to places in those parts of town. You'll get a friendly welcome at Café du Coin, as I did with a friend when we took a break from work for a weekday lunch.
The appetizer pizzetta (above) has become the signature dish at this corner café. The little pizzetta that I started with was made with taleggio cheese and Niçoise olives, a mix of pitted and unpitted. If you go in the evening, when the café becomes a wine bar, only the pizzettas are available. (The vibe and crowd is also decidedly different at night and if you want to dine, you'll want to come for lunch.) I split the pizzetta with my dining companion, who had the Kefta made of pork with labneh.
The meatballs were a tad on the salty side and we both agreed that another dollop of the cooling labneh would have been put to good use with the gently spiced boulettes.
The wines are Café du Coin are natural wines, meaning they are made without additives or sulfites and the taste can be not what people are expecting, if they're expecting a glass of traditional wine. In France, a glass of wine is €5-8 (more or less) in a restaurant, so it's not a big deal if the wine you get isn't quite what you were thinking. But when it's $12 to 16 a glass, plus tax and tip, as a glass of wine can be in the U.S., expectations when you've dropped $20 on a glass of wine are different.
Things that would be considered flaws in traditional wine are considered acceptable attributes in natural wines. Cloudiness, brett, and untamed acidity can happen. That's not a swipe, but natural wines can have characteristics that surprise people who aren't expecting them. One thing I do like about natural wines is that they don't taste "standardized." It's one of the reasons I'm acutely interested in bean-to-bar chocolates; you can taste how they were made. Ditto with natural wines.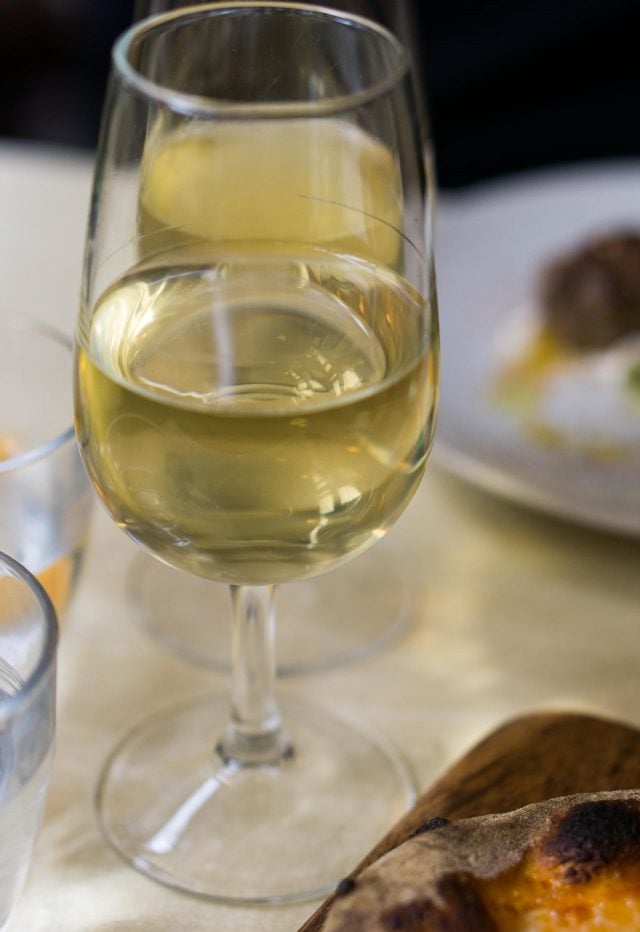 We tried a Sancerre from the Loire, which went well with the food (and being lunchtime, white wine seemed more appropriate.) We liked it so much that my friend ordered a second glass, and broadly speaking, the wine list here is so reasonable that it's a good opportunity to give something you might not know about a try, and not worry about breaking la banque.
Not being a squid-eater, I admired my dining companion's plate, accompanied by almonds, celery, squash and cimi di rapa, similar to turnip greens, but declined a taste.
My Rumsteak Rossini was a very generous portion of beef with a thin slice of foie gras melting on top. I saw other plates going out with heftier slices of liver on top, but the thin one was just right for the beef, which was served atop an excellent gratin Dauphinois (potato).
For dessert, there were ribbons of 18-month old Comté cheese with a few hazelnuts.
I went with the grapefruit tart with candied citron. The filling had a pleasing tanginess and I'll eat a Michelin tire if it has citron on it. So I greatly appreciated the effort of the kitchen to candy the citron and make such a nice presentation. The crust could have come out of the oven a few minutes earlier, but it was nice to get a housemade dessert, and the slice was devoured.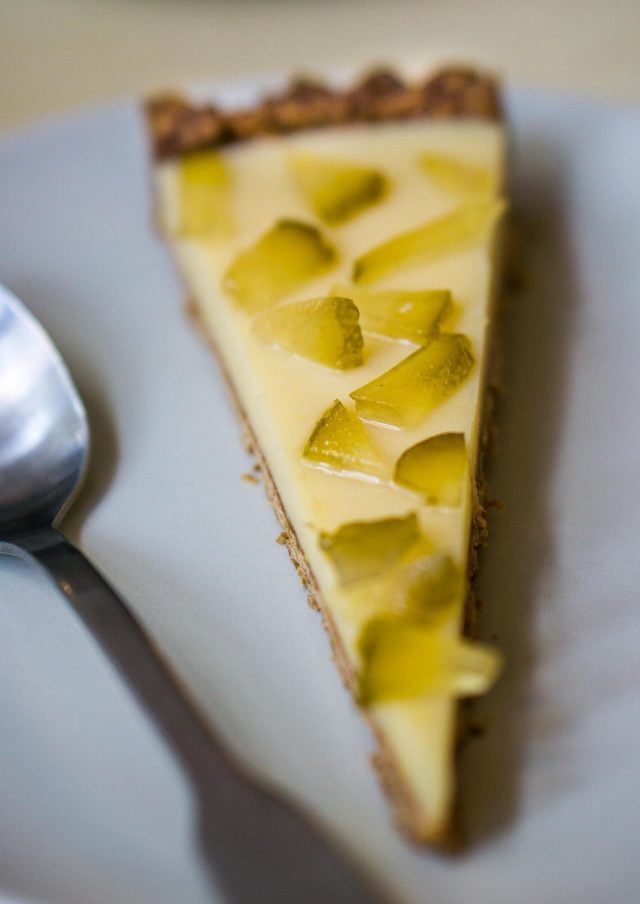 Prices, of course, are subject to change. But we both agreed the €20 three-course meal was a good deal. The coffee was good, too.
Café du Coin
9, rue Camille Desmoulins (11th)
Métro: Voltaire
Tél: 01 48 04 82 46
[Reservations for lunch recommended.]
---
As everyone knows, Paris suffered a devastating loss this week with the fire at Notre-Dame cathedral, in the center of the city. Thanks to the heroic efforts of the Paris pompiers (firefighters), portions of the building were spared from destruction and a number of artifacts were saved as well. Efforts to salvage what they can, determine the cause of the fire, and the direction the restoration will take, are ongoing. Thanks to everyone that left messages about the fire and it's heartwarming how many people from around the world were moved by the disaster. – david