Pretzel Pie Crust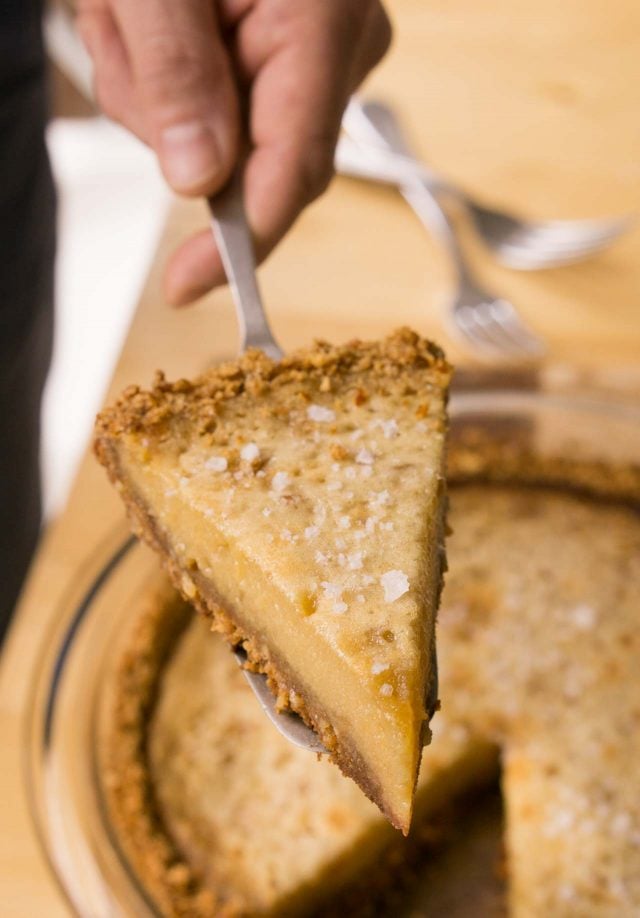 I get it. Some people have an aversion to making pie crusts. They're worried about which fat to use; some recipes insist on butter for flavor, others advocate vegetable shortening as the key to success, and lard has its fans. Then there are the processes of rolling out the dough, and baking it, that makes people pause when they want to make pie.
I understand all these things (and for the record, my preference is always butter), but and it's nice to have a crust that you can transfer into a pie plate or pin, press it in with your hands (no rolling!), and fill with whatever kind of filling that you want, including chocolate, lemon, pecan-chocolate, pecan-ginger, or the one shown here – salted honey pie.
This pretzel-based crust is also easily adaptable to gluten-free diets by swapping out regular pretzels with gluten-free pretzels, so there's no excuse not to make it.
| | |
| --- | --- |
| Pretzel Pie Crust | Print Recipe |
The mixture will be a bit crumbly before baking, when you're pressing it into the pie pan, but will form a nice crust after it's baked and cooled. I grind the crumbs in a food processor, but I don't mind if they're not too fine. A little extra texture is sometimes appreciated. If you don't have a food processor, you can put the pretzels in a sturdy zip-top freezer bag, seal it (expressing the air out of the bag as you do), then running a rolling pin over the pretzels to crush them.
1 1/4
cups (140g)
pretzel crumbs
6
tablespoons (85g)
melted unsalted butter,
plus additional butter for preparing the pan
1. Preheat the oven to 350ºF (175ºC). Lightly butter a pie plate or pan with butter.
2. In a medium bowl, mix together the pretzel crumbs, sugar, and melted butter until the crumbs are saturated with the butter and everything is moistened and evenly mixed.
3. Transfer the mixture to the prepared pie plate or pan and use the heel of your hand to press the crust mixture across the bottom of the pans and up the sides.
4. Bake the crust for 8 to 10 minutes, until it's slightly golden brown. Let cool on a wire rack.
Storage: This crust can be refrigerated for up to five days, baked or unbaked. It can also be frozen for up to two months.