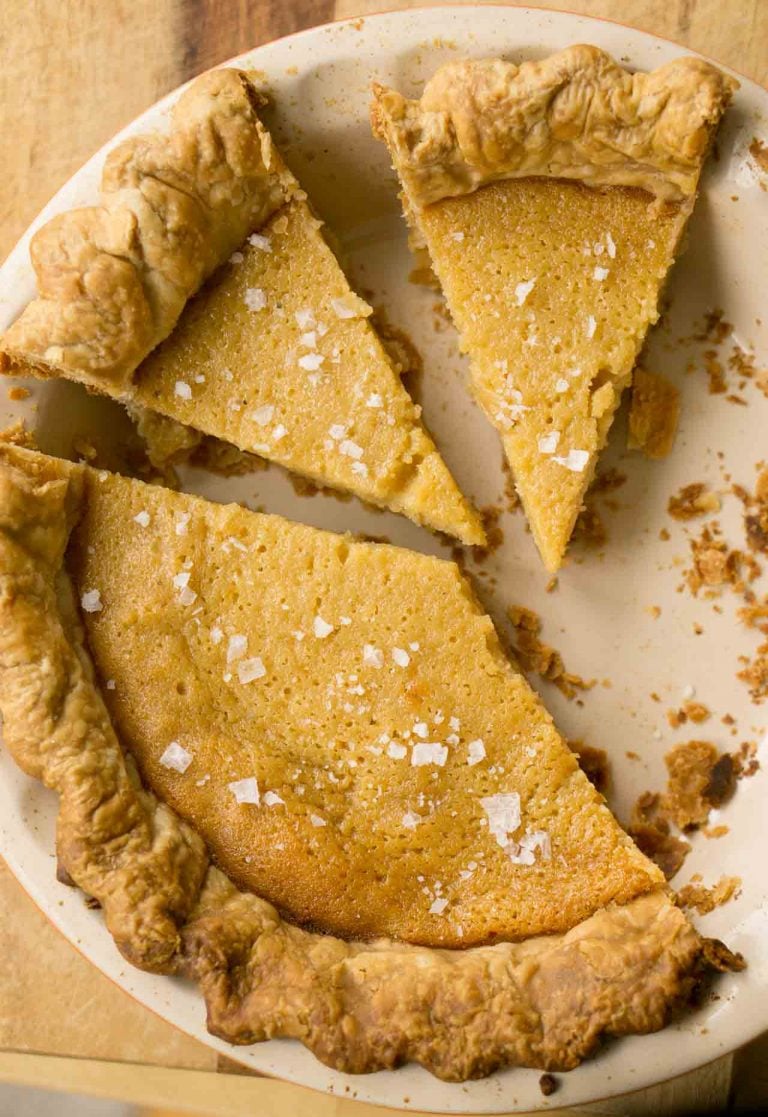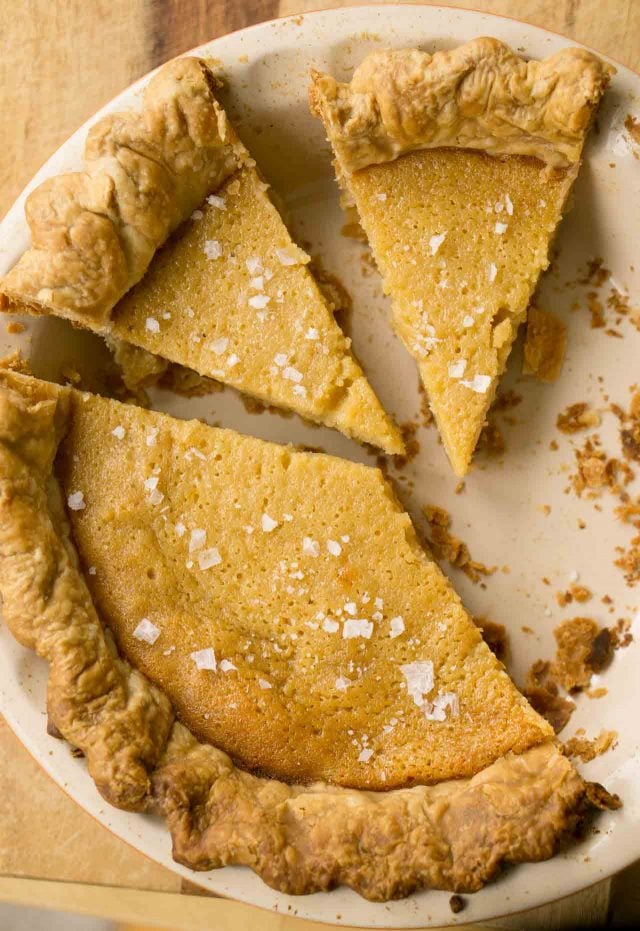 It's almost pie season. Right now, there's not much fruit available at the markets, but I've had this recipe card lingering in my "to try" folder, and decided the time was right to give it a go.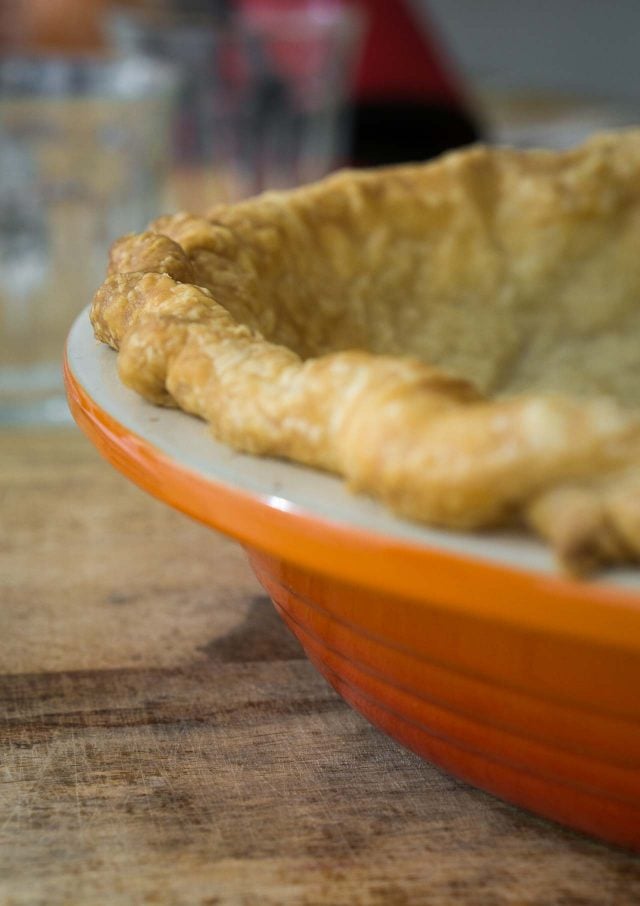 This is a pie I've enjoyed at Four & Twenty Blackbird Pie Shop in New York and I had the recipe on a card that was in the stack of recipes I've been hep to try. (I believe it's also in their book, The Four & Twenty Blackbirds Pie Book.)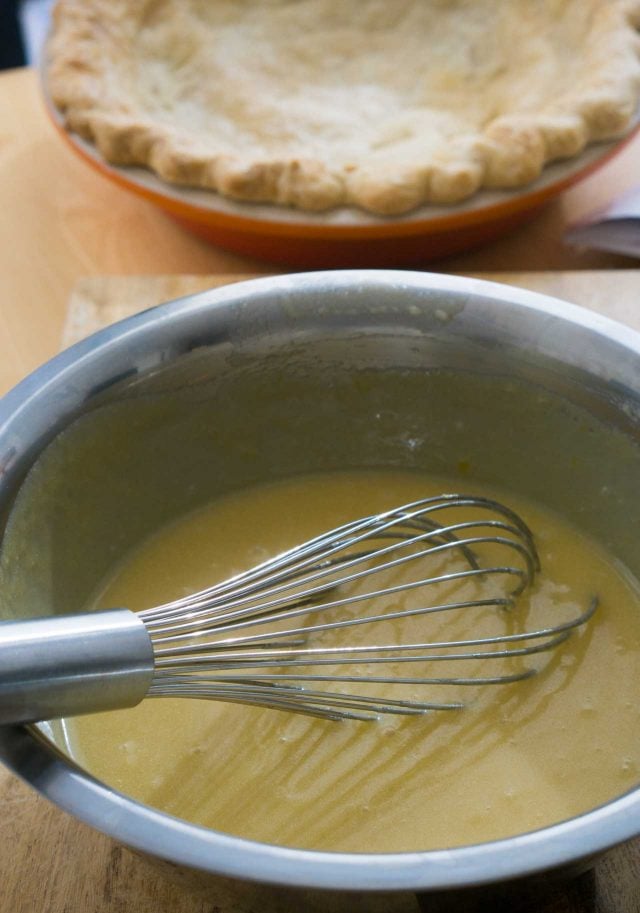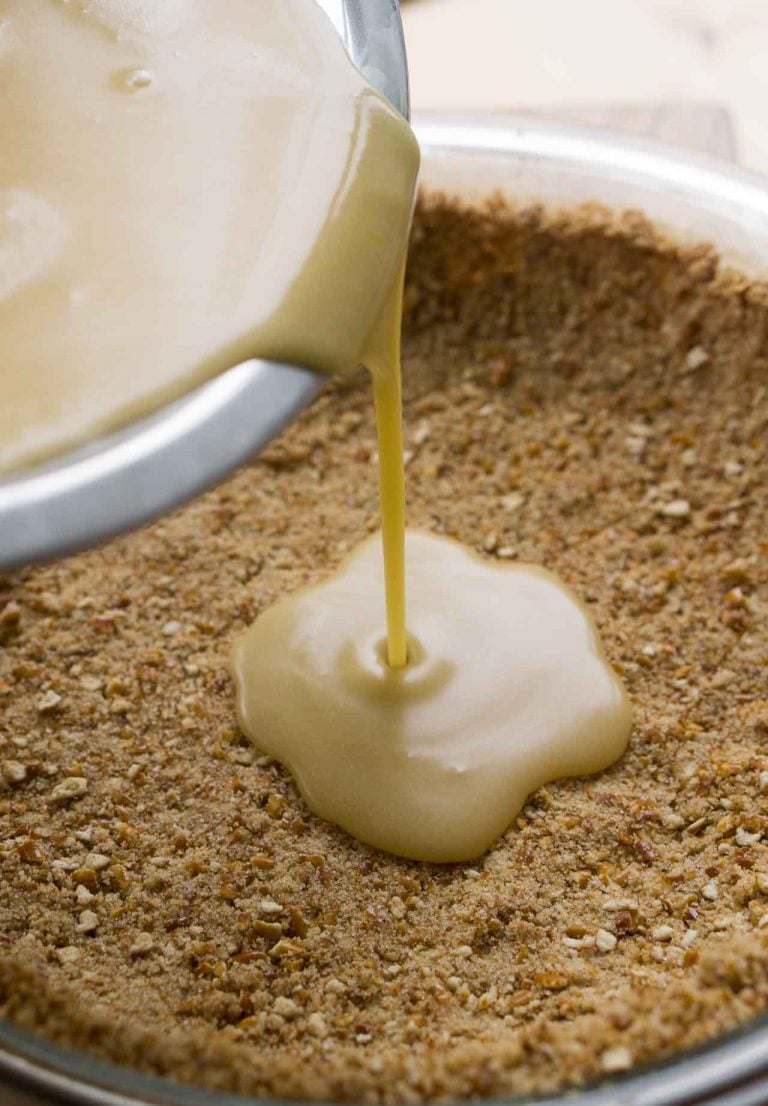 A couple of things about this pie. (Other than once you make it, you won't be able to stop eating it. Just so you know…) One is that I know for a fact that many people have extremely sharp eyes out there. Someone was able to identify and an empty nut container in the far background of a photo of mine recently, that was almost completely out of focus. (And it was on Instagram, so they likely were able to discern that on the screen of a little smartphone, to boot.) I should start handing out awards for that kind of vigilance! But you don't need to have laser-sharp vision to see that I've got two different pie crusts going on here.
After I gave it a try with my standard all-butter pie crust, I wondered what it would be like with a pretzel pie crust instead. So gave it another go the next day, to taste and compare. And because, of course, you can never have enough pie.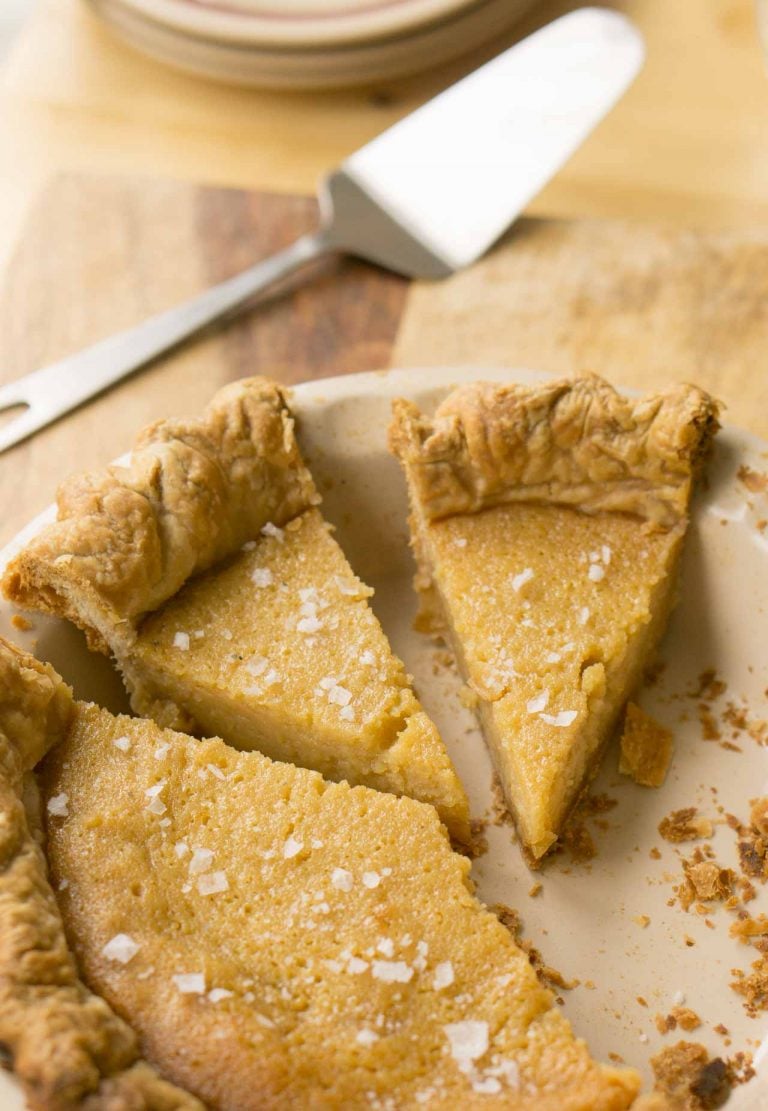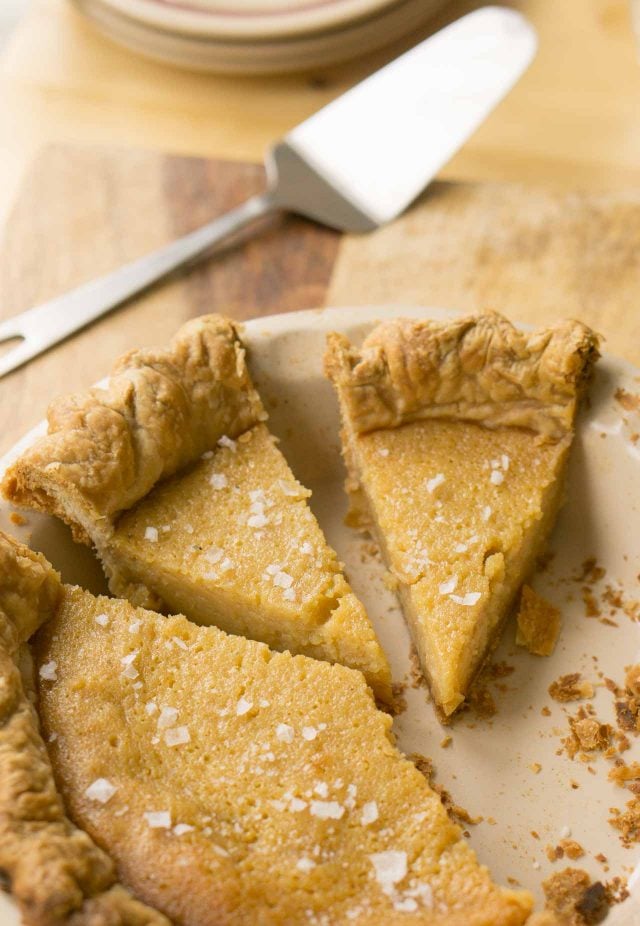 Another thing to discuss is the honey that I used. I like use a slightly darker honey when baking, which taste less-sweet,and are are often labeled "amber" or wildflower honey in the U.S. In France, honey is usually labeled by the plant, and dark honeys include bourdaine (black or alder buckthorn), bruyère (heather), and other types. Although I love strongly flavored chestnut and buckwheat honey, if you want to use them, I'd cut them perhaps 50:50 with a lighter-flavored honey.
For those who remain unconvinced that sea salt tastes better than fine table salt, if you choose to sprinkle this with table salt, you will likely throw away that canister of salt, and probably have to throw away your pie, too. This is your chance to showcase that lovely finishing salt you've been saving. There are several to choose from, including fleur de sel (France), Maldon (U.K.), Jacobsen (U.S.), or another salt, like the black salt I got in Iceland. While kosher salt is fine for cooking and baking, I don't recommend using it here.
As for the aforementioned crusts, I relied on the "Romain Test", leaving both pies – one with a standard pie crust (recipe below) and one with a pretzel crust, on the counter, and watched which disappeared first over the next few days. It seemed to be a tie, although he admitted he preferred the pretzel crust, saying he liked the "surprise et contraste."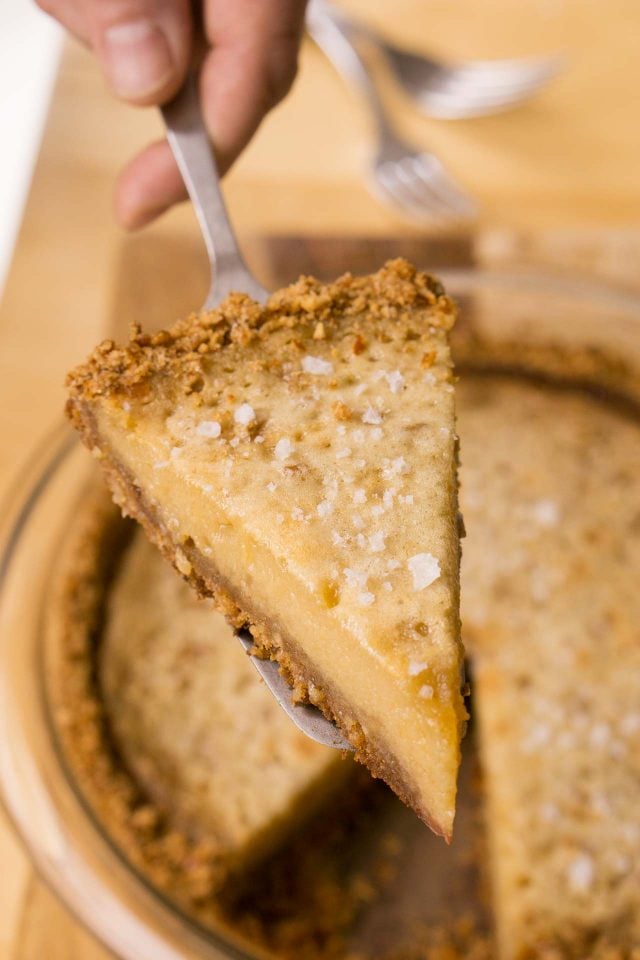 Salted Honey Pie
The crust will get a little darker as it baked, once filled. If it's getting too dark, you can either 1) Drape a sheet of foil lightly over the entire pie (making sure it's not touching the top of the pie filling, 2) Fashion pieces of
foil
over just the crust while the pie is baking, or 3) Use a
pie shield
. To make this gluten-free, you can use the
Pretzel Pie Crust
(using gluten-free pretzels) and cornstarch in place of the flour in the filling. The pie dough can be made in advance and either refrigerated for up to two days (either unrolled or rolled and fitted into the pan), or frozen (either unrolled of rolled and fitted in the pan) for up to two months. Once baked, the pie can be kept at room temperature (or refrigerated) for up to 5 days.
For the crust
1 1/4

cups (175g)

flour

2

teaspoons

sugar

1/4

teaspoon

salt

4

ounces (8 tablespoons, 115g)

unsalted butter

,

cubed and chilled

3-4

tablespoons

ice water
For the filling
4

ounces (8 tablespoons, 115g)

unsalted butter

,

melted

1/3

cup (45g)

sugar

1

tablespoon

flour

,

or 2 teaspoons cornstarch

3/4

teaspoon

kosher or sea salt

1

teaspoon

vanilla extract

3/4

cup (240g)

honey

3

large

eggs

,

at room temperature

1/2

cup (120g)

sour cream, heavy cream, or crème fraîche

1

tablespoon

apple cider vinegar

flaky sea salt

,

to finish the pie
To make the pie crust
Assemble the pie crust by mixing the flour, sugar, and salt together in the bowl of a stand mixer fitted with the paddle attachment. (It can also be made in a bowl with a pastry blender or in a food processor.)

Add the cubed butter and mix on medium speed until the butter is broken up into little pieces roughly the size of corn kernels. Add 3 tablespoons of ice water and mix on low speed until the dough begins to come together. If it appears dry, add the final tablespoon of ice water.

Stop the mixer and use your hands to gather the dough, and shape it into a disk. Wrap the dough in plastic and refrigerate for at least 1 hour.

On a lightly floured surface, roll the dough into a 14-inch (35cm) round. Transfer the dough to a 9-inch (23cm) pie plate or pan. Ease the dough into the dish and trim the dough hanging over the edge, leaving about an inch (2.5cm) of dough hanging over. Fold the overhanging dough under the rim of the pie. Crimp the rim of crust and return the pie dough to the refrigerator for 30 minutes to 1 hour, until firm.
To make the filling
Preheat the oven to 375ºF (190ºC). Line the pie shell with foil and fill with pie weights. Bake the dough until it starts to set around the edges and turns a light golden brown. Remove the foil and weights, and continue to bake until the crust is

very light

golden brown. If it puffs up during baking at this point, gently press it down by poking it with a fork a few times and using a spatula to tap it down. Do not bake the pie shell until dark brown. Remove the pie shell from the oven to a wire rack. Reduce the heat of the oven to 350ºF (175ºC).

In a medium bowl, whisk together the melted butter, sugar, flour, salt, vanilla, and honey. Whisk in the eggs one at a time, then mix in the sour cream and vinegar. Scrape the filling into the baked pie shell. Bake for 45 to 50 minutes until the edges are golden brown and the center is almost set. It should still jiggle, but not be watery. (If the edges of the crust get too dark during baking, use one of the techniques listed in the headnote to mitigate that.)

Let the pie cool on a wire rack. Sprinkle with flaky sea salt before serving.
Notes
Variation: Replace 3 tablespoons of the sour cream (or heavy cream) with bourbon or dark rum.