Although I began my talk at the Iceland Writers Retreat telling the group that I disliked the word "humbled," (and invited the group to call me out on it in the future, if I ever used that word again), I felt humbled being in the presence of such highly esteemed writers, who came from around the world. Being the only person who writes about food, I've had to explain that writing about food isn't always about food, per se, but every culture and country, and situation, involves food or eating. Even poets and historians write about food. It doesn't just keep us alive, but defines and differentiates us.
So in my own unique way, I was able to tie food into everything, even as part of my raison d'être for being in Iceland.
While planning my trip to Reykjavík, I wanted to visit the local bakeries. I love dense, Nordic breads, but the Scandinavians also have a tradition – which is primarily Danish – of pastry-making. There are only 121,000 living in Reykjavík, the capital of Iceland, and 98% of the country is heated natural geothermal energy.
A popular activity is sitting in one of the natural thermal springs and pools, and ten minutes from my hotel is a beach where naturally heated water makes the water swimmable, 365 days of the year. With the President enjoying a 97% approval rating, aside from the weather, in addition to some of the best bakeries I've been to, anywhere in the world, what's not to like?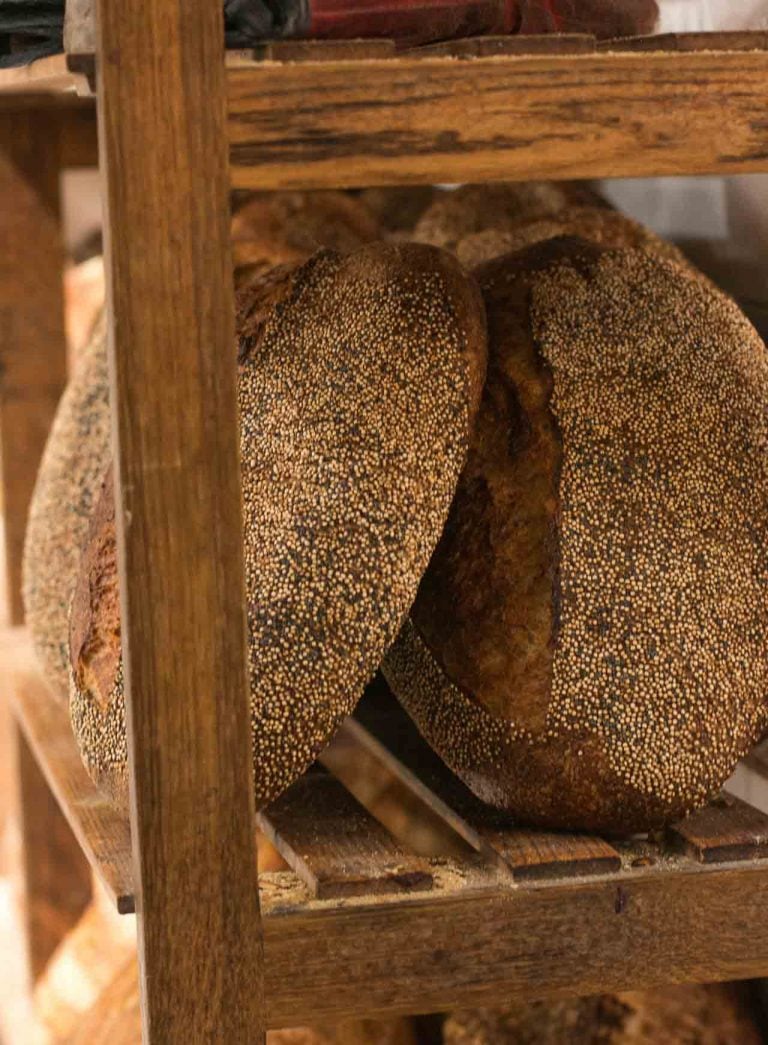 The first bakery I stopped in was Sandholt. Although it was a weekday morning, the place was packed full of people drinking strong coffee, along with nibbling on bread and pastries at rough wooden tables.
Many of the pastries in Iceland are Danish, although some are French. (Even though it's believed that croissants originated in Austria, which is why they are called viennoiserie, in French.)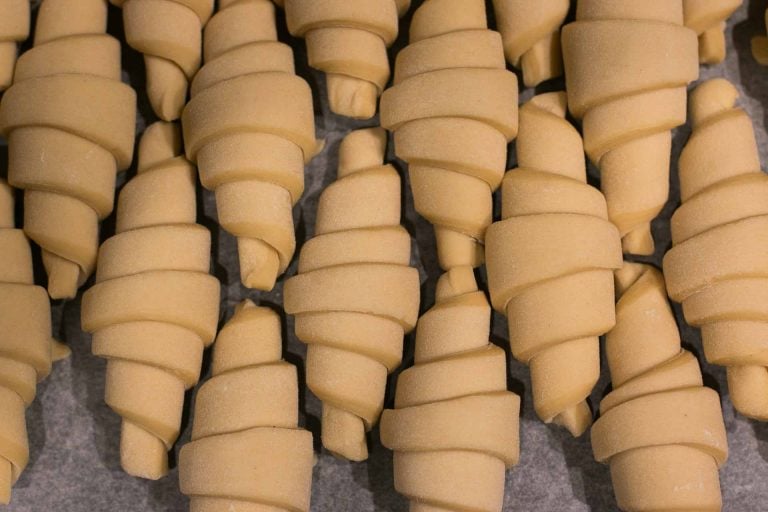 At this family owned bakery, I was impressed by the croissants, as well as the glazed apple cakes, but especially the hearty loaves, made with everything from kamut and quinoa, to smoked pumpkin seeds and – of course – rye. I wasn't there at lunch or dinner, but they serve both, as well as breakfast.
Hewing close to tradition is Bernhöfstbakarí. The owner, baker Sigurður Már Guðjónsson, makes the pastries at the oldest bakery in Iceland. Their dough divider, above, has a serial number on it: Number #38, which he learned was, indeed, the thirty-eighth dough divider that the manufacturer made.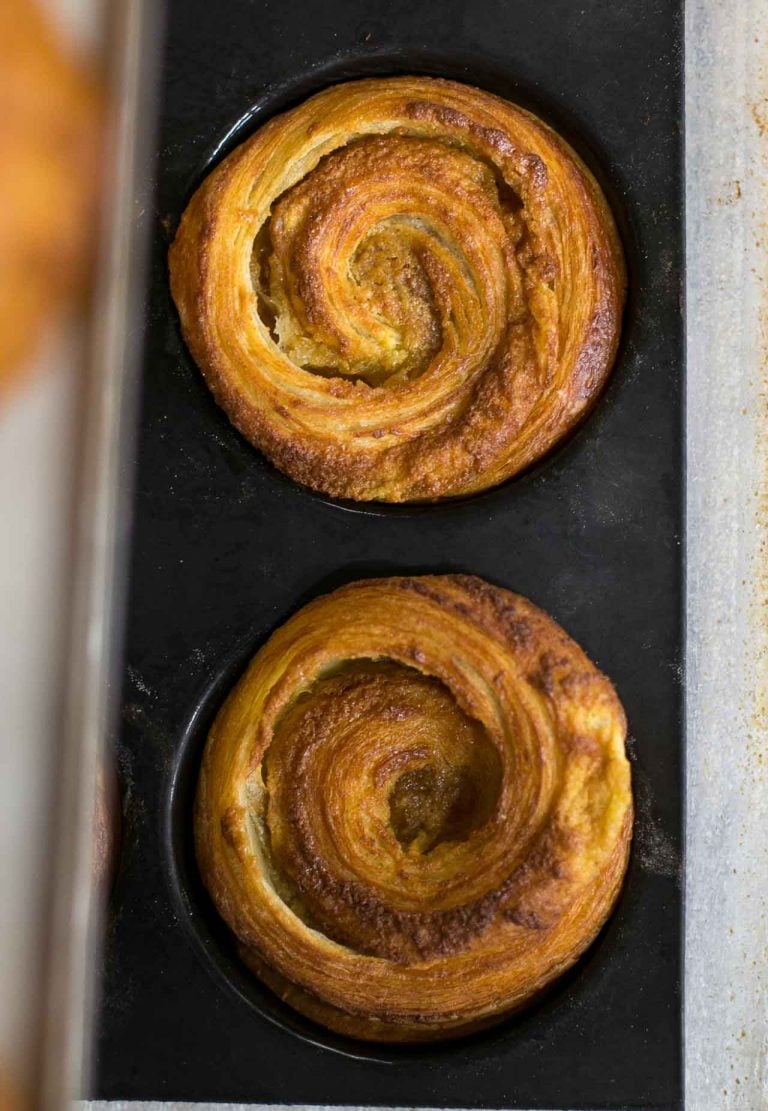 Apples and almonds figure into most of the baked goods here, including an apple-filled puff pastry topped with raw brown sugar, as well as almond swirls (above), which he told me are equal parts sugar, butter, and marzipan. I tasted one hot out of the oven and was happy to have woken up early (4:52am that morning, to be exact) for that experience.
Even better were the pretzels, made the traditional way by dipping the shaped dough into lye, which gives them that particularly burnished appearance.
Sigurður is an avid collector of baking books, some of which lined his office, but I suspect at home, he's got some baking tomes that would make the rest of us weep with envy. Kind of like I felt when I saw this Eplastykki (below), covered with nuts and caramel.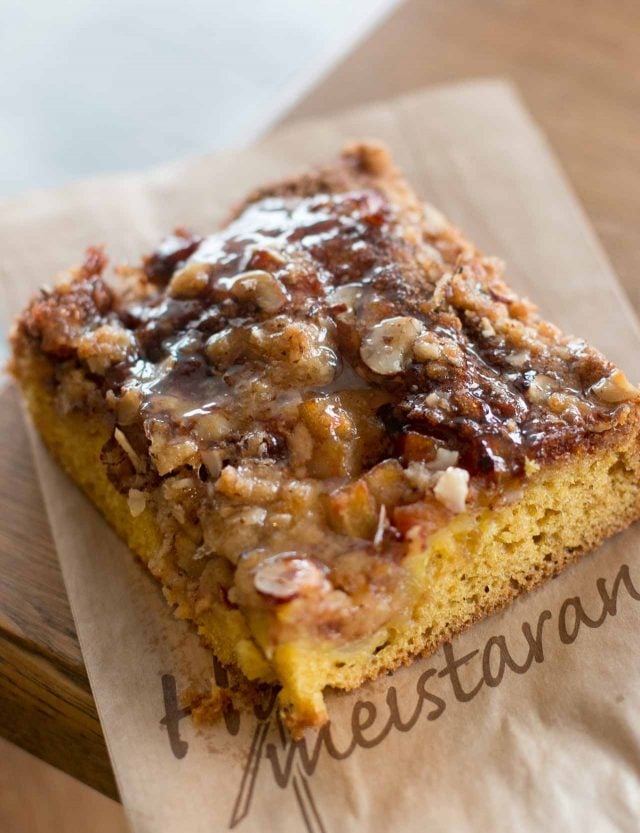 His beautiful Danish Rúgbraut also would have found its way home in my luggage, had it not been for meager luggage allowance, but I did get an official, generously sized Bernhöfstbakarí t-shirt, which I suspect will be a little snug by the time I leave Reykjavík.
---
Not as traditional as the other bakeries in Reykavík, it's impossible to list what 17 Sortir makes because they make seventeen different desserts every day…and never make the same dessert twice.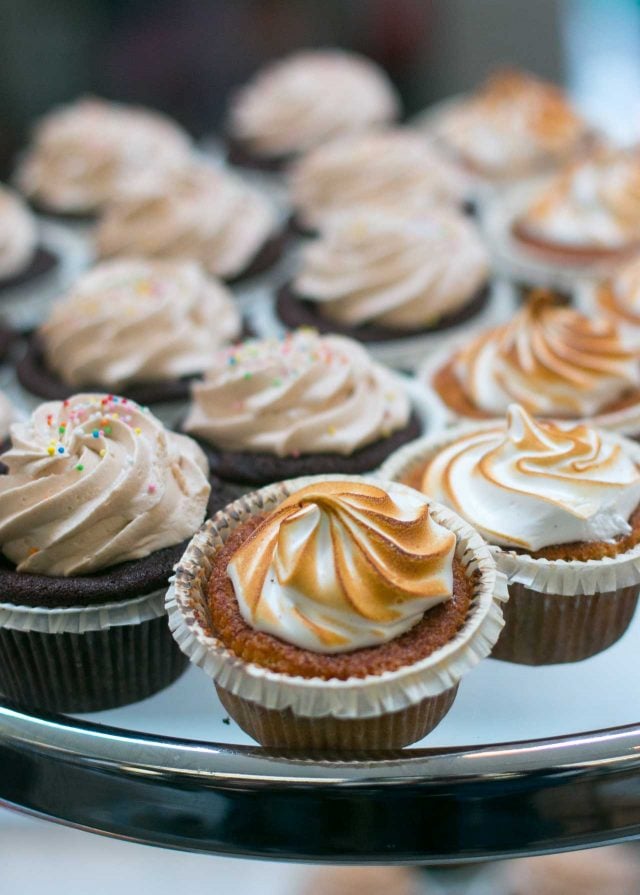 I loved meeting the friendly owner, Auður Ögn Árnadóttir, who was a baking teacher before she opened her shop. We joked about licorice, an extremely popular treat in Scandinavia, and one of the few things I don't like. I'm okay with that, because there are plenty of other things that I do like, but I sometimes wish I liked it, because the cupcakes topped with gooey caramel and licorice looked liked enticing, with the black, salty candy sprinkled on top. But I did walk out with a few little cakes to bring back to my hotel with me, for snacking on later.
---
I stopped breathing for a moment when I walked into Brauð og Co. There are very few times in life where I enter a place and realize I'm all of a sudden, in the middle of somewhere special. Sometimes it's a French cookware factory, other times it's a bakery.
And in the middle, I was, with my puffy winter down parka, surrounded by a team of fast-moving, but friendly, bakers, rolling, spreading, folding, and kneading all sorts of breads, pastries, and buns.
Unlike other bakeries, Ágúst Einþórsson set up his bakery specifically so the bakers are just a few feet away from the customers, so there's little distinction between the customers and the bakers. Their opening hours just say "early," and people can come in at any hour they want to pick up bread. (Which is good to know if you're jet-lagged, and/or can't wait to have one of their pastries.)
The bakery is packed and I spent a few minutes in the middle of the kitchen, trying to stay out of their way while polishing off one of the best pain au chocolats of my life. (I had my eye on a sesame pretzel but the woman in front of me in line snagged it right before it was my turn – why does that always happen to me?)
I stopped back into the bakery before leaving Reykjavík for a few loaves of bread to pack in my suitcase. Ágúst was there, again, removing breads from the oven. Sometimes I'm so overwhelmed by a place, I get a little emotional and told him that what he was doing really was very special. As I continued, he started to turn red, and I think I did too. So I let him get back to tending to the breads in the oven behind him, and slipped my breads in my canvas bag, with an extra pain au chocolat, for the road.
Brauð og Co.
---
Heiðdís Einarsdóttir, who gratefully said that I could call her "Heidi" (whew!), because I hadn't mastered the Icelandic language yet, in spite of some of the locals best efforts to help me (Vesturbærlaug, however, the name of my favorite thermal bath, I did manage to memorize) works for Visit Reykjavík, and offered to take me to Café Loki for a traditional Icelandic lunch.
When she described the place, it sounded exactly like where I wanted to eat. This simple restaurant was filled with locals and a few others, most dressed for a day of hiking, even though it was in the middle of town. Perhaps many just climbed off a mountain and were in need of some sustenance? Or they'd just visited four bakeries in two hours. If so, we were all in the right place.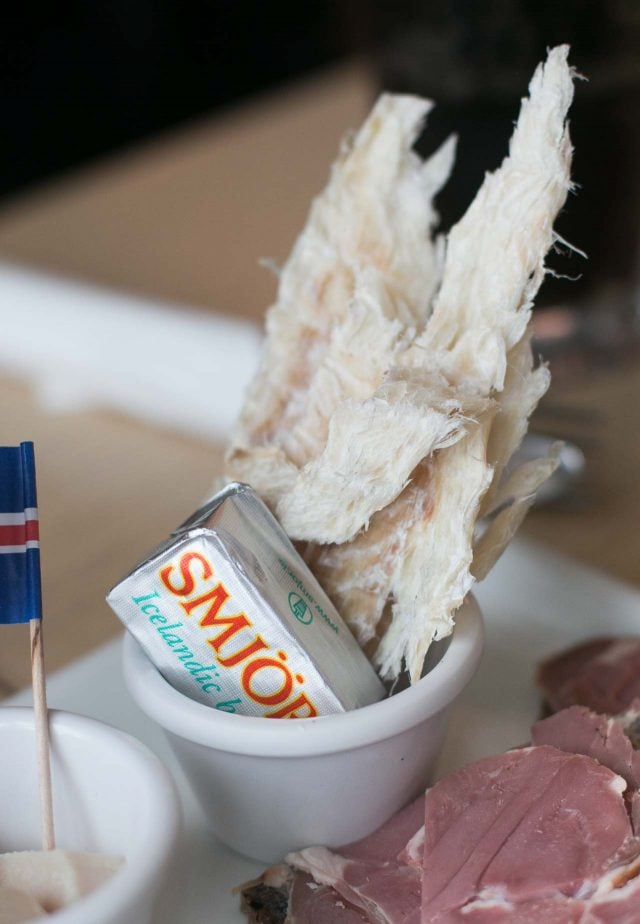 We started off buttered rye bread topped with this slices of smoked lamb, which Iceland is famous for. Beef and chicken are rare, but lamb is plentiful, and the lamb is Iceland was some of the best I've had. It is prepared similar to ham, but has a sweet lamb flavor. There was also lamb-head jelly (not shown) and fermented shark, shown below.
At the other end of the scale (and the platter) is the dried fish, a popular snack in Iceland, smeared with some of their delicious butter. Accompanying a photo I posted on Instagram, a reader said that it was as good as French butter, and I had to agree.
The fermented shark was interesting and owner Hrönn Vilhelmsdóttir told me not to smell it first, before eating it. Just to pop it in my mouth, and follow it with a shot of Brennevín, Icelandic schnapps made from potatoes and caraway. (The shark is buried for 2-3 months, then hung to dry for several weeks, or months.) The reason our noses are above our mouths is to prevent us from eating stuff that's funky or spoiled, and in this case, I did inhale briefly, but quickly popped the cube of shark into my mouth before following it with a shot of the bracing – and cleansing – snafs.
Some people really don't like it, but I didn't find it all that objectionable. Another reader said it was for the tourists (which I was, so I didn't mind), but locals told me they do eat it, however only during certain seasons.
We had some little sandwiches served on squares of homemade rye bread with herring, lamb paste, and trout smoked over sheep dung. Huh? In a country, an island, where wood is scarce, ya gotta use everything…and why waste any good poop? It has a slightly funky flavor, but not objectionable. (And that's from someone who does his best to avoid andouillette in France.)
We finished with the house specialty: Rye bread ice cream, accompanied by cups of bracingly strong Icelandic coffee. Using crumbs of rye bread, this ice cream reminded me of Brown bread ice cream, and next time I churn up a batch at home, I'm going to make it using rye bread. Thankfully I have a suitcase of Icelandic bread, so I foresee it happening in the near future.