Josey Baker's Adventure Bread
It gives me a little frowny face when people tell me that they can't find good bread in America. But I'm turnin' that frown upside down because the more I travel, the more good bread I see. And I love passing on the word because, really, everyone should have access to good bread – no matter where they are.
The San Francisco Bay Area has had a tradition of good bread for a while, from the golden loaves of airy Boudin San Francisco sourdough, to the earthy levain breads from Acme, Tartine, b. pâtisserie, Della Fattoria, and all the other bakeries that are pulling terrific loaves out of the oven daily, in the area.
People in San Francisco are obsessed with good bread, and good food – a tradition which I am happy to report is still in evidence from all the great meals I've been having on this trip. And like France, and many other countries, bakeries are important to the community. One bakery that is extra-special to me is The Mill, which I discovered on my last trip. And one that I was anxious to revisit on this one.
It's pretty clear when you walk into The Mill what a presence Josey Baker is in San Francisco. And his bakery seems to have become an integral part of the soul of San Francisco.
With the wide open kitchen, surrounded by co-workers making coffee for customers, slicing bread for the famous toast, and greasing pans for the next loaves of bread to go in the oven, Josey stands in the midst of it all, mixing, stirring, and kneading, stopping mid-movement to race to the ovens, pulling hefty, rectangular loaves out with a lengthy wooden peel.
(There's some silly chatter about the "$4 toast" – which is actually $3.50 – which is kind of surprising when people are filling up their cars with gas that costs more than $4 per gallon, and a glass of wine goes for $12, plus tax and tip. It's seems that a slab of homemade bread made with flour milled on the premises, spread with locally produced raw milk butter or organic nut paste, isn't out of line. Plus, it's delicious. So there.)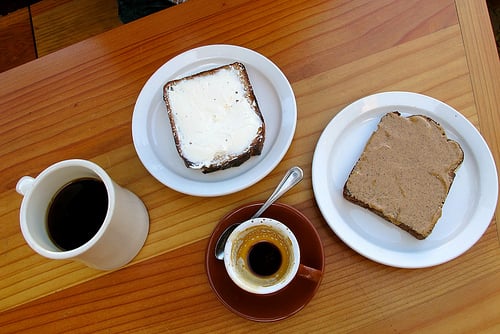 It was a great welcome back to San Francisco to see him with his generous smile, clearly getting (and giving) great happiness from what he's doing. And it's my happy moment whenever I walk in and see him tending his bread.
Josey is so into what he's doing, that he wrote a book to share what his knowledge of bread making. But rather than just a book filled with recipes, Josey Baker Bread coaxes you into the process, starting you off with a very simple bread that calls for yeast (whose recipe title is "Your First Loaf of Bread"), then progressively moves toward teaching you how to make bread with a starter, demystifying the process, laying it all out in his plain, all-cards-on-the-table language.
Because Josey believes that everyone should have good bread in their lives, even gluten-free people, he bakes up what he calls "Adventure Bread", a compact loaf that's hardy enough to get you through any adventure. It's simple to make, requiring skills no more complicated than measuring or weighing ingredients, mixing them together, letting them sit together for a while, then baking them into a neat loaf.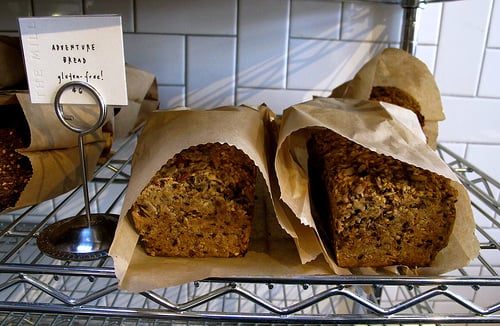 It's the kind of bread that I like. Packed with nuts and seeds, and good spread with a swipe of butter or nut paste, it's hard not to love this bread. Just like it's hard not to like Josey's bakery, which was my first – and may be my last – stop on this trip to San Francisco.
Adventure Bread
From
Josey Baker Bread
by Josey Baker (Reprinted with permission from Chronicle Books) The recipe reprinted here is in Josey's words. Since his recipes are meant to demystify breadmaking, you'll find his enthusiasm shines through. It's a gluten-free loaf, and as Josey says in his introduction to it, "I had been mostly turned off by gluten-free breads, since it seemed like they were all trying to imitate wheat breads, and failing miserably. But this bread stands on its own…" And he's right; it's great. To make it, you'll need to find a loaf pan that is a bit smaller than the usual size. But any similar-sized vessel, such as shallow ovenproof baking or gratin dish, should work just fine. The almonds should be coarsely chopped, to give the bread some additional texture. But you can swap out any sort of nuts. And if making the bread for people who are gluten intolerant, make sure to use oats that are certified gluten-free. The
psyllium seed husks
provides a binder for the bread, in place of the gluten found in traditional flour. You can find them at natural food stores,
Trader Joe's
, and
online
. One 9 or 8-inch by 4-inch loaf pan (20cm by 10cm), oiled
Dry ingredients
2 1/4

cups (235g)

rolled oats

1

cup (160g)

sunflower seeds

,

hulled

1/2

cup (65g)

pumpkin seeds

,

hulled

3/4

cup (90g)

almonds

,

toasted and coarsely chopped

3/4

cup (120g)

flax seeds

1/3

cup (20g)

psyllium seed husks

,

(see note)

3

tablespoons (25g)

chia seeds

2

teaspoons (12g)

fine sea salt
The wet stuff
2

tablespoons (40g)

maple syrup

1/4

cup (55g)

olive oil

2 1/2

cups (600g)

water
Gather your foodstuffs. Toast the seeds. Preheat your oven to 350ºF (180ºC.) Spread the sunflower and pumpkin seeds on a baking sheet and toast until they start to brown, about 15 minutes, stirring halfway during baking.

(David: The seeds may take less time to toast, so keep an eye on them.)

Measure ingredients. Dump this stuff (all the dry ingredients) into big bowl. Then pour in the wet stuff.

Mix it all up. Oil your loaf pan, and then mush up your "dough" real good with your strong hands or a big spoon. Take pride in your mush-job; this is all of the handling you're doing to do with this "dough." Once it's mixed real good, scoop it into your oiled pan and smooth out the top so it looks nice. Then stick it in the fridge and leave it alone for at least a few hours, up to a whole day.

Bake it. Put a rack in the middle of the oven and preheat to 400ºF (200ºC.) Remove the bread from the refrigerator and let it come to room temperature. Bake the bread for about an hour or so, then take it out and gently remove the loaf from the pan. Let cool on a cooling rack for at least 2 hours (YES, two whole hours). Don't rush it here folks, this bread is D*E*N*S*E, and if you don't wait for it to cool, it really won't be as yummy.

Toast and eat. This bread is definitely best sliced nice and thin (around 1/2-inch, 12mm) and then toasted up and spread with whatever your heart desires. And don't worry if you're adventuring somewhere without toaster access (like a gorgeous river in the middle of nowhere), it will still be scrumptious, I promise.
Update: A number of people have written with similar questions about the bread. It's a recipe from Josey's bread book that he bakes at his bakery in San Francisco, that he notes was inspired and adapted from the recipe for The Life-Changing Loaf of Bread at My New Roots. Here are a few answers to questions that have been asked a few times:
– If you are making the bread for people who are gluten-free, be sure to use not only oat that are certified gluten-free, but make sure all the ingredients have been processed under gluten-free conditions.
– I don't know about substitutions. Most recipe developers test things many times, with various ingredients in differing quantities before settling on what they feel is the best version of the recipe. Generally speaking, liquid sweeteners can be swapped out (such as honey for the maple syrup) and probably some other flaked grains could be used in place of the oats. But not having tried them, I can't say for sure. But I think the bread is pretty versatile and lends itself to testing out variations, as Josey did from the original recipe.
– The recipe doesn't say whether or not to cover it while it's resting or being refrigerated. I don't know if it's important, but you could drape a kitchen towel over the top if you wish. I wouldn't hurt.
– If refrigerated, I would let the bread come to room temperature before baking. I have printed the recipe in Josey's words, as I was traveling, but will add that to the instructions.