Toast? That's what a friend told me they served at The Mill. I've been passing by The Mill daily on the #24 line bus, and from the façade, it's hard to tell what's going on in there. So I wasn't sure it was worth the bother to hop off the bus to see.
Then, yesterday morning, I got an SMS from a friend who was spending some time at The Mill while some messy home projects were being attended to (involving drywall dust, so I understand completely) and I hustled down there to meet up with her. When I walked in, I was surprised that it was such a huge, cavernous place; from the outside, it just looked like any other store front on Divis.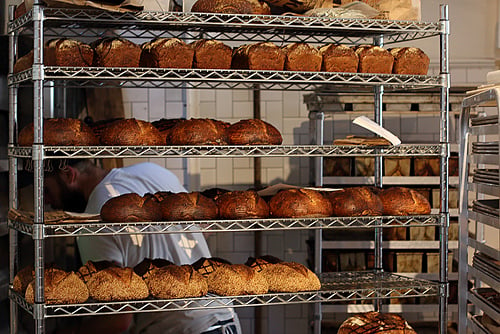 But what surprised me even more than the size, was the sound of breads cracking as they cooled, accompanied by the always-welcome aroma of freshly baked bread. It's something I've gotten used to in France, although it never fails to make me pause for a moment, as I take a deep breath to inhale those yeasty fumes.
There were racks of beautiful breads by Josey Baker, (I know, great last name! I wonder if he'll adopt me so we care share?) Dark, bien cuit (well-cooked) breads, such as a seeded country loaf, a hearty "wonder" bread, and dark mountain rye. People often come to France and ask me why they can't get breads like that we do at home, and I'm here to tell you, if your home is San Francisco – you're in luck!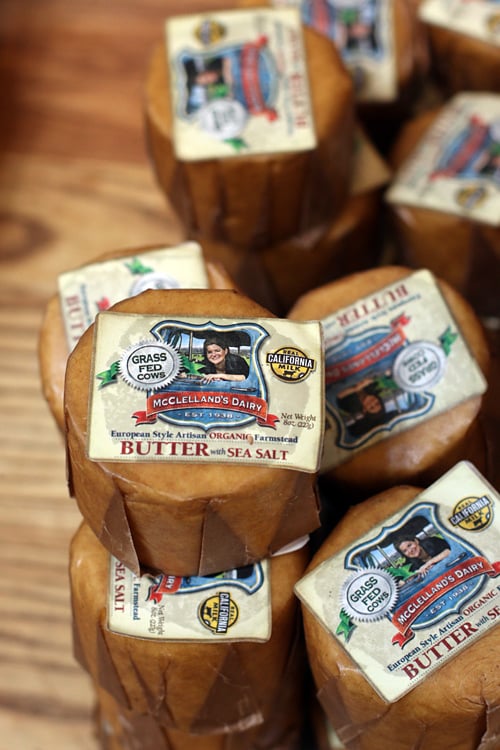 And then there's toast. I am a big fan of toast. In fact, that's all I have for breakfast. And then there's lunch, where I toast some bread to eat with cheese. Then I may toast some bread to crumble over pasta for dinner. I guess you could say that toast is my turn-on. So as soon as I sat down, I was looking forward to a big slice of toast.
After I ordered, soon after, out came a hefty slab of cinnamon toast with a lavish spread of cultured butter, crunchy sugar, and a dusting of cinnamon. (They also have nut butters and cream cheese.) I had barely finished breakfast a few hours earlier, and I was enjoying catching up with my friend, but it was hard not to keep picking up the knife and fork, and lopping off generous mouthfuls of the toast as we talked.
At The Mill, Josey, or Mr. Baker, grinds his flour in a wooden moulin (mill), standing on his tippy toes to get the wheat berries into the hopper. I took a picture of him, but his bare baker's legs were sticking out (and perhaps only if you're a baker, do you know what "baker's legs" are), so I didn't want to embarrass him – although since there is a picture of his backside on his About page, I guess that train has passed. (Don't worry, that train isn't anywhere near the station for me.)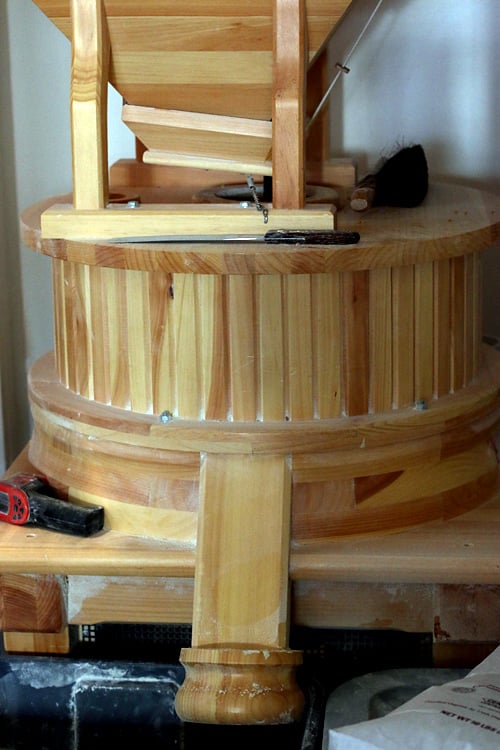 In other news, aside from me actually getting out of the house in the morning and acting like a civilized person, the brew and beans are from Fourbarrel Coffee and I had a very dark, very rich, very San Francisco-style drink.
Which kind of reminds me that I need to get a box of Rice-A-Roni, because I was trying to explain to Romain what it was, and how the commercials featured a jingle and a shot of a cable car climbing Nob Hill, and I need to show him that I'm not nuts.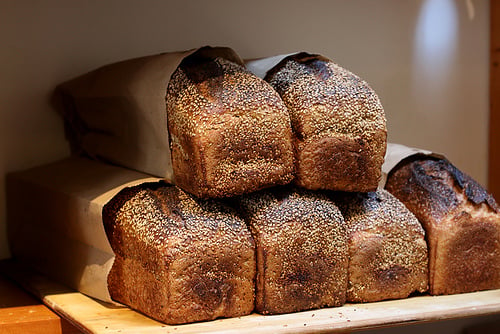 The Mill's bread and toast, and the baker himself, are truly San Francisco-style. It may not have clanging cable cars, or catchy jingles, but a bakery serving just toast? That's kind of kooky, and lots of fun.


The Mill
736 Divisadero Street
San Francisco
Tel: (415) 345-1953