The Best Bakeries in San Francisco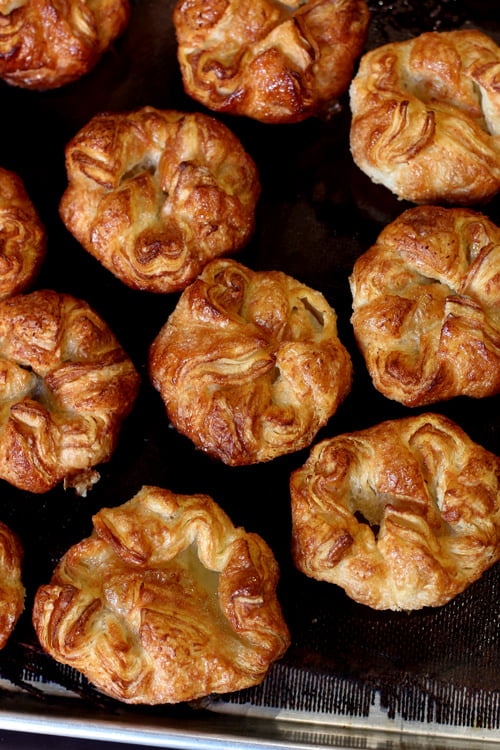 Since the time I left, San Francisco has become a much sweeter place. I hope that's just a mere coincidence, but I have been surprised at the spate of new bakeries and sweet shops that have sprung up in the last few years. How nice would it have been to have visited them all? However my euro-jeans are starting to buckle under the weight of all the butter (of course, all the chips and guacamole, and other Mexican food, had absolutely nothing to do with it) and after finding myself unable to power through an entire San Francisco burrito, I realized that I had lost my SF-cred and will likely be escorted back to the plane for my return flight, as I hang my head in shame.
[Update: 20th Century Café has closed and a new bakery, Loquat, has opened in its place.]
Still, I did manage to sneak in a few places that are newer on the scene. One was 20th Century Café. My friend Heidi had recommended the knish, which sounded like an unusual recommendation because that's something you usually get at a savory place, or a specialty address (any old-timers remember The Knish Konnection in San Francisco?) But I had just scored the perfect Christmas present for someone back home (which was 25% off – go USA!) from the Timbuktu store (go San Francisco!), and when the map function on my phone (go T-Mobile prepaid SIM card plan, so I could use my iPhone while traveling!) showed that I was just a few blocks away, I hoofed it over there.
Since it was mid-afternoon, in the peace of the subdued café, I sat down with a dainty chocolate cookie flecked with bits of salt, and a creamy-smooth cappuccino. And while I was sitting down, minding my own business and watching the bakers spread cake batter methodically on parchment sheets (and posting to Instagram), cheerful pastry chef/owner Michelle Polzine jumped in and slid in across from me, giving us time to share a mutual admiration "moment," Me, admiring her, because she had the fortitude and talent to open a café. And for her, well, I'm not sure what she admired about me. Maybe because I'd be smart enough to be a regular customer for afternoon coffee there if I lived in San Francisco?
According to the site, the bakery is meant to evoke the style of "early Twentieth Century Budapest, Vienna and Prague." So I was curious when someone on my Instagram feed commented "Only in America" about the Crazy Cake, a multi-layer caramel cake, because to me, it screams "Eastern Europe" with all those layers and cream. But no matter, it shows that cake (and pastries) can easily cross cultures and borders, which 20th Century Café does so well. (And yes, do get the knish. It's excellent, too.)
Another favorite in San Francisco are Michael Recchiuti Confections which aren't to be missed. He has an outpost in the Ferry Plaza building.
To finish up my San Francisco sweet stops, I ended up at b. patisserie. I'd had some of the cookies earlier in the week that a friend had brought me – an astoundingly rich, jumbo chocolate cookie, and a salted chocolate chip number that was just the best thing ever. But I wanted to see what else was on offer.
And indeed, I was glad I hadn't lost my SF parking karma when we found a space just in front, and soon found ourselves gazing at beautiful, sleek lemon tarts, as nice as anything you'd see in Paris. Which is no wonder, because pastry chef/owner Belinda Leong worked in some of the finest pastry shops in Europe, (including stints at Pierre Hermé in Paris) and teamed with French baker Michel Suas, who established the San Francisco Baking Institute – which explains why everything is simply top-notch here.
The croissants are excellent. And the kouign amann, shown way up at the top – a buttery pastry from Brittany, where Michel Suas is from – were better than most versions I'd had in France. And even though I refuse to eat macarons in America (not because I'm a xenophobe or a snob, but I can get them in Paris, thanks), I broke my long-standing rule for Belinda's mocha macaron, which was close to perfect. And was the perfect way to say a sweet goodbye to San Francisco.
Other Favorite Bakeries and Chocolate Shops