Zuni Cafe and Chez Panisse
I tried. I gave it my best shot to try and make it through the list of the new places that were on my radar for my visit to San Francisco, the one that I'd been scribbling down for the last few month. But getting felled by a bout of whatever it was that I picked up on my flight sapped me of a bit of my energy. Fortunately, midway through my trip, I was able to rally back and proved myself to be the trooper that I knew I could be. But apologies to the folks who came by to meet me at my event, for the laryngitis that prevented me from expressing my enthusiasm for meeting you! And thanks for braving the cold temperatures to come out and say hi.
Even since my last visit just a few years ago, a bunch of bakeries, chocolate purveyors, bread places, and restaurants have opened in San Francisco that pretty much knocked my socks off. I was also thrilled to see that the city has implemented a city-wide composting program, to deal with all the kitchen and food scraps that normally get tossed. Seeing that has prompted me to take another look at options in my own kitchen in Paris, since it pains me to throw things that can be reused away. (The worm-based composters, which seem to be the best option for apartment-dwellers, make me a little uneasy. I have nothing against worms, but am not sure I could sleep soundly at night with a big container of them wriggling around nearby.)
In addition to the new places I discovered, I revisited two favorites, for sentimental reasons and – of course – for the food. I wasn't sure if I was ready to go to Zuni Café so soon after the passing of the chef/owner, but since my time in the city was limited, and I felt the need to reconnect with the place, I woke up on my second day in the city and scored a reservation for lunch. Oddly, it's been nearly twelve years, but I still remembered the phone number by heart.
Starting off with a bottle of cold Sancerre, that I wasn't sure would help or hinder my recovery (consensus: It ending up doing a little bit of both, but was delicious with the briny oysters), I decided to click off the classics, starting with a Caesar Salad, following it up with a plate of house-cured anchovies with celery and Parmesan, which ended up being superfluous with the salad. But I would have felt remiss if I hadn't ordered it. (The feathery light ricotta gnocchi weren't on the menu. Otherwise those would have taken the place of the anchovies.)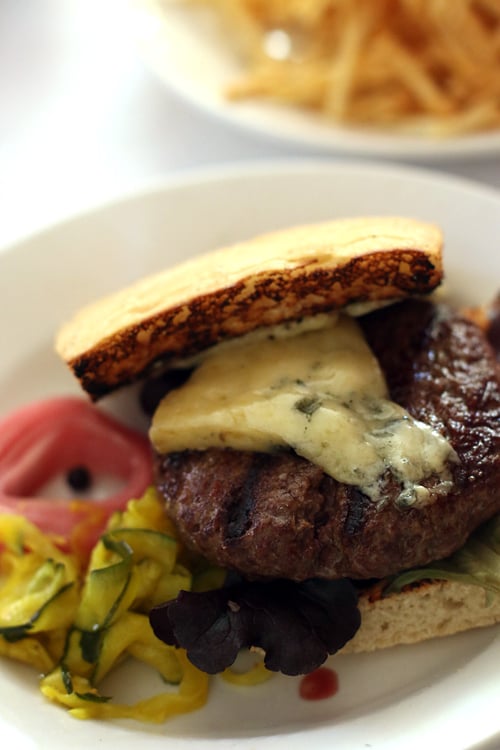 I began my cooking career at Zuni Café way (way) back – when it was half as large as it is now and there were some unsettling things going on in the nearby alleyways. (One of the cooks had seen something and had to be called in to be a witness at a trial.) During my shifts, I tossed tons of those salads, and never got tired of making them. And now, the neighborhood is a little less "edgy" – but I still go back for more, which says something about the power of a good Caesar. Romain didn't quite understand the urgency of going to Zuni and ordering the roast chicken as soon as you sit down, since it takes an hour. It's a dish that any other restaurant would just throw them in the oven at regular intervals, then hold them until the orders come up. But Judy, the chef who invented the dish, would never had stood for that, so customers still wait patiently for their chicken. And no one minded waiting, either. Because we knew what was coming.
So we ended up with hamburgers, which at Zuni, is a plat that shows their precision to the details on something that's seemingly very simple. Not with silly garnishes or culinary tricks, but with offerings like red onion pickles, turmeric-colored zucchini pickles (which I warned Romain would stain), and a choice between blue cheese or Beecher's Flagship cheese, a milky, nutty cow's milk cheese that's just right for melting over a beef patty. No matter what options you choose, the burger always rests on a bun of grilled house-made focaccia, smeared with aïoli. And of course, you have to order the shoestring fries as well, which come out hot, crisp, and well-salted, another trademark of the chef.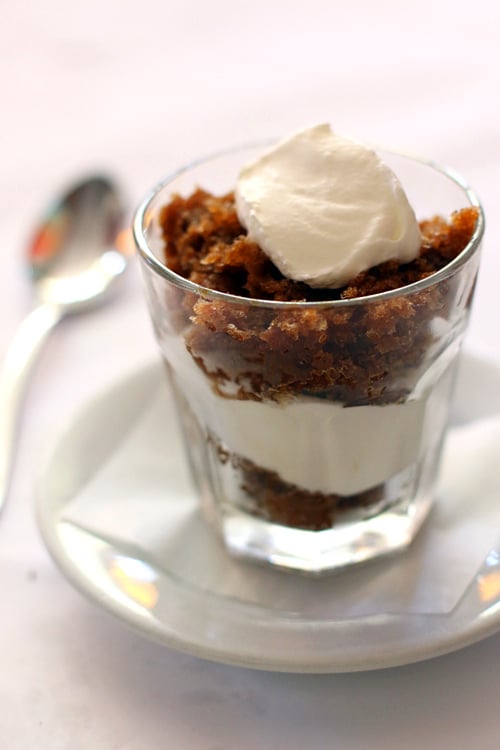 Many of desserts at Zuni are longstanding favorites, and to revive ourselves after nearly making it to the bottom of the Sancerre bottle, we split a glass of icy, robust espresso granita with sweetened whipped cream, which I presume will be on the menu next time come back here. Even if it's not for another couple of years.
Later in the week, we ventured across the bridge to Chez Panisse during rush hour, for dinner. And let me tell you, one the things I don't miss about the Bay Area is sitting on the Bay Bridge on my way to work. Although as a tourist, I have to say, it's a spectacular vista that spans the city, the hills, the islands, and the bay.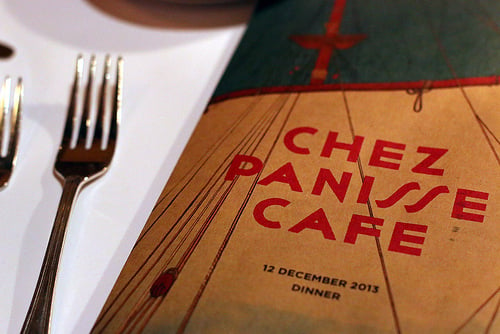 We were seated on the all-new porch, which had been rebuilt since the fire. It was pretty spiffy, with gleaming copper lamps, a new floor (and no step to trip over!), and – yes, even heat. Nice job, folks!
But unlike the updated porch, the food didn't need any revisions. It was as good as I remember. I may be a little biased, but the first forkful of the chicory salad, made with sturdy greens from Cannard Farm, which supplies Chez Panisse with most of its produce, brought back tome, what I can only call "that flavor." I don't know how to describe it, but the food at Chez Panisse has a specific flavor. Perhaps it's the terroir, the concept that food takes on characteristics of where and how it is grown.
But whether raw or cooked, the fruits, vegetables, and other ingredients at the restaurant have a special flavor that I can't pin down. The salad tasted like it was just-picked from the garden (which it was), and even the chunks of citrus in the salad had a certain flavor that tasted dialed-up, much different from the industrial citrus one normally gets. Sometimes people criticize the food at Chez Panisse for being "too simple", which is really the point of the restaurant and café. Usually the less you do to food, the better – especially when you have good ingredients. Good food is often the result of flavorful ingredients, and not doing too much to them. No need to add smears of sauce or piles of crumbs or heap things into jam jars. Just put it on a plate or in a bowl, and serve it. And leave it at that.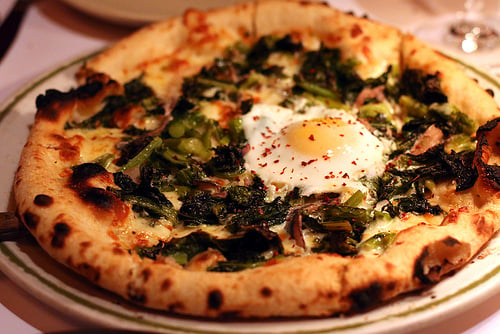 The pizza came out with a blistery crust, topped with bitter rapini, a bit of heat from red pepper flakes, and a farm egg nestled in the center. The slightly puffy crust was different from the hyper-thin crusts that we've become accustomed to. But instead of being hard and a tough as cardboard (as some of those thin-crusts can be), there was a lightness to it that made me keep grabbing piece after piece. In addition to the tangle of greens on top, the flavor of the ingredients of the dough came through just as well – the flour, the olive oil, and the charred bits from the wood-fired oven, all contributed to an excellent crust.
My dining partner had chicken cooked under a brick, and I couldn't decide between – well…everything on the menu, which included a sirloin (the beef at Chez Panisse is always excellent, and it's hard to pass up a good steak.) But I went with clams, because they're not something you see often on menus in Paris. I don't know why that is, since you see them at fishmongers. But I'm a clam-lover from my New England days, and these were oven-baked with leeks and tomatoes, and served with a pool of aïoli melding into the warm sauce. And a big, crusty grilled crouton for scooping up the garlicky sauce.
Our first dessert was another one of those "only at Chez Panisse" things; a footed dish of fresh dates, clementines, and the best almonds I've ever had in my life. Even better than Marcona almonds, whatever kind of almond they were, these nuts were toasted just enough to take away any chewiness, but enough to highlight (and not overwhelm) the fresh almond flavor. They were the kind of almonds you would ring someone's neck if they burnt a sheet pan of them in the oven. (Which any baker will understand.)
Then, for my birthday, which it wasn't, out came two wispy meringues sandwiched with vanilla and mulberry ice cream. If you haven't had fresh mulberries, you're not alone. I'd never had them either, until someone had alerted us when I worked at the restaurant that they had a mulberry tree and someone brought them in for us to try. I popped one of the inky dark berries in my mouth, and I'd never had a berry so full of flavor. There's no hint of sourness, and sweet, but not too sweet. Each one I tasted (and tasted and tasted) was like a mini flavor bomb. It's no wonder that when I worked there, we'd spread them out on parchment paper-lined sheet pans so they wouldn't be crushed. And when I went back later to get them to use in a dessert, where half of the berries once were, I'd find a smattering of dark purple, oval stains on the parchment paper. (A major hazard of the pastry trade is line cooks swiping stuff.) So even though it wasn't my birthday, I ate all my dessert and didn't say a word. Because it still felt like a special day.