San Francisco Favorites and Dining
I'm almost over the nasty whatever-it-was that I picked up riding in the back of the plane, in seat 37E, to be precise, en route to San Francisco. It didn't help that it's been freezing cold here (36ºF!), with snow in some of the outlying areas up north. Help came to me via the Kabuki Hot Springs, a mellow Japanese spa in the middle of the city with hot pools, a cold plunge (um, no thanks…), and a blissful steam, which helped cleared my head. I still have a bit of laryngitis, but that's perhaps a blessing to those around me.
Getting socked with that has kind of put a damper on my energy level, although I'm finally on the mend and trying to visit some of my favorite places, as well as hitting a few of the new spots in town.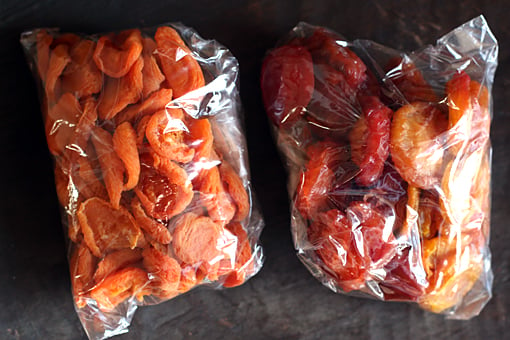 The San Francisco Ferry Plaza Farmers Market is a true "farmer's market", where farmers, cheesemakers, bread bakers, and others bring their wares – including a marvelous collection of dried cherries, apricots, pluots, and any other fruit you can imagine. It's become quite the attraction and is extremely busy on weekends, and during the week, the restaurants are full at lunchtime with people eating grilled cheese sandwiches from Cowgirl Creamery, sandwiches on locally made charcuterie, and burgers made from sustainable, grass-fed beef. And when you're done eating, anything left over can go right into the compost bucket.
It's quite a sight/thrill to be surrounded by tangles of broccolini, bunches of spiky mizuna, lush bundles of dark mustard greens, kale in a rainbow of colors, and a bounty of fruits that even the most jaded Californian (and Parisian) can appreciate.
Mijita in the Ferry Plaza building is a must-stop for a morning plate of huevos rancheros and chips, guacamole, and salsa to fuel you for the market, especially on a cold winter (or in San Francisco, even a cold summer) day.
After a filling breakfast, we hit the stands – front to back – and I was tempted to put multicolored turnips and radishes, heirloom pears, 'chocolate' persimmons from Frog Hollow Farms, in my suitcase (and mustard greens, coffee beans, Heath ceramics, and Primavera tamales) but I usually settle for some dried fruit. At the big stand out front, tasting is encouraged (which blew Romain away – he couldn't believe they were letting folks help themselves – but he quickly got with the program.) I packed up bags of tart, tangy California Blenheim apricots and pluots (a cross between and apricot and a plum), to stash in my suitcase, although I will probably polish those before the end of the week and will return for more before I head back home.
After a long, hot soak, with a clearer head, I did my duty as a tour guide to Romain, and took him through the Japan Center (although for some reason, the official name seems to be "Japantown" – does anyone call it that? I kept calling Cesar Chavez Street, "Army Street" – the old name. Which made people look at me funny, like a time relic.) Whether you call it Japantown, or the Japan Center, the restaurants there aren't necessarily the best examples of fine Japanese dining, but who cares – they're lively and fun, and being surrounded by shops and throngs of Japanese shoppers, you get a taste of Japan right in the middle of San Francisco. (Two places that are the most happening are Mifune and Osakaya – I prefer Mifune for noodles.) Nijiya supermarket is quite fun to poke around in as is Super Mira.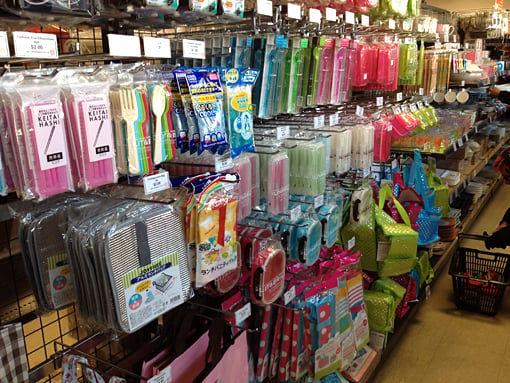 I love hitting the Japanese version of the 99 cent store, Ichiban Kan, then heading across the street to Soko Hardware, which specializes in Japanese housewares and cooking tools.
At Ichiban Kan, there's lots of furikake, a Japanese seasoning mix with bonito flakes and sometimes wasabi or sesame, or other ingredients. It's great shaken over rice and vegetables, or tofu, and I grabbed a few flavors.
Tiny containers are good for storing spices, reusable tote bags are handy to have since San Francisco stores have been seriously curtailing the use of plastic bags (which is terrific), and I picked up miscellaneous kitchen tools.
Years ago I was unofficially adopted by my two Chinese sisters, one of who lives here in San Francisco, who brought up an interesting point, by asking me – "Why, if there are so many Asians, and all the same products are available there, is the Asian food not so good in Europe?" It is a curious question, since the ingredients are there, and there are plenty of Asians (and others) eating in the restaurants. But they're rarely great. While it's true that Asian culture is more integrated into the culture of California than elsewhere, if anyone has any thoughts on that, it'd be interesting to hear them.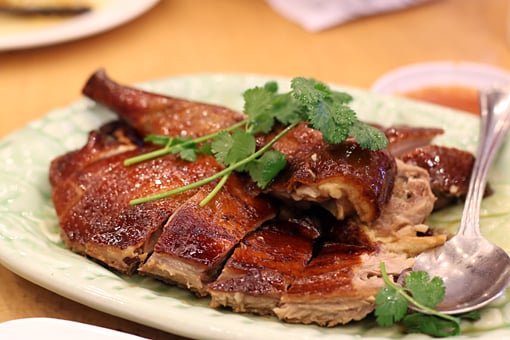 So I dive in as much as I can in the Bay Area. Even going across the bridge for great Chinese food, to Richmond, where our favorite place to dine is Saigon.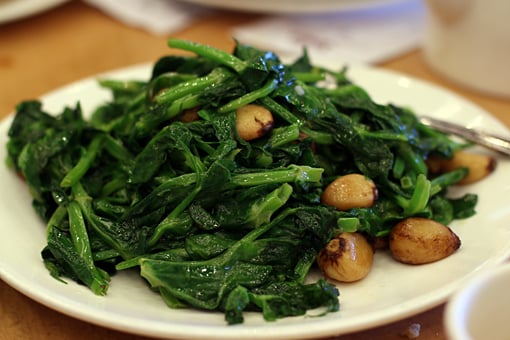 I tend to avoid brunch (or le brunch in Paris) because I'm not at my best in the morning. But it was fun to run into a couple of readers in this bustling palace of Chinese cooking (in spite of the Vietnamese name.)
It's hard to stay in bed when there's great dim sum to be had, piles of pea shoots with whole garlic cloves, slippery beef chow fun noodles, roast duck with kumquat sauce, and my favorite, rice steamed in lotus leaves.
The live seafood tanks hold fresh local crabs, lobster, and this time, geoduck (which I tend to avoid, and definitely freaked out Romain.) In true Chinese fashion (because I am 弟弟, or "younger brother") my Chinese sister ordered just about everything on the menu, which means leftovers for days and days and days and days. And I'm not complaining.
Back in San Francisco, we had a great meal at La Urbana, a somewhat sophisticated Mexican restaurant that also has a kick-you-know-what cocktail list. And the food kicked it as well. What was listed as a "green salad" was a plate of ice-cold gem lettuce leaves, fresh fava beans, and strips of cactus, all bathed in a lightly seasoned, creamy cilantro dressing. It was my favorite dish of the night, although the carne asada (steak) and mole of chicken with fresh blue tortillas were terrific as well. The only drawback is the dark lighting; you can't see (or photograph) the food, which is gorgeous and you miss the nuances of the various sauces and ingredients on the plates. The food was so good that I wanted to go back for lunch, but it's dinner-only.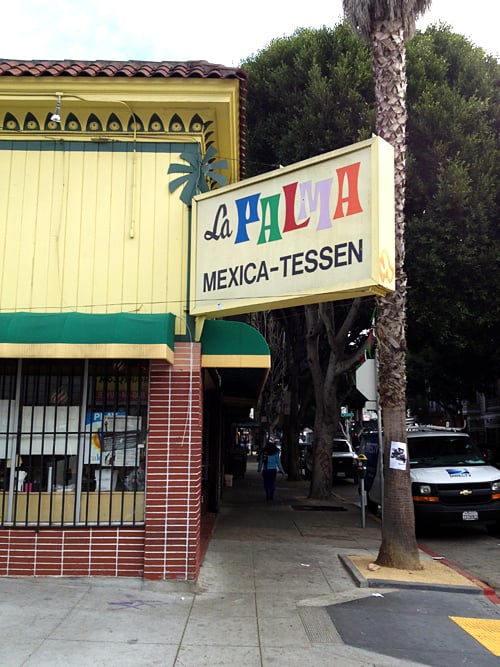 A Mexican must-stop for me is La Palma (2884 24th Street), a "Mexica-tessen" where they make their own tortillas, potato chips, and salsas, and have a great selection of Mexican products. I picked up a stack of warm tortillas and some potato chips, as well as what seems like a decades-supply of red pepper flakes. (I didn't want that much, but it was the smallest bag they had.) So I'm set for red pepper flakes – until 2023.
A recent addition that I'd heard about in the Mission, also on 24th street, is Wise Sons Deli. Disappointed with the deli food offerings in California, this team of two fellows from LA started Wise Sons, where sandwiches are piled with hand-sliced pastrami or corned beef.
But there are reuben sandwiches and patty melts, too, although we kept it simple. We got there early before the crowds. We liked our meal, although my one comment is that corned beef (and pastrami) are usually better when thinly sliced, and piled in a sandwich, so they meld together. But the food was great, and the staff was friendly, and I'm thinking I may need to go back before I split, for corned beef hash with their excellent corn rye bread.
Always high up on my places to eat is Contigo, where Brett Emerson cooks up Catalan and Spanish fare, much of it as good – or better – than what I've had on its home turf, back in Spain. (He also braved horse milk in Paris with me.)
We let him pick out whatever he thought we should eat, which was a good strategy, and we had marinated sardine toasts, deep-fried croquets filled with nutty Spanish ham and warm cheese, finger-friendly mini oxtail burgers with teensy-potato chips, ending with one of the best cups of hot chocolate I've had in my life, which was seasoned with precisely the right amount of salt. If you are in the neighborhood, no matter how cold or warm it is, you should definitely stop in for a cup.
Speaking of chocolate, on my very first day, I'd made a beeline to visit Dandelion chocolate, the new San Francisco bean-to-bar chocolate maker. I'd met Todd and Elaine, who opened the production facility, when they came on one of my chocolate tours in Paris. So I was incredibly excited to see what they'd created.
I was a little surprised to see how small-scale their production is – all the beans are sorted by hand, one-by-one, each bean surveyed for faults (insects, freshness, etc), and when I asked if that was really necessary, Todd told me that they did side-by-side tests and found out that it does make a difference in the finished chocolate, rather than just dumping big bags of beans into the machines.
The machine that roasts the cocoa beans has a cooling tray about the size of an extra-large pizza, and the machine that winnows away the hulls of the beans after they're roasted, looks a bit like Rube Goldberg conjured it up, but the chocolate is great and they give lots of tours and tastings, making it a must-stop in San Francisco.
Just next door is Craftsman and Wolves, a sleek, austere pastry shop that would certainly not be out of place in Paris. However on closer look, croissants are filled with root vegetables and harissa butter, and pâtes de fruit (fruit jellies) are made with "dirty bananas", tinged with espresso. There are tamer flavors (although I couldn't taste any harissa in the croissant) such as a chocolate-ganache cake, that, instead of a liquid center, has a surprisingly firm one. And other curiosities are croissants with yuzu, pears, and almond, ginger cookies with smoked molasses, and an attractive lime tart with toasted meringue.
For those who prefer to keep it simple, Fog City News is known for its well-curated selection of fine chocolates from all over the world. There are tablets from Rogue, Ginger Elizabeth, Michel Cluizel (including the rare 99% cacao bars), Rococo, Patric, and lots, lots more. The owner, Adam Smith and his staff at this newsstand, are particularly astute and can discuss chocolate, provide tasting notes, and guide you toward some interesting bars from their vast collection.
There are hundreds of bars in this shop. And I snagged a few to bring home, along with everything else.