3 San Francisco Ethnic Eateries
You can find good Vietnamese food in Paris, and there are a couple of nice addresses for Chinese food as well, but if there's a good Korean bbq in the City of Light, that kalbi has yet to singe my lips.
When I come back to San Francisco, people ask me if I'm interested in trying the newest, hottest, most au courant restaurants in town. In general, I bypass those places and make a beeline for the ethnic joints when in town. And one of the best Korean bbq's in San Francisco is located across from the Japan Center: Korea House.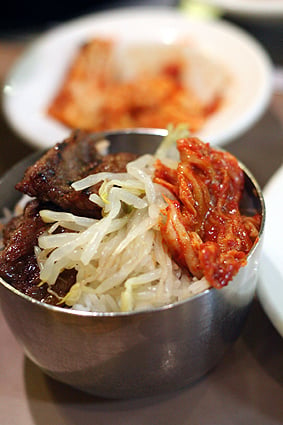 Hike upstairs into a large dining room, and slide into a booth equipped with a coal-fired grill. Seconds after you place your order, the waitress reappears with a multitude of tiny bowls filled with everything from spicy-red kimchi to cubes of quivering agar-agar jelly. I've learned if you have any Korean friends, it's definitely good to invite them along, since you're liable to get a few extra banchan that you might not normally be offered.
I love Vietnamese food perhaps most of all foods in the world. The flavors and ingredients are lively and fresh, and there aren't gloppy sauces. In Paris, Le Bambou is the best of the lot, and in San Francisco, I can't get enough of Pho Phu Quoc.
The first thing I order immediately when I sit down is a Vietnamese coffee. A tall glass filled with ice and a pour of sweetened condensed milk and a little filter of hot coffee dripping alongside into a thermal stainless-steel cup is brought out. Since it takes quite a bit of time to drip, ordering it right away is essential. Once that important task is brewing, I dig into a bo bun, a big bowl of cold rice noodles, grated cucumbers, lots of fresh mint leaves, slices of nems (Imperial rolls) and perfectly-bronzed slabs of the most succulent chicken you'll likely to find anywhere.
Another places that I like to hit is San Jalisco in the Mission. The food, frankly, isn't all that great. You won't find any blue corn-soy tortilla chips or huitlacoche on the linoleum-topped tables, but the atmosphere is terrific. The very friendly staff keeps you plied with hot corn tortillas (especially important when your dining companion helps himself to the stack meant for you) and there's lots of chips and salsa to binge on while waiting for your chicken mole or platter of roast pork carnitas to arrive.
Or you can start with a salad of nopales cactus with pickled jalapenos or Quesadilla Arturo, a piping-hot corn tortilla stuffed with melted Monterey Jack cheese, or Platanos Fritos—hot fried plantains with a cooling dollop of rich sour cream.
Korea House
1640 Post Street
San Francisco, CA
(415) 563-1388
(UPDATE: Korea House is now closed)
Pho Phu Quoc
1816 Irving Street (at 19th Avenue)
San Francisco, CA
(415) 661-8869
San Jalisco
901 South Van Ness Avenue
San Francisco, CA (at 20th Street)
(415) 648-8383
Note: This post was updated in June of 2010 to reflect the name change of San Jalisco, which was previously called Los Jarritos.