Roam Artisan Burgers, Blue Bottle Coffee & Wooden Charcoal Korean Village Barbecue House
Now I know why they call America – The land of the free. I had a trifecta on my first day; The (normally pricey) watch repair place fixed my watch for free, with a "Merry Christmas!" as he walked onto the next customer, the mobile phone company not only gave me a new SIM card so I could talk and tweet away (which isn't free, unfortunately) but gave Romain one, too, and last night as we were coming home from dinner, we passed by Boudin bakery, where the bakers were up baking loaves of sourdough bread.
The baker, wondering who the weirdos were (which was odd that he was watching us, because we're certainly not the only weirdos in San Francisco), who were peering in the doorway. We told him we were just looking and I mentioned my other-half was from France, so he handed us a hefty bâtard of San Francisco sourdough. I dunno, maybe after the trip, we kind of looked bedraggled and in need of some nourishment.
One of my FAQs that folks ask is: "How often do you get back to the states?" I think they figure I'm kind of a douche because I usually say "never." It's not because I don't like my homeland, but getting to San Francisco is always a major challenge. On this trip, there was a lone, unattended suitcase surrounded by policemen (okay, there were only two) that someone had left in the area where the RER train arrives from Paris to Charles de Gaulle Airport. After being told various stories about how we could get to the airline check-in desk because the shuttle trains weren't operating due to the colis suspect, a reassuring service announcement was made that, fortunately, a regular bus would meet us all upstairs to whisk us early-morning travelers right to our terminals. Good thing we still had 2 1/2 hours to spare and we were just a quick hop over to the friendly skies of United.
Unfortunately, three buses came – and went, not a single one for all of us shivering in the 6:30am cold, damp air. So after waiting (and waiting, and waiting, and waiting – living in France, you get pretty good at that…) of course, no bus ever materialized. Not to go on, but when we finally did make it to the check-in desk, after checking us in, they said we couldn't actually get on the flight and had to be re-routed through another city. Of course, all the seats were taken so we scored the prime center seats in the two last rows of the plane. (Where it tapers to a narrower point.) I'd hoped to get some writing done during the flight, as well as catch up on Jennifer Aniston movies, but it was so tight back there that I couldn't even extend my arms, so I sat like an Egyptian mummy with my arms crossed in front of me and braved it out. But that was strike-three, my friends, for the RER to the Paris airport. Next time, I'm walking.
Although I woke up my first day in San Francisco feeling like I'd spent 20 hours in a dehydrator (which, essentially, I did) and my head feels like someone poured concrete into it, I wanted to get out and see (and eat) some stuff and enjoy myself, after I took care of some customer service needs I had been "banking" for my visit back.
I'm still not sure why every customer service agent on the telephone wanted to know how my day is going – good thing they didn't ask the day of my flight – that's why I have you guys ; ) but I'm trying not to be so suspicious anymore of the kindness of strangers. In fact, the cashier at Target – after we used a 20% off coupon, then got another 5% off because my friend paid with some special card, the cashier asked if I had some app called Cartwheel to save even more. When I said, "No, sorry", she took out her own phone and started scanning and checking every. single. item.
After I picked his jaw up off the floor, Romain and I are now trying to figure out how to bring her back to Paris and clone her.
I was eager to get some of the good food from San Francisco into my gullet, which helped overcome the less-than-friendly skies travel "adventure." And until I get reunited with my camera (long story…) I have my trusty smartphone to shoot some snaps. (My socks and undies also went AWOL, so if you come to my booksigning on Sunday, you might not want to peek until the table where I'm sitting.)
Our first lunch was at Roam Artisan Burgers. I wasn't instantly craving a burger, because we get burgers in Paris now. But after three hours at Target, translating everything into French (although the pharmacist spoke French – so it's nice to know they don't call it "Tar-jay" for nothin'), and doing on-the-spot currency conversions while filling my shopping cart with chapstick and unscented shaving cream, I was wiped out from my translating and fiduciary duties and needed some all-American nourishment.
On the plus side, I now have a lifetime (and then some..) supply of zip-top bags, and picked up some garbage bags for a French friend, who pleaded with me last time I saw her – "Next time you go back to America, Daveed, please get me some of those American trash bags." Even better than substantial discounts and free watch repair (and, thankfully, only one Jennifer Aniston movie on the flight), I also got my fill of truly crisp French fries, served in a trilogy known as the Fry-Fecta at Roam, along with blood orange sodas, and a grass-fed beef cheeseburger with aged cheddar that was terrific. But no matter how fast we were wolfing down our burgers, racing through 'em as the juices started flowing out the bottom, it was hard to keep out hands out of that big bowl of russet fries, fried onions, and the best – and crispest – sweet potato fries I ever had. I don't know how they did it (and for my waistline, probably best not to know) – but I'm going back before I leave, for more.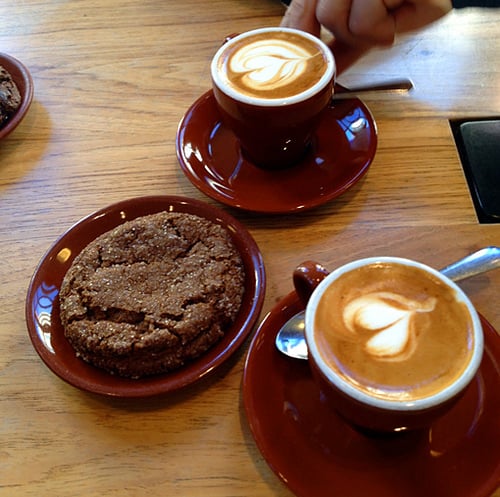 A quick pick-me-up of caffè macchiato at Blue Bottle Coffee and a couple of cookies, then off to dinner before the jet-lag kicked in. I wanted to go to Brother's BBQ, which my friends told me wasn't so great anymore, and Korea House was closed for good. So we hit Wooden Charcoal Korean Village Barbecue House, that was, indeed, pretty great.
The little bowl of banchan were some of the best I've ever had, along with spicy tofu soup. And for some reason, they gave us another bowl of soup, on the house – what's up with this wacky country? They're just giving everything away! (Although maybe it's to soften the blow of the insane rents and real estate prices in San Francisco.) The kalbi beef was kind of tough, but the pajeon pancake was crisp and tasty, and the spicy pork bbq'd meat was a hit.
It's nearly 4:57am the next morning now and I'm gearing up for breakfast in a few hours, which looks to be bao (Chinese pork buns), while I down my third cup of Peet's coffee until we figure out where to eat today. Ah, San Francisco, there's no place like home. And maybe today, we just might go back to Roam*.
---
Hey, if you're in San Francisco (or I haven't turned you off flying forever, and you feel like taking a trip**), I'll be Omnivore Books this Sunday from 3 to 4pm signing books. Stop by if you'd like to say hi, and perhaps tick a few holiday gifts off your list.
*Hopefully with a real camera, some socks, and a pair of unmentionables.
**I don't blame you, because I'm never getting on another plane again, either.