Four More from San Francisco
If it seems to you like all that I've been doing since I arrived back in San Francisco has been eating, you're right. San Francisco really is the best food city in the world, and as I walk around, (…er…I'm in California..) I mean, as I drove around, and visit my favorite restaurants and markets, I often wonder if I could move back here.
I've been loving all the food and great restaurants: the quality of ingredients, many locally-grown with pride, and the attention to quality, continues to astound. I keep walking by piles of colorful heirloom tomatoes or flats of juicy-ripe figs, and although I've seen all those things when I lived here before, I'm still completely in awe of the bounty of the Bay Area.
But San Francisco also has some great ethnic joints, too, and after hitting my favorite burrito spot, El Castillito, I went shopping for some clothes. After all, it's not America unless you go shopping for something you don't need. I tried on a relatively form-fitting Hugo Boss shirt and I must say, I thought I looked pretty hot…until I turned sideways and saw the bulge in the middle, which may give the security folks at the airport cause for suspicion.
So I sadly left the offending pullover behind, and am now concerned that when I leave, that they're going to think that I am smuggling a flattened boa constrictor around my waist. (I have a friend who works for the customs department and she's told me about things like that, which actually do happen. She had a baby monkey jump out of a woman's shirt at her once during a frisking.)
Speaking of acting like a monkey, I was speaking at an event last week, perched high above the fray on a stepstool, and a hush came over the crowd when someone asked me why they don't have clothes dryers in Paris. They understood when I explained that there are rules against cutting holes in historic buildings for outside venting, and that air drying clothes was actually more ecologically-correct. But when I added that I spend a good 6- to 8-hours a week doing laundry, that collective thud that was heard throughout Noe Valley that night was around a hundred or so jaws hitting the hardwood floor.
Then again, I wonder what I would do with all my free time if I didn't have all that hanging, drying, folding, and ironing to do? So I think I'll stay put once I get back home.
But in San Francisco, there may not be any shortage of dryers, but fortunately, there's also no shortage of dining companions. And Pim, who I met in Paris a few years ago, came up to the city from sunny Santa Cruz to have lunch with me at Bar Jules, in hip Hayes Valley.
Years ago I pondered opening a bakery there, and everyone warned me against it. "It's too dangerous!" they said. Nowadays the only danger on that street is getting sideswiped by the rolled up yoga mat of some hipster yakking on their iPhone.
Pim just came out with her first book, The Foodie Handbook, which she wanted to hand over. And although I have a mad crush on the other chef David in her life, (along with the rest of the world, and Pim, of course), she is one of the few people who's been in my bedroom—albeit trying to get a WiFi signal. Her David hasn't been there yet. And if he was, I'm certainly not telling her about it.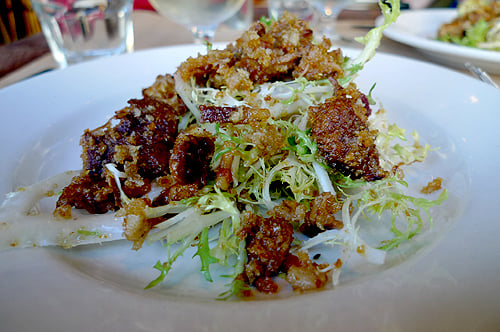 We had a nice lunch, catching up and drinking glasses of sparkly Basque white wine while splitting a Frisée salad topped with bacon, wild mushrooms, and breadcrumbs. We also shared a hamburger, which was good, although they'd run out of buns (grilled levain bread was substituted) and they don't have fries. Mon dieu!
Since we didn't have fries, we reasoned it'd be okay to head over to Citizen Cake and do our caloric damage in the cupcake department. Pim asked me which of them I wanted, and since the lady was buying, I was a gentleman and let her choose. She said "Vanilla", which was last on my list, so when she said that I could pick the other, I couldn't get the words "Rocky Road" out of my mouth fast enough.
Both were just perfect. The cake in each with light and moist, and the frosting was a good balance between buttery-smooth and slightly-sandy from the powdered sugar. Deciding which to choose for round-two, I opted for lemon (called Lem-ania), made with buttermilk batter and filled with rich lemon curd. I guess I'm still a but of a pushy Parisian because I ignored her request for a pineapple cupcake. (But seriously, folks. When there's lemon and rocky road cupcakes in the line-up, who the heck wants pineapple?)
Since I'm leaving soon, I'm trying to have as much good, freshly-roasted coffee as I can. So we ended up at Blue Bottle coffee. Their café is doing a Japanese siphon coffee, which involves heating the water over halogen lights, adding coarse grinds, then one of the two trained specialists finishes it off with a combination of stirring and heating. When it's done, the resulting liquid looks and tastes like thin coffee, almost tea-like, without any harsh overtones.
I wasn't entirely won over, but I loved watching the ritual of them making and serving the coffee. It's one of those special experiences in San Francisco that I think is worthy of a taste, even if my palate, over-abused by years of chugging harsh coffee, didn't quite get it.
Where and what did I eat for one of my last meals? Well, perhaps these two words might give you some clue: "fried" and "chicken". (Another hint: Notice the word "steak" wasn't in there.) There were Sidecars involved, wedges of iceberg lettuce with bleu cheese dressing, and bacon-filled tater tots.
And that's all I'm going to say, for now.
El Castillito
136 Church St (at Duboce)
San Francisco
(415) 621-3428
Bar Jules
609 Hayes Street
San Francisco
(415) 621-5482
Blue Bottle Coffee
66 Mint Street
San Francisco
Citizen Cake
2125 Fillmore Street
San Francisco
(415) 861-2228
(UPDATE: Citizen Cake is now closed)
Other San Francisco Dining Posts