Is American Food Better Than French?
(Dispatch from San Francisco)
I simply can't recall the last time in Paris that I was ate French fries that were actually made with real, freshly-cut potatoes. And served crisp, cooked like someone cared about how they tasted. Nor can I think of anytime in the recent past when I've been served fresh, seasonal tomatoes in a salad.
Last week I ate at Nopa, a shockingly-good restaurant located in an off-center location in San Francisco with wonderful cooking by a youthful, vibrant staff. From the opening plate of very crispy French Fries served with Maldon salt, to a thick, crusty, moist pork chop cut from locally-raised pork served with pan-fried peas whose brilliant-green flesh and taste assured me they were shucked no later than that afternoon. The food revolution that's taken place in the past few decades in America has meant a number of excellent restaurants have opened everywhere, not just in San Francisco, and it's pretty amazing the quality of products that are available in America nowadays.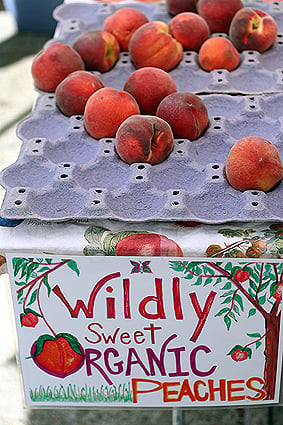 The San Francisco Ferry Plaza Farmer's Market
So it gave me pause to wonder why this kind of food is rarely, if ever, found in restaurants and most markets in Paris anymore. (Save for pricey, starred establishments.)
In lieu of promoting freshness and cuisine du terrior, the current trend in Paris is le verrine: a little glass layered with a dice and/or puree of various foods. While the concept is fun, like 'foams', we've seen it and done it. And while it's a cool idea, that's the only innovation I've seen in the past few years in Paris. Still, I'd prefer to have food that simply tastes good; vegetables sourced from a local farm and sautéed briefly with a knob of good Breton butter or a really good, tangy lemon tart, made with freshly-squeezed lemon juice, perhaps from Corsican lemons, in a homemade buttery crust. Made with Breton butter, bien sûr.
Perhaps I'm thinking along these lines since I just finished reading The United States of Arugula by David Kamp. In spite of the silly title, this excellent book unwittingly tells the story of how America beat the French at their own game; namely cooking. While the French were resting on their well-earned laurels, garnered from mastering cooking techniques and developing various repertoires during the last few centuries, the Americans embraced the concept of cuisine du marché and took it to the next level by giving the ingredients more prominence than the techniques used to prepare them. Both ideas have their merits, I suppose, but I don't need to tell you which I prefer.
Pluots—A Plum Crossed with An Apricot
While this is not a sweeping indictment of all restaurants in either country (there's always the good, the bad, and I've certainly been served the ugly), it seems like the French now have some catching up to do.

Some notables in the culinary field in France, including Hervé This, blame the 35 hour work week for depleting the labor source and diminishing the ability of restaurant cooks to produce good food. Or perhaps it's the general malaise that's swept the country, which led to the controversial election of a new President (who reportedly doesn't like wine!), who made it a point to say that France needs to make some fundamental changes to survive. Or maybe it's just a general resistance to change in France, a commentary on the lofty pride with which anything not French is inferior. (Will someone please admit the coffee in France is terrible? If so, I'll admit the same about the croissants in America.)
A significant step that's led to the demise of French cooking perhaps is industrialization, which made things like soggy canned corn a staple in everything from the salade Niçoise to le pizza. Like America and everywhere else in the world, the last part of the previous century have seen the tremendous growth of agri-business. Many of the fruits and vegetables available are grown in far away places and shipped to us wherever we live. But I went into a Safeway supermarket in San Francisco and along with the usual shelves of canned corn and other vegetables, there were fresh, organic local apricots and vibrant, colorful heirloom tomatoes, and several varieties of fresh yellow and white corn alongside big, bountiful bunches of fresh basil.
Contrast that with the equivalent supermarket in Paris, where most folks shop, and you'll find rows and rows of flavorless, pallid tomatoes, overgrown cucumbers from Morocco, and dubious-looking heads of wilting lettuce. Both cities has a similar level of appreciation, sophistication and income level, and are equidistant to neighboring agricultural communities. So why the disparity?
Rows and Rows of Organic Peaches & Nectarines in San Francisco
In Paris, I prefer to shop at the outdoor markets, where the fare is much better than at the supermarkets (even though the majority of items at both come from Rungis, the large wholesale market outside of the city.) But although my local market is one of the largest and busiest in Paris with probably thirty vendors, only on Sunday is there one stand run by an actual producteur, who grows his own vegetables. Just one. In the entire market. Curious for a country which has a grand and celebrated tradition of living and eating close to the earth.
While American food and dining has often gotten a bum rap (recall the uninformed Belgian women I encountered who snickered and knew nothing of American artisianal chocolates), I can only name two or three small-scale chocolate producers in France (which are available at exactly one shop in Paris) or an outdoor market that matches the quality and selection of the sometimes-maligned Ferry Plaza Market in San Francisco, which my Parisian partner is still talking about three years after his first visit.
French food has always been rooted in the terroir, or regionality of the food, which was the center of its cuisine for centuries. The food of Province, for example, is famous for lots of garlic and lusty olive oil. Gascon cuisine is heavy on the duck and duck fat. And Brittany has it's exquisite butter and lovely oysters. So yes, there's still plenty of exceptional cheeses, wines, sparkling-fresh seafood, chickens that taste like chicken and hand-harvested salts available in France. But when it comes to fruits and vegetables, why is it so hard to get a simple tomato salad in the middle of summer made with sun-ripe French tomatoes? How come every French fry I've been served in the last four years is pale, completely limp and undersalted, dumped from a bag of previously frozen sticks, instead of being sliced from the great potatoes that Parmentier propagated for our enjoyment? Are there everyday restaurants that feature vegetables that are locally-grown and cooked simply with care?
Michael Ruhlman recently reported that Eric Ripert, the French chef/owner of New York's Le Bernardin recently returned from France, optimistic in his assessment that French cuisine was "back", which prompted one commenter, who worked in several French kitchens, to respond, "Where did Eric dine in France?"
The answer?
In Michelin two-and three-star restaurants.
There was a famous incident when Alice Waters was preparing food at an event and another chef lobbied the remark, "That's not cooking, that's shopping." Although it was probably meant to be snide, that's in fact where good cooking begins. It's not trying to seal vapors of food into a blown-sugar bubble or dehydrating a steak into a fine powder and blowing it up your nose. It's finding good ingredients and doing whatever you can to coax the best flavor out of them.
On my trip, I experienced that in many places, from little ice cream shops to upscale restaurants like A16, Manresa and Quince. (And even an upscale taqueria.) On both ends of the cost and availability spectrum, the chef's goal was to search for top-notch ingredients and present them in a way which showcases their freshness and flavor.
And I daresay, their terroir.