The Ice Cream Bar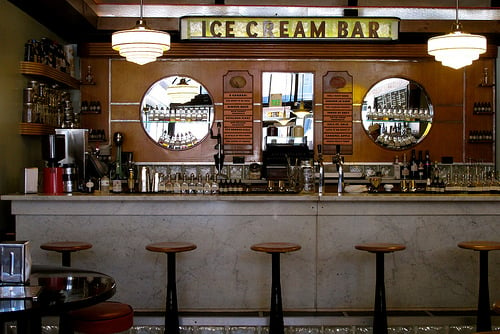 Rats! It used to be my dream to open an ice cream bar. But then again, that's coming from the guy who thought that no one in America would be interested in bean-to-bar chocolate, no one in Los Angeles would ever buy artisan bread, and who sold his Apple stock when it was 38 per share.
As I've been traveling around the U.S., I've noticed all the artisan places that have popped up, everything from local olive oil at San Francisco airport, folks distilling whiskey in big cities, and people waiting three hours for a plate of smoked meat. Am not sure exactly how to explain this phenomenon to people who live outside the United States, but whatever triggered it, I gotta say, I'm swallowing my words.
However perhaps I was ahead of the curve because after I'd written my ice cream book, I played with the idea of opening an ice cream shop (unfortunately, not with any money I made on my Apple stock), where I imagined myself churning away all sorts of flavors, using bean-to-bar chocolate (after I got done kicking myself…), artisan breadcrumbs (don't get me started…) as well as local fruits and berries.
While on book tour, I met a number of swell folks who handed me their battered copies of The Perfect Scoop for me to sign, worn down from being passed around the kitchen of visionaries who had better insight than I, and opened ice cream shops.
After a particularly filling dim sum lunch in San Francisco, where I became all-too-familiar with the Chinese habit of ordering in abundance, aka: everything on the menu – even if there are just two of us, we decided to cool down from the steamer baskets of dumplings, and plates of fried tofu rolls, and head to The Ice Cream Bar in my old neighborhood, Cole Valley.
Once considered a dowdy neighborhood, probably because of its proximity to the scruffy Haight-Ashbury area, once again, I realized walking around this area with fancy cars and people pushing $895 strollers, that I probably should have held on to my place there, instead of selling it. (But I still have a bit of that San Francisco moxie in me as I got yelled at by a woman in a minivan when I was holding a parking space for my friend, who was turning her car around to park there. Since I learned my first week in San Francisco, way back in the early 80s, that when you see a parking space, you do whatever it takes to get it. And I still do.)
But je ne regrette rien – including not opening an ice cream shop, because they already got one.
Not just an ice cream shop, The Ice Cream Bar serves soda fountain classics, like egg salad sandwiches and vegetarian black bean burgers (because it's San Francisco) on homemade bread. However we were there for the ice cream, whose flavors included chocolate sorbet and another with coconut and chocolate chips, both noted as vegan. Ice creams they were scooping had green tea swirled through them, used caramelized honey as a base, made with local honey (because it's San Francisco), and rosy scoops were studded with Morello cherries. Of course, the soda jerks put together sundaes, floats, malts and milkshakes, too.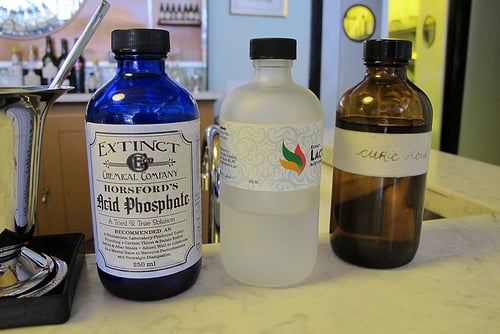 We sat at the bar and ate, while I gazed over at some fellows who'd stopped into the back bar, with various tinctures, Lactart (milk acid), and essences in little bottles lined up, which another jerk concocted frozen drinks and "remedies" for the over 21 set, with. While I wandered, my ruse was up when I was outed as the author of an ice cream book to the counterperson by my friend. Which bought us a visit to the kitchen, where cookies were cooling on baking racks, mounds of bread dough were waiting to be shaped for breads, and egg whites were whipping to be baked into waffle cones.
After a quick look around, it was nice to see another how people were taking everyday foods, many nostalgically back the past, and making them relevant for today's tastes. Now if I only had the foresight to move forward with my idea for making a time-travel machine between Paris and San Francisco, wouldn't I be sitting pretty?
The Ice Cream Bar
815 Cole Street
San Francisco, CA
(415) 742-4932