Interview with Food Photographer Michael Lamotte & From the Source
I met Michael Lamotte back in 1998, when I was looking for a photographer to shoot my first book, Room for Dessert. Because he had done several beautiful books with other Bay Area authors, I was really happy that I was able to work with him because I was a big fan. He did such a great job that he photographed my second book as well. I was a newbie back then and didn't have much of a sense of what goes into a photo shoot for a cookbook, but I learned a lot working with him. And I also learned why he's so successful; not only is he a great photographer, but he's a terrific guy.
There are a lot of food photographers out there, but Michael has a particularly keen eye for food. Which is why I'm fascinated by his current project, From the Source, with images that are both haunting and magnificent, and make me look at everyday foods from a different perspective. I was curious why he chose to take his photography in this particular direction for this very personal project, focusing on local foods from the San Francisco Bay Area.
Michael is currently preparing an exhibition in San Francisco at the a.Muse art gallery (see end of interview for opening dates and related events) and since I was recently in San Francisco, I thought I'd ask him some questions about what he does, how he gets such amazing shots, and what motivated him to take on this project.
---
David: Hi Michael. What was your objective for launching the From the Source project?
Michael: From The Source was inspired and developed by me and my son, Brian Paul Lamotte, because of my passion for food and to support the local San Francisco Bay Area food movement. The blog is updated weekly with products sourced from local farmer's markets, artisan shops, and local purveyors. Each black and white image is captured to celebrate and reveal the beauty of the fresh and artisanal foods and products.
My hope is this project and blog will help promote small, local food purveyors, and through an aesthetic depiction, foster a deeper level of appreciation for the products I photograph. We are so fortunate to live in an area that cultivates and encourages the production of so many delicious foods for us all to enjoy.
Along the way I've had help and support from other like-minded people in the Bay Area. Maggie Spicer of Whisk was a big supporter from the start. She was responsible for the very first gallery showing of From The Source at Bi-Rite Market's 18 Reasons gallery and remains a big supporter.
A future extension of this idea has Maggie, Brian and me working on a gallery show. From the Source will feature nine members of Marin Organic, raising awareness and funding with an event in San Francisco on May 22, followed by a dinner June 8th.
Marin Organic partners with local farms to promote organic agriculture, provide food system education, and increase access to fresh produce for people in need. They provide marketing support for their farmers and help them build relationships with local businesses. In turn, the member farms provide both the locations for the educational programs and the extra food that they harvest for hunger relief organizations. Marin Organic works in partnership with ranchers, farmers, and food producers to provide education on farms, empowering youth with the skills to take control of their "food future," while also feeding the most vulnerable members of the community.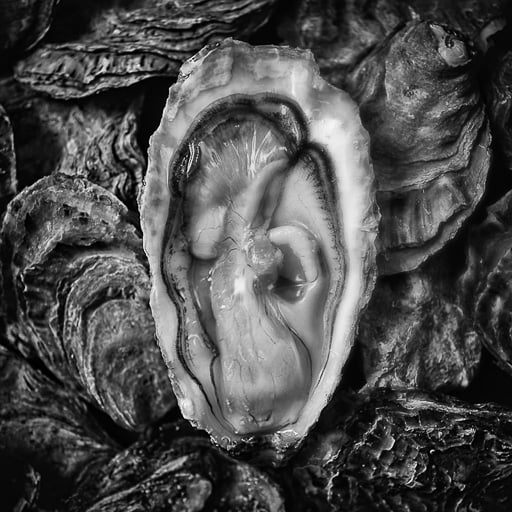 DL: I noticed the project isn't just about things you find and forage in the Bay Area, but you find inspiration from Paris, the United Kingdom, and Germany. How do you decide what and where to shoot?
Michael: Whenever I visit a new city I try to talk with the local people and find out where some of the best products are. This may require going to local shops or to the farmer's market to see what is available in the town. I'm always looking for beautiful or unusual shapes which will translate into pleasing tonal contrast.
DL: Your From the Source project photos are all in black and white, which is quite different than your editorial work. Why are you shooting this project in black and white?
Michael: I shoot my subjects in black and white, number one because food is usually not shot in black and white and if you reduce these objects to light, shape and form they become something even more beautiful than the original. It makes us look at the structure and form in a new way.
Each black and white image is captured so as to view food in a different way, revealing the beauty of form, shape, and light. The other commonality is that all subjects are viewed from the same perspective and are contained within a 1:1 frame ratio bringing continuity to each image.
DL: You spend your life looking at food. When you look at something like a vegetable, a fruit, or a loaf of bread, what are you hoping to capture about it?
MichaelI'm looking for an object that has an interesting form, shape or something we don't see because of the color. If I shot a carrot in color, it's just another shot of a carrot. But change it to black and white and it becomes something new and beautiful. Sometimes it's a raw ingredient other times it's something made or prepared. The transformation is always amazing to me.
DL: Do you style the food, or work with someone else?
Michael: Oh yes, It's a one-man operation. I usually try to find the most interesting and in-best-condition items at the market. I most always buy things anonymously; I'll talk to the producer about what they're doing but I don't tell them about the project. Then there is no expectation and I'm free to interpret it the way I choose to. Then I take the items to the studio, set up the camera in the down position, then look at my subject in every angle and try to find the most interesting and attractive part of the object.
I also try to keep the lighting very simple; it's either one tungsten light bounced off a big white card or it's natural light. Sometimes I shoot in my backyard or in my hotel room.
DL: Yes, the first time we worked together, I remember when the prop stylist said that you were one of the few food photographers that didn't need anyone else in the studio – that you could do it all! How many shots does it take (on the average) to get "the hero"?
Michael: It really depends; there have been times when I put the object under the camera and lights and it looks perfect. But then other times I may do up to 20 to 30 shots of one thing continuously, trying to reveal its hidden beauty.
DL: Food stylists often have different ideas than what you might be thinking, as do clients – especially when you are shooting a product for an advertisement or food packaging, that has to be approved through multiple channels. How do you balance out working with people who have different ideas?
It's interesting you asked that. One of the nice things about this project is that all I have to do is please myself. I usually buy the products anonymously, I don't tell the producers about the project, then later after I shoot it and put it on the blog I contact them. The nice thing about this is that the only client I have to make happy is myself. But in commercial photography, you are working with several people. All could have a different idea what this photograph should look like. I think new photography students are surprised to find out that commercial photography is really only about 50% photography and the other 50% planning, dealing with other people, and finding a solution that everybody's happy with.
DL: When we shot my first two books, they were all photographed on film. The process was much more expensive and the images were harder to manipulate and edit, once shot. I remember shooting ten Polaroids before we tackled the final shot, just to practice and make sure everything looked right before taking the final photo that would be used in the book. The process must be so different now. How has digital photography changed how you work?
Michael: Digital photography has had a huge impact on commercial photography. It definitely has its advantages–we can see things immediately, we can easily do many variations, we can compose images easily, and in general the image quality is better. The bad side is we used to work from sketches and ideas, now we work from composed Photoshop files that have been made from search engine images. The problem with that is that's too realistic and once it's approved that's what everybody expects the final photos to look like, instead of exploring what the best solution is under the camera.
DL: You live in the Bay Area, one of the greatest regions in the world for food – including ingredients, and the ambitious food folks – what are some of the things you really like about the Bay Area, food-wise?
Michael: There are so many, where do I start?! I love walking to Tartine Bakery and getting one of the best breads right out of the oven. Next up would be Bi-Rite, which specializes in small and local producers, then dessert from Craftsman and Wolves. Or going to Rainbow Grocery for a very unique grocery experience. And every week there are so many wonderful farmers' markets to choose from. I'm so lucky my studio is right in the middle of some of the best local shopping in San Francisco.
DL: Is there anything you don't like?
Michael: No.
DL: Not even the chilly San Francisco fog? Hmmm…that's one thing I don't miss. Do you have any favorite restaurants?
Michael: There are so many, but here are some of my favorites. In San Francisco; Mission Cheese, Tacolicious, Amber India Restaurant, Delfina, Locanda Osteria, Foreign Cinema, Marlowe, Rich Table, State Bird Provisions, La Urbana. In the East bay; Wood Tavern, Boot and Shoe Service, and Camino.
DL: What's your favorite thing about shooting cookbooks? You've done a lot of books for Bay Area authors – is there a personal connection? Or a connection to the restaurant, chef or author that appeals to you?
Michael: Yes, I love the teamwork and the passion that is demonstrated during the project. Everyone working together on a common goal, a beautiful book that expresses the author's vision. This is why it's important for the author to have as much control as possible.
DL: You're one of the few food photographers that likes to have the author on the set. I remember when we were discussing shooting my first books and when I asked about a food stylist, you looked at me, pointed, and said, "It's going to be you!" But I was glad to do it because you're right, it's important for the book to reflect the author's vision. When you're not in the studio shooing a book, and out-and-about, what equipment do you take with you?
Michael: My new favorite camera is the Lumix GX7. It's light, versatile, has an extensive range of high-quality lenses, has a touchscreen, an articulated viewfinder and rear screen, and it's all in a compact package. It produces high quality images in a small size. One of my favorite carry around lenses is the 25mm 1.4; very fast with excellent sharpness. I usually bring a linen napkin for a background and a small fill card or a sheet of 8.5 x 11 copy paper can work, too.
DL: For novice photographers, what simple tips can people do to dial-up their photography?
Michael: I think the easiest way for beginning photographers to get great results is going into your backyard, finding a shady place, and starting to shoot. Another good solution is to find a window in your home that has nice indirect light. I would also recommend purchasing a tripod. It's an inexpensive image sharpener. This is important if you're shooting in low light. If a tripod is impractical make sure to purchase a camera that has image stabilization built in, as this will also help. One mistake beginners make is not getting close enough and not exploring different angles.
But like I said earlier the best way to get the best image is to pick a subject and just spend an hour exploring. Just keep shooting and then all of a sudden you'll know when you have the best image. The more you shoot the better you'll get, and the more you'll learn.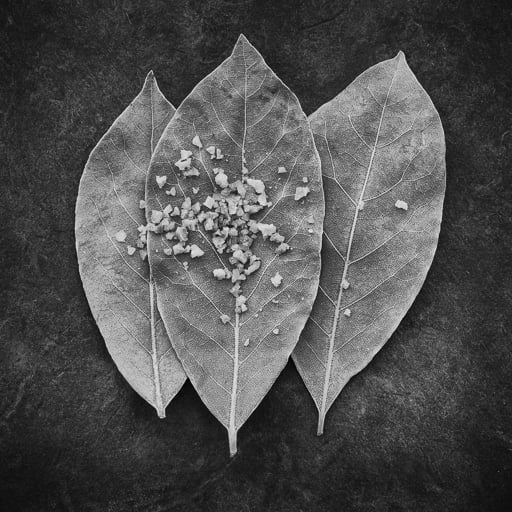 Thanks Michael for sharing what you do!
– For those who want to meet Michael, there will be a reception at the a.Muse gallery on May 22nd from 7-9pm, open to the public.
– Marin Organic will be celebrating the From the Source project with a pop-up dinner on June 8th, prepared with locally raised foods.
– You can visit Michael and see more of his photography at his site, Lamotte Studios, and From the Source.
---
All images in this post are used with permission from Michael Lamotte, and are from the From the Source project.
---
Related Links
Food Photography for Bloggers: Interview with Matt Armendariz