Lunch at Google
I've had a lot of interesting experiences on this book tour, from taking in all the gorgeous produce at farmers' markets, from San Francisco to Washington D.C,, to having someone tell me that he was proud of "my people" for the book I wrote. Wasn't too sure who "my people" are. At first I thought it was mes amis français, but then I realized it was likely you, my dear readers.
As I pack up, ready to head home shortly, it'll be a relief to be back in my own bedroom (and bathroom), after four weeks of gently explaining to hotel housekeepers that there's no need to knock on my door at 7:30am to see if I need any of the fourteen towels in the bathroom replaced. I can only imagine what they would think of me if they saw my own bathroom at home, with a mere two towels hanging from the towel bar.
Which makes me wonder: What on earth do people do with all those towels, piled and rolled up, in hotel rooms? If I had my druthers, I would like the option to be able to trade some for a few more electrical outlets. Heading to the finish line, though, perhaps I should have yielded to their queries about extra towels, because I'm about to throw one in.
If I'm not making sense, you'll have to excuse me, like the person who was surprised when I mentioned that it was October. (It was, in fact, April.) But one experience that I can still recall as clear as a lens on Google Glass, was visiting Google, where I was invited to speak to a group of Googlers, as they're called.
(And if using the word "Google," and linking to it, that many times in one sentence doesn't jack up my search engine juice, I don't know what will.)
But I'm sure my people – which would be you (or vous) – would be proud of me for imposing myself on them, and coming before my talk, for lunch at one of their famed cafeterias.
Google is a long series of buildings, and as my friendly Google glass-clad Googler led me around, I couldn't really follow exactly where we were going. Google is really a campus; a series of buildings connected by tree-lined pathways and open courtyards, with various activities taking place in them, including homages to favorite snacks.
But lest you think the Googlers are eating all day, there were exercise classes going on as we walked around. And colorful, Googly, free bikes to take, to get from place to place. But I was intrigued by the "conference" bike, which makes sense if you've ever been in one of those meetings where everything, and everyone, seems to be talking around in circles. Why not ride while you do it?
But because Google is known for innovation, they figured out a good solution for churning up ice cream, and burning up the calories; After a few punishing minutes of pedaling, your reward is a scoop of fresh-churned ice cream. I could likely check Google for the calculation, but I assume it's calibrated to burn precisely the same calories as the scoop of ice cream. If it doesn't, and Google is reading this, you're welcome to crib my idea. (Or better yet, buy it from me. Let's talk.)
Speaking of sweets, I got to meet the pastry team. And if the people-powered ice cream maker isn't evidence enough that technology still hasn't found a way to replace the pleasurable tasks of cooking and baking (and that written cookbooks will be replaced my some of the high-tech cookery innovations that keep popping up), when I went into the pastry kitchen, I saw the bakers still cooked from recipes saved and swapped the old-fashioned way.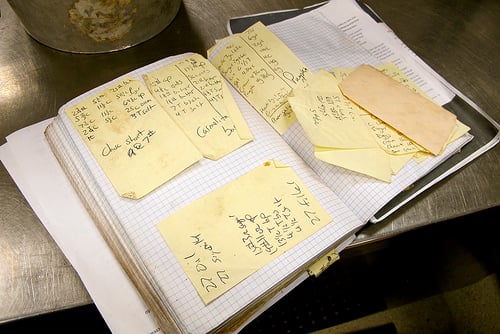 It was a pretty overwhelming place, with food and snacks everywhere, all freshly prepared, using local ingredients as much as possible. The thirty-six cafes at Google feed one-third of the Google global workforce (about 15,000 people), who work at the campus here in Mountain View. But that's barely enough, and a number of food trucks also operate on the campus, to make sure everyone gets well fed.
We all know, at least those of us that spend time in front of a computer, the value of popcorn. And if I worked here (hint, hint..), I'd be the first in line to taste the different flavors, which change daily, which rotate through white chocolate, bacon, five-spice powder, and wasabi, among others.
Each restaurant has a different theme, offering Asian foods, such as jook and Korean spiced chicken wings.
Continuing on to California cuisine, and foods from other lands, there are also pizzas, copious salads, Indian fare, and a long counter manned by a team rolling up sushi. And let me tell you, after traveling around the US for a month, sushi is close to becoming the national dish of America. And yes, that includes Canada.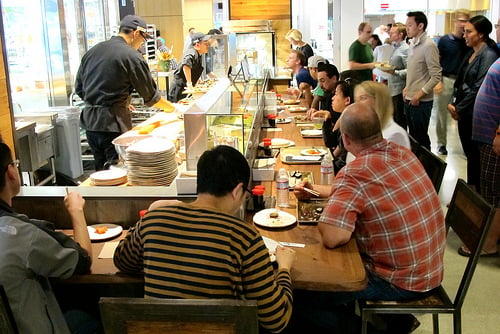 In addition to getting to eat all the food served in the cafes and restaurants, Googlers are welcome to take complimentary cooking classes in the spacious test kitchen. And when I asked if the pastry team ever took on interns, they told me anyone who works there was welcome to spend time baking in the kitchen. And why not? Considering they make twenty thousand cookies a day, I am sure they are happy to use all the help they get. (Note: I slipped them my resumé.)
Interestingly, for a company filled with people who are all about connecting people, and information, not one person that I saw in the lunchroom was hunched over their his or her computer while eating, or was wrapped up in their smartphones. They were connecting the old-fashioned way: Over lunch.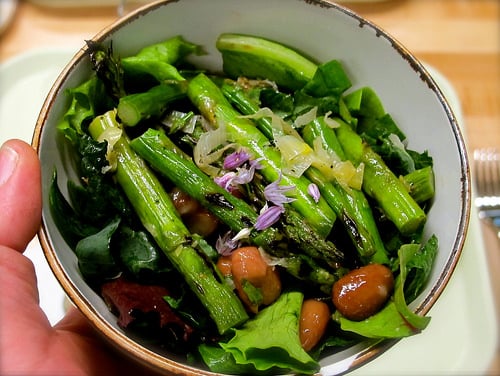 After a terrific meal of maki rolls and fresh asparagus, we munched on cookies before my talk, which was a lot of fun. And I guess I should have expected that the Googlers would have some of the best queries that I've had on my book tour.
I don't know if my results (ie: answers) were as swift, or as helpful, as those that you get from Google. However it was great to meet everyone there, nonetheless. Which means I'm not ready to be replaced by a computer. But just in case, they've got my resume on file. And that calorie calculator attachment for the ice cream churning bike is also up for grabs – and I'm accepting offers.