Whenever I land in San Francisco, I invariably arrive with a number of places to visit that I want to tick off my list. As I've learned from previous experience, it's just not possible to go everywhere – especially when you have to wait up to 45 minutes for a bus to come, making a round-trip to an ice cream shop a full afternoon event.
I was joking that I need to move back to San Francisco just to see – and eat – everything that I want to see and eat. And adding on to that are the places that everyone kindly recommends that I visit as well. But no matter how many places I do manage to get to, invariably a number of messages come in, beginning with "Oh, but you should have gone to…"
Luckily I've made peace with my travel schedule (and to some extent, my expanding waistline..although we're still working out a comfortable arrangement) and so far I've managed to go to Humphry Slocombe, Mitchell's, Bi-Rite, and Ici, which ticks off the most well-known of the ice cream shops. (Mr. and Mrs. Miscellaneous was closed, so no fair saying "You should have gone to…" because I tried. I really tried.) But I'd heard about Smitten Ice Cream, namely because of their unorthodox method of making ice cream using liquid nitrogen in the machines they call "Kelvins", and on Day #1, that was me in line at the, waiting for a few scoops with Heidi coming along, since it's no fun to eat ice cream alone.
A popular science project, the short story on using liquid nitrogen is that it freezes the ice cream in less than a minute, which means there are much smaller ice crystals than ice cream that's churned conventionally, so the results are super-smooth and very, very creamy.
The folks at Smitten Ice Cream, Robyn Goldman and Robyn Lyn Lenzi, developed a special "churning" machine and recipes using this technique. And being in San Francisco, local and organic ingredients are used as much as possible. The flavors change daily and when we were there, the four that were on offer were chocolate, vanilla, strawberry, and salted caramel, with toppings offered, including white balsamic glaze and cocoa nib praline.
Not really a shop, Smitten Ice Cream is a stand, set up in the middle of an urban park. I probably would've got a little mixed up trying to find it if I was looking for a storefront. But the billowing steamy clouds coming out of the spotless booth are a pretty good indication that something unusual, and interesting, is going on in there. And it's hard not to be transfixed by the plumes wafting from stainless-steel Kelvin's, with their curly cue mixing arms.
I was really eager to dig into the first cup of ice cream, which was salted caramel, a mocha-colored scoop whose incredibly smooth consistency was mitigated by the crackly caramelized almonds scattered on top. I was really interested in tasting just the ice cream, so I dug my spoon underneath the chopped brittle and found that ice cream really is so smooth that you can't taste one single itty-bitty ice crystal in there. On the flip side, I found the ice cream more 'dessert-like' than a scoop of conventional ice cream. Which sounds a little odd, but it was more like frozen pudding – rich, dense, and creamy. And thinking about it now, it's really like just-churned ice cream, which in reality, it is. (Uh…got that?) And that's what makes people, like me, line up for it.
It's nice to see the folks at Smitten Ice Cream thriving and someday I would love to go back and stand in the back with them and try some churning (or whipping?) some up myself, just to see what kind of results I could get experimenting with various recipes and flavors with one of those liquid nitrogen machines. But then again, they seem to be doing just fine on their own.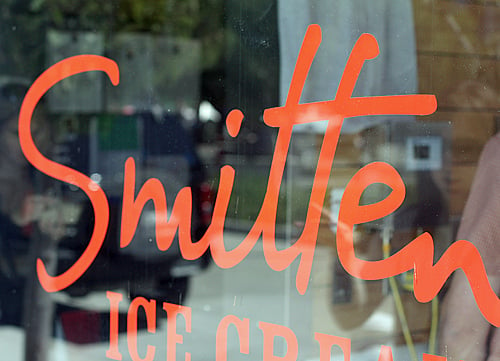 Smitten Ice Cream
432 Octavia Street
San Francisco, CA
(415) 863-1518


Related Links
How We Make Smitten Ice Cream (Video)
The Easiest Chocolate Ice Cream Ever
Liquid Nitrogen Ice Cream (101 Cookbooks)
Liquid Nitrogen Ice Cream (Jefferson Lab)
Liquid Nitrogen Ice Cream (Cooking with Chemistry)
How to make ice cream without a machine