A Visit @Twitter
I'm going to take a wild stab and say that if I throw out the number "140", for the majority of you, it's likely that "Twitter" comes to mind. For the rest of you, Twitter is the hottest social media network to breakout from the pack in the last few years.
During my trip to San Francisco, I played a little Twitter-tag with one of the staff folks who invited me to come to their headquarters in the busting area just south of downtown San Francisco for a quick visit the night before I left.
Having experienced explosive growth over the past couple of years, Twitter takes up a full floor of a nondescript office building in the south of Market neighborhood. I, of course, had an official rendez-vous – but they told me that people actually will show up because they want help with some issue with their account.
(Note: Don't show up unannounced. If you do, you won't make it past the front desk in the lobby. That said, they do strive to respond to customer issues quickly, which I can attest to. And another giant social media, who shall remain Faceless, could take a cue from them.)
Twitter is full of young energy and is a good example of the American "go for it" attitude. When the idea took off, there was a bit of a learning curve as they raced to keep up with the rapid expansion, which kind of took everyone by surprise, including those of us who use it. However the company remains fairly small (they only have around 650 employees, at present), and they worked on the infrastructure and continue to build the network to handle the ever-expanding number of people logging in.
I walked around the office with Kris, and while they didn't snap pictures of the programmers hard at work (nor the countdown clock to Halloween, which I guess is a big deal to the folks at Twitter, for reasons I'm not quite sure of – could it be all the candy? – I did see what else fuels them:
Because the workplace is free-wheelin', in the midst of the desks of the programmers tapping away on their computers is a thatched roof covering a small tropical bar, with a few bottles that were going untouched. Which is probably because it was only 7pm and they still had work to do – but I'm sure they make good use of them when winding down. And what's an office without a DJ booth?
I tend to live in my own little bubble on Twitter, which is why I like it; because you can customize and 'curate' who you follow, engage various people who share your interests, as well as circulate information. And because I'm not the only one in the world using it, Twitter has gone global and there's a #Britwall, which is actually in honor of their acquisition of Tweetdeck a British firm, which provides one of the various clients people use for Tweeting. (I use Twitterific.)
Two things I did not know about Twitter: @LadyGaga has the most followers on anyone on Twitter, and that @JustinBieber is the hands-down favorite of the Twitter staff, because—well, I don't really know. But there were plenty of mentions and homages to him dotted around the office. (And birds, everywhere.)
Another staff favorite (besides Lady Gaga, Justin, and hopefully now that they're met me—me) is @Conan O'Brien, who used Twitter when dealing with an unforeseen career change to broadcast the events to his followers, bypassing other media and taking his messages to the masses.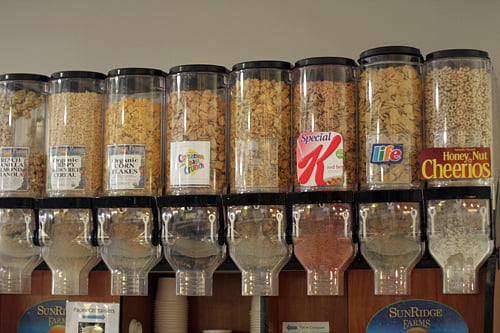 One other thing I learned about Twitter is that there are no phones in the offices. Like, at all. The staff communicates solely through Twitter, via regular and direct messages. But the thing that impressed me the most was the White Board, which was started by the founder to communicate and build on the values of the company. I didn't have time to read them all, but was impressed that at the top, it said "Write on Me!" and I'm thinking I should get one for my own apartment and start writing down goals, objectives, and aspirations. Who knows? Maybe I'll end up with 5,984,793 followers, like @Twitter has.


Related Links
Tips for Getting Started on Twitter (Food Blog Alliance)
In Case You Missed it…(Food for the Thoughtless)
Social Media (Food Blog Alliance)
10 Things You Need to Stop Tweeting About (The Oatmeal)
A List of Food Bloggers Using Twitter (Serious Eats)
Twouble with Twitters (Current.tv-Video)
How Twitter Was Founded (Business Insider)