A Visit to the Le Creuset Factory
I'm a random collector of Le Creuset. When rifling through a random box at a flea market in France, a hint of one of their trademark colors may catch my eye. I'll pull out the pot, inspect it (never with too much excitement because if I plan to bargain for it, I need to keep my cards close to my chest), then either make an offer or put it back.
Because space is always an issue, I evaluate it for a number of factors: If it'd be a good addition to my batterie de cuisine, if the price is right, and how much use it's had. (That is, what condition it's in.) I actually love seeing the well-used pieces at the flea markets in France, because many people have kept their Le Creuset pots and pans in their families, handing them down from generation to generation. Some I put back because they're too far gone, others I haggle for – or just pay up because it's too good to leave behind – and a few I regret not acting faster on, seeing them snapped up by others.
Today, Le Creuset remains a popular brand, not just in France, but around the world, including across Europe, in the United States, and in Japan. (The last two are the largest buyers of their cookware in the world.) The original foundry was started in 1925 in the North of France, in Fresnoy-le-Grand, and is still making cookware today the same way they've been doing it for nearly a hundred years. The factory isn't open to the public, because it's an actual working foundry and isn't set up for visitors.
But I'm always excited to go to a factory or workshop, whether it be KitchenAid, to a cheese-maker, or the workshop of a great chocolatier like Patrick Roger, because I like to see what goes into making things I use or eat everyday. And I was beyond thrilled to be invited.
I'm also especially interested in things that are culturally exclusive to France, which has taken a few knocks over the few years for not keeping up. In these days of globalization, it's intriguing to see something that's made in France that remains a worldwide icon, and hasn't changed its philosophy nor the way it's made, yet is still relevant. Unlike a luxury watch or Hermès handbag, a Le Creuset pot, pan, or gratin dish is something that you can buy and use every day. If you buy a Made in France Le Creuset enameled cast iron pot or pan, you'll be owning one that can be handed down for generations, just like they are in France.
At the risk of sounding overly effusive, my invitation was strictly as a guest, not necessarily to write about it. And it may sound a little odd, but for the next few days, I was profoundly moved by the whole experience. It's incredible to see people physically laboring over something, born of raw materials, then holding a beautiful piece of cookware that is the end result of their work. 
The word creuset translated to crucible and refers to a very sturdy cooking cauldron. One French-English dictionary translated to a "melting pot," which seems very appropriate.
Le Creuset fonte cookware (fonte émaillée means "enameled cast iron") begins in a dark, dusky building. Each piece is individually cast in a sand mold made specifically for that piece. This part of the factory is where it all starts, and it's not exactly an elegant showroom.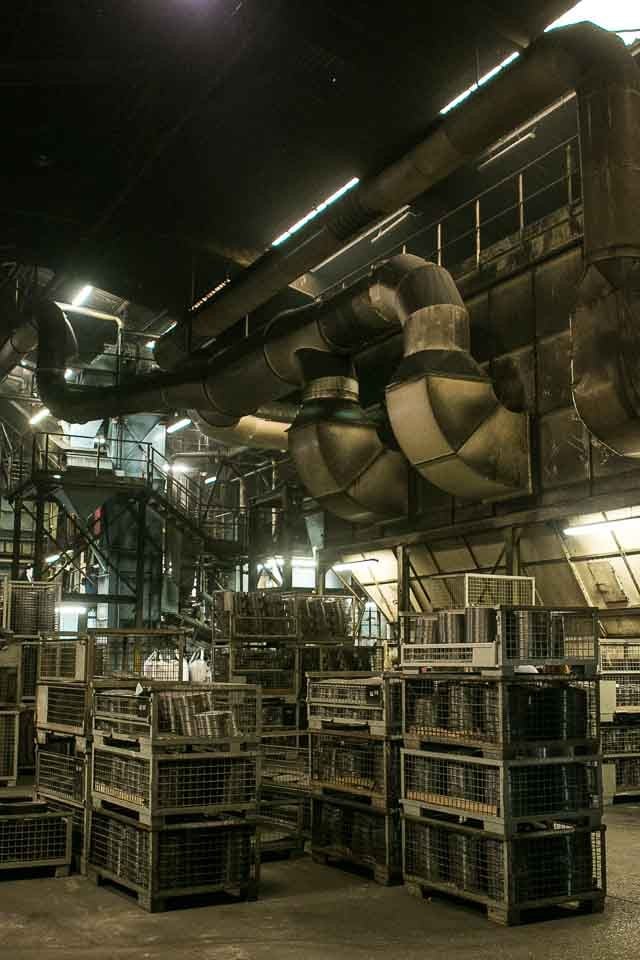 Sometimes when I go into a place and take pictures, they come rushing over and say "Non, Non! C'est pas propre!" ("No, it's not clean.") But this is how the cookware starts, and it's hard to be tidy when you're dealing with sand, scrap metal, and molten metal. Watching the beginning of the process felt like stepping back into something vaguely medieval.
The company was started by two Belgian men – one was an enameling expert, the other, a metal caster. The signature flame (orange) color that's my favorite was modeled after the intense orange glow that comes out of the cauldron that they use to melt the iron.
I watched as old metal scraps, many parts of railroad tracks, got recycled and melted in the cauldron, which became a burning, intense fireball. I was invited to peer inside as they tilted it forward.
It was so hot that I could barely get closer than 10 feet (3 meters) to it. It was hotter than I could imagine and it was kind of scary at the same time. The inside was a bubbling, heaving mass of red-hot iron and I'd never seen anything like it. I read that iron melts at about 2795ºF (1535ºC) and boils at 5183ºF (2862ºC). I wasn't getting close enough to stick a thermometer in there – I'll take their word for it!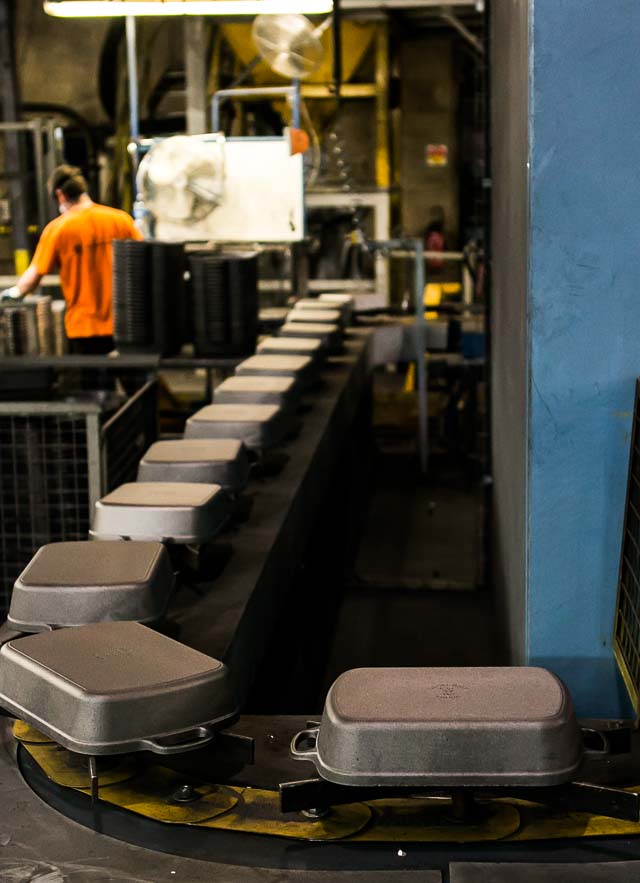 Each batch of iron is tested to make sure it meets their particular standards and it was amazing to see what came out of that boiling cauldron a few minutes later, as we watched the pouring, setting, and release of each pan from its mold.
Cast-iron fans might want to scroll ahead, but I asked why they didn't make a line of non-enameled cast iron skillets. They explained that cast iron works by absorbing the various fats and greases that are cooked in it into tiny pores in the metal, which helps create a sort-of nonstick surface (except to those of us who have tried to make fried rice in ours), and it's not exactly hygienic. That's not to say it's particularly bad and I have one that I use. But I thought the point was interesting.
The next few steps, you can see the pots after the molds were filled with hot iron being released. (It was pretty dark in the foundry, and I tried to catch it for you to see. But it happens kind of abruptly.)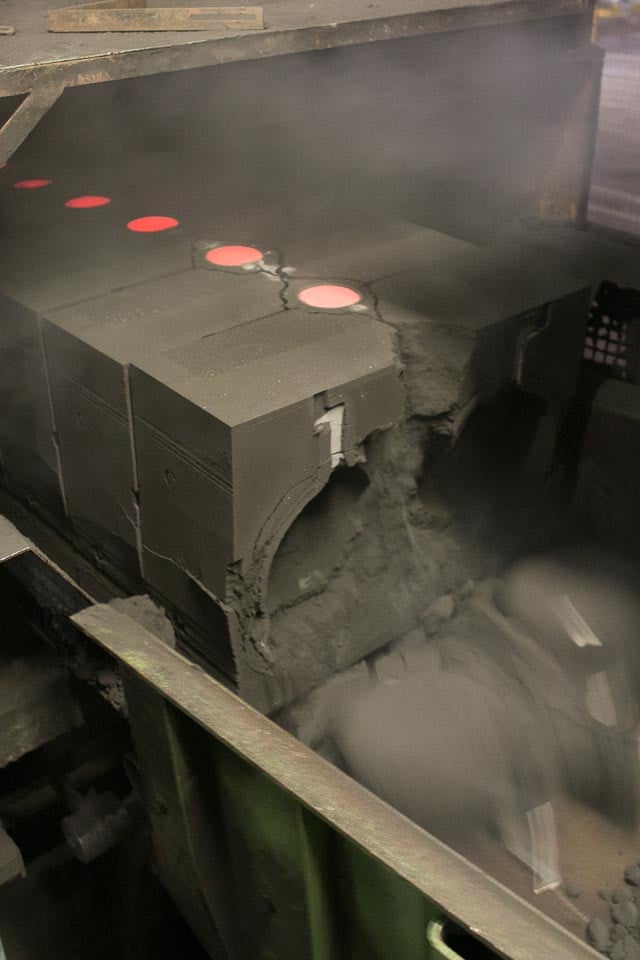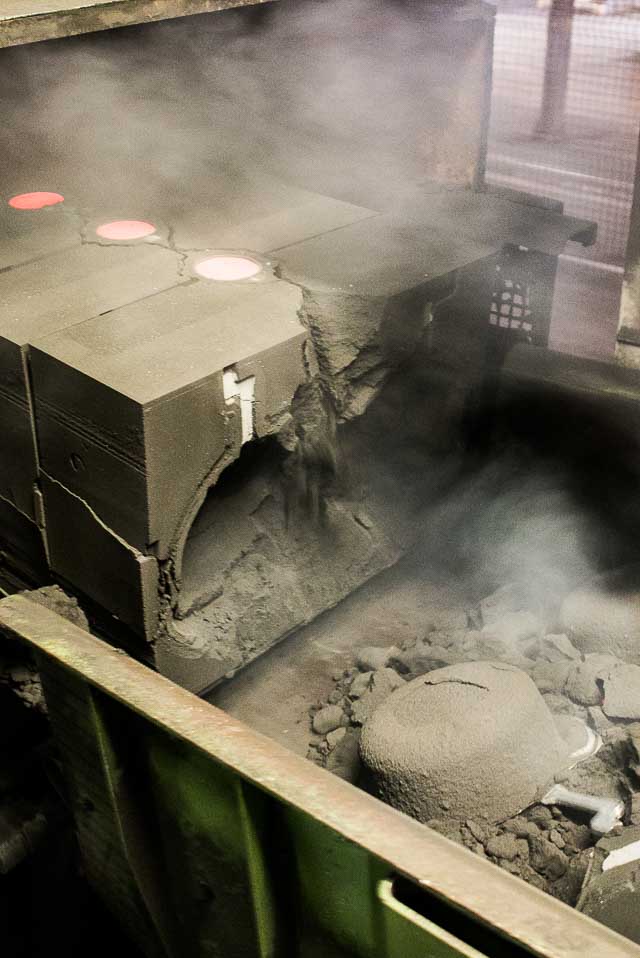 After the pots are released, the sand gets cleaned and reused, and each piece is brushed partially clean and inspected for flaws. Duds get tossed back into that fiery inferno, melted down, and cast again.
When they come out of the molds, the pots and pans bear just a little resemblance to the finished product and are rough around the edges. Some are smoothed by hand. Others are left to a machine to do the work, like this oval baking dish.
One question that I had was about the rims on enameled cast iron, which I thought needed to be religiously hand-dried so they wouldn't rust. They explained that each was actually coated, which you can't see, but seals the metal so you don't need to worry. Of course, if you have vintage pots like I do, you may want to continue to hand dry them as that finish may have worn off over time.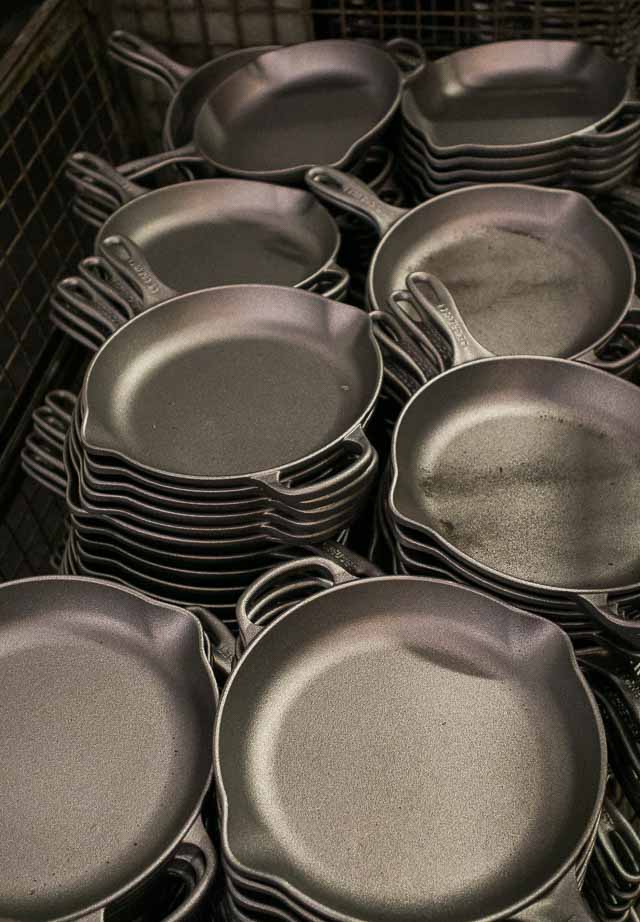 At every step of the way, the cookware is inspected for flaws – a glaze skip, a ding in the metal, a dent in the handle, are all reasons to pull a piece off the line. Some with cosmetic flaws get sent to one of their factory stores, but anything that will affect the cooking quality of the pan doesn't make it out of the factory.
Each piece takes ten hours to make and fifteen people are involved in the making of each Dutch oven. Six hundred people work in this particular factory. They have other facilities around the world, including in China and the United States. They have also expanded their product line to include glassware, cutlery, tableware, and wine openers because wine pairs well with food, which few know better than the French.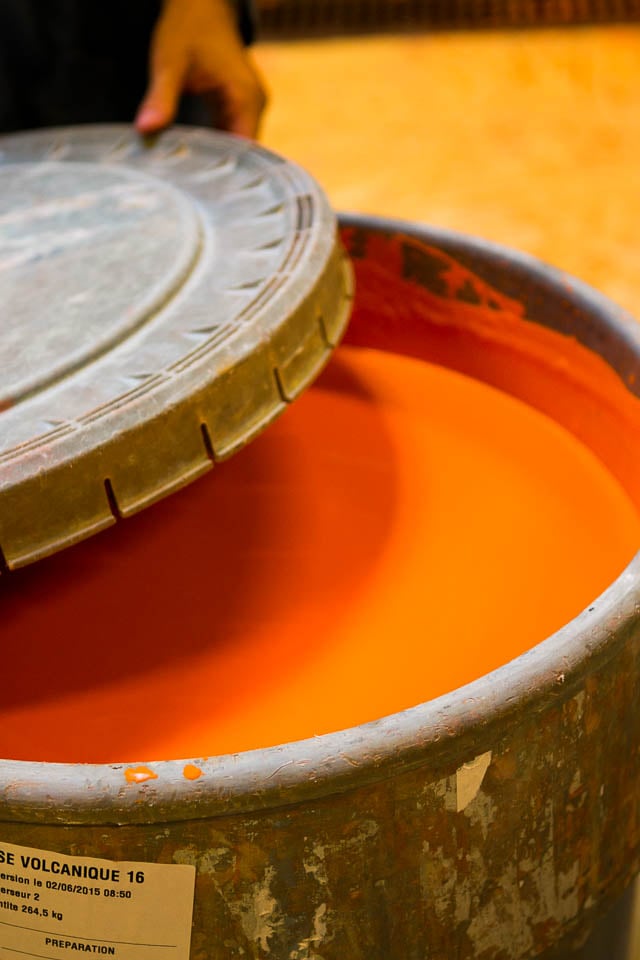 Above is a vat of enamel to finish some pots. It's mixed up in batches from various pigments and the recipes are closely guarded secrets.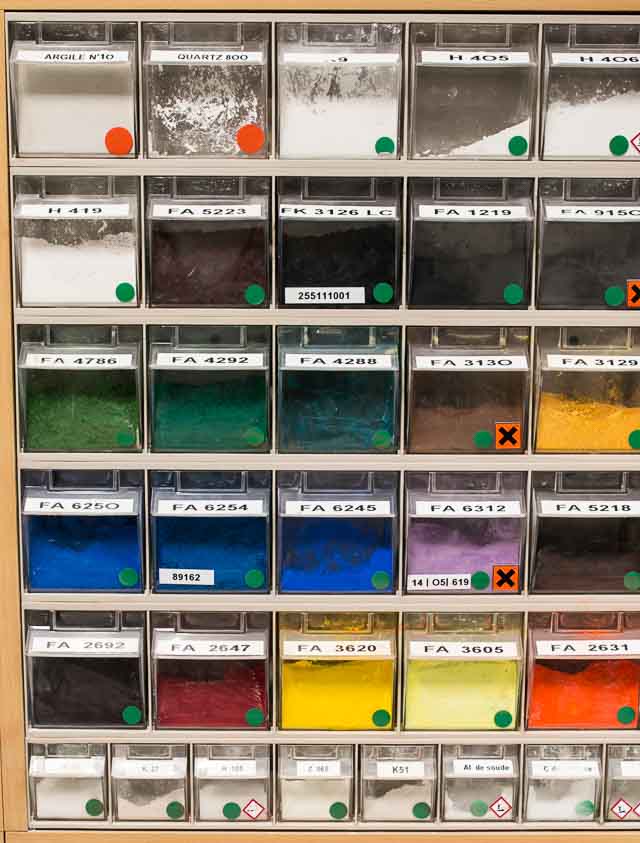 The enameling process, which takes three hours, is especially top-secret, so I can't show you quite how they do it, but the pots, pans and lids are individually set on a multi-pronged holder and sprayed with whatever color they are enameling that run with, that particular day.
The pots and pans that are graduated in color, that go from dark to light, have an extra-fine spray of darker colored enamel added at the end, with the spray brush moving away slowing from near the center of the pot or lid, to give it that signature burning flame-like finish.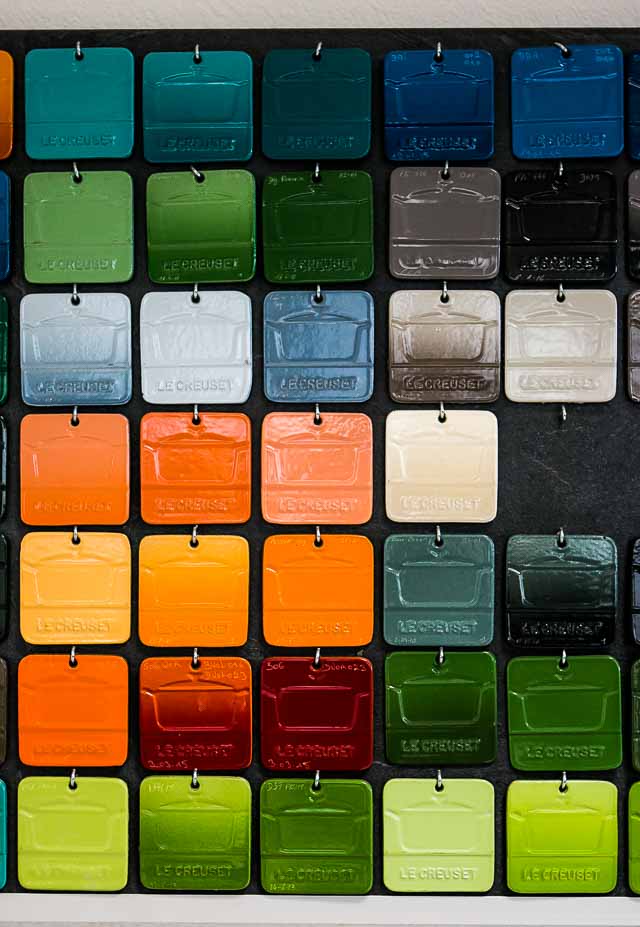 At any given time, they produce cookware in about 50 colors. Some are done because different countries have a tendency to favor certain colors. Black is popular in Japan and purple is popular in France: One pot they were testing in 3 various shades of purple, to be released next year in France. I like the orange, but also some of the green colors. They're both timeless and contemporary, with a hit of vintage mixed in. Below are some of the pots that didn't make the cut, for a variety of reasons, and are heading somewhere to meet their demise after they're given a good once-over to find out what went wrong. In the color lab, the staff was huddled around a microscopic look at an enameled surface to study how the enamel is holding up, to make sure it was just right. Glaze can "craze" over time and they want to make sure that doesn't happen with their cookware.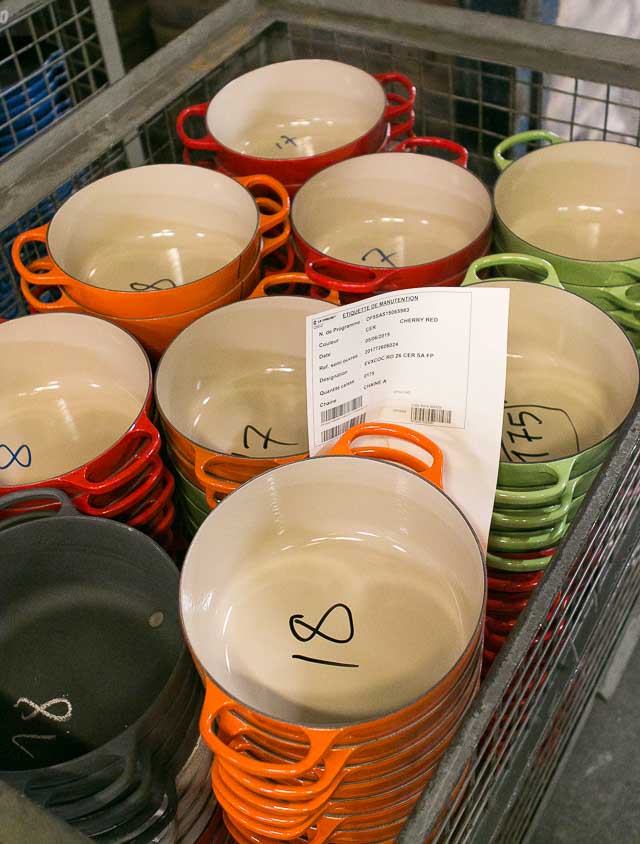 Some colors are made exclusively for stores, like Williams-Sonoma. Others are made for their outlet stores. Of course, colors go out of style and are discontinued, and new ones are introduced as tastes change.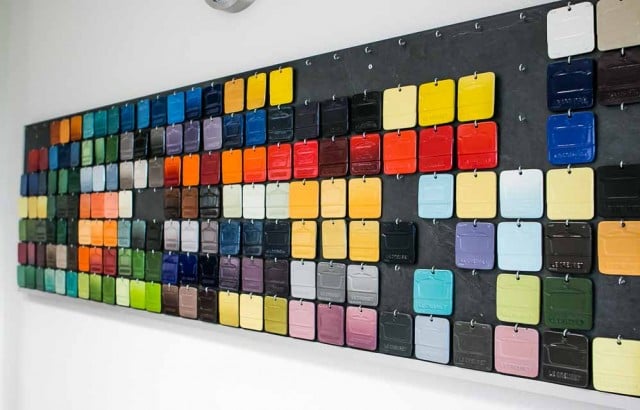 In 1958, they asked industrial designer Raymond Loewy (who designed the Lucky Strike logo and the Studebaker) to design a series of pots and pans, and his Coquelle rectangular lidded pot became a hit back then, and is collectable today. I have five and used my vintage orange that is well-used if you look inside, which I love because whoever had it before me obviously wasn't keeping it on a shelf, but using it for cooking. My others are in better shape, but a photographer who recently was in my kitchen was fascinated by the inside of my pot and even though it doesn't look pristine, it's the working pot of a cook. I like to have cookware in my kitchen that is still good decades later and can stand up to heavy use.
They did a limited edition re-release in France about a decade ago, and one last year in other countries, including in England, the United States, and South Korea. Some runs were only a hundred. I picked up a dozen of the re-released ones when they were having a final sale at a department store in Paris and they were discounting all cookware 50%, then came on the loudspeaker and announced that for the final 30 minutes, everything was an additional 40% off. There aren't a lot of bargains in Paris, except wine, cheese, and the scenery, but I snagged all they had in stock. (Although I paid dearly trying to bring them all home from the store at once!)
One change Le Creuset made recently was replacing the classic phenolic knobs on some of the pots with knobs that are all-metal. The popular no-knead bread that gets baked in a Dutch oven, and the recipe calls for a very hot oven temperature. And because people were melting their knobs (there were reports that people were swiping knobs off new pots from stores, which they laughed when I asked them about that), Le Creuset modernized the knob to an all-metal design, which is also easier to lift, and they also sell replacement knobs, so bakers can keep their criminal records clean.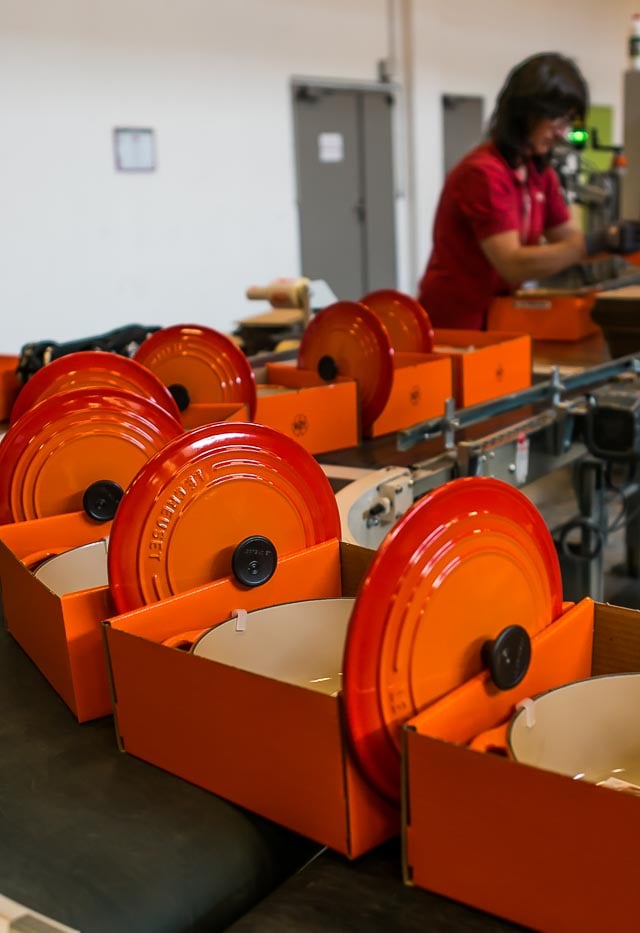 Nearing the end of the factory visit, we saw them working on finishing up a specialty pot to commemorate their 90th anniversary, which will be released in September of 2015.
Only 1925 pots will be made, which is the year that Le Creuset was founded, and I considered burnishing my clean criminal record with swiping one, but will just have to wait like everyone else.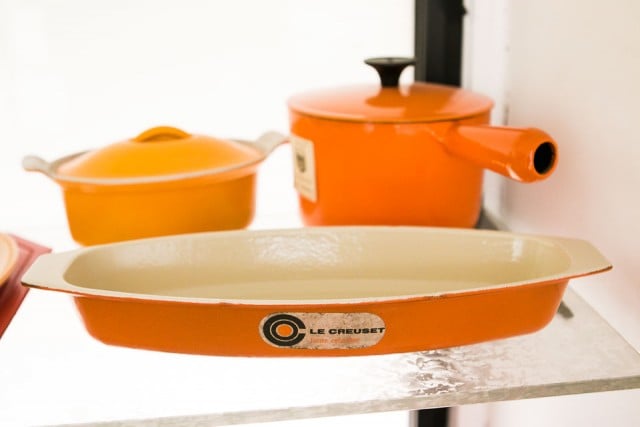 On the way out, I got to take a look at the Le Creuset archived models, in display in the showcases in their offices. Some pieces look similar to what they are making today. Others looks very different.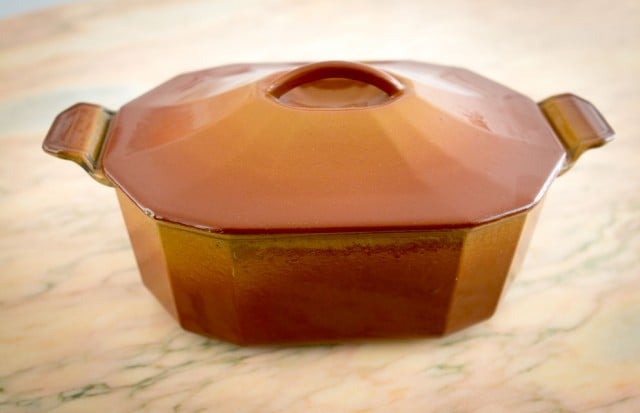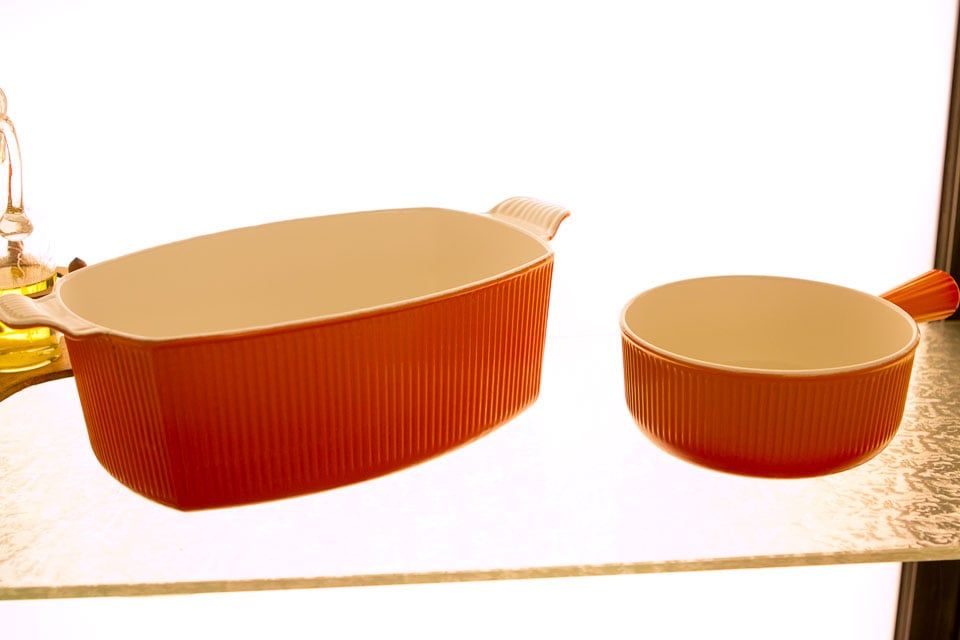 Of course, I considered a smash-'n-run for several of them, but it was a few hours back to Paris and I didn't think I'd make it, especially considering the heft of some of the pieces. (I remember lugging my pots home from that department store.) But I did take a trip through the factory store and came home with a handful of their silicone spatulas, which I had told them was one of my top 3 favorite, most-used, you'll-have-to-remove-it-from-my-cold-dead-hands kitchen items. The slightly curved shape feels just right when mixing and folding, and the graceful curve is a nice angle so you can lift things like meringue you're folding, or enough custard to take a taste of, without them slipping off the sides.
Rumors swirled that they were discontinuing them. And even though the two I've had for nearly fifteen years are still in fine shape, I've heard from Le Creuset collectors who get dismayed when a color is discontinued, and there aren't any more. I was worried about losing my favorite spatula as I only have two left of the original design (in the front).
Fortunately, it seems like they only changed the handle – whew! And I picked up a few more (nine more, to be precise – which they gave me a special deal on), and brought those home. So I think I'm set for spatulas for the rest of my life, but will continue my hunt for vintage Le Creuset pieces, and will look at them a little differently each time I use them.