Coconut Caramel Shrimp
Spring is the time of year when new cookbooks land. (Fall is the other.) I check out a lot of them, buy them or get review copies, cooking and baking from them. But it's always interesting when one cookbook comes along, and as I'm reading through it, I realize that I want to make every single recipe in it.
But I should backtrack for a moment. A few months ago, I was sent a preview of Vietnamese Food Every Day: Simple Recipes for True, Fresh Flavors (for a back cover quote), and as I was paging through the PDF, I found myself mentally bookmarking all the dishes that I wanted to make. So I was thrilled when the actual book finally landed in my lap, or in my kitchen, and decided to start with the Coconut caramel shrimp. I mean, with a name like that, how could I not?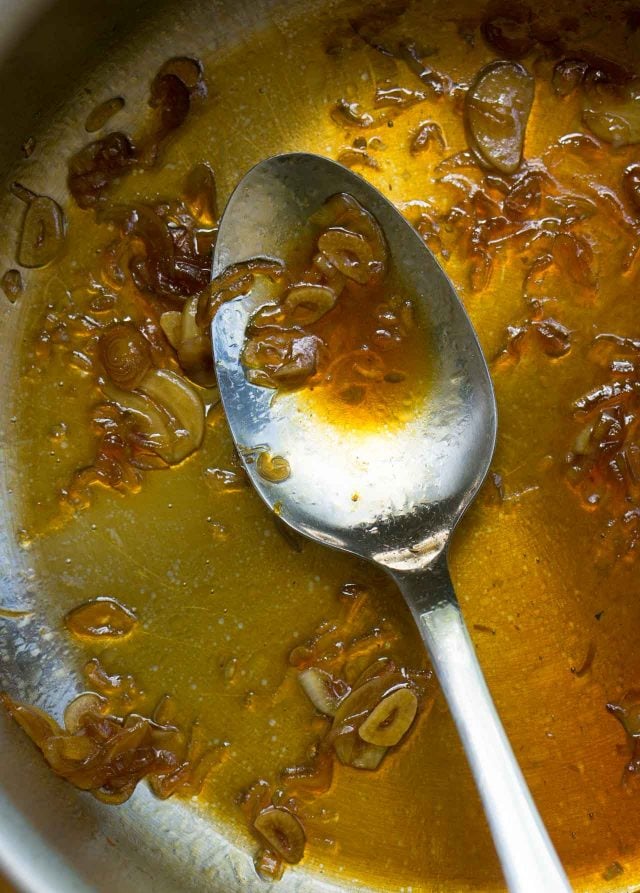 I love this book so much because it's possible to make every recipe in it. Andrea Nguyen wrote Vietnamese Food Every Day with that in mind; every recipe calls for ingredients that are readily available. In the U.S., and elsewhere, many supermarkets now regularly carry things like rice wine vinegar, tofu, fish sauce, fresh ginger, and a variety of fresh chiles, which you used to have to cross town to try (and try..and try) to hunt down. Rice noodles and pomegranate molasses are the only things you might have to make a special trip to a multicultural market for. (Which to me, is never a bad thing, because I always discover some interesting and unusual ingredients when browsing the aisles.)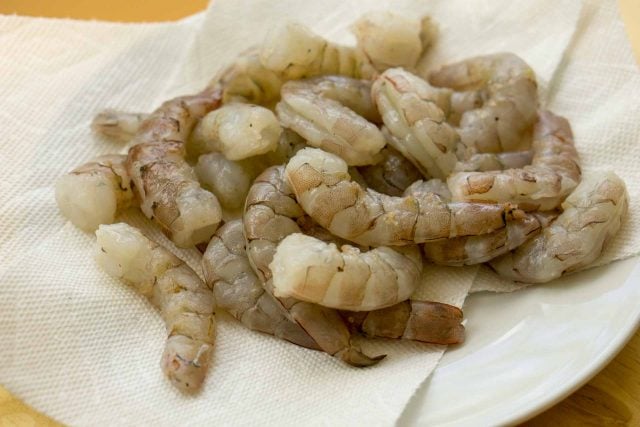 Speaking of tofu, when I first arrived in Paris, I went for lunch at a Japanese restaurant on the rue Saint-Anne and they wouldn't serve me tofu. I couldn't figure out why and on the way out, I asked the waiter why not. He said, "French people don't like tofu," which is wrong on both counts. The first count was thinking that I was didn't like tofu, and the second was that Romain (who is) loves tofu and prefers it to meat now.
(And speaking of the rue Saint-Anne in Paris, where many of the Japanese restaurants are clustered, when I moved to Paris years ago, most of the restaurants you could just walk right into. Now they're all packed. And I don't think someone ordering tofu would surprise anyone, anymore.)
For those scared to tackle their own dumplings, even though Andrea pretty much wrote the book on homemade dumplings, in the same book where I found this recipe for Coconut caramel shrimp, she offers up super-easy wontons made with premade wrappers that float in a gingery broth. I've also bookmarked the spicy sweet pomegranate tofu, which, like this shrimp recipe, has a sweet & sour element to it, and looks amazing.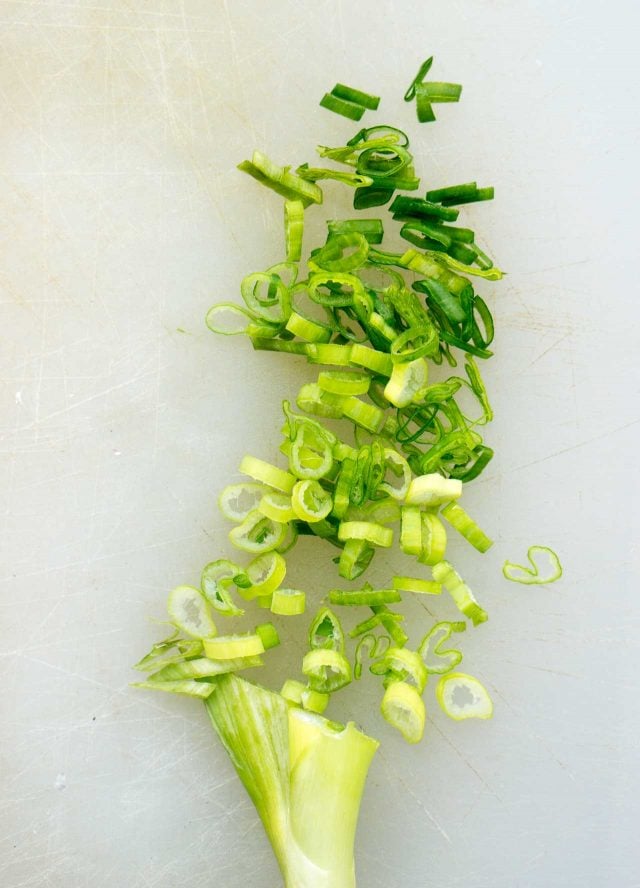 For those timid about making Vietnamese food, or foods featuring Vietnamese ingredients, Andrea really walks you through everything, from what to buy at the grocery store, to how to cook it right.
When shopping for the shrimp, I'd read somewhere that most "fresh" shrimp on offer at seafood markets is previously frozen. So you're better off (financially) buying frozen shrimp. In this case, I wanted to use wild (sauvage) shrimp, and all I could find were frozen, so I used those to make this dish.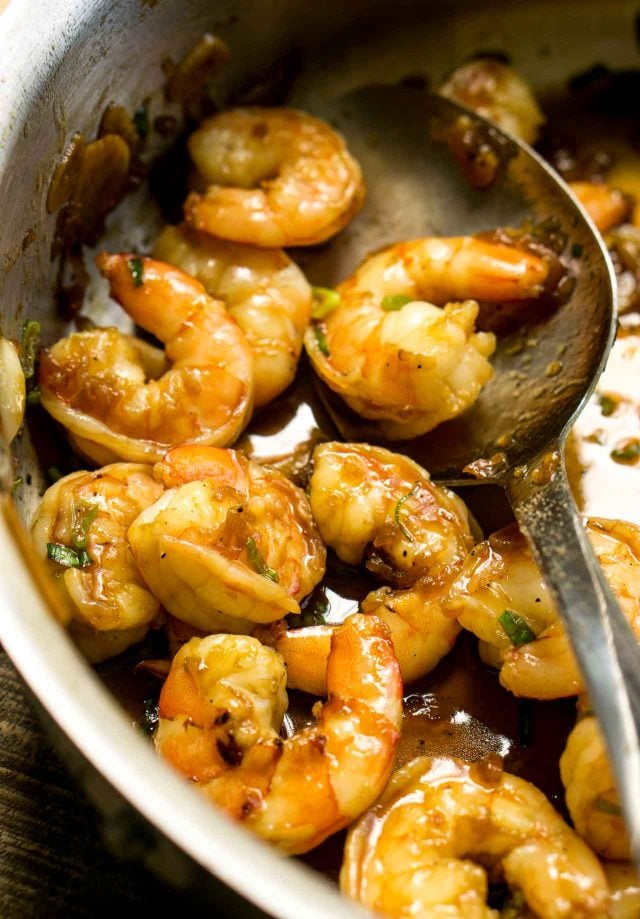 I mixed the sauce ingredients in a bowl then quickly stir-fried the aromatics (garlic and shallots). Once everything simmered down, the sauce ingredients were added to the skillet, reduce to a syrup, and the shrimp cooked quickly in the simmering liquid. Within minutes, lunch was ready. The tender shrimp that had been bathed in the coconutty caramel benefitted from the light touch of fish sauce added. The idea of using coconut oil and coconut water added flavor, without a lot of fuss (or fat), and we spooned up the very (very) tasty shrimp with some white rice, and beer.
| | |
| --- | --- |
| Coconut Caramel Shrimp | Print Recipe |
Adapted from Vietnamese Food Any Day by Andrea Nguyen This recipe makes enough for a modest main course. I noted it served 3 to 4 and I'd say that number is closer to three, unless you are serving a few other things with it. I served it with rice to which I added a handful of finely chopped broccoli to the pot during the last few minutes of cooking, then stirred it into the rice when it was finished. Coconut water differs from coconut milk. The former is the water found inside fresh coconuts; coconut milk is the water blended with the coconut meat, and is white and creamy. But sure to use coconut water, which can be found in supermarkets or natural foods stores. I recommend keeping some extra coconut water handy and using it when the shrimp are finished cooking, in step #5, in case you want to loosen up (and use) any very thick sauce that's sticking in the pan.
1 1/4
pounds (570g)
large or jumbo shrimp,
peeled and deveined
1 1/2
cups (375ml)
coconut water
1
tablespoon
caramel (see note, below),
or light molasses or sorghum syrup
1 3/4
tablespoons
fish sauce
2
tablespoons
virgin coconut oil
1
large
shallot,
peeled and thinly sliced (but not too thin)
3
large
garlic cloves,
peeled and thinly sliced
2
scallions,
just the green parts, thinly sliced
freshly-ground black pepper
1. Pat the shrimp gently with paper towels to absorb any excess moisture. Set aside.
2. In a medium bowl, mix the coconut water, sugar, caramel, and fish sauce until well-combined. (Andrea recommends tasting it to make sure it has a nice balance of sugar and fish sauce. If necessary, add a little more of either.)
3. Heat the coconut oil in a large skillet with the shallots and garlic over medium heat. Cook the shallots and garlic, stirring frequently, until they're translucent. Turn off heat and let cool a few minutes.
4. Add the coconut water to the skillet and turn the heat up to medium-high until the coconut water starts to boil. Let the mixture reduce at a steady simmer, adjusting the heat as necessary so it stays there, until it's reduced to about 1/2 cup (125ml). It will take 10 to 12 minutes. Add the shrimp and cook, stirring constantly, until the shrimp are just cooked through and the sauce is reduced to a loose, yet thickened syrup. If you think the shrimp are cooking too fast before the sauce is properly reduced, you can remove them with a slotted spoon, let the sauce reduce, then add them back.
5. Turn off the heat and stir in the scallions as well as a good amount of black pepper. Let the mixture sit for a minute or so before serving, stirring the shrimp so it gets coated in the sauce. If the juices get too thick, you can dribble in a little more coconut water to loosen things up.
Serving: The coconut caramel shrimp can be served with cooked rice. To make it a more complete meal, you can serve it along with some sautéed vegetables, as well.
Note: For the caramel sauce, Andrea's recipe calls for cooking 2 tablespoons of water and 1/2 cup (100g) granulated sugar with a few drops of vinegar in a skillet until it turns a deep amber color. Remove the pan from heat and add 1/4 cup (60ml) of water, which may bubble up (so be careful). Stir until smooth. Use 1 tablespoon of the caramel for this recipe. (The rest can be stored in the refrigerator, to use when you make it again.) For details on caramelizing sugar, check out my post <a href="https://www.davidlebovitz.com/how-to-make-the/">How to make the perfect caramel</a>.